MAGIC. METH. MAYHEM -- At some point in 2000 -- has it been that long? -- I was hanging around Hollywood Magic and noticing its display of the curent magazines. Stan Allen's MAGIC was there, but I couldn't spot any issues of Genii. When I asked, they said it had sold out. Yes! I was happy because thai issue, September 2000, featured my cover story on Amazing Johnathan. If you are a subscriber, I suggest you re-read it, for a lengthy Amazing Johnathan interview, a review of his show in a Tunica, Mississippi, silo, an interview with Billy McComb, and two great AJ bits you can perform at dinner. Later, I had the privilege of doing a Genii story on AJ's tricked out house in Las Vegas, in December 2004. I am a longtime Amazing Johnathan fan.
I am reminiscing because Johnathan is back in the magic news with not one but two new documentaries. The first, Always Amazing:The True Story of the Life, Death and Return of Amazing Johnathan, is directed by comedian Steve Byrne and is available now on Youtube. The second, The Amazing Johnathan Documentary, is directed by Ben Berman and will be out on Hulu August 16.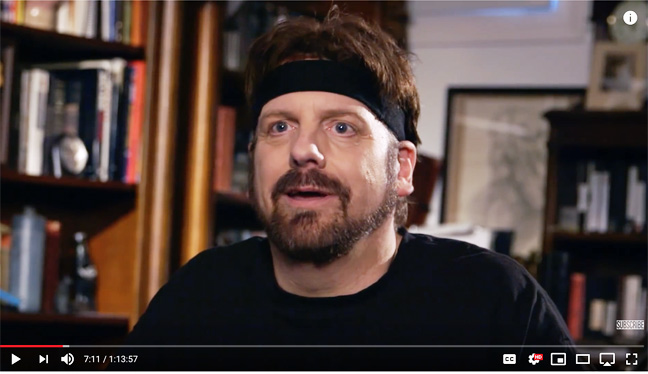 Lying to his principal, reporter, and parents.
Always Amazing is bittersweet, given Johnathan's medical situation--three years ago he was given a year to live--but there is plenty of sweet. The slick documentary ably portrays Johnathan as I have always considered him to be: a big lovable bear of a guy, incorrigibly and off-the-charts funny (even more so off stage than on), an A-list show business personality, aware of magical history and proud of his niche in it, surprisingly and vulnerably romantic, someone who really enjoys friends (a treasure to his close ones, an idol to legions), dangerous to anyone in proximity of his practical jokes, a tad loose with his personal well-being, and valiant in the face of dismal medical odds.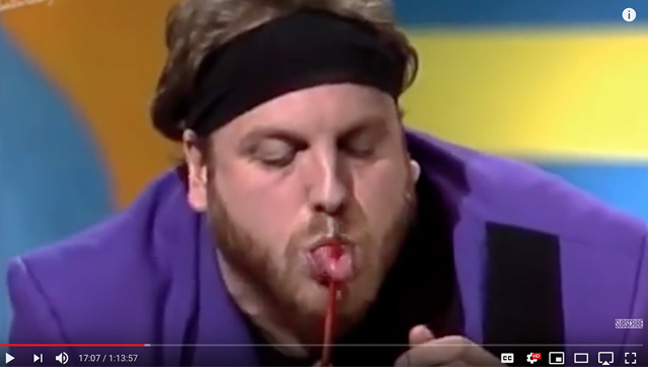 Long before there was a David Blaine.
If there is a focus and continuity to Always Amazing, it is Johnathan's relationship with his friend and road manager, Australian Joel Ozborn. Joel was initially a 12-year-old kid who grew into a position of trust and confidence in Johnathan's world. Joel speaks frequently in the program, and there are additional cameos from the likes of David Copperfield, Penn Jillette, wife Anastasia Synn (an amazing performer herself), Penny Wiggins, and Johnathan's mom Doreen Szeles. Nice inputs from all.
Joel was there for the road trips, the Las Vegas successes, the television specials, and some incredible lows, such as the aftermath of divorce involving suicidal thoughts, a Hunter S. Thompson pistol, police, laughing oneself out of big trouble, and quite a practical joke. Only AJ could turn personal tragedy into a dig at Billy Joel's music.
Aside number 1: NOT mentioned in the documentary, or anywhere else in the magic journals that I know of, is Johnathan's excellent online video interview series, "Burn Unit." It is still there at burnunit.tv, and you can enjoy all 49 episodes. I just re-watched the premiere episode, with guests Johnny Thompson and Pam. If you have been missing Johnny lately, you will adore this visit.
Aside number 2: My all-time favorite Amazing Johnathan bit was his goofing around with Princess Stephanie on "Champions of Magic III." Who saw that coming in high school?
Back to the new material. As mentioned, Always Amazing is in the can and you can enjoy it today, and The Amazing Johnathan Documentary will be on Hulu August 16. The first is terrific, and I expect the second to be so. Have fun.