POWERFUL MAGIC FROM THE FOURTH DIMENSION -- Mike Powers is a multi-talented performer whose accomplishments I envy. He is recently retired from a career teaching physics and math, which means he kept abreast of all those equations I purged from memory since college. He plays guitar in a rock band, a skill that would have kept me from magic had I possessed it. And he is a proficient, creative, and widely published card guy, the guest of honor at the most recent FFFF convention in Batavia. Not one to show up empty handed, Mike used occasion to introduce his latest book, Tesseract. And it's quite a book.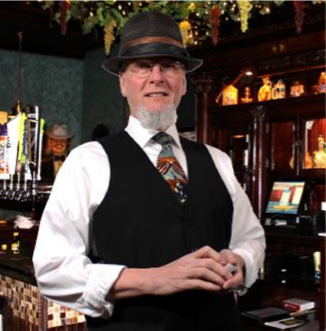 Mike Powers, triple threat.
Quick digression: A tesseract is a four-dimensional hypercube, whatever that is. Mike gives a noble attempt at teaching you in a seven-page essay "Creating the Tesseract." Even if you still can't "see" the 4-D object after the essay, you will still be rewarded for trying (a bonus card trick).
Tesseract, Mike's book of the same name, is a whopper of a book, both in physical heft and in content. It's hardback with dust cover, over 8.5 by 11 inches on heavy glossy paper. (I am reminded of some of David Regal's books.) The contents play over eight chapters: Unprepared Card mysteries (18 items), Prepared Card Mysteries (5 items), Faro Slough Off Ideas (3 items), Scripted Mysteries (3 items), Friends (3 items), Moves (6 items), Pure Mathematics (9 items), and Miscellaneous Mysteries (8 items, including those with coins, rubber bands, envelopes, and iPhones as well as well as cards).
Although virtually everything is repertoire worthy, these seemed especially fun:
The Lying Traveler. Mike showed me this a couple of years ago, and I love it. He combines Marlo's Traveling Card with a small packet revelation that you know, and it may be the most impressive thing you can do with 21 playing cards.
The Money Game Revisited. Mike combines a Bank Night routine using envelopes with a Card to Impossible Location. Money is at risk!
Open Mate Prediction. A clean, impromptu ACAAN, similar in method to my favorite version, J.K. Hartman's Patent Portent.
Transpo Visitor. A red-suited card is "guarded" between two kings and buried in half the deck. A signed, selected black -suited card is placed in the other half, and it rises to the top. In an instant, the signed card is shown to be between the kings in the first half. There is a move in most Visitor routines that just thrills me to use, and it is used ere as well. Mike especially uses this as a follow up to an Ambitious Card routine.
52! This is an essay, not a card trick, on just how large 52 factorial (the number of possible ways to reorder a deck of cards) is. Precisely, the number is
80658175170943878571660636856403766975289505440883277824000000000000.
But just how large is that? Mike starts with assuming you can shuffle the deck into new order every second. So how long will it take to do all the combinations? Begin a walking trip around the Earth. But wait, oh, a billion years between steps. By the time you make it around, you are just getting started! For fun, I asked Alexa how big 52! is. She cracked me up with the answer, using words for very large numbers I hadn't heard before. A lot of words.
Moe Fun. One of my favorite Mike Powers ruses is his PM Principle, and I hoped it would be here. It is, and it always amazes me. A selection from a shuffled deck is apparently lost among three piles of cards. Two Whispering Queens locate the selection. Imposible.
Heisting Histed Heisted 3.0. Last month, I referred to Chandu Heavy (from my The Little Egypt Book of Numbers), a variant of the Princess Card Trick that does not require memorization or a crib sheet. Mike uses essentially the same subterfuge, but conceals that fact far more concisely. An amazing demonstration.
Again, 8.5 by 11 in, 298 pp, hardback with dust cover, illustrated with copious photos, $55 pp from Mike Powers' Mall of Magic or your favorite dealer.