ARTFUL DODGERY-- Vanishing Inc. continues to impress with its classy product line. The latest example to cross my desk is Card Dodgery, a dense volume of new card tricks (60 tricks, 300 pages, 350 illustrations) from J.K. Hartman. The book is handsomely laid out by Andi Gladwin, handsomely illustrated by Tony Dunn (though, given that it's Hartman, I miss the softer style of Joseph K. Schmidt), with an introduction by Hartman and forewords by Bill Goodwin and Gordon Bean. My bookshelf already strains under the weight of previous Hartman hardbacks (namely Card Craft, After Craft, Trickey Treats, Card Dupery, and Caan Craft). and the new collection is a worthy addition.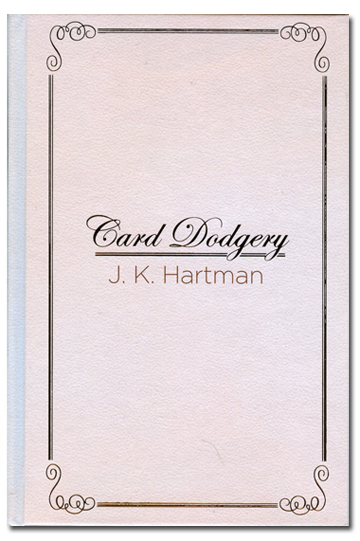 Sixty card tricks.
J.K. Hartman sort of burst onto the scene in the Fulves publications, and, as he reveals in the book's candid closing interview, he had about twenty years of material ready when he first started corresponding with Fulves. What a delightful intersection of interests. As Fulves put it, J.K. Hartman made an immediate impression on the attention of insiders: "His grasp of the principles of card magic, coupled with an intelligent, incisive style of writing, has made his manuscripts among the most well-received on the contemporary scene."
I'll mention a few routines that excited me.
In Carlo Monte, the spec cuts a deck into four random piles. A queen is dropped upon one of the piles, and the piles are switched about, the spec's job being to follow the queen. He fails. A second spec finally succeeds, and all four top cards are shown to be aces.
Class Cut II proceeds from John Bannon's Directed Verdict, but all four cuts look the same. (It's a Spec Cuts to the Aces, also perfect for my Return to Motel 666.)
Guess Star begins with a spec sliding a card from a spread. Both she and the magi guess its value. Running through the deck, magi finds his card, hence he failed. The card on the table turns out to be the card she named. (Note: the deck is ordinary and shuffled, spec's choice is fair. But, hmm, if you force the card on her, forcing a duplicate of the card you name, you can make the ending look very clean.)
Suito Psychometry is the familiar Annemann routine but with playing cards as the items in the envelopes. There are some very clever ideas here that would work with any psychometry routine.
4'11 is an ace assembly with a great patter tie-in, long a Hartman hallmark.
Trap Rap takes almost any sandwich routine to a new level. This may be the most important set of ideas in the book.
Garden of Eaten is a cannibal routine in which three "tourists" are eaten. A very different method from that usually employed.
I Think I.C.A.A.N. is, as with most of the tricks in this book, a great title. J.K. Hartman has produced more performable Card at Any Number plots than anyone I know, and I love this one. The I stands for invisible. Any card named turns invisible then reappears at any number named.
Position Possesion is another C.A.A.N.: a named card is placed, outjogged, deep in the deck, and a lower numbered location (any location) is shown to be another card. The outjogged card is pushed flush and then rediscovered at the lower numbered location.
Suggestion Box begins with five aces of spades and ends with a royal flush. Note: I would always do a Vallarino count somewhere in such an effect.
Johns & Jills is another Hotel Mystery, of which I am a longtime fan. My favorite title over the years was Hartman's Flatfoot, Floozie, and the Boy-Boy, whose patter is used somewhat in this one.
Enough! I was going to mention only five, but you get the idea. $40 anywhere, but if you order from Vanishing Inc. you get a signed copy and a download of Andi performing and explaining nine of the routines.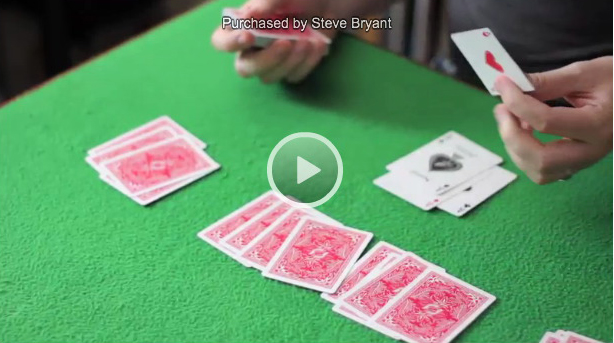 Andi Gladwin explains Piano Forte.
(Final note: Okay, I'll mention one more. I didn't watch Andi's explanations until I had finished reading the book. I had skipped Piano Forte in my first reading, and Andi just killed me with it. A brilliant self-working poker deal, highly recommended.)