TRICKS ON TOUR -- I love it when a magazine article or a podcast or a television special or a live show or a convention reinvigorates my love of magic. Or a lecture. Such was the case with a recent lecture in Indianapolis by Joshua Jay. Josh is arguably the most dedicated student of magic since Dai vernon, having studied, performed in, and collaborated with others in fifty-nine countries. The Indy lecture was his last in a twenty-eight-city tour of the United States (made more enjoyable no doubt because he was traveling with his fiance), and following a ten-day break he will begin a nineteen-city European tour. Whew.
As to the lecture itself, Josh performed (and explained) a show of fourteen tricks along with eight minutes of interesting theory, and all was top notch. Given that Josh has created and marketed an enviable number of practical and commercial tricks himself, served as the host of MAGIC's trick column for well over a decade, and is half of my favorite magic shop, he has much to choose from, and the crowd, four of whom came all the way from Cincinnati, sensed that we were seeing the creme de la creme.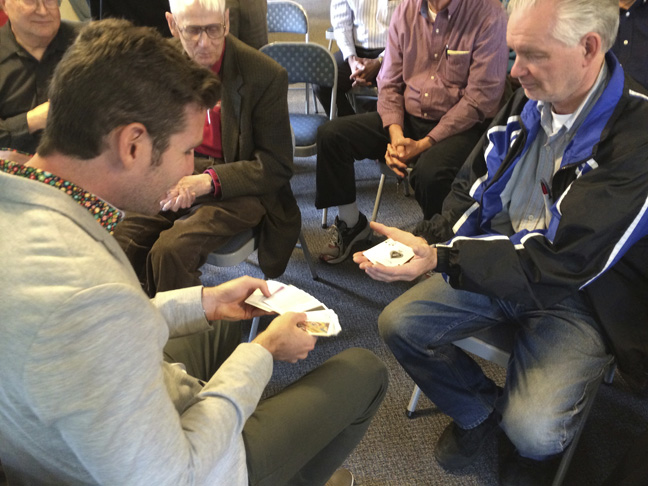 Josh shares his Prism deck.
It's really hard to pick any favorites, so I'll ramble. Josh's Hitchcock card trick and his work with Troy Hooser's coins on ribbon are always lovely. Of some recently marketed tricks, Inferno really impressed me. Josh came up with what he calls asymmetric equivoque to narrow a deck to four cards, then a brilliant out of the box method to get to the final card. (There was also a very funny Mac King anecdote in here.) As to book tests, I had known that Glance was basically the Mother of All Magazine tests, but didn't realize what additional methodology and presentations had been built into it. Nice. Corner Plus was a vanished bill to anyplace that was almost too good to be true, but it was that good. An amazing trick for anywhere, any time. Josh has long performed and taught a squeaky clean vanish of three coins, originally involving a flipper coin, but has now come up with a new gaff to achieve the same clean effect (actually, better: you produce and vanish the coins), and there is far less likelihood of anything ever going wrong mechanically.
Although Josh is a layman's magician at heart, he is also very much a magician's magician and can fool the best of us. That was the case a couple of MAGIC Live!s ago with his ring and wineglass segment in his one-man show. In the lecture, he similarly fooled us with a Sherlock Holmes sketch. While Josh was blindfolded, one of four audience members was selected to pick any of five decks, then a card from the deck, and then to place the card in a glass, back to the audience, and cover it with a silk. Via some very funny audience questions, Josh as Sherlock divined the spek, the deck, and the card. I was convinced that the only way it could be done was for his girlfriend to stooge for him in the back of the room. So wrong: it was another exceedingly clever out of the box one-man method, which he was nice enough to share. All in all a terrific two-hour magical pick me up.
I cannot imagine what it would be like to lecture in so many amazing places, but you can by checking out Josh's rich photo album here.
P.S. Given that this was Indy, Caleb Wiles was in the audience, and he also reinvigorated my magical interest with two new card tricks, a Tribute to Harry Riser and a gaffless version of Dani DaOrtiz's Triple Intuition. Ask him about them the next time you see him.
THE ABC MYSTERIES -- One of the highlights of the Genii Bash was to finally see Rob Zebrecky in person. I became a fan years earlier when he posted his very first web page, and even more so a fan as his Odd Man character developed. It took a lot of thinking to get to be one of the hottest "overnight" successes that Rob is today, and he shares that thinking in a two-hour Penguin Live lecture from Penguin Magic (penguinmagic.com). Nicely hosted by Nathan Kranzo, the lecture consists of three basic phases: a performance, a biographical segment, and Rob's Alphabet Talk. I had seen a briefer version of the Alphabet Talk earlier at Magi-fest, but in this one Rob talks at length on each topic. You know the drill: A is for Acting, B is for Balance, C is for Collaboration, and so on. Twenty-six mini-TED talks that will make you a better magician. An awesome two hours for under thirty bucks. (They always advise to "leave them wanting more." In this case, Rob mentioned two routines I have not seen him do, but would love to: A routine in which he abhors bananas, and the Skeleton Dance, where Rob does his patented dance moves behind a screen, and you see his skeleton doing the dancing.)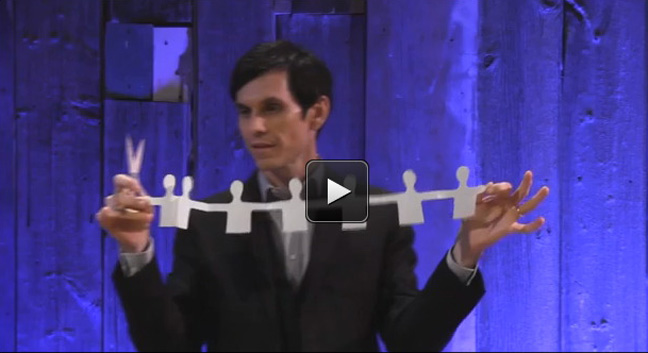 Straight from Charles Addams.
The even better news is that Penguin has 118 additional lectures available, some running to four hours, and most from names I'd love to hear from. I have some serious catching up to do. Each lecture was originally presented live online, and you could post questions to be answered on the spot. How cool is that?