OHIO STATEMENT -- As with any good magic show, Joshua Jay, Andi Gladwin, and Tim Moore made Magi-Fest 2016 look effortless. Not only did the boys have time to socialize, to man their Vanishing, Inc. booth, and to host and star in events, but all the little things clicked: registration was lightning fast, events started and (mostly) stopped on time, seating and audio-video were great, inexpensive food was available at crazy early and late hours, scheduling (an hour between events) was conducive to shopping and socializing, and both audiences and onstage acts were a perfect mix of old and new blood. In its 85th year, Magi-Fest has shaken off its retro reputation (change bags and feather flowers used to dominate) and looks like the convention of the future. Magic in Columbus is in very good hands.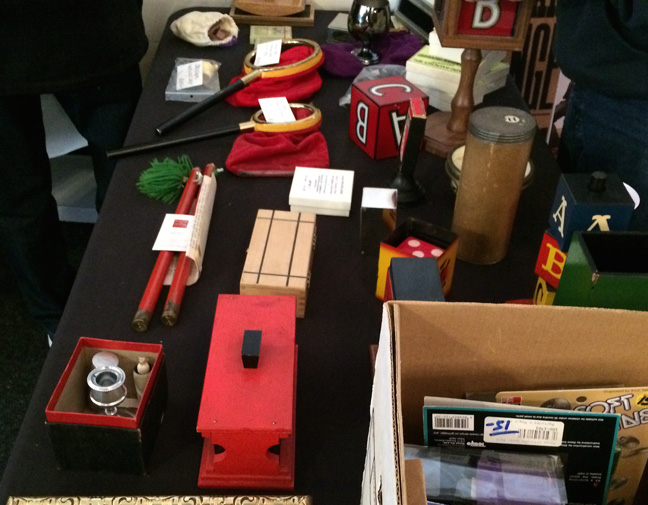 Andy Greget's vintage apparatus.
Random favorite moments:
Impromptu magic in the lobby. The Big Three—Tom Gagnon, Howard Hamburg, and Tom Craven—held court for three days, at all hours, sharing three lifetimes of experience and creativity. Do these guys get paid? (Stuff I noted: Gagnon's control of a slug of aces during a tabled cut, Hamburg's split doubles, Craven's three-pile key card placement.)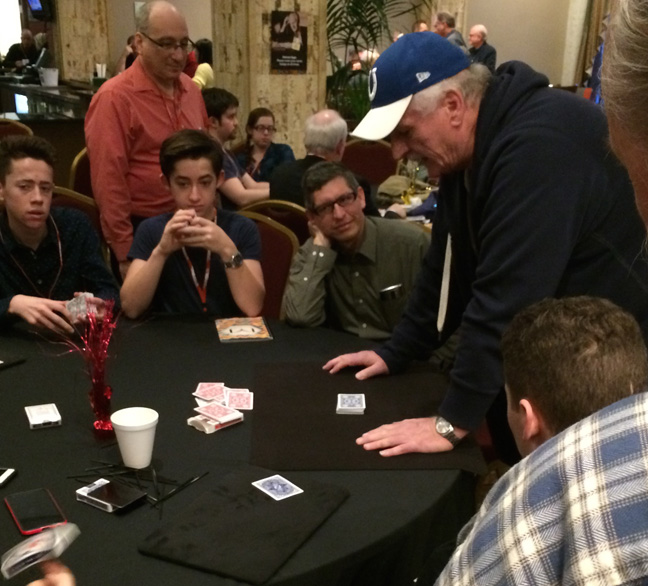 Tom Gagnon at work.
More impromptu magic: Asi Wind treated lobbyists to a full set on Thursday night. I was too late to break through the throng, but the gasps and applause were impressive.
The late-night version of "Fool Us" with Josh, Andi, and Tim in the Penn and Teller roles. Great contestant turns from my friends Glenn Morphew, Mark Doetsch, and Taylor Martin among others. The big climax was Doc Dixon's Transposed Finger to Box illusion with a full-stage faux explanation involving black art, a monkey, and Josh's wife. Everyone wound up winning free registration to Magi-Fest 2017.
Aaron Fisher's lecture reminding me how good Panic is.
Brent Braun teaching the Charlie Miller table pass.
Adam Rubin describing his amazing new kid book, Robo-Sauce. A normal children's picture book morphs into a robot book.
Eric Leclerc's system for handling dumb common questions ("Can you make my wife disappear?") by turning them into a mystery.
Helder Guimaraes' brilliant creations, my favorite being his Something's Missing routine in which a blue card added to a deck is the exact one needed to replace a missing card. Also a super nice Card Under Coin routine.
Viral YouTube guy Steven Brundage's insane speeds at solving Rubik's Cubes. Must take enormous practice time. Host David Corsaro later invited him onstage, brought out a beautiful babe, and said, "Steven, this … is a woman."
Josh's razzle-dazzle world-record-setting discovery of seventeen selected cards in under a minute. We were the witnesses.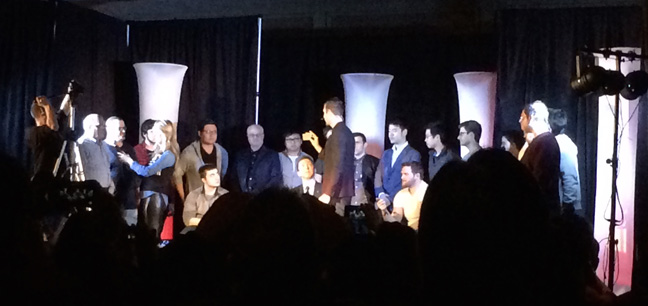 Josh Jay sets a world record.
Josh's trick that fooled Penn and Teller explained (for those who missed it at the Genii convention). Soon for sale!
David Corsaro's excellent magic: I'll use his unprepared (no dupes) version of the Fred deck.
The local young man from the audience who started speaking to Asi Wind in Spanish when Asi said that English wasn't his first language. An hilarious conversation in Spanish ensued.
Levent's high energy one-man show with lots of linking rings. Were there ten? Fifteen? Later, his erudite lecture on the rules of stage magic, billiard balls, and Miser's Dream. Levent these days is using lots of 3D printing.
Glenn Morphew frying a lady in the hallway with his cards to pocket routine (E equals M C squared).
Harrison Greenbaum making me laugh more than anyone else, first in his comedy magic act and then in his late-night adults only comedy set. His most quotable line (but I won't) regarded his two favorite things in life. We've come a long way from Herman's puns.
Chatting with Caleb Wiles about 26 Factorial news, the Blomberg book, and "Andy" gags.
Simon Coronel fooling us with a force of a symbol on our cell phones and stunning the guy next to me ("The best trick of the convention," he said) with Clippo.
Jeff McBride lecture with magic both beautiful (Knots Off Silk) and hilarious (Benson Bowl routine, Baby on a Plane).
Shin Lim performing (and explaining!) his Pray for Paris act. Some asked me what the best part of the convention was. This was my answer.
Shin Lim performing the trick again on the monster gala show along with his Card to Mouth trick. What a gala show—every act a standing O. Awesome work from John Archer with his ukulele and Jeff McBride with his mask routine and perhaps the best kid he has ever had for the Miser's Dream. But let's talk about Xavier Mortimer. He became a favorite the first time I saw him do his Mirror Illusion, and it was on the show, but I was also blown away by his new musical number including Dance of the Shadows. After producing various objects on cymbals (How???), he began playing a clarinet, spotlighted against a white screen. Along with his shadow directly behind him, three other life-sized shadows played along with him, constituting a musical quartet. At some point, each of the other shadows in turn began to spin or pivot, as if there were a rod through each's belly button. When it was Xavier's turn, he pivoted as well, spinning in midair. Quite a surprise. And this was only the opener to the gala show!
Jim Turnpaugh teaching me and Mike Powers a Jim Snapp presentation for dealing seconds, thirds, fourths, and fifths. Sweet! Watch for it in Mike's Linking Ring column.
Eric Leclerc's comedy magic kid show, for over a hundred kids, followed by an interview by kid show expert Danny Orleans. It's amazing the difference between what really plays for kids and what clueless dealers stock and sell as "kid show" material.
My favorite dealer items (reviewed below): Andrew Mayne's new book, magic & mischief, and Danny Orleans' 3D Sports Paddle. Other awesome products at Magi-Fest, previously reviewed here: Tenyo-ism, Blomberg Laboratories, and Nick Trost's Subtle Card Creations Volume 5.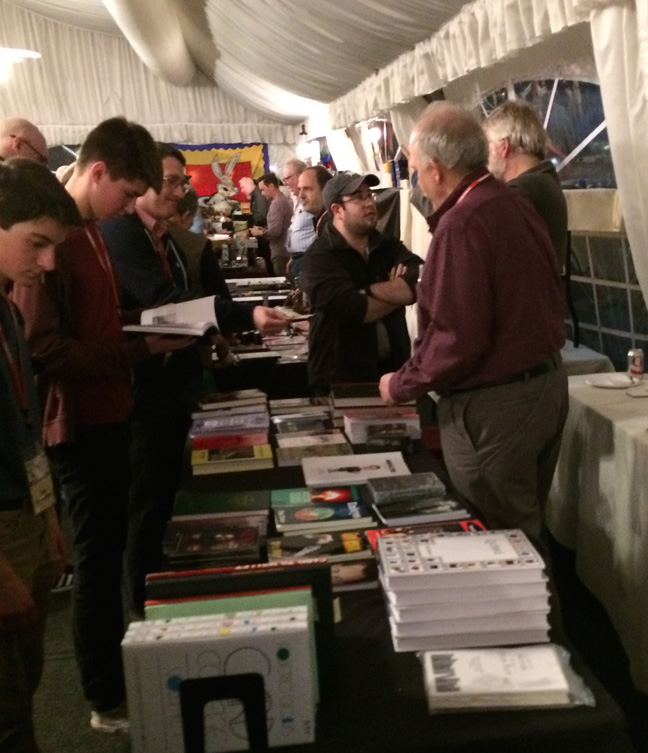 The original H&R marketing in a tent.
Anyone who chatted with me about The Little Egypt Book of Ghosts. I love hearing about what you did for your Halloween shows.
And of course … anyone who chatted with me about Little Egypt Magic. (Or Lucas Mackenzie and the London Midnight Ghost Show.)