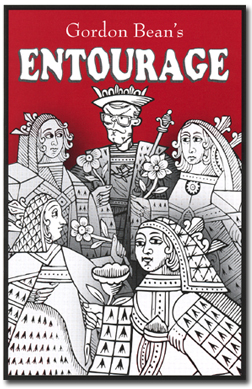 Who's the fairest of them all?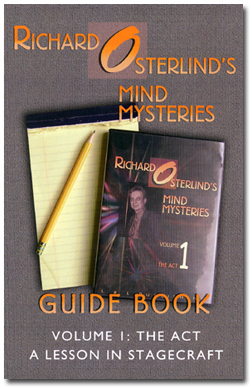 Richard Osterlind tips the Real Work.
PARTY GIRL -- Gordon Bean's latest packet trick, "Entourage," is a walkaround performer's dream, with two amazing magical effects, a strong emotional hook, and an instant reset. Basically, you begin with four face-down queens sandwiched between two face-up jokers ("royal guards"). The jokers are needed to protect the ladies from the paparazzi. Your spec names any of the queens (the queen of hearts, for example; no equivoque) and guesses which three of the face-down cards are not the selection (again, a completely free choice). Magi places the discards in the spec's hand and then flips the single card remaining face up to reveal that it is the queen of hearts. "I knew you would name her," the magi boasts. "She's the most beautiful. And like Paris Hilton, she always travels with her posse." Magi flips the three face-down cards face up to reveal three more jokers. The lines in italics here are mine, based on an earlier title for the trick that Gordon considered. The effect comes with slightly different and strong patter that I'm not tipping here. The handling is squeaky clean, and it leaves you ready to move on to your next set of guests. $19.95 plus $2.50 payable to Gordon Bean at Entourage c/o William Goodman, 2641 South J Street, Oxnard CA 93033.
SUPER BONUS DAYS -- Acclaimed mentalist Richard Osterlind has two sets of DVDs on the market, his original material forming Mind Mysteries (seven volumes) and top Annemann/Koran/Corinda/etc. material forming Easy to Master Mental Miracles (four volumes), all available from L&L Publishing. Both sets contain very strong stuff. Recently, Richard has released companion Guide Books of approximately 80 pages each, intended to amplify the material on the first two dvds of Mind Mysteries, namely The Act and The Osterlind Breakthrough Card System. To be honest, at $30 apiece, I consider them overpriced. (The addenda cost as much as the core products.) On the other hand, if you own the subject Mind Mysteries volumes, and are therefore tempted to perform this material (and I believe you will be), these are valuable additions to your education. Richard considers these booklets to be akin to the bonus material you often enjoy with commercial movie or tv show dvds, and they felt that way to me (I'm a big fan of dvd bonuses). All the little lines and handling tips along with why Richard made the decisions he has made form, as editor Jim Sisti says, the real work. I was blown away by Richard's thinking and you should be too. Note that, with few exceptions, no technical secrets are included here: for those you need the original dvds. Soft covers, nicely edited (an A+, Jim) and laid out by Jim Sisti. Get the dvds first, then seriously consider these books.
ECCENTRICITIES -- Charlie Frye is a madcap goofball whose act, if only they paid enough, should be featured in Disney's Golden Horseshoe Review until he is too old to do it anymore. Of course, behind all his slapstick energy, comic juggling, and hilarious magic is some deep magical thinking. His new DVD, Charlie Frye's Eccentricks 3, is simply a joy to sit and view, but the two magic tricks on it that make it worth my time and $$ are "Psycho" (a great new version of "MacDonald's Aces") and "The Old Ball Vase" (a presentation for the Cambodian Ball Vase that you can find for $75 at such sites as Meyer Yedid's). $35 from your favorite dealer or directly from www.charliefrye.com.
June 2006
Here in late June we are still looking for the blockbuster books Roy Benson by Starlight and The Vernon Touch. Their tardiness allows time to look at a few choice tricks and dvds among the many flooding the market, as well as time to note stuff going on in the magic world at large. Meanwhile, I hope your summer is off to a great start, and I look forward to chatting with those of you headed to Louisville next month.
CREEP SHOW I -- A few Halloweens ago, I worked up a hand through body illusion based on the one taught on Rich Marotta's Dynamic Duo dvd. In that version I ripped the heart out of a beautiful girl. Andrew Mayne has come up with a new version, released under the Paul Harris Presents aegis, and it looks cool in its various incarnations, one with apparatus that allows you to see the hand as it punctures the abdomen, and one a completely impromptu version. No less than Criss Angel is performing it. I like it a lot, though should point out that you can't rip a heart out and, if you want to capitalize on all the nuances of the apparatus, you can't even do it to a girl. (Those pesky breasts get in the way.) But these are details: if you want to make it appear that you stand behind someone and plunge your hand right through his body, a sort of "Interlude" without the box, this is a very efficient way to do it. Creepy, and up to Andrew Mayne's usual fine standards of deviousness and practicality. "Gut Buster": $75 from your favorite dealer.
CREEP SHOW II -- Several years ago at a magic convention at the Orleans in Las Vegas, the wonderful J.C. Doty showed me a new invention of his, a way to form a blister of a selected card on your finger tips. Although Doty never marketed his version, to my knowledge, other versions have appeared. The latest, Jason Palter's "Third Degree Burn," adds the new feature that any card can be named, you then plunge your finger tips into a lighter flame, and the blisters form, revealing in exacting (and apparently painful) detail both the value and suit of the card. Whether or not this new feature is important to you, the device does its job very well (and isn't painful). I prefer forcing a card from a deck, having the spec concentrate on it, then touching his forehead as I snatch my hand away in pain. The effect is that he was concentrating too hard, so much so that his forehead was burning. I then look at my fingertips and reveal the name of the card for the first time. That's my take. If you choose to exploit Jason's new feature (any card is merely named; no deck is required), you should sell that aspect. Either way, this looks cool. It's the sort of thing David Blaine might have done on the street as real magic. $55 from your favorite dealer.
CREEP SHOW III -- Most magicians are familiar with Shinkoh's Arm Twisting illusion: it's been performed on television by David Copperfield, Harry Anderson, and David Blaine. Joe Russell takes it to a grim new low with "Dis Jointed," adding bone crunching sound as your hand rotates 360 degrees, followed by your breaking your arm at the elbow and the dislocation of your shoulder. All returns to normal, though the restoration is almost as creepy as the initial destruction. Completely impromptu, nicely taught on a Paul Harris Presents dvd. (And it's not difficult. I completely broke my arm a couple of years ago and can do it fine with the game arm, titanium rod and all.) $20 from your favorite dealer.
TWISTING THE NIGHT AWAY -- Although I vastly prefer books over dvds, I don't think I could appreciate an experience as lovely as the "Asher Twist" without having seen it live or on dvd. The same is true of Reed McClintock's "McClintock Twist," which both thrilled me and badly fooled me. The effect is similar to that of the "Asher Twist" except that the cards are held vertically. One at a time the cards reverse themselves among the other three. There seems to be no funny business; it just happens. Very nicely explained, with extra routines employing the move. Just beautiful. $35 from your favorite dealer.
CANNING SEASON -- Sam Lane's "Can-Tastic" is like a breath of fresh air: a great prop capable of many possibilities, with no damn dvd to have to watch to figure out what to do with it. Happily, you're on your own. With this apparatus, you can make a signed bill or card or some socialite's diamond ring appear inside a sealed can of anything you might purchase at your neighborhood grocery. With an ordinary can opener you open the thing, remove the lid, and fish the object from the yuchhy contents. Okay, the can opener isn't quite ordinary, and neither is the can, which may be re-used as often as you like. This is a very practical prop and handling. Have fun with this, from your favorite dealer for $55.
AND NOW A LOOK AT THE NEWS -- Most important, Gordon Bean and his wife, Kathy, are the parents of a new baby daughter, Fiona. Now let's see how much time Gordon has to invent packet tricks. Second, Karl Fulves has a new magazine, Prolix, which, according to Matt Field's news on the Genii forum, will be a 68-page journal published sporadically, 10 issues plus minor props for $150. Order from Karl at his long-standing address of P.O. Box 433, Teaneck NJ 07666. And finally, Criss Angel's second season of Mindfreak is off and running on A&E, which suddenly makes Wednesday nights special. The new series is very strong, with theme-based shows. My favorites to date are the Levitation and Sawing episodes.