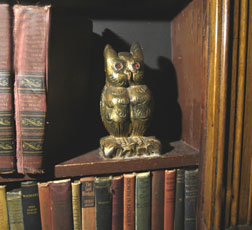 Say Open Sesame.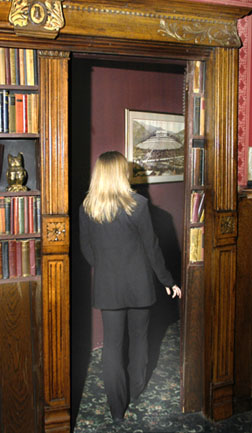 Erika Larsen knows Castle secrets.
HOLY MARY MOTHER OF GOD -- The 26th World Magic Seminar (if you count its Desert Magic Seminar roots) is one for the record books thanks to the spectacular late-night roast of the Amazing Johnathan. The magic world is abuzz over an appearance by Penn Jillette in Roman gladiator attire leading a mock religious tableaux that many found shocking and offensive. It should be noted that most who found it so (the loudest critics so far) did not attend, and any disgruntled folks who did attend (I didn't see any) were fully warned that, in the grand tradition of roasts, the material would be offensive. Although I failed to grasp the exact point Penn was making, it led to a hilarious comeback from AJ and a very funny exchange later between AJ and Siegfried (Siegfried was incredibly funny and received a standing ovation for his bit). On the dais were the likes of Kerry Pollack, Lance Burton, Johnny Thompson, Amazing Johnathan, Psychic Tanya, Rich Bloch, host Glenn Farrington, Mac King, Billy McComb, AJ's road manager (sorry -- I didn't get his name), Darren Romeo, and Milt Larsen. It was one of the funniest nights of magic I've ever experienced, and, if there is a God, I hope someone somewhere was taping this. There were so many styles and no weak moments. AJ of course gave each back his due and was the funniest of the lot. The laughs aside, the real point of this roast, sacrilegious moments included, was an amazing and honest outpouring of love and respect from magic's top personalities toward each other and especially toward Amazing Johnathan. These are all truly wonderful people, and it was an honor to witness them share this moment. Those who didn't "get" this missed the message, missed the fun, missed the love.
HOLY MARY MOTHER OF GOD II -- Oh, yes, some other stuff happened last week in Las Vegas as well. Some personal highlights: Performing at Michael's Pub for a friend's going away party, attending Mac King's show at Harrah's and Shark Reef at Mandalay Bay (the two best commercial experiences in Las Vegas, period), sitting at Monte Smith's table at the elegant WMS opening night party with a great view of the acrobatic Duality pair, learning Aldo Colombini's rope routine, attending Lennart Green's workshop, laughing at Mark Mitton's sushi mat routine and Bravo Nakaya's girl to "tiger," seeing Anne Bancroft and Mel Brooks up close (they accompanied Harry Lorayne to a show), watching Lee Asher show his "Asher Twist" to Channing Pollock, playing ping-pong with Dean Dill, observing Paul Wilson's card magic and novel handlings of Paul Harris's "Reality Twister," coveting Losander's floating table, coveting Sean Bogunia's Sony Clie and his skill with a yoyo, being agog over Versini's living shadows, enjoying Mike Close classics in his marvelous Houdini Lounge, cracking up at everything Tom Burgoon did, meeting vampire magician Mark Mayer, drooling over the babes in Asher's and Fisher's Bad Boys lecture (loved Asher's "Losing Control"), being amazed to see Mac King's mom perform (recite, anyway) a rope trick well into a 1:00 A.M. show, downing some fantastic cake at the Celebrity Autograph Reception, and sitting in awe of singing magician Darren Romeo. Both his magic and his singing oozed with star quality, and he's a nice guy to boot with a major babe of an assistant from when they did birthday parties. The biggest thing I am leaving out (and a lot of other stuff happened) was hanging out with the many friends I've made over the years. This is the best part for me, as always. So kudos to Rich, Joe, and new partner Glenn Farrington. It was a great convention, all of it.
A&E BIOGRAPHY PRESENTS -- OK, so it's not A&E, it's a written biography. My favorite novel of those I read last year was A.S. Byatt's 1990 Possession, a riveting tale of literary scholarship. I thought of that often as I read Stanley Collins Conjurer, Collector, and Iconoclast ($75), by Edwin A. Dawes. This biography is a marvel of detailed research, and, like Possession, it also touches on its subject's juicy romantic situations as well as what makes him important to us, as the creator of the "Collins Four-Ace Trick" along with many others, including a complete chapter in Bobo and an important entry in Thompson's My Best. There were two Mrs. Collins, Mabel Godfrey and Margret Briden (the latter 20 years his junior), though neither was in fact married to him. Collins was quite opinionated, neither a fan of Our Magic ("... to me, it was tripe. Your term, fustian, describes it perfectly.") nor of Greater Magic ("It makes an excellent trouser press."). He disfavored the rough-smooth principle, yet was enamored of the Electric Deck. During his lifetime Collins published several magic books: Original Magical Creations, Deceptive Conceptions in Magic, Collins's Card Conceits, and A Conjuring Melange, along with various marketed tricks including the book A Holiday in Morocco used for "The Nonpareil Book Mystery." Two unpublished books, Wizardry for Winter Evenings and Gems of Personal Prestidigitation, appear for the first time, in their entirety, in this volume. Also included as a bonus is a CD containing a 1-minute 56-second mpg movie showing Stanley Collins performing various card flourishes, titled Stanley Collins: The Shuffler. The book is large format, 354 pages, fully indexed, from Kaufman and Company, and it's handsome enough to make you wish Richard were still dispensing new books more frequently.
January 2003
What a month this has been so far. First off, Happy Birthday to the Magic Castle. It's my favorite place on the planet. This month also takes a look at a World Magic Seminar that no one will ever forget and a ton of new products to spend all that loot you got for Christmas on. Plus a new Harry Potter is finally on the horizon. Best wishes for the new year to one and all.
HAPPY BIRTHDAY -- One of the disadvantages of growing up in the Midwest was that everything cool in life seemed to happen in California. At 10 (I am going to date myself here) I began devouring every Sunday supplement description of the fabulous new theme park Walt Disney had just opened. When I was 18, Genii began running features about a fabulous new magical clubhouse that Bill's brother, Milt, had just opened. And there was Gidget and surfing. I never met Gidget nor learned to surf (though I love boogie boarding), but college graduation led me immediately to a job in Pasadena and to both Disneyland and the Magic Castle. I've maintained a lifelong love affair with both. The Magic Castle celebrated its 40th anniversary this month, and the event was nicely chronicled in three major magazines. Foremost is Genii, which devoted 36 pages to the Castle in an extended piece I was privileged to contribute to (I particularly covered the whimsical spooky side of the Magic Castle, including Irma and the seance). The photos are by Pete Biro, and a few are included here to whet your appetite. In MAGIC, Max Maven wrote an excellent history of the Castle, and a new production, Open Sesame (a Magic Castle magazine edited by Erika Larsen), devotes most of its 36 pages to the Castle's history, including some great vintage photos. The three magazines complement each other and are well worth your time.
MONEY MYSTERIES -- Over the years, there have been numerous marketed tricks and routines in which bills change into other bills (ones to hundreds, for example). Some of these involve a complete switch of one bill for another (in this genre, there are versions with and without thumb tips). Others involve a bill or bills cleverly attached to the backs of the bill they are to change into. Familiar examples are Brad Burt's "Two Ones to a Two" and Patrick Page's "Easy Money." Three new items crossed my desk this month that fall into this second "gaffed bill" genre, which makes them all dead easy to perform. First is "Hypno-Bill" ($15), a mss that teaches you how to make one bill that changes to another, simply by folding the bill in half and "wiping" your hand in front of it as it almost visibly changes to the new denomination. It's very clean. Second is Richard Sanders' "Slow Burn" ($19.95), a DVD that teaches you how to convert a stack of bills to a stack of a different denomination. Specifically, you stack four bills and pass your hand over them. The entire top bill changes into a new value (sort of a full-bill version of "Hypno-Bill"). You then fold this in half, unfold all four bills to reveal that they are all the new value, and then spread the fully opened bills to show them each quite cleanly. You may then reverse this procedure. My favorite of the bunch (and the newest effect) is Docc Hilford's "Million Dollar Deck" ($15). You begin with a stack of hundreds, bound by a bank's paper band. You remove the band and then wipe your hand over the stack of bills. Instantly the bills morph into a deck of cards in the process of being shuffled. "My card tricks are worth millions." The deck is left clean to perform your favorite card tricks.
TALES FROM THE CRYPT -- Docc Hilford creates the kind of spooky effects I enjoy doing, so it is always a pleasure to read his material. Of late Docc has been issuing small, rather pricey (Docc spent too much time at the marketing knee of Brian Flora) manuscripts that are nonetheless of considerable value to those who will purchase and perform the routines. Five such mss recently came into my possession, ranging from 28-36 pages each. Band of the Hand ($25) contains two mini-seances concerning Jack the Ripper, a scary take on "Copper, Silver, Brass," a deadly newspaper prediction, and the already familiar and excellent "Swamp Water," a spooky voodoo style reading. The Sign of Four ($25) contains spooky presentations for such "mundane" items as the "Imp Bottle," "Color Vision," and the 1089 force. At the Mountains of Madness ($30) is a single, extended performance piece involving the magi astrally projecting himself into various locations, highlighted by mysterious vapors, a nasty stench, and a bloody eyeball. Docc teaches how and where to market this act. The Star Tradeshow Act ($20) is just that, an act ready to go, including how to attract a crowd (this is built into the routine) and how to work the sponsor's message into the show (also built into the routine). One of the items in the act is the "Million Dollar Deck" which must be purchased separately (it's not essential, but a great addition). The Lolita System ($30) is my favorite of the bunch as it is the most versatile. It extends a familiar Charles Jordan ruse with a deck of cards to make possible a host of spooky effects, including book tests, living and dead tests, and of course card and numeric effects.
COME ON BABY, LET'S DO THE TWIST -- At the recent World Magic Seminar, the most coveted item was Losander's floating table. The hottest item under $1300 was Paul Harris's "Reality Twister" ($15). It's hard not to think of it as a Tenyo item, as it is attractively created in plastic and has a Lubor Fiedler invention at its core. Specifically, "Reality Twister" is a Lubor Fiedler/Paul Harris/Mark Setteducati invention with the pen manufactured by Uday Jadugar, in a package designed by Ben Harris (all produced and distributed through Murphy's Magic Supplies). A pen is placed across a spectator's fingers and viewed through a small plastic lens. When the lens is turned 90 degrees, the center of the pen vanishes, but the spec's fingers remain in full view. He can move them, wiggle them, whatever, but still see them. A bit more magic is performed, such as turning the lens 45 degrees, and a marked twist appears in the pen that is permanent. The once straight pen now has a complete 360-degree twist in its center. R. Paul Wilson has thought out some very clever presentations for this effect, and numerous tips and presentations will soon be available in a small booklet.
SHOCK THEATER -- Andrew Mayne has been quietly making his presence known over the past few years with low-budget illusions (including an ambitious book full of them; it can be argued that he is today's U.F. Grant). Shock FX ($29.95) is his new video of some 13 items, and it's the stuff I love to do around Halloween. "Lit" is some fun with a fake cigarette that takes me back to the 8th grade, when I harrassed a movie theater manager with one. Other favorites include "Pencil Through Cheek" (an anytime illusion), "Take-Out" (some demented fun with a box of takeout Chinese food), "Geek!!!" (a gory bit with a rubber chicken), "Lunch for Cthuhlu" (in which you devour a cigarette, a razor blade, some thumb tacks, and a lit candle), and "Bob Roach: Psychic Entertainer" (in which your trained roach fails to find a selected card, or does he?). Andrew is a young guy with a fun sense of humor, and he makes all these bloody and frequently self-mutilating effects most palatable.
HARRY POTTER FIVE --- Dumbledore lowered his hands and surveyed Harry through his half-moon glasses. "It is time," he said, "for me to tell you what I should have told you five years ago, Harry. Please sit down. I am going to tell you everything." At long last the beautiful and wildly talented J.K. Rowling has the fifth volume of her Harry Potter series in her publisher's hands, and all the big guns in the bookselling markets (Amazon/Borders, Barnes and Noble, etc.) are receiving unprecedented advance orders. Harry Potter and the Order of the Phoenix will weigh in at 255,000 words (64,000 more than Goblet of Fire). With a June 21 publication date, it will be just in time for summer beach reading. Get your magical tie-ins ready now.