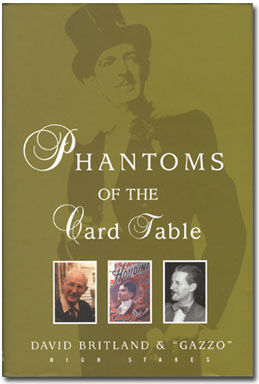 The real secrets of 20th century card cheats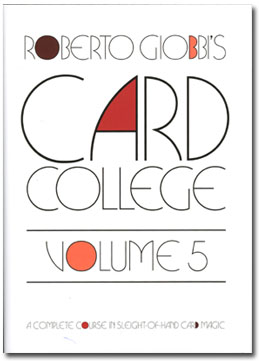 Continuing studies
GHOSTS -- In June of 1930, at Al Baker's home in New York City, an anonymous card cheat named Walter Irving Scott gave a demonstration of crooked dealing (from a deck shuffled by others) that turned magicdom's ideas of what could be done with a deck of cards upside down. Present at the demonstration were Baker, T. Nelson Downs, Cardini, Sam Horowitz, Eddie McLaughlin, and Max Holden, along with Scott's "handler," the tale-weaving and magic scene social climbing Eddie McGuire. That night constitutes the central event in this marvelous tale of early 20th century card cheating. The book is titled Phantoms of the Card Table, and in its pages we encounter a darker Dai Vernon (revealing a side that will only extend his legend; Vernon often preached, "Don't chase fame," but we see the lengths to which he worked to secure his own), an energetic young Charlie Miller, an impressed Ed Marlo, a loony Eddie McGuire, the modern expert Steve Forte (in an Afterword), and the multifaceted phantom himself, Walter Irving Scott. Scott took pride in his card skills yet deplored the act of cheating. Much of the rest of his life was also a con; he made a nice living as a faux Hawaiian musician. That we are privy to this extraordinary tale we owe thanks to Gazzo Macee (that name and character an invention of expert card handler and street magician Gary Osborne), who tracked down Walter Scott long after he had been all but forgotten, and to the quite wonderful prose of David Britland. I knew I was in good hands from the first paragraph on, when I encountered the sentences: "Cards are easily controlled during a shuffle, can be palmed in comfort, and can be subtly altered, counterfeited and arranged to facilitate some ingenious scams and swindles. A deck of cards in the hands of a cheat is a weapon of unsurpassed criminal possibilities." Completely fascinating. $40 from various outlets including Amazon. I got mine from H & R Magic Books.
PUTTING IT ALL TOGETHER -- Guy Hollingworth probably never imagined he would launch an entire industry when he created "The Reformation" (still the best of the lot), but he did, and my own pockets are far emptier for all the methods I've purchased over the years to tear and restore a playing card. The latest to cross my doorstep, and one of the most enjoyable, is "Fusion" by Sean Fields. This method looks good and is quite easy because you aren't constantly hiding a second card, and the signature can be large and cover the card. The price is a discrepancy at the end, when part of the restored card is still actually torn. Those who have toyed with various methods by Ben Harris will not see this as a problem, and Sean's method eventually cleans things up via a complete restoration. If you are into this genre, you should enjoy this take on it. (I think there is a minor discrepancy in the instructions, but I worked around it quite easily, and the mss was edited by someone who doesn't know a foreword from a "forward," whatever the latter is.) A 25-page mss for $15.
June 2003
As my son said of my recent Father's Day gift, "I had to send your present late, because I sent Mom her Mother's Day present late." Such it is with this installment. Any earlier and we would have short-changed the May installment, which was quite tardy. Not to worry -- there is more great reading to discuss, and the convention books haven't even hit yet. Egad. So spend some time with David Britland and Gazzo, Roberto Giobbi, Andrew Mayne, Docc Hilford, Sean Fields, and the most excellent Jo Rowling. Hey, see you at the beach.
GRAD SCHOOL -- Any adult card student has, by now, no doubt immersed himself in Roberto Giobbi's four-volume Card College, a master course in the fundamental sleights of card magic, taught in the time-honored Royal Road fashion of sleights and techniques first, followed by practical applications. Giobbi's new Volume 5, after a brief look at some additional techniques, is an entire book of practical applications. This is strong, first-class, straightforward card magic of the type favored by, say, a Michael Skinner or an Earl Nelson. As it is all strong material, it's difficult to isolate standouts. I shall mention a few that appealed to me, but the choice is more a random selection than a claim to preferences. "Fantasist at the Card Table" is a multi-phase gambling demo (similar to Vernon's "Blindfold Poker Deal") in which the card expert just tops his opponents at draw poker, stud poker, blackjack, and bridge. "Poker Burn" is another dead-easy crooked deal that I've often felt would fly in a casual game (especially if you deliver the desired cards to a partner). "Secret Setup" is a devious Tamariz-type method (self-working) for stacking a deck under a spectator's nose. "The Homesick Jesters" is a most satisfying reverse matrix routine using only four jokers and 12 indifferent cards. There are lots of nice convincers in this. "The Endless Loop" is an Escher-like approach to the "Signed Card" plot. "Slow Henry" is a lovely ace assembly. "Study for Four Aces" is a detailed examination of the Henry Christ four-ace discovery. "On the LePaul Envelope Set" confirms my own assessment that a card discovered in a nest of envelopes is far more mystifying than a card discovered in a goofy-looking wallet that could only have come from a magic shop. The book is gorgeously laid out and illustrated in the same format as the first four volumes, and we are now up to page 1417. What a labor of love from Professor Giobbi and Headmaster Stephen Minch. $40 pp from Hermetic Press.
HIGH FIVE -- Andrew Mayne continues to be one of magic's most creative innovators of practical illusions. In his mss Touching Sky, he explores six methods of self-levitation. (I titled this paragraph "High Five" because one of the items is the Balducci levitation, which Andrew of course did not create; nice description though.) "Mid-Air" and "Suspension of Disbelief" are practical reworkings of levitations you already know. There is a self-levitation on the market that involves magnets in your shoes. Those who own that will enjoy Andrew's completely impromptu "Floating on the Edge," in which he positions himself to make the effect look good. "Airborne" allows you to first stand on a chair and then to float in a seated position while holding a cloth in front of you. The best item in the series, and the reason you should buy this mss, is "Portrait of a Young Levitator," which teaches you how to float while riding a broom in anyone's living room. You can drive your Harry Potter-reading friends crazy with this one. So, six ways to leave the planet for $12. See you in the clouds.
OUT OF THE BOX -- A few years ago, Docc Hilford issued "The Cassandra Deck," a gimmicked deck of cards in a wooden box. It came with a companion mss called 64 Tricks with the Cassandra Deck. Docc enjoys combining gaffs, and "The Cassandra Deck" is one of his more interesting explorations along those lines. The uses for it in the mss are impressively varied. I purchased the original deck for a hefty $100. You no longer get the wooden box, but the deck is now available for a more palatable $25, and the mss has been revamped and re-issued as Fem Fatal, 64 Sinful Secrets of the Cassandra Deck for $35. Of interest to fans of the Docctor.
TRIFECTA -- Docc Hilford's "Cards of Cairo" allows you to display three jumbo cards. (Actually, not quite jumbo. I would personally use cards of my own rather than the cards supplied.) The spectators freely select them in order, and you very cleanly convince them that you knew the order in advance, all dressed up as "a bit of mystical fortune-telling." (Docc would never be so mundane as to present something as a mere trick.) The method is so clean it will make you laugh, and will probably fool magicians as badly as normal people. As David Roth said in a lecture once, regarding one of his coin tricks, "If you like the effect, you'll love the method." $20.
HE'S BAAACK! -- Friday evening June 20 I was surrounded by a large gang of witches and wizards who were waiting for midnight, along with some increasingly punchy Muggle parents, for Harry Potter 5 to go on sale at our local Borders. I am presently 200 pages into Harry Potter and the Order of the Phoenix, and it's the most ripping start yet. Great fun. Available everywhere (at least when they restock!).