Santa was generous this year, dropping off a couple of New Yorker anthologies, Volumes 1 and 2 of the graphic novel of Neil Gaiman's The Graveyard Book, Jeff Daham's The Unauthorized Story of Walt Disney's Haunted Mansion, the two-volume Tenyo-ism, Bll Goodwin's Still Waters DVDs, and a Dai Vernon poster and deck of cards from Dan and Dave. As to those magic items ...
JUST ONE WORD. ARE YOU LISTENING? PLASTICS. -- My first "real" (for adults) magic trick ws the Penetration Frame, from Martinelz Magic Mart in Florida, in 1958. I've no proof that it was a Tenyo trick, but it was certainly Tenyo quality (still works great 58 years later), and it established my fancy for ingenious magical apparatus made of plastic.
Boxed sets.
Although the company dates back to the 1930s, the modern phase of Tenyo began under the hand of Akira Yamada, son of Tenyo Shokyokusai, himself a nephew of Tenichi. Yamada sought to open business in the west in the late 1960s via his own welcoming trip to the Magic Castle and via a visit to Japan from Dai Vernon and Larry Jennings. On a pivotal trip to England in 1972, a dealer refused to sell Yamada any magic because Japan had a reputation for ripping off material. Humiliated, Yamada returned home and vowed "no more copying," resolving to manufacture only original material. The first original line appeared in 1973, and Tenyo launched its Creative Division in 1976 featuring such creators as Hiroshi Kondo and Shigeru Sugawara. Yamada also negotiated rights to the Tarbell course and began a Japanese translation by Hideo Kato. One of the most honorable companies and an era of remarkable creativity were under way. By the 1990s, thanks to introductions by Mark Setteducati, genius creators such as Lubor Fiedler and Angelo Carbone began contributing to the line.
With the weighty (over 20 pounds) arrival of Richard Kaufman's boxed set Tenyo-ism, I now appreciate this incredible company as never before. Tenyo-ism is a buffet of stellar magic, its two books (1263 pages) and bonus materials including the following:
* History of Akira Yamada and his company.
* Biographical profiles and paintings by Teruhide Sonoda of principal staff members, including Akira Yamada, Hiroshi Kondo (seminal creator and VP until 2014), Shigeru Sugawara (in 1977 and 1980 he created all four tricks in the Tenyo line), Kazumasa Shimizu (senior demonstrator; Tenyo Magic Corners in department stores have always been key to sales), Hideo Kato (Tarbell plus a book on Larry Jennings magic and edited Magic School, Tenyo's magazine), Gary Ouellet (wrote Tenyo instructions from 1978-1992), Tomoyuki Shimomura (Creative Division, wrote the Japanese instructions), Toro Suzuki (Creative Division), Steve Cohen (wrote instructions since 1997), and So Sato (Creative Division; So Sato stunned us at the Genii convention with his brilliant card magic), among others.
* Catalogues of the standard public line of magic and the Magician's Selection line (sold to more serious amateurs and professionals).
* Reprints of articles about Tenyo from Genii and Magic Manuscript.
* New articles from Tenyo staff member.
* Excerpts from Magic School (Tenyo's magazine, 77 booklets of over 1200 pages).
* New handlings of tricks from the likes of Dan Harlan, Tomas Blomberg, Tom Stone, Michael Weber, Phil Goldstein, Richard Kaufman, and Mago Anton.
* Descriptions, histories, and photos of the primary Tenyo line from item T-1 (1955) through T-263 (2014). This is the bulk of the book, all your favorite Tenyo tricks on display.
* Descriptions, histories, and photos of standard magic apparatus sold to magicians only. These high key photos of classic apparatus (milk pitcher, zombie ball, etc.), over 66 pages, the most beautiful in the book, will make you feel like a kid again, dreaming of being a magician.
* Descriptions, histories, and photos of Magician's Selection items.
* Tricks by Creative Division staff, most published originally in Tenkai Prize books. Some 85 pages make this a book within a book. (If you "win" the Tenkai prize, you must publish a book of original material. Most have been in Japaneses only, but I happily possess one from 1988, by Phil Goldstein.)
* Two DVDs of official demonstration videos.
* One DVD titled Tenyo Scrapbook.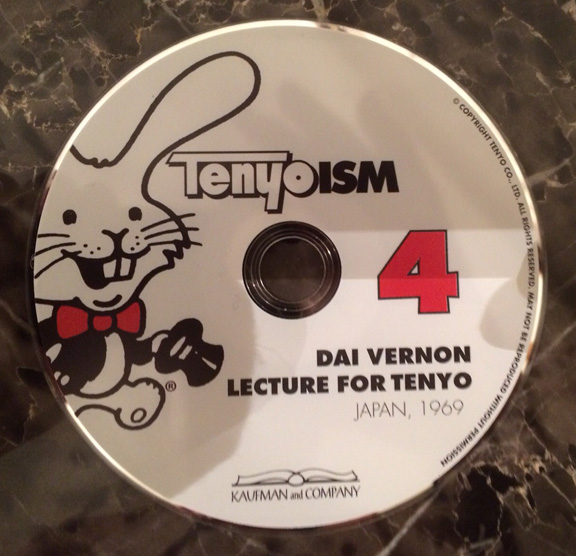 The extras are fun.
* One DVD of the Dai Vernon and Larry Jennings lecture for Tenyo in 1969.
* Three Plus One tricks. In Japan, purchasing a Tenyo item entitled you to a coupon, and three coupons entitled you to a Plus One trick, the only way to acquire a trick that packed flat for mailing. The three supplied with Tenyo-ism include Toro Suzuki's Illusion Scale, the trick I have previously purchased and hailed as Kitties. Both Andy Greget and Meir Yedid sell it and have their own routines.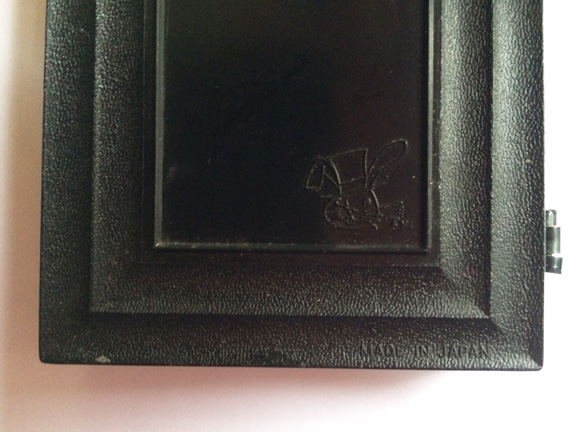 The bunny logo says Tenyo.
Over the years, I have not been a Tenyo collector, but rather have simply purchased items that particularly appealed to me in given years. I confined my first serious skim of the books to items I owned (I was frequently distracted by others, nonetheless): Penetration Frame, Dental Dam, What's Next?, Card Case (I purchased two, for Arthur Monroe's Voodoo), See Thru Guillotine, Tunnel of Darkness, Crossroads, Midas Machine, Zig Zag Cig, Eclipse (a favorite, a mechanical version of Paul Harris's Twilight), Telesphere (another favorite, a mechanical Cups and Balls), Invisible Zone, Antigravity Rock, Blue Crystal, Illusion Scale, and Flying Carpet (my favorite from Lubor Fiedler, nothing else in magic like it; can you imagine the thrill of the staff when he first showed this to them?).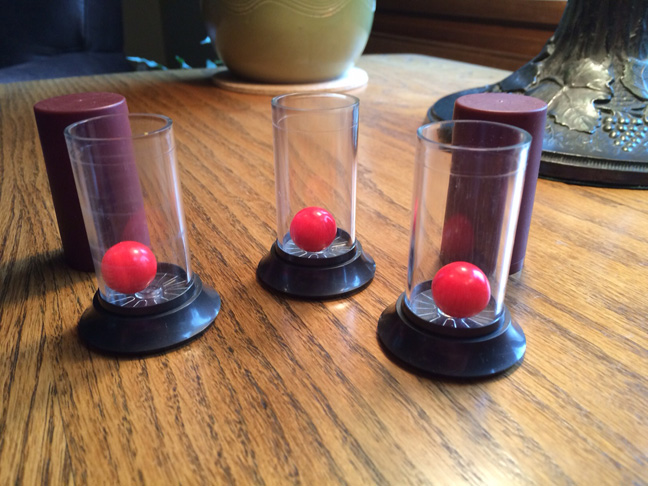 Telesphere -- world's easiest Cups and Balls.
I regret missing a few in the process. I failed to acquire the Paddle Collection (couldn't afford it), Oh No (amazing severed finger), Clyde (rabbit puppet inspired by Stan Allen's bunny), Phantom Clock, Tiny Ring (baffling performance of this on the Scrapbook DVD), Magic Butterfly (love the handling with the jar), and The Haunting (skeleton visibly writes a message). And there were many Japan-only items I was unaware of.
The classiest set of books I've seen in magic. Some 1300 pages on museum quality paper, slipcase, plus three tricks and four DVDs. $250 from Kaufman and Company, plus $50 shipping in the U.S. (And the packaging is going to impress you.)
DEEP WATERS -- A lay friend and his party recently attended the Magic Castle as my guest, and the group encountered Bill Goodwin and Jamy Ian Swiss in the Peller Theatre. As my friend wrote later of the performances, "Their stage presence was first rate and their magic was off the charts." I would expect no less and must confess to some jealousy that my friends saw the show rather than I. My discomfort was lessened, fortunately, by the arrival of Still Waters, Bill Goodwin's two-DVD set of his original card magic.
On the DVDs Bill performs and teaches ten tricks and moves, in exacting detail, but that is only part of their value. Mostly, these are valuable because they showcase an amazing sleight-of-hand artist performing beautiful magic of the style I first saw in a young Michael Skinner. Extras include three of the routines shot at the Magic Castle's Closeup Gallery on April Fool's Day, 2015. You witness first-hand how well they play. (The Extras also include an interview with Bill.)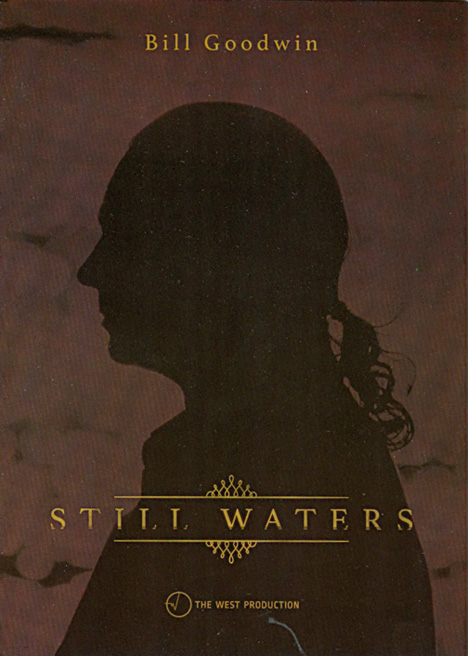 Pure magic.
The methods are as surprising and baffling as the execution. A Cannibal Cards routine fooled me badly because of some built-in audio chicanery. Audio also plays a deceptive role in Pocket Calculator. (I shouldn't have been fooled by that one as it is in Bill's mss Evolution. Alas, I fell in love with Duplex in that document and apparently stopped reading. The result is that I hadn't a clue.)
I should warn that some of the requisite sleight of hand is a tier or more above mine (one routine requires a side jog faro, a top card cover pass, and a side steal), but some are in range and all are so well taught that you can get there if you put in the practice.
The DVDs are accompanied by a 20-page document that lays out the credits, a most pleasing foray into the depths of modern card magic. It's the first time I recall anyone making use of Steranko's Shadow Steal. It should surprise no one that Bill Goodwin has the background of, say, a librarian. (The mss also includes a bonus four ace trick.)
Two DVDs shot in high definition with multiple camera angles, handsomely produced, plus color manuscript. $49.95 from billgoodwinmagic.com. Recommended as a teaching resource but also highly recommended for entertainment value. I've been watching mine over and over.
MALEFICENT AND THE PROFESSOR -- Jon Racherbeumer's audio column in the January Genii surprised me with a quote from Lin Searles in Ibidem in 1960: "what do you say when some jackass louses up a legend?" Lin was referring to the first volume of the Vernon Inner Secrets trilogy, and the jackass was Lewis Ganson. This surprised me because early in my marriage, nine years later, my wife approached Lin Searles for a Christmas gift recommendation, and he recommended the trilogy. It was, until this Christmas, the only time my wife had surprised (and delighted) me with a magic item. (In fairness, P. Howard Lyons added back in 1960 that the second Vernon book was out and "was as good as the first was disappointing." Perhaps Lin's estimation also rose over the evolution of the series.)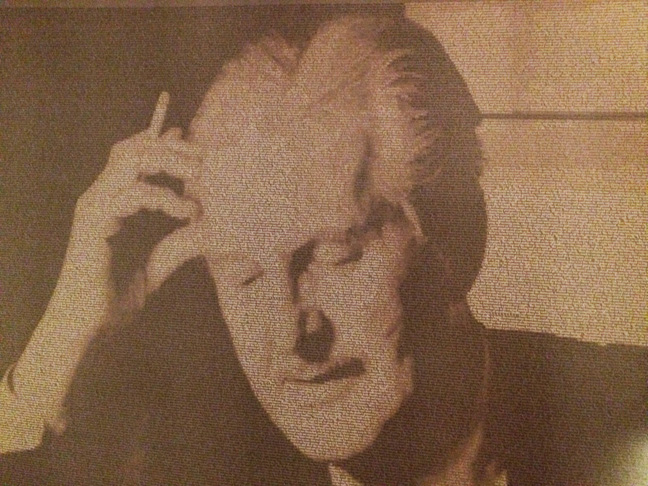 The Professor in study (partial image).
Fast forward 46 years to a second magic-related Christmas gift, a Dai Vernon poster and deck of cards. This "A Tribute to Vernon" by Dan Frederickson from Dan and Dave includes an uncut sheet of cards 22 by 26.5 inches featuring the Ross Bertram photo of Vernon but composed of tiny text from Erdnase, a matching deck of cards, a museum-grade placard describing the uncut sheet, and a playing card with Vernon's signature on one side and "Be natural" on the other. Each item from a signed and numbered edition of 500 is lovely, from the Bucks, $52.
I can't wait to see what she buys me in 2061!