GENII HOLDS ITS FOURTH -- If you wanted a great convention, all you had to do was rub the lamp, and the head Genii, aka Richard Kaufman, would grant that wish. Thus we have just enjoyed Genii Convention Four with an array of talent both eclectic and widespread (USA, UK, Canada, France, Spain, Australia, South Korea, China, and Honahlee).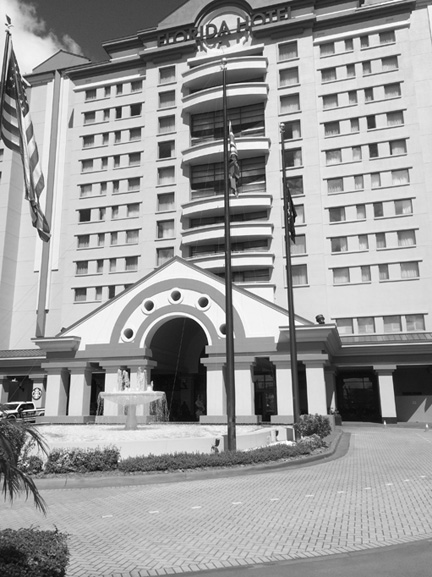 The Genii is back in the house..
MOMENTS TO REMEMBER -- Of course, what you take away from any convention depends on what you attend, what you stay awake through, and what tickles your fancy or tugs at your heart. What follows is not a review per se, but a few of the moments from Genii Convention Four that congealed for me into favorite memories, those "I was there when ..." moments. No disrespect is intended toward anyone not mentioned. We knew you were going to be great.
Substitutions. I arrived in Orlando seriously disappointed to learn that past Genii favorite Rob Zabrecky was a late-minute no-show. It is almost Halloween, and I was looking forward to his lecture on spirit magic. Nevertheless, Richard filled his spot with Raymond Crowe, who was sensational as will be mentioned below. The other dropout was Akira Fujii, who couldn't obtain a visa. Richard filled that spot with Orlando home boy Terry Ward, who crushed his time slot. With thousands of Disney World performances to his credit, Terry was arguably the most accomplished entertainer on the bill.
Class notes. The many well-attended lectures proved that old dogs still enjoy new tricks. Too early for me, but not for those who filled the room to literally overflowing, was Ian Kendall's Basic Training Breakfast. I did arise early enough for David Kaye's kid show lecture and loved his videos of kids screaming insanely during his show. David's analysis of what works for kids is spot on. Jim Steinmeyer's history lesson will have us all looking up Charles Morritt. Eric Jones impressed me teaching the exact fingering for his Three-Fly routine. Michael Chatelain teaches sensational card magic for those who like crafts. Incorrigible pickpocket Hector Mancha had a cool rubber band through neck, how to find a card with his nipple, and how to do Card in Mouth while playing the harmonica. Gaetan Bloom's Standing Card (I did this over 30 years ago at Illusions!) thrilled those who hadn't seen it before, and his Quarte (predicted four-digit number) couldn't have been more out of the box. I need to spend more time with his Miracle Factory books.
Showtime. Genii Four provided plenty of magic spread over one-man shows, two Max Maven hosted close-up shows, and three galas. Favorite magic moments ...
If you attended it, the one event you won't forget is the late-night Piff the Magic Dragon show. I became a huge fan of Piff when I first saw him eat a banana on AGT, and it was great to finally see him live. But it all went crazy when he introduced (his dad?) Pop the Magic Dragon (aka Penn Jillette) and they challenged themselves to perform Spectator's Urine to Impossible Location. The male magician who had promised to help had gone to bed, and a young lady magician saved the night by offering her own specimen, live on stage behind a sheet. Dragon magic!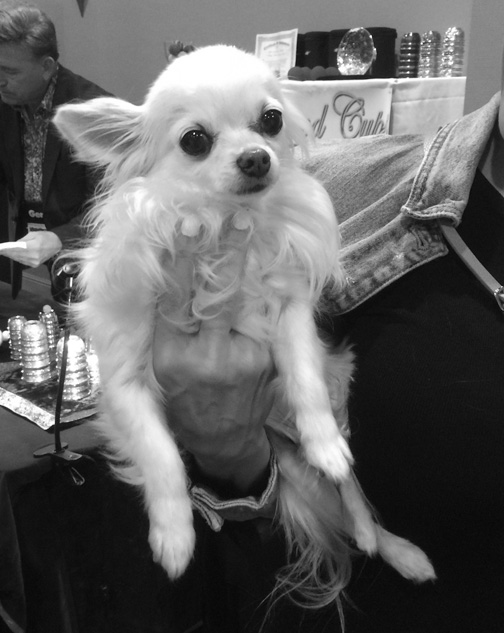 Richard forbade celebrity photos, but who could resist Mr. Piffles?
I first saw Seinfeld writer Pat Hazell's family slide show at MAGIC Live, and it was hilarious to see it again. His childhood sooo paralleled mine.
Steve Martin says you have to be so good they can't ignore you. I had been trying to ignore Mac King stand-in Nick Diffatte all year (I'm getting too old to admire every kid who comes along), but he is so good I can no longer fail to acknowledge how funny, skilled, and young he is. Go back and read his Genii cover story, as I did upon returning home.
Another young magi, already on my radar, is Ben Seidman, who is also fall off the chair funny, but fools me badly. How could random numbers shouted from the audience match the serial number on a bill?
My favorite performer of this convention was the lovely Lucy Darling, first noticed in these pages in September 2018. Lucy is Mae West funny, Mae West sexy, and has an absolute mastery of her audience. Nice to see her live! On the opening gala Lucy rotated with Hector Mancha and Raymond Crowe. Lucy did such numbers as her "Fool Us" book production and cocktail shaker Chop Cup and Multiplying Bottles, Hector hurled cards and hit me on the arm, and Raymond killed with his animated jacket, Salt Pour, Baby in a Box, silhouette cutting, and Hand Shadows. What a wonderful world!
Lucy returned to the gala on Saturday night to share emcee duties with Nick Diffatte. "Just do some skits," Richard had advised them. Right. Some of us noticed Carisa Hendrix (Ms. Darling's alter ego) sitting with Nick on the second floor that afternoon, writing new material. Their eventual "skits" were first rate, with sharp call backs to the magic dragon urine routine of the night before. The emcees set a high bar for that gala's cast of Romany (who had the good grace of not performing Gypsy Thread for the audience's fifth time of the weekend), David Kovac, Jay Johnson, and Jon Archer.
The close-up was no doubt wonderful, given the lineup, but harking back to college Astronomy I have difficulty staying awake in a theater seat just after lunch. Nevertheless I enjoyed John Lovick's Little House on the Scary, Hector Mancha's perverse Every Trick Becomes Triumph, and Terry Ward's Three Shell Game. Alexandra Duvivier is gorgeous and charming, or perhaps I was just dreaming.
Chats. Genii conventions traditionally feature a major celebrity interview, and this year it was Penn and Teller being interviewed by Randy Pitchford. Penn opened with a most commendable card trick, then settled in for the questions. Teller had some medical appointments, so was available only by video. The memorable facet was that the guys refused to attend unless Richard Kaufman agreed to read in full his scathing review of P&T that he wrote back when they were "the Bad Boys of Magic." He humbly complied, to great laughs.
Extras. I did not attend the Escape Rooms or the 49 Boxes, but heard good reports from those who did. On the other hand, I greatly enjoyed, as always, the Genii swag, including a couple of Deland decks, a Penn and Teller deck (amusingly gaffed), a box of snacks, various booklets, tricks, and DVDs, and my favorite: five nicely machined and heavy coins, Genii on the tail side, a famous magician on the head side. Lovely!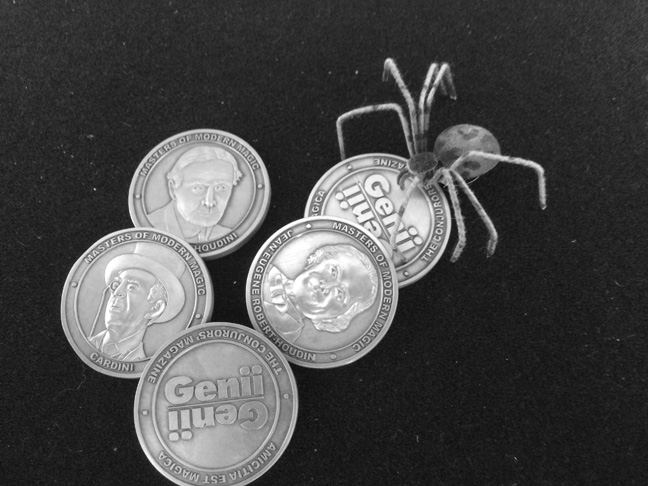 Great swag!
Sessions. The best magic of any convention is usually the trick done just for you or a small group. Thanks to Kent Gunn for showing me his Wild Card. Kent loved the story, I loved the numerous gaffs, and everyone loved how magical it looked. Later I caught Gene Anderson and Michael Vincent wowing each other from different approaches. Gene performed with a really crappy old plastic deck and achieved instant revelations and a nice Lie Spell sequence (no skill required; in his book, page 217). Michael achieved beautiful results with beautiful sleight of hand, methods going back to Lepaul. As Eugene used to say, there are many rooms in the house of magic. And finally, Richard Hatch showed me a most deceptive bar bet with a pocket full of change. It became the hit of my granddaughter's birthday party.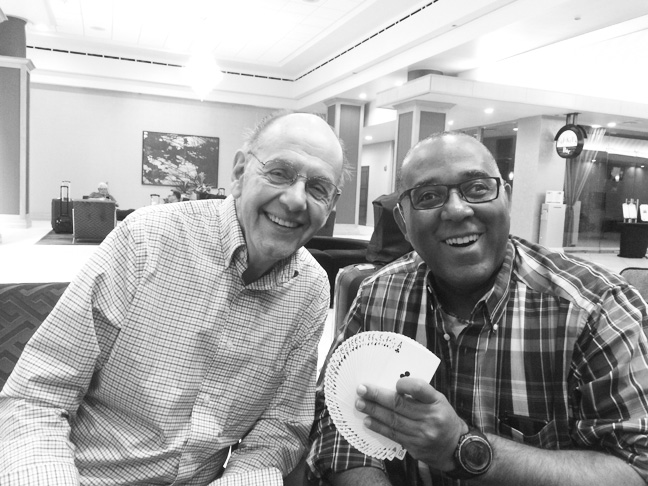 Gene Anderson and Michael Vincent session.
Name dropping. -- All the above notwithstanding, the best part of any convention is sharing a few words (and, if lucky, many) with friends and heroes. I was lucky to pass at least a little time with Paul Harris, Noel Britten, Jon Archer, Lucy Darling, John Lovick, Mark Horowitz, Gene Matsuura, Julie Eng, Max Maven, Brad Aldridge, Brad Henderson, Scott Wells, Matthew Holtzman, Kent Gunn, Rosie Rings, Tony Miller, Andy Greget, Jim Steinmeyer, Gene Anderson, Michael Vincent, Charlie Randall, Richard Hatch, Peter Samelson, Jack Shalom, Bill and Becki Wells, Tom Gagnon, John Signa, Harry Monti, Curtis Kam, Alan Howard, Dustin Stinett, and of course Richard and Liz and Emma Kaufman. Lest I be accused of gratuitous name dropping, note that some exchanges were of no greater extent than "Get out of that seat. It's saved!" Also great to chat with Indiana friends, Little Egypt Magic readers, and various dealers, plus saw other friends and heroes but never got close enough to say hi. Thanks and love to all.