By second class I don't suggest inferior class, but merely an additional or second skill set, what has often been referred to in magic as an Allied Art. Let's expand on this ...
THE ALLIED ARTS -- My first magic catalog hailed from Nelson Enterprises, purveyors of "Mental Magic and the Allied Arts." At twelve years old I had no inkling what the Allied Arts were until I turned to the Will Dexter book I mentioned above. Dexter devoted a chapter to the subject (mentalism itself had its own chapter), citing juggling, puppetry, chapeaugraphy, and troublewit as the dominant examples:
"The first magical entertainers were the jongleurs, who performed a versatile mixture of programmes that would baffle many an entertainer today. Not only would they offer magical mysteries, but they would interlard these with juggling, possibly a little puppetry, a song or two, and even a few contemporary selections on the lute."
Dexter lauds the juggler, often the most revered act on the bill at a magic convention, over the magician: Jugglers "... represent the very cream of talent. Their skill is uncanny compared with that of the conjurer, who depends upon subtlety and misdirection rather than absolute command of brain, muscle, and eye."
I became impressed over the years at the versatility of our best known magicians, many who excelled at some Allied Art or another, talents sometimes incorporated into their acts, sometimes merely a sideline skill, and sometimes as an alternate source of income. In all cases these secondary skills distinguished them, if not as performers then as human beings.
Names and abilities that immediately pop to mind:
Jay Marshall could converse with his left hand. (And was no slouch at chapeaugraphy, troublewit, and Punch and Judy.)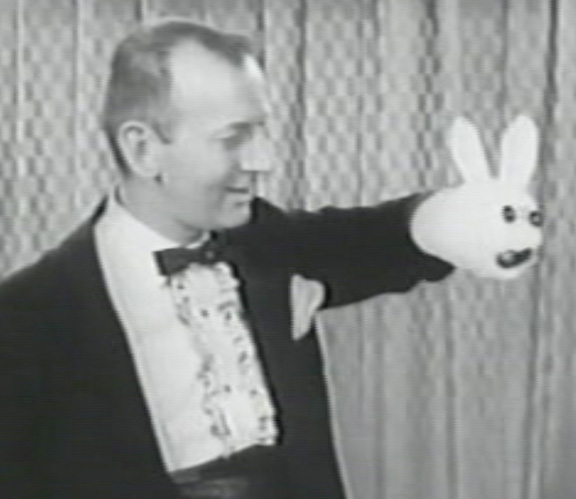 Jay and Lefty.
Michael Carbonaro sculpts himself into characters via shaving cream.
Doc Eason ties his own bow tie.
Brian Gillis's partner Sisuepahn does the Lulu Hurst act.
Mike Caveney juggles a cup of coffee. (Until Mike's boxed set of books came out, I thought this was a magic trick, not juggling. I still have my suspicions.)
Juggler Charlie Frye does fantastic magic. (Which one is the Allied Art? He can also do a mean Flea Circus. And is the funniest guy in this list.)
Dai Vernon made a living cutting silhouettes.
John Archer plays the ukulele.
Johnny Thompson plays the harmonica.
Harry Lorayne remembers the names of everyone in the audience. (And does lightning fast math.)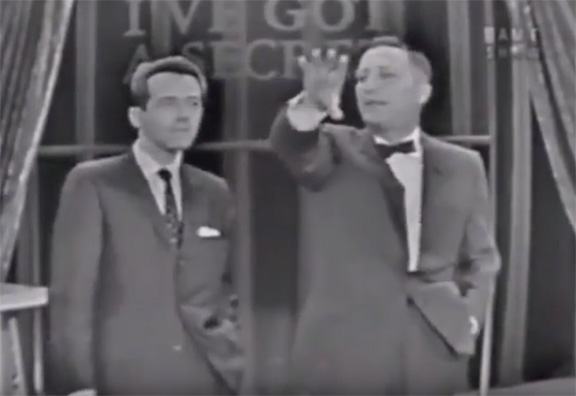 Harry introduces everyone in the audience on "I've Got a Secret."
Mike Caldwell could flip in the air and land on his back.
Amazing Johnathan and Brian Gillis boxed. Each other.
Brian Gillis and Martin Lewis raced motorcycles.
Martin Lewis performs Nankin Tamasudare.
Ricky Jay throws cards really far.
Mac King is a master chef.
Carisa Hendrix is a world-champion fire-eater.
Mike Close plays the piano.
So does Howie Schwarzman.
Milt Larsen can snatch a tablecloth off a fully set dinner table.
Darren Romeo sings show tunes.
Rob Zabrecky dances really silly.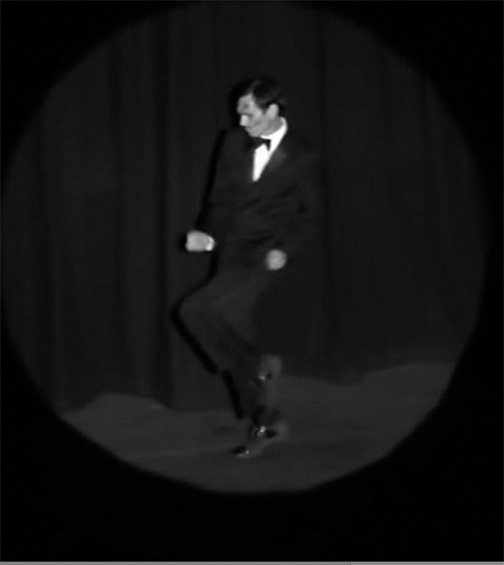 I'm going to dance for you.
Sean Begonia does amazing stunts with a yoyo.
Tom Mullica could devour lit cigarettes.
Harry Anderson had a soft spot for chapeaugraphy.
Ian Rowland slices cards into fantastic and impossible pieces of art.
Jamie D. Grant puts decks of cards into bottles.
David Blaine holds his breath like forever.
Milbourne Christopher could tie amazing rope knots.
Roy had extraordinary rapport with tigers and other animals.
And so on. I'm sure you have your own list. Meanwhile, what is your secondary talent?