SUPER 8 – Amazing! It is hard to believe that Nick Trost's gift to us, Nick Trost's Subtle Card Creations, begun back in 2008, is now up to Volume 8 of a projected 9. Time flies. I first noted the series back at Volume 2, with these words:
As Trost fans know, H&R Magic Books began publishing a new series of Nick Trost magic in 2008, titled Nick Trost's Subtle Card Creations, drawing on 21 notebooks of Trost innovations. Volume 1 contained 11 chapters along with a 51-page appendix on all the important moves, shuffles, counts, and cuts you might need to tackle most modern and ancient card problems. (Volume 1 is worth having for this appendix alone; the descriptions are first rate.) The series is handsomely laid out, with vintage decorative illustrations at the start of each chapter and the tricks themselves copiously and competently illustrated by Tony Dunn. Regrettably, Mr. Trost passed away in October 2008, and Volume 1 is the last he was to see published.
Over the years since, much has changed in magic, much has stayed the same. H&R Magic Books was sold to Marshall Petersen, and it eventually closed, and yet Richard Hatch and Charlie Randall reliably turn up at magic conventions with a popular booth, and Charlie reliably keeps editing and publishing new Trost works. This series constitutes one of the largest and highest quality one-man card magic collections and probably the most significant posthumous collection ever.
The latest lives up to its ancestors, with over 100 original card tricks divvied out over 13 chapters (from 83 through 95) plus an appendix. The new chapters (many with familiar titles) include Select Card Secrets, Coincidences, Court Card Capers, Further Poker Puzzlers, Gambling Tricks, Divinations, Predictions, Gilbreath Plays Poker—Part 5, Still More Triple Dealing Effects, More ESP Tests, Cards and Die-ceptions, Still More Pinochle Puzzlers, and Most Miracles with Cards. Trost notes that the tricks in the first chapter "would be suitable as an opener" and those in the last chapter "are strong and generally suitable for a closing routine."
The appendix contains nine moves or subtleties handy for the routines in this volume, even though most were included in the larger appendix from Volume1.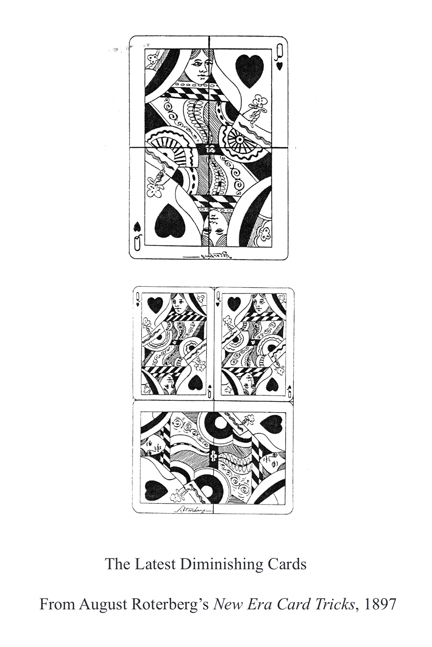 As to favorites among the new routines:
Queens to Royal Flush. First trick in the book, and it set a high bar. From a hand of five cards you deal one off as a hole card. The remainder are shown to be two pairs of queens. Thanks to a through the hand flourish, these become 10H, JH, QH, and KH. The hole card is the AH that completes the royal. This looks very clean, like something involving gaffed card that you might pay $30 for. I found myself doing it often, during breaks as I worked through the rest of the tricks in the book.
Lost and Found Jacks. Spectator buries the four jacks into a truly shuffled deck that you have then cut into four piles. Using a variant of the Allerchrist deal (an old favorite of mine) you locate the jacks.
Lucky Sevens II. Deal the cards from a shuffled (?) deck into a horizontal row of seven cards. Spectator names any number from 1 to 7, and you push out that card. Some convincing rigmarole with the rest of the deck finds three 7s. The original selection is the fourth 7.
Birth Year. As she sees it, the spectator gives the deck a legit shuffle, then she deals the cards into a pile, stopping anytime. She then re-deals these cards into four piles. The top cards spell out her birth year.
Dead Man's Hand Again. Wild Bill Hickok deals a hole card to the table, then shows his remaining cards to be two aces and two eights—the Dead Man's Hand. But no, that's not why he got shot. The cards are now shown to be four jacks, and the hole card makes a fifth jack.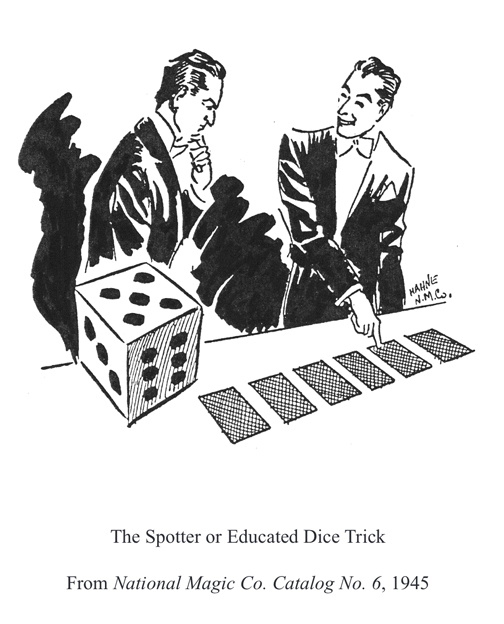 Climax 10-Hand Poker Deal. One of my favorite poker deals is Allan Slaight's Heavy Breather, from Spins and Needles, and this is similar. Your fellow gambler buries the four aces into the deck. Ten hands of poker are dealt out, and you get the aces. The cards are gathered and re-dealt, your opponent names which hand (1 through 10) is to win. That hand seems to get the aces (an ace shows when you turn the hand face up), but you spread the cads and it instead gets a royal. No key card, crimped or otherwise, is necessary.
Designated Wild Card. This looks great and is one of my favorites. The mark rifle shuffles the deck and deals five hands of draw. He picks up any hand, mixes the cards and selects one of them to be a wild card. You then shuffle (?) and re-deal. You get four cards to a straight flush plus the freely selected wild card.
The Olram Poker Deal. The spectator fairly riffle shuffles the deck, and the performer milks off a dozen cards. These are shown to be all red cards, after which two hands are dealt. Spectator gets five red cards, a possible flush, and the performer gets a straight flush in black cards.
A Double-Duke Stack. I'll quote directly from the book, plus a comment: A spectator riffle shuffles the deck himself at the outset. The performer places three queens on the face of the deck and demonstrates how they can be stacked to fall to player No. 1 in a five-handed poker game. Five hands are dealt and hand No. 1 receives the three queens. [Note: this is a genuine run-up system, fun to watch.]
The performer shuffles and cuts the deck, then deals five more poker hands, the fifth to himself. He shows that he has dealt player No. 4 a terrific hand—either a full house or four of a kind. Not to be beaten, the performer turns over his own hand to show the winner—a straight flush in spades.
Guesstimation and a Royal Flush Kicker. This is a nice takeoff on The Trick That Fooled Einstein. Spectator cuts off about one third of the deck. You cut off a slightly larger bunch and announce, "I have as many cards as you, three extra, and enough left over that when added to yours will make you have twenty-three." Spectator deals and counts his cards to the table. You then deal out small piles that verify your statement. That it was ordained is proven when the piles are turned face up, to reveal the five components of a royal flush.
All the usual features apply. Volume 8 boasts Nick Trost's refreshingly straightforward technical writing, copious illustrations by Tony Dunn and decorative vintage line art, dead-on epigraphs, precision editing by Charlie Randall, and of course over 100 baffling, easy-to-do card tricks. There is a foreword by Paul Gordon and an introduction by Nick Trost. Beautifully packaged by H&R Magic Books, 222 pages, hardback with dust cover. $55, from hrmagicbooks.com. Charlie expects to ship during the first week of December. Special deal until the end of November: $45.
Previous Trost reviews on Little Egypt Magic:
Volume 1: November 2018
Volumes 2, 3, 4, 5, and 6 (consolidated): March 2017
Volume 7: April 2019
Bonus mention: My second-favorite H&R publication is The Little Egypt Book of Numbers, still available, hardback with dust cover, for a song, at $15. We should have titled it The Little Egypt Book of Killer Bar Magic, which is what it is.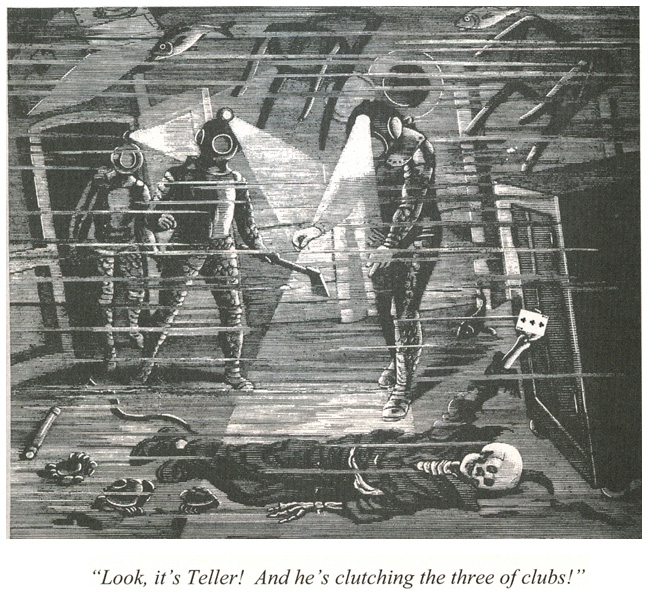 From The Little Egypt Book of Numbers.
David Regal's review in Genii:
Though many of these effects are ostensibly crafted for "special situations," such as bars, some would not only be wonderful effects in a professional's act, but could very well turn out to be the tricks people talk about. For example, one trick involves a card rising from a glass of beer, and another features a card revelation that will, without a doubt, make an audience scream (not with approval, but with terror). There is a lovely routine with "The Haunted Deck," a fortune telling system that is exceptionally well thought out, a mentalism effect with cards based on the Histed/Fox approach that could be a closer, and a trick for rowdy crowds that is sure to be remembered due to magical employment of an obscenity. I enjoyed reading this book, and appreciated the thought that went into the methods chosen and the presentations. If, in a book, you are looking for routines that will fool people and entertain them, whether it's an effect with built-in humor or one that will leave them purley amazed, this is a book for you.
Enjoy!

SO SATO-ESQUE -- Magical Honeycomb, one of the debut items from Tenyo 2021, is the most visually shocking magic trick I have acquired in many a moon. You place a small black loop on the table, smoosh it with your hand, and it turns bright yellow. Or a yellow loop turns black. You can show it all around, apparently. Or you can stick your thumb through it and make it change colors in place. Or you can place a black and yellow loop into your fist, remove the yellow, turn it black, and show that the black loop left in your hand has become yellow. If you could do real magic, this is what it would look like. And if you could do real magic, this is how easy it would be.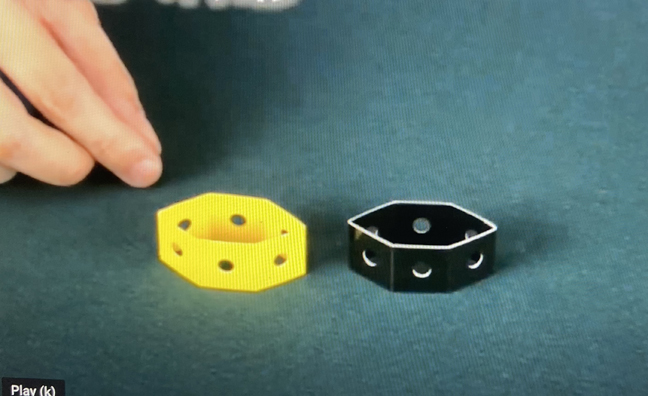 I am not sure what to call these little doohickeys. Loops? Rings? Bracelets? It doesn't matter. So Sato gets the credit as creator, hence you know it's good if you have read The Magic of So Sato. You get several items, a carrying box, and an instruction sheet (downloadable in English). Although multiple ring routines are included, my preference is to use one ring only. Crazy inexpensive at $12.50. I purchased mine from Vanishing, Inc.

This is a continuation of three long-time sources: Sunday evening's Magic Collectors Corner Online hosted by David Sandy with tech assistance by Lance Rich, of Thursday/Sunday evening's Behind the Bookcase perks from the Magic Castle's AMA, hosted most of the time by Jonathan Levit, and Harrison Greenbaum's Who Books That? sponsored by the IBM. The posts have continued to be excellent.
RETURN TO THE MAGIC COLLECTORS CORNER -- "Holy s***!" exclaimed Mike Caveney after witnessing a ghost sail over a Castle audience. October 18's episode on spirit cabinets, small and large, was outstanding. Martin Preston introduced Joe Karson's 1949 Voodoo spirit cabinet. John Caney took us into the great Leon's miniature haunted house. Jeff McBride revealed an unpublished, dark climax to Eugene Burger's Haunted Doll House of Millie Riggs. Mike Caveney shared a video of Carter's wooden spirit cabinet in full haunt. And Frances Willard and David Charvet detailed the 135-year history of the Willard spirit cabinet. (And watch for this: Frances will soon appear in a movie titled Elyse, starring Anthony Hopkins.) But my favorite bit occurred back in Pasadena at the Caveney house. The 500-pound wooden cabinet was crammed against the wall in a small space in Mike's basement. Mike entered the cabinet, Tina came out. There seemed to be no room for such a switch. Most baffling.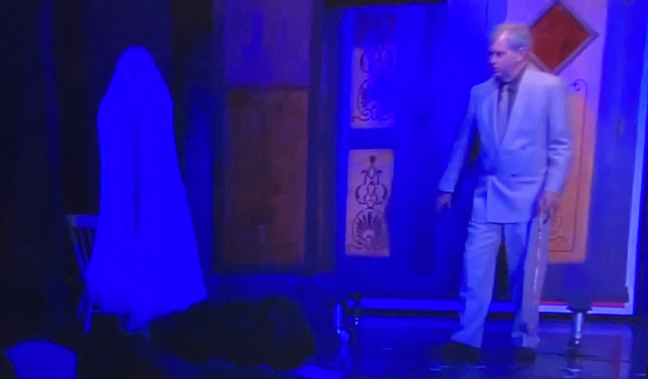 Black and white trailers of midnight spook shows preceded October 25's investigation into those of the distant and recent past. Bill Rauscher expounded on Neff, Todd Robbins and Teller on Play Dead, and Keith Stickley on his own show. Creepy memories! Keith explained the details of his "real dead body" give away. I attended the show back in June 2015, and it was a thrill.
Houdini for the third time was the focus of Collector's Corner on November 1. Weighing in with unparalleled expertise were John Cox, Patrick Culliton, Mike Caveney, and Fred Pittella, who owns enough handcuffs to arrest a small city. John shared a video of Houdini's King of Cards act, and Patrick asserted that Blackstone performed the underwater box escape six years before Houdini.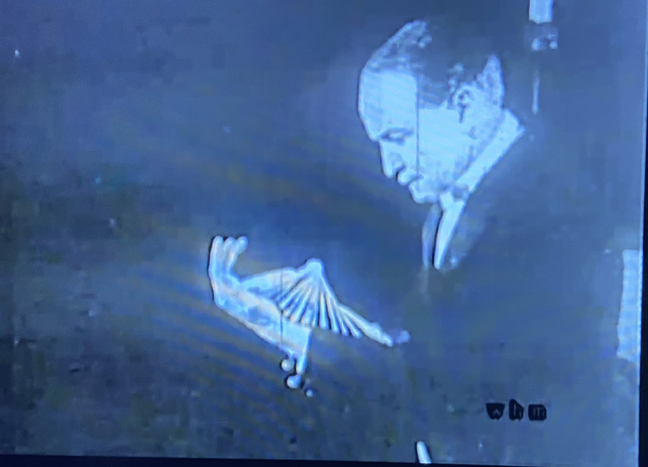 The November 8 Collectors Corner featured a fellow I had not heard of before: Jack Hart. Jack has made a career of set design, for such magicians as Mark Kalin, Harry Blackstone Jr., Andre Kole, and David Copperfield, along with such television shows as "Beat the Clock."
RETURN TO BEHIND THE BOOKCASE – Thursday October 15 Christopher Hart hosted a look back at a Fitzgerald Who's Hoo with Amazing Johnathan. Few can make me laugh so hard. I urge Genii subscribers to check out my encounters withf AJ in September 2000 and December 2004. Fun reads!
I didn't get to the Sunday October 18 Jonathan Levit interview with Michael Borys until days after it aired, but it was worth the wait. Who he? Magicians might know Michael as the creator behind 49 Boxes, but he and his company, 42 Entertainment, do far more. And nearly beyond my understanding, stuff involving rich immersive real life experiences to promote such movies as Tron and The Dark Knight and even Wrigley's gum. This is problem solving in the real world. Far hipper and brighter than I, Jonathan deftly quizzed the engaging creator on his many achievements, and the show concluded with a new card trick incorporating his unique approach to life. Cool!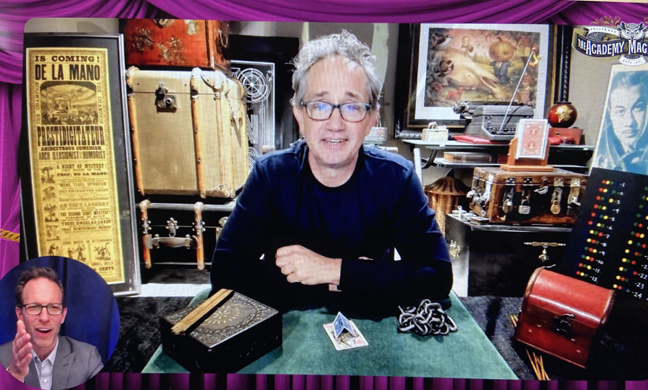 Thursday October 22 Mike Caveney guided us through a Peter Pit interview with Jane Thurston, an hour that greatly enhanced my appreciation of Thurston as a performer and as a dad. Delightful! Not to be missed if you can get to it.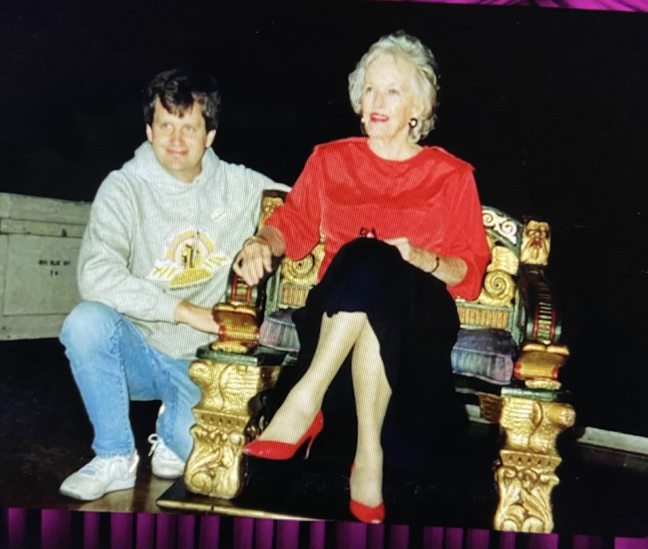 Sunday October 25 gave us Jonathan Levit speaking with entertainment director Benjamin Barnes, founder and visionary Joey Cranford, and magician Paige Thompson of the Chicago Magic Lounge. With a speakeasy entrance that looks like a commercial laundry, the Chicago Magic Lounge is the official gathering place for the Chicago magic scene. Occasional emcee Joey and resident emcee Jan Rose convey Chicago's magic history as they introduce over 150 magicians a year. Jonathan and Joey presided over a detailed history of the lounge's physical and social development. What a lovely performance space.
Peter Pit, who chain smokes through most of his interviews, spent a nostalgic hour October 29 with Dai Vernon (he at a spry 83), either reminding me or informing me of nuggets I had forgotten or was learning afresh. Namely: An early magical accomplishment was 52 string tricks. He was a gymnast who performed a handstand to convince a recruiter to send him into action in WW2. His favorite magi had the initials JKLM (Jarrow, Keane, Leipzig, Malini). He had read over 700 magic books before first visiting NYC, so it wasn't just Erdnase. He performed at Radio City Music Hall only three days (he could have been paid for an entire run, but turned the money down). One of his doves pooped in a lady's soup, another laid an egg. He performed once under the name E.G. Brown. He liked the "dye" pronunciation of Dai as it stemmed from diving, which he was good at. And so on, a terrific interview.
Jonathan Levit conducted a November 1 interview with his friend Eric DeCamps. Eric is of course a veteran East Coast magician who performs Pure Magic (as he calls his show). Of the many anecdotes, I enjoyed most his encounters with Rene Levand. Performance clips added to the fun.
The November 5 installment featured a reprise of the Fitzgerald Who's Hoo with Suzanne, introduced by a live interview of Suzanne by her friend Jonathan Levit. Prior to Covid, Suzanne was working three upscale restaurants each week and spending some of her leisure time on horseback. How many close-up guys can say that?
November 9 Jonathan chatted with his friend Steve Cohen, who enjoys and has hard-earned one of the great success stories in magic. I loved hearing how Steve turned his dream at 28 into an extraordinary reality. Take aways include new things coming from Steve, including his coffee table book Confronting Magic (just weeks away), a part in the Del Toro movie Nightmare Alley, and a huge Malini book (2021). Oh, and Steve: congratulations on 20 years of Chamber Magic.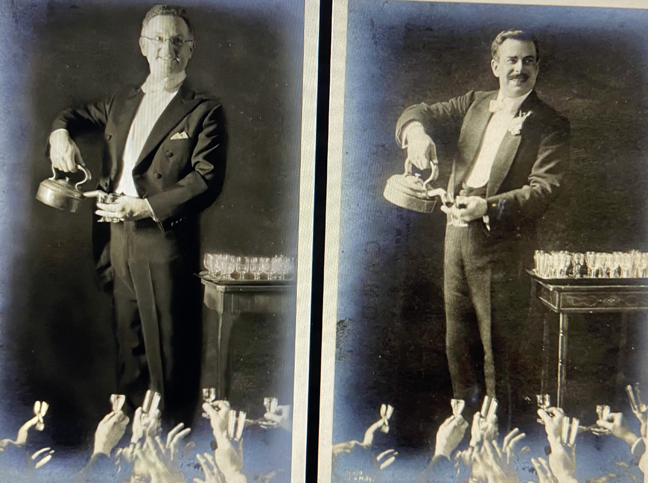 RETURN TO WHO BOOKS THAT? – Harrison's October 14 episode featured Banachek, who with the late James Randi spent four years hornswoggling scientists with his psychic abilities. Banachek impressed me greatly at a Ring 43 meeting in Chicago one night, expanding during a Q&A bit upon a slip of paper I had written on. A great feeling. Surprise guests included Krysten Lambert, Richard Turner, Bob Arno, and Scott Wells.
I have no idea how Harrison schedules his guests, but it must have been especially fun when he decided that the next magician up was Julie Eng. A fine magician in her own right (who held her own with the cast of MAGIC Live's Stars of Magic, so fun to watch) and who is MAGICANA's girl Friday and every other day of the week, and much more. In this episode I particularly enjoyed hearing about Julie's first three-month contract with David Ben in Toronto, how she met her husband, and how she expanded her skill sets over the years. Surprise guests included John Carney, sister Sandra Eng and adorable nephew Dax (sp?), David Ben, Jason England, and Bill Abbott. Surprise mentions include her Dad Stevens riffle shuffle work, her drinking capacity, and a photo of Johnny Thompson I do not wish to see. Ever.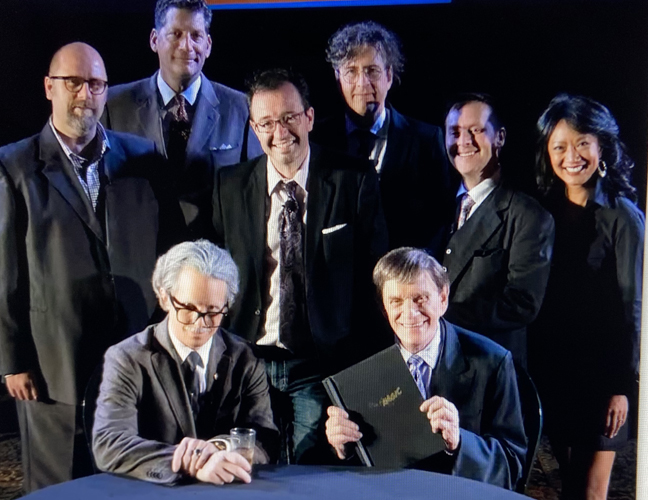 ALOHA, JACK WHITE– My San Diego friend Jack White died October 30, at 81, following years of medical issues that he bore with grace and good humor. Our friendship was marked by missed opportunities. For a couple of years we were close neighbors, yet we didn't know each other. I knew him then only, as I wrote in Genii, as San Diego's most trusted news anchor, noted for "his all-American-boy good looks, his million-dollar smile, and his Walter Cronkite integriy."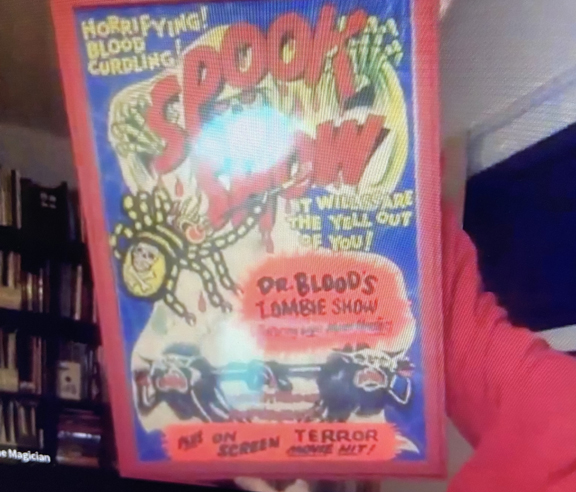 We would become friends only later, meeting at magic conventions, and laugh at what we may have missed. As a result there were things I did not know about him, and things I did. I did not know that he and others ran Gladys's Train and Toy Shop in Hillcrest. I did not know that he was a movie buff who hosted annual Western Film Festivals. I missed out on his Halloween popcorn handouts. But I did learn that he was a magician, a magic collector (often in cahoots with J.P. Jackson), the international president of the IBM, and for four years Dr. Blood of Dr. Blood's Zombie Show. I had the pleasure of writing up that last bit for Genii, in a piece titled "Zombieland," in the February 2010 issue. I encourage you to read it. It's an interesting commentary on the last days of the midnight ghost show. Meanwhile, to Jack's wife, Lynn, to the guys in Ring 76, and to Jack's legion of friends, I wish comfort in his memory and happy days ahead. Aloha, Jack.