EVERYTHING MUST GO SALE -- This is a bittersweet book review. On April 16, Marshall Peterson, along with Richard Hatch and Charlie Randall, announced that H&R Magic Books would be closing its bookshop doors. The good news is that Charlie Randall plans to keep on publishing, especially Volumes 7-9 of the Nick Trost series. The great news is that Volume 7 is at the printers.
Once again, Nick Trost favors magicdom with essential, compelling card magic, the seventh (of a projected nine) in his Nick Trost's Subtle Card Creations series. It's another fine outing with much to admire, some 100 card tricks that play out over 11 chapters, namely Unique Card Effects, More Amazing Coincidences, Court Cards, More Poker Puzzlers, Gambling Tricks, Baffling Revelations, Gilbreath Plays Poker - Part 4, Transpositions, More Triple Dealing Effects, ESP Tests, and Miracles with Cards.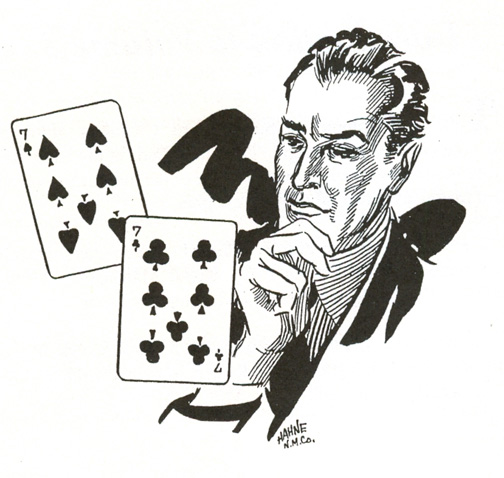 Vintage illustration from Volume 3.
I particularly enjoyed:
All Backs Royal Flush. You cleanly display five cards with backs on both sides. Following a through the fist flourish, the cards morph to a royal flush with faces. And the trick cleans up nicely. Fun to watch.
Blackjack Lesson. A nutty plot but fun to watch and easy to perform. Show four cards as two pairs of red tens. A score of 20 each, not good enough in blackjack. The four cards change to two blackjack hands, each an AS and a JS. But you are a poker player, so the cards change to five jokers.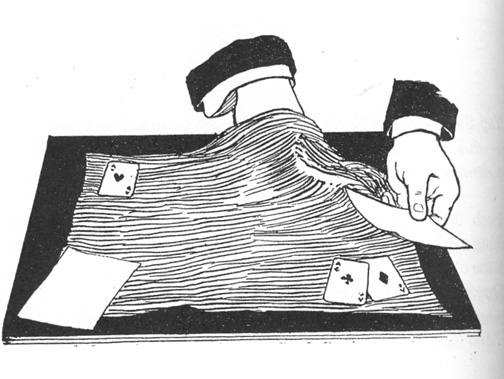 Vintage illustration from Volume 3.
One of my favorites of the entire series was Shuffle Tracking, from Volume 3. Via a poker deal involving 25 cards, the magi deals two, three, four, six, seven, or eight hands, at spectator request. (This is repeated as desired, the sequence owing to Roy Walton.) The dealer receives a royal flush, his opponents receive four pat hands named through amusing insider poker lingo. Volume 7 explores further variations. Shuffle Tracking a Royal Flush begins by extracting a royal, then controlling it despite the two through eight hands, the other players receiving 9 to 5 straights. Shuffle Tracking Another Version is similar to the Volume 3 effect, the dealer eventually getting a straight flush and the others four strong pat hands. A Draw Poker Demonstration "mixes" the cards via the Walton procedure, then ends by causing the players to draw cards to fill strong hands a la the Vernon Poker Demonstration.
Even Odder. Bro. John Hamman's Odd-Even-Odd is a longtime favorite and used to be part of my regular repertoire. Nick supplies an easy and effective version. Odd and even spot cards trade places, but the odd cards become "more odd" as they turn into court cards.
Total Coincidence with One Deck. If you like Juan Tamariz's two-deck version from Sonata, you should love this one-deck version.
Ten-Hand Poker Deal and Repeat. This routine is a close cousin to Allan Slaight's excellent Heavy Breather. It seems impossible. I'll resort to the actual text:
The performer removes the four aces and the KH, explaining that he will demonstrate "shuffle tracking" with these five cards. A spectator shuffles the rest of the deck, which is then divided into five packets. The four aces and the KH are inserted into the five packets. Each packet is shuffled by running cards in a random fashion at the spectator's discretion. The spectator dictates how many cards are run in each packet. The packets are stacked in any order, then dealt into ten poker hands. The performer predicts which hand the aces and KH will fall in—and he is correct! The tenth hand—the performer's—is the winner. It contains a straight flush in spades.
The effect is repeated with the spectator losing the straight-flush cards in the deck himself. Again ten hands are dealt, and the performer ends up with the straight flush in the tenth hand!
Ace to Five. A very easy version of the ambitious-type five-card trick in which the ace through four of spades rise to the top, then the five of spades turns into the five of hearts. What knocks this into orbit is that you are left dirty with a reversed card, and you clean that up via a strong card discovery trick.
Separating the Men from the Boys. Another visual, fun to watch effect. Four kings and four jacks (men and boys) alternate. Two boys and two men are dealt to the table. But suddenly the cards in your hand are all kings, and those on the table are ... queens! In Phase 2, the four jacks reappear and are placed on top of four piles. Suddenly, they all congregate on one pile and are set aside. The top cards of the piles turn out to be the four kings who unite with a queen of each suit to form four royal marriages.
Enough! I could go on and on and easily highlight many more effects.
Volume 7 contains all the familiar elements from the previous six installments: Nick Trost's refreshingly straightforward technical writing, copious illustrations by Tony Dunn and decorative vintage line art, dead-on epigraphs, precision editing by Charlie Randall, and of course over 100 baffling, easy-to-do card tricks. There is a foreword by Richard Vollmer and an introduction by Nick Trost. Beautifully packaged by H&R Magic Books, 221 pages plus frontal matter, hardback with dust cover. Expected price tag: $50.
BONUS REVIEW -- Given that H&R Magic Books is closing its doors, this may be your last opportunity to purchase The Little Egypt Book of Numbers directly from the publisher and at a bargain price. As I have indicated before, we mis-titled the book (the "Numbers" refers to the fact that a number is embedded in each trick title, such as Catch-22, Love Potion Number 9, Duffie Deep-Sixed, etc.). We should have titled it The Little Egypt Book of Killer Bar Magic, because that is what it is, extremely strong material that I developed for use over two decades at Smith and Groves tavern in Cairo, Illinois.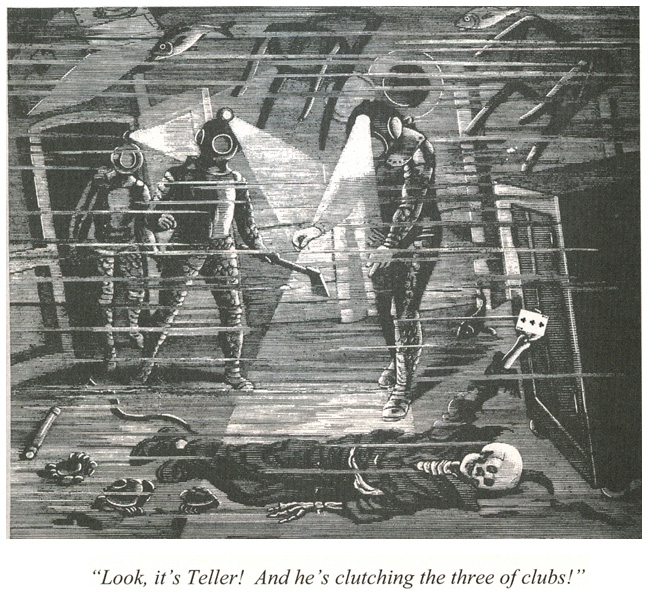 From The Little Egypt Book of Numbers.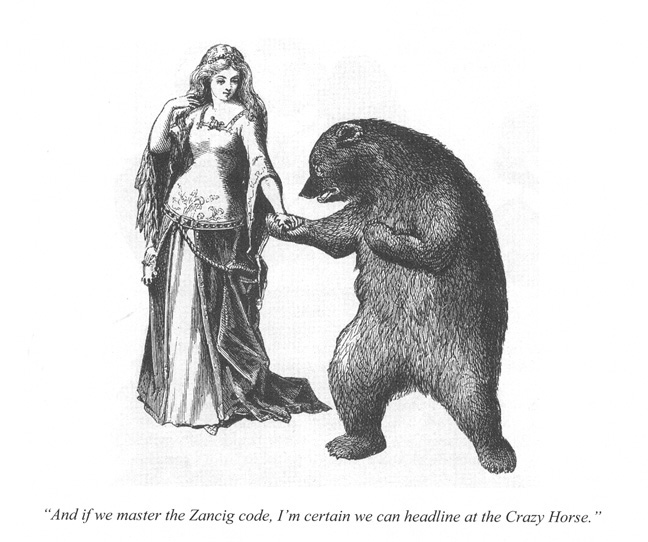 From The Little Egypt Book of Numbers.
As previously boasted, "There are items that should baffle anyone, items that get people wet, items that are sexy, items that are seriously frightening, one that will get you kissed, and one that might result in your mom washing your mouth out with soap."
You can find H&R's take on it here, for the time being.
hardbound, dust cover, 20 items, 128 pp., $35 originally, prices dropping.
H&R also stocks individual issues of Genii to which I contributed cover stories or other feature stories for 40 years. We summarized these in Little Egypt Magic back in September 2010. Find what you want and check with H&R for availability. Or go to the H&R web site and search on my name.
Regrettably, The Little Egypt Book of Ghosts is no longer in stock.