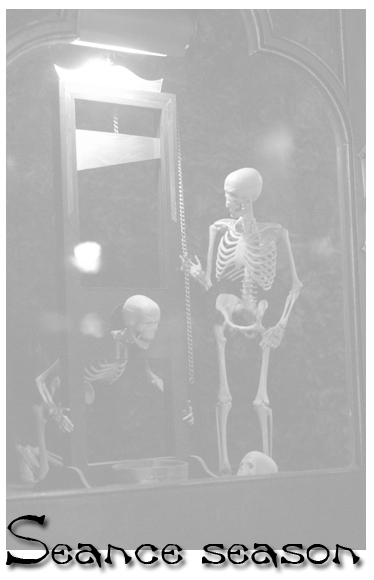 PAGING HARRY HOUDINI -- A few months ago, a poem about a séance, titled "Mummy Possesst" in a novel by A.S. Byatt, inspired me to "attend" a séance in my imagination, an afterlife gathering of departed mediums hosted by Houdini. (In the story, Houdini hosts a competition to determine the best medium of all time. Can you guess who wins?) I sent the results to Genii, along with a hodgepodge of spooky ideas, and am now thrilled to see it all in the pages of the October issue. Richard Kaufman and Liz knocked it out of the park with graphics and layout, and I couldn't be happier. Add to my pages a grand piece ("The Room with Thread in its Walls") by Rob Zabrecky and Jim Steinmeyer on the past and the future of the Magic Castle's Houdini séance. Dining with the dead never sounded so tempting, with promises of new ghosts, manifestations, visual magic, music and sound, appearances of the likes of Bess Houdini and Arthur Conan Doyle, and a cast of celebrity voices, all wrapped up in a new story line. One can only hope that the dark clouds of politics and pandemic will clear and make it possible for us to enjoy this ultimate E-ticket ride.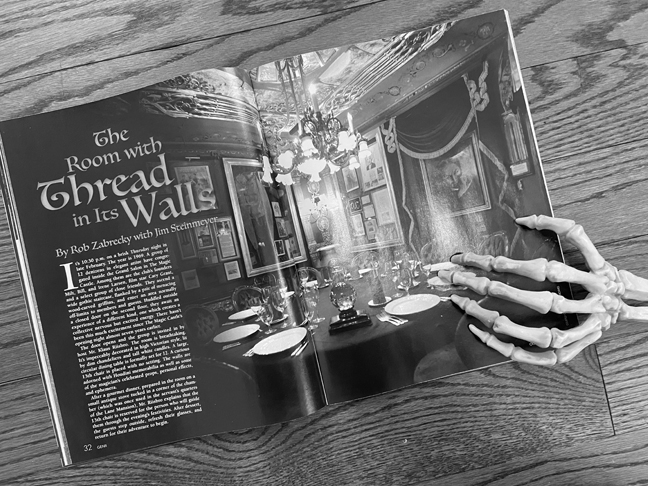 This is one spooky issue of Genii, riddled with images of cats, bats, and cobwebs, Halloween-themed magic tricks, and links in the online version to a wealth of ghostly activity, especially at the Haunted Mansion. Add of course the usual columns, a timely report by Dustin Stinettt on the AMA awards show, and ads from the usual suspects. Notably, the Charlie Miller book is now shipping, the Jennings book is taking orders, and Jim Steinmeyer has a new Impuzzibilities.
I'll close out this section with photos of the last time I attended a Magic Castle séance. Spooky fun with special friends, witnessed through a wine haze.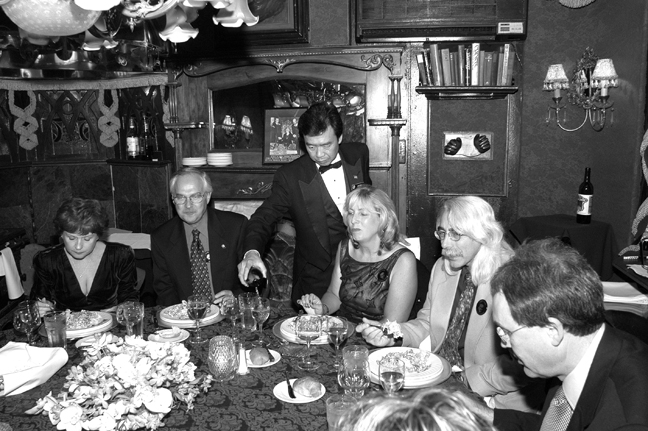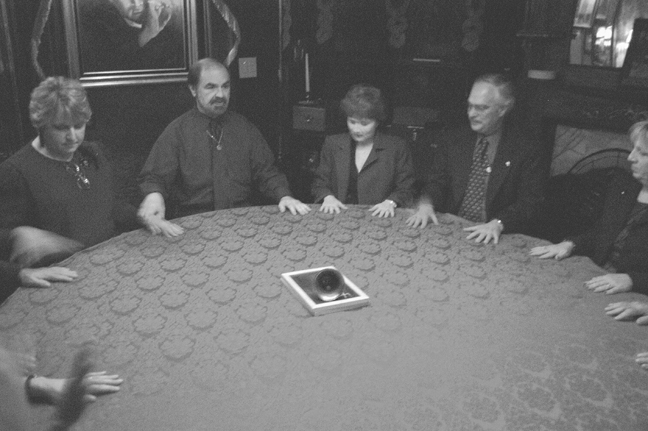 | | |
| --- | --- |
| Genii has long celebrated séances at the Magic Castle. Subscribers are encouraged to revisit the issue of January 2003, which devoted 6 pages to the Castle's 40th anniversary and 28 pages to its spooky nature. The latter included "Haunted Mansion" (11 pages on spooky gags and goings on, such as the Robert LaPlaine/Jim McKee "bare bones" displays used here in the title images), "Bumps in the Night" (a 5-page scare by scare report on a séance my friends and I attended), "Dark Secrets" (4 pages behind the scenes with James Williams), "Leo Kostka House Medium" (a 5 -page interview with Leo), and "Have Ghosts Will Travel " (3 pages on Leo's clever séance you can do in the homes of others, plus a great full apparition). A nice companion to the current issue for getting into the Halloween mood. | |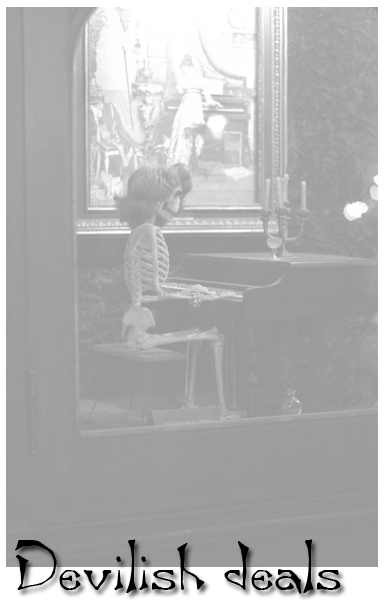 CHARLIE MILLER'S MAGICANA – For several decades, I have argued that Charlie Miller's Magicana columns in Genii, if ever bound and published as a book, would constitute one of the top five books in my library. And perhaps among the top two of parlor magic, alongside Jim Steinmeyer's A Conjuring Anthology. At long last this has happened, and the results justify my claim.
I have "owned" the book for many years, as I removed those pages from Genii and consolidated them in a three-ring binder. Actually, two three-ring binders plus extra. The Magicana material constituted my performing repertoire for my late teens and early adulthood, especially for kid shows and family get togethers. When I first arrived at the Magic Castle, I was still doing Larry Jennings' Chop Cup routine. (This would have to change! I wasn't worthy. It was like taking my childhood water colors to the Louvre.) I also highly enjoyed Charlie's ramblings in his Intermission section, read those first, and allowed them to inform and influence my thinking about magic throughout my most impressionable years.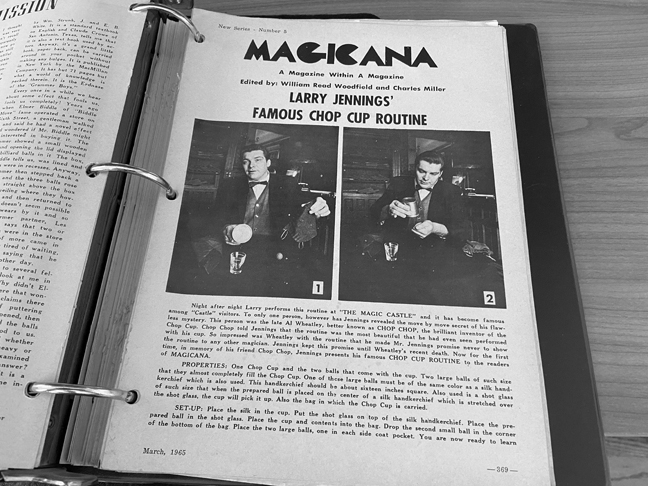 Discussing the columns with Lin Searls, Lin said that, though he didn't do parlor magic or kid shows, that he would, if necessary, model an act on the lines of the Harry Mendoza show, reviewed by Charlie in April 1965. (I agreed, and did so myself. Harry performed Flat Rabbit from Top Hat, Golf Balls, Cut and Restored Rope, Egg Bag, Miser's Dream, Cards Across, Die Box, Chinese Sticks, Chinese Linking Rings, and Silk to Egg as an encore. Charlie's description makes the act sound marvelous.)
As to the stuff I relied on, I loved Larry Jennings' Famous Chop Cup Routine, The Miller Routine for the Miser's Dream, The Great Mendoza Deluxe Billiard Ball Routine, Harry Mendoza's The Ring on the Stick, Albert Goshman's Four Cards Through the Newspaper, A Brief Outline on the Presentation of Magic, The Ring on Rope to Pencil, Carl Stenquist's The Adhering Cane, Ron Wilson's The Highland Hop, Mike Skinner's The Transfixed card, Mike Skinner's The Bewildering Ball Vase, Larry Jennings' Single Cup and Balls Routine, and Mathew Corin's A Novel Card Discovery.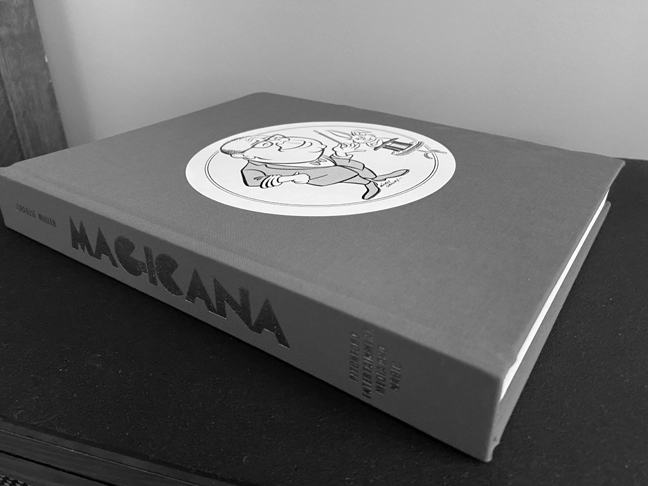 The book itself is gorgeous, with a striking red cover that will stand out on the shelf, and enormous. Liz has gussied up the photos and the distribution of the Mickey O'Malley artwork, while keeping the appearance of how the column looked in the magazine. (With its bold text, large photos, and copious Mickey O'Malley drawings, Magicana was one of the best-looking columns Bill Larsen ever ran.) Magicana existed before and long after this Charlie Miller stint, and Richard Kaufman's Publisher's Note pins down the placement of the book's 154 items in that history. Richard has also included additional photos of Charlie, a foreword by John Carney, and a biography by Johnny Thompson. All wrapped in 627 oversized glossy pages, $150 if you bought it outright. Currently you can only acquire it for $25 along with a three-year Genii subscription (cheaper than buying it along with a one-year subscription!). To sum it up in one word: Monumental!
PINNED – Meir Yedid Magic is selling a little jewel of a prop, a lapel pin in the shape of a Ouija planchette, covered with Ouija markings. At 1.5 in by 1.25 in, designed by Richard Micucci, the pin is actually a nickel-plated iron with black enamel that attaches via strong magnet, hence will not damage your clothing. The image includes an open hole, the numbers 1-9 plus 0, YES and NO, an all-seeing eye, and the word MYSTERY. It comes with no instructions, but several ideas are discussed in the ad as to how to use it in a magic trick.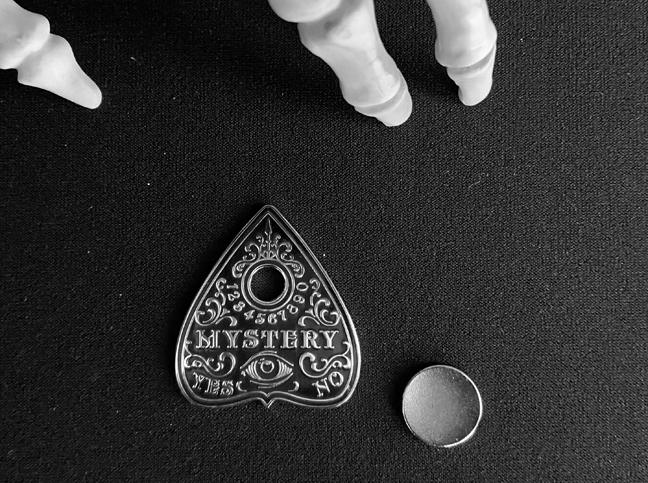 My favorite is to use it for Roberto Giobbi's Seven, from Confidences. Roughly, the spectator selects a card. Then invite him to deal 9 more cards (suggested by the numbers on the pin) and to lose his selection among the ten. You can now do any number of "Shanghai shuffles" (see Confidences) or any even number of Enigmatic shuffles (see the Impuzzibilities series), and the selected card will always stay seven cards from the top. Reveal it by spelling MYSTERY. This will be clear if you have the sources.
Or simply wear it on your lapel and look cool! Just $12 from Meir at mymagic.com, just in time for Halloween.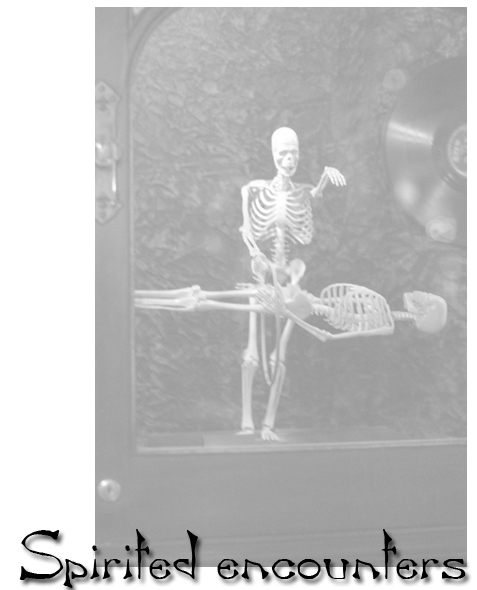 In these Covid times, necessity remains the mother of invention, and magicians have been especially inventive at translating magic from their homes to yours. Consider this poker hand of groundbreaking attempts.
NIGHTMARES – Two-Headed Dreams launched Sept 12 with two live evening shows, one for each coast. It was rather Brookledge Follies comes to video, featuring Rob Zabrecky, Liberty Larsen, Mike Pisciotta, Penn and Teller, Michael Carbonaro and Peter Stickles, and the clown Puddles Pity Party, plus celebrity guests. The ambience of birdcages and antique furnishings and the offbeat performances were occasionally unsettling, with Zabrecky tying it all together and proving the strongest talent.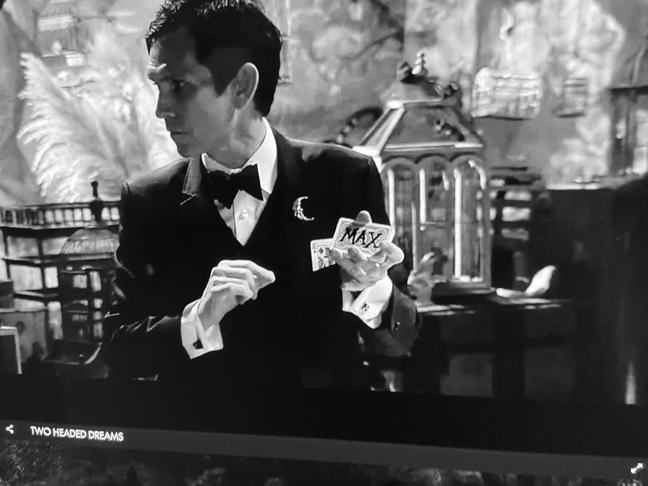 Inventively interactive, the show let you detour off into one of Zabrecky's YouTube séances or visit the dealer room, where you could buy cards or posters or hire Zabrecky to do a séance for $19,666. Tempting!
MAC KING'S HOUSE O' MAGIC – I was lucky to find this one! Mac King created a first-rate interactive virtual magic show as a fundraiser for Kristee Watson*, who is running for state senate in Nevada. Multiple families (who had received a packet of objects in the mail) participated from their homes as Mac swallowed a guinea pig, sent them a random card via helium balloon, succeeded at various Max Maven-like predictions, showed off his magic toilet, caught goldfish from the air, and killed with a huge Quaker Oats Chop Cup. My favorite: he shuffled a bunch of alphabet cards face down, per audience instruction, then spread them out and turned them over a la "Wheel of Fortune" until someone guessed the order: K-R-I-S-T-E-E W-A-T-S-O-N. All great magic from a lovely home, well-stocked with Fig Newtons. *Kristee, by the way, is the daughter of Stan Allen.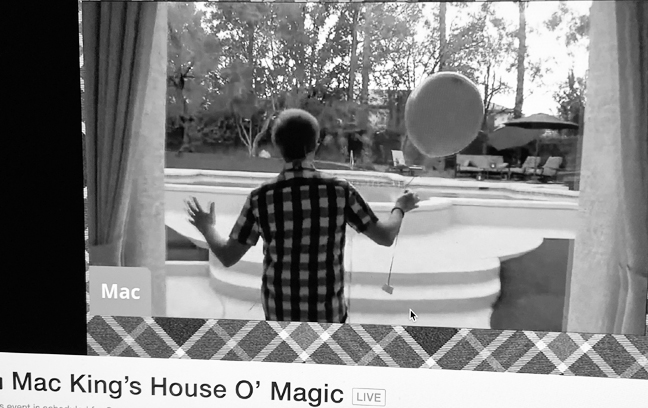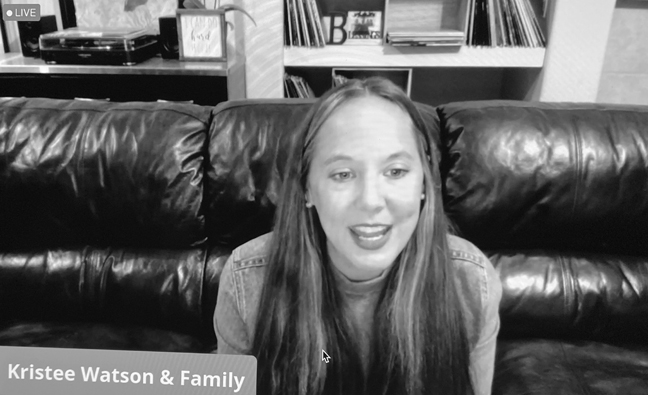 I KNOW WHAT'S IN THE BOX – Remember the Bloomington Playwrights Project's mystery box from last month? I finally opened mine to enjoy Max Major's Remote Control Zoom show on October 2, and what else might you find in a mentalism kit than a deck of cards, a dictionary, a pad of paper, a Sharpie, a packet of photographs, and a postcard from Paris with an image of Reese Witherspoon? The delightful blend of material involved extreme audience interaction, from using individual families to every viewer at once. At the end, all of the seemingly random moments were shown to have been predicted, thanks to subliminal influence. There were many new effects to me, my favorite a nine-card revelation (no, not that one), and many moments were foolers. Nice!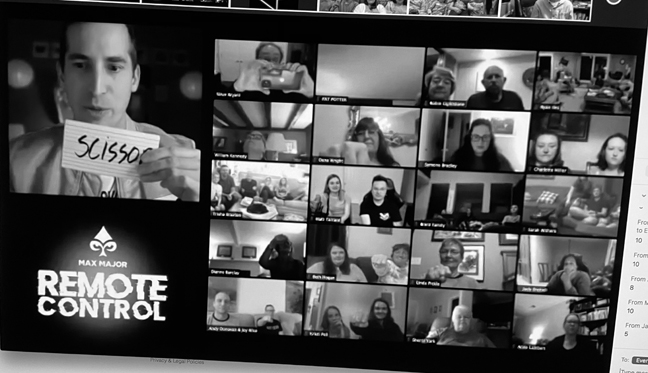 MAGIC GOES TRON – What if you could go inside a video game, say one of those Commodore 64 8-bit games my kids grew up on, and the format of the game was a magic convention? You could watch lectures, see shows, visit the dealer room, cozy up to the bar, and session with friends, just like at a real convention. Thanks to Ben Train and Jonah Babins from Toronto, you can.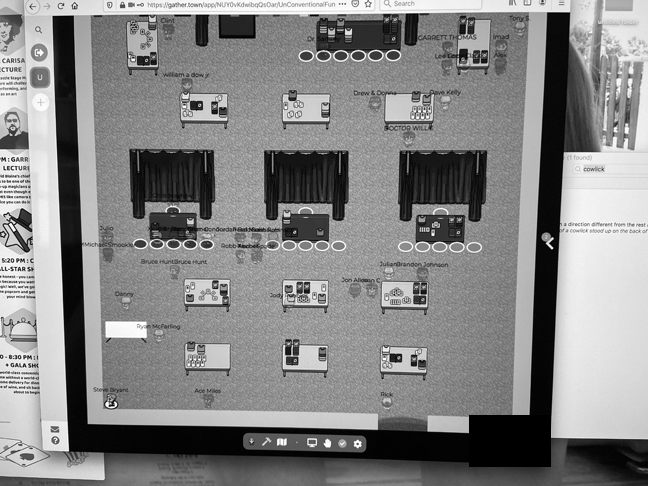 Their amazingly ambitious 13-hour unconventional launched Sept. 27, 9:00 AM to 10:00 PM, and despite a few technical glitches (that they overcame), it all worked! So many take aways. (This would have made a great "real" convention.) Danny Orleans of Amazekids had four new items I'd have bought if I did kid shows. Tim Hannig and Wonderphil also killed on the kid show lecture. The Carisa Hendrix lecture on metamodernism (what?), plus another series on virtual magic, made me realize many are taking Zoom shows seriously, investing thousands in sound and lighting. And in some great new magic: Adrian Lacroix stumped me when any card named appears visibly in a glass.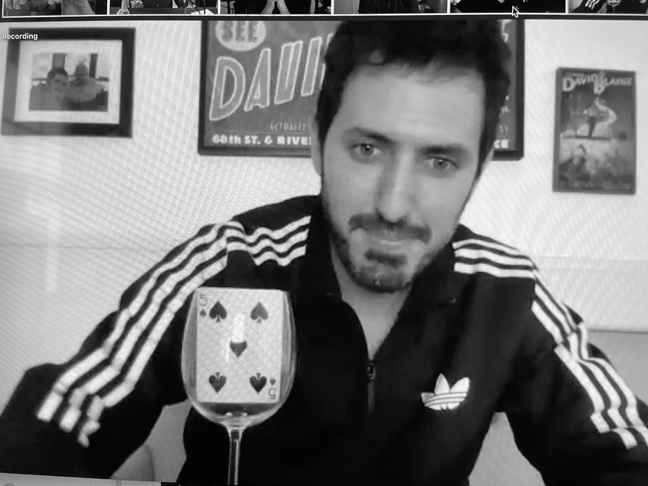 Garrett Thomas's lecture was popular but it was his card trick later that nailed me, when pieces of a single quartered card prove to have come from four different cards. Coin magic doesn't get better than the stuff from Curtis Kam, Kainoa Harbottle, and Avi Yap. The Close-up session also included Caleb Wiles and charming patter and magic from Felice from Boston and Abby Segal. Harrison Greenbaum presented his You Are All Terrible lecture, leading into jam session time followed by the evening gala: Lucy Darling with four items I hadn't seen before, 14-year-old Elias Arbuckle, Adrian Lacroix, and Harrison Greenbaum, with magic. But the best part of any convention is sessioning with friends, and here the experiment was again a standout. If you joined a table, you saw Zoom images of everyone there, and the conversations simply ensued, as if you were all together. All quite wonderful, and not over. A package of lecture notes and other goodies is coming in the mail.
AND THE NEW PRESIDENT THANK GOD IS JOE BIDEN -- At least I hope the first big Biden/Harris magic fundraiser makes it so. Titled Swing State Stars of Magic, it featured host Harrison Greenbaum, Francis Menotti and Lindsey Noel, Paul Gertner, Congressman Mark Pocan of Wisconsin, Kostya Kimlat, Congressman Jamie Raskin of Maryland, Ben Seidman, CIA veteran and magician John McLaughlin, and Kevin James. Several of the routines were of a political bent, including Paul's Unshuffled, Kostya's Fourth Grade Ballot, Ben's production of a Clorox bottle from his mouth, and Harrison's red/blue Out of This World. A fun show, and we hope all the contributions are well spent. Everybody vote!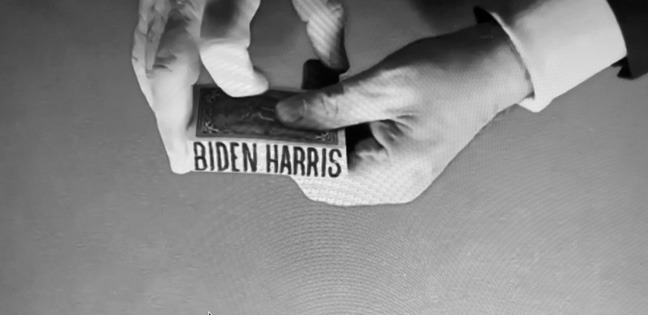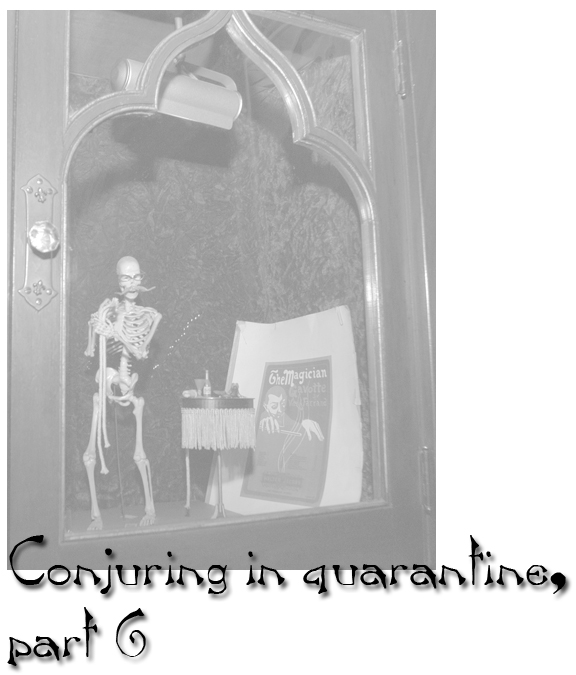 This is a continuation of three long-time sources: Sunday evening's Magic Collectors Corner Online hosted by David Sandy with tech assistance by Lance Rich, of Thursday/Sunday evening's Behind the Bookcase perks from the Magic Castle's AMA, hosted most of the time by Jonathan Levit, and Harrison Greenbaum's "Who Books That?" sponsored by the IBM. The posts have continued to be brilliant.
RETURN TO THE MAGIC COLLECTORS CORNER -- : September 6, David Sandy and Lance Rich flew to California, on sparsely populated flights, to visit a couple of magic scenes previously highlighted on Behind the Bookcase. These included a healthy Egyptian Hall museum (aka Mike Caveney's house), and Owen Magic Supreme two weeks before its closing. Amazingly, Alexia Zagorsky offered to accept orders up to Friday for those craving a last chance to own a piece of Owen history.
Sept 13! Highlights included a video visit to Bill Schmeelk at Wellington Enterprises and a generous report by Mark Holstein on Dorny. Dorny's hand-painted silks were amazing. The only disappointment is that I have never seen footage of Dorny in action.
Sept 20's get together included Mike Caveney's and David Charvet's report on Owen Magic's Going Out of Business sale and a return of the Tannen's staff to Bill Schmeelk at Wellington Enterprises. Owen's and Wellington's niches in magic are incredible. Note that host David Sandy made sizable purchases at the Owen sale. We hope to see these soon in his home.
Sept 27's visit included Paul Courville's talk on magic tokens and Mike Caveney's deluxe edition on Carter that included many genuine pieces of ephemera. Plus one special edition for Mike alone. Such rarities must drive collectors crazy.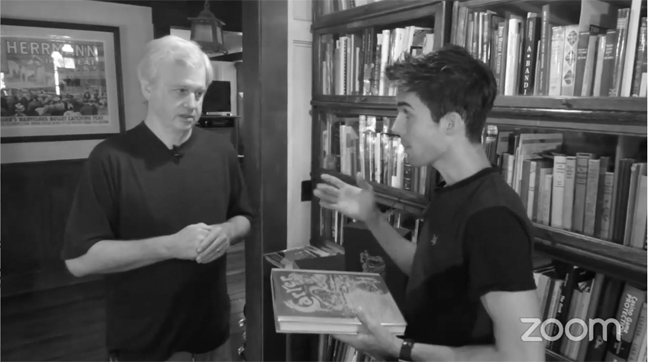 October 4's emphasis was on Dan Witkowski and Super Bowl 23, which changed Super Bowl halftimes. It was my first time to share something on Speed Share, including my souvenir ashtray from the Castle's Houdini Séance and a signed Charles Addams print. The theme was spooky magic.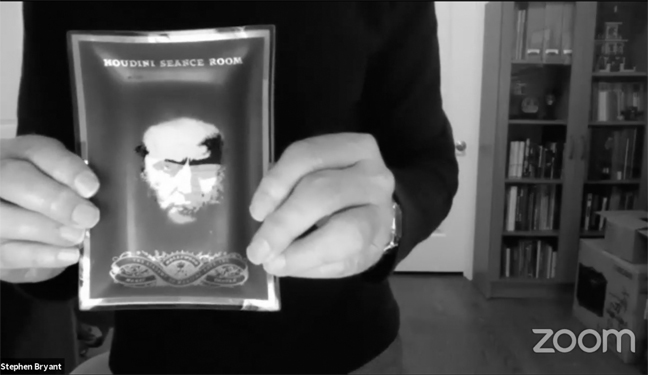 October 11, alas, was a particularly courageous episode for David Sandy, as Covid was hitting close to home for him during the Collectors Corner broadcast. The show itself was as usual spectacular, with a Lance Burton-hosted retrospective on Gary Darwin and a Judge Gary Brown session on his new book, Wandcraft. Tom Ewing will soon be auctioning some of Gary Darwin's collection. Also as usual, Adele Rhindress was brilliant. Best wishes to David and his family.
RETURN TO BEHIND THE BOOKCASE –- Sept 3: If there were a classic image of a 20th-century magician in an encyclopedia, it would be of Channing Pollock. The AMA began its Peter Pit interview series with Channing as the subject and with Mike Caveney and Jonathan Levit filling in the details. This was the most I have heard Channing speak, and his voice is as deep and commanding as his looks are visually impressive.
Sunday (9/13): Jonathan Levit virtually visited a man I've heard called the greatest living magician, Ray Anderson of Austin's Esther's Follies. It was my first look at the Follies show, and it's wonderful. The good news is that for a small fee you can sample the show daily at EsthersFollies.com.
Thursday (9/17) took us back to the Peter Pit interviews, this time with Kuda Bux. John Carney supplemented the interviews with some great performance clips. How did the Man with the X-ray Eyes do it? I have noooo idea.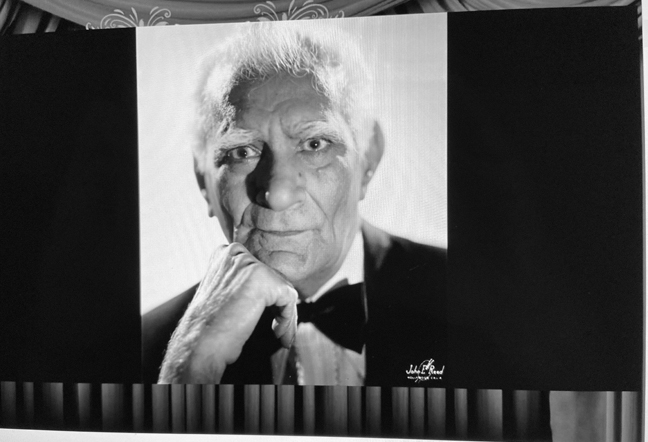 Sunday's (9/20) format returned to a favorite, Storytime with Max Maven. Max's key subjects were Winston Freer, Balsamo (!), and Karrell Fox. Max once performed with Balsamo at the Los Angeles Conference on Magic History, and there are hopes of bringing the video of that performance to Behind the Bookcase. Fingers are crossed.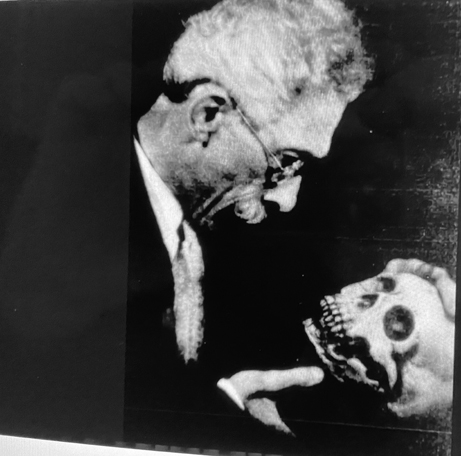 Thursday (9/24) was a Levit-hosted replay of a Fitzgerald Who's Hoo with Piff the Magic Dragon. Unfortunately, although this was filmed years ago, Piff had a cold, hence it was a bit disconcerting to see him interact with spectators. Can humans catch dragon germs?
Sunday (9/27) began a new Bookcase series, visits to personal theaters. Jonathan Levit took us to Hidden Wonders, Shawn Farquhar's "Speakeasy Magic Experience" in New Westminster, Canada. Shawn has worked out a live show that functions safely on the pandemic.
Thursday (10/2) John Carney hosted a Peter Pit interview of Danny Dew, with Dai Vernon providing commentary. (Peter called him "Die," Danny called him "Day.") I became an admirer of Danny Dew decades ago, when I saw a photo of him kneeling on the floor at a magic convention, performing the Cups and Balls. So that's when magicians do for fun! Much later, when I was still doing sleight of hand, Danny's Oil and Water became one of my go-to tricks. A personal highlight was demonstrating it to Jim Patton and Jon Racherbaumer in the Hat and Hare Pub. The Pit interview greatly expanded my awareness of Danny as a human and as a performer. Watch it if you can.
Sunday (10/4) marked the first of two parts, at least, of Jonathan Levit interviewing Mark, Nani, and Greg Wilson, all appropriately masked. Favorite takeaway was learning the existence of allakazamarchives.com, with clips from the early shows, memories of my own youth. Fabulous credits included Bev Bergeron, Robert Towner and Robert Fenton, Lin Searles, Carl Owen, John Daniel, Francis Martineau, Leo Behnke, Johnny Gaughan, and Dick Zimmerman. No wonder it was fabulous!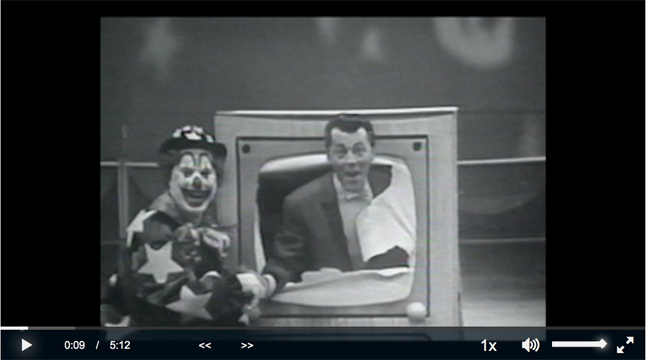 Thursday (10/8) Shoot Ogawa, in some fab room, hosted a Fitzgerald Who's Hoo with Amos Levkovitch. Great fun to see video of a young Amos working with his many doves.
Sunday (10/11) Jonathan Levit and Kaps fan and collector Marc DeSouza introduced numerous clips of Fred kaps, all amazing. My favorite was Kaps performing Cups and Balls with sponge balls. The initial sequences were incredible.
RETURN TO WHO BOOKS THAT? –- September 9 Harrison visited everyone's favorite card maven, Harry Lorayne, whose memory is still sharp and whose enthusiasm is undiminished. Harry had recently surprise guested Steve Cohen; his own included George Schindler and Meir Yedid. I am familiar with many of Harry's stories, but this was the first time I recall hearing why and how he changed his name to Lorayne.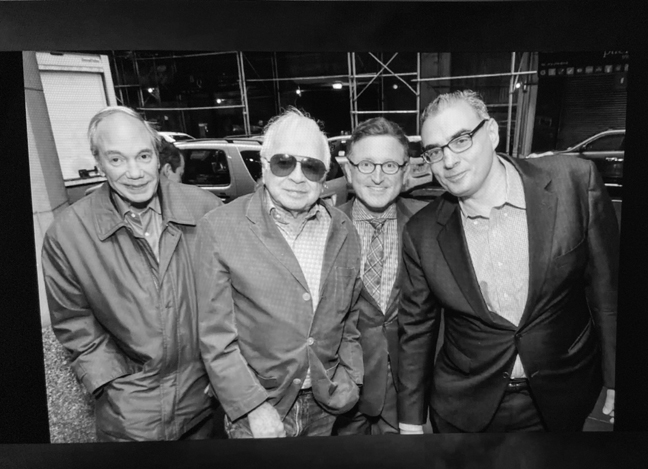 After a few weeks' hiatus, Harrison returned on October 7 with a great interview of John McLaughlin. As most know, John is not only a fine practicing magician but also had a long career in intelligence, serving as Deputy Director and Acting Director of the CIA. He is co-author with David Morey and Eugene Burger of Creating business Magic, and he performs regularly (until Covid) at Washington Magic (check washingtonmagic.com). He is well-versed on many topics and great fun to know. Best takeaway from the interview? Eugene once asked him if there are aliens in Area 51. John replied cryptically, "Not anymore."