NINE STORIES -- I'm borrowing a title from J.D. Salinger here to acknowledge the author's decision to publish nine gems rather than a much larger collection of varying quality. The author is Raj Madhok and his book is Mysteriouser and Mysteriouser. In fairness, Raj alludes more to Lewis Caroll than to Salinger, and he makes the bold claim: "Mentalism. Nine curiosities. Each more mysterious than the one before."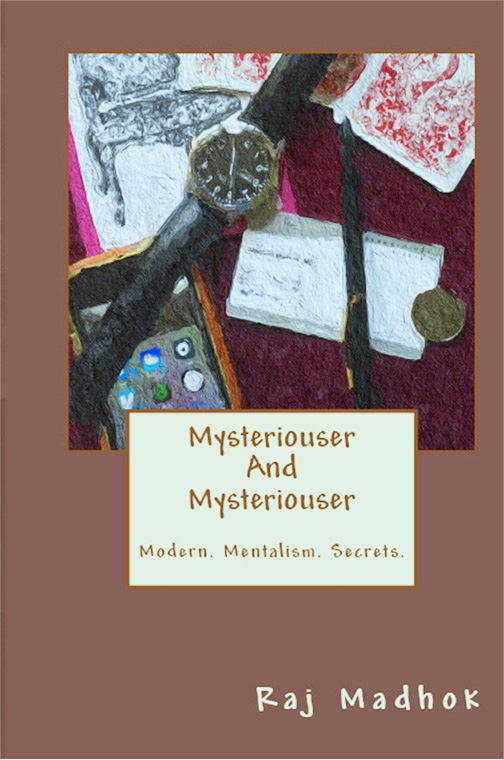 Curiouser and curiouser.
I'll mention a few and note that the opening routine is strong. That Sinking Feeling, from Raj and Gregory Wilson, leverages a secret about your iPhone that enables you to divine a spek's thought-of birthday.
Best of Friends is a delightfully easy way to peek one name of those printed on five or more business cards. I can think of many uses for this.
Coincealed allows you to predict which of four physical items a spek will select and then allows you to prove you subconsciously influenced him.
Spread the Mystery allows you to locate a chosen card selected from a shuffled deck. You could do this over the phone.
Chair Way to Heaven is my favorite, allowing you to predict, in two separate ways, which of six chairs a spek will choose to sit in.
There are secrets behind the secrets that make this stuff work, and most of the routines lend themselves to other presentations. All fun material. Exclusively from Vanishing Inc. $20 soft cover (54 pages) or $15 download.
SENIOR MOMENTS-- As I mentioned in my recent review of Card Party, Lewis Jones is a consistent and treasured source of new card magic in both moves and math categories, Britain's once underground genius and a master at concocting stacks, codes, and procedures that look like magic. That he, like Harry Lorayne, is all these things at ninety is simply amazing. Indeed, that anyone at any age is this clever and prolific is amazing.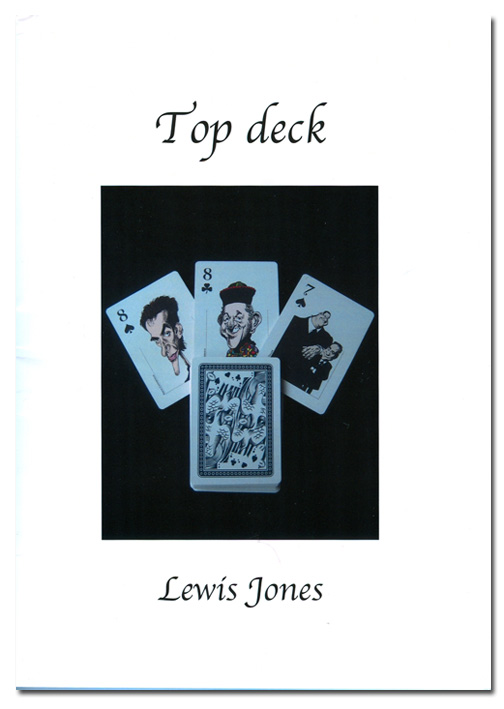 Vintage mysteries.
Lewis's latest is Top Deck, a collection of twenty new pieces in an 88-page perfect bound soft cover edition. A few favorites:
No Chance is a surefire bar bet involving three red cards and three blacks.
Birthday Bonanza lets you predict the total of three secret birthdates. A stooge is used, but very cleverly; a kid could do it for you.
Avalanche is my favorite in the book. From a completely blank deck (both sides), a spek deals four hands of poker and thinks of a card. (You are looking away.) After minor dealing adjustments, the dealt cards are swept away, and you quickly run through the remaining cards and then divine both the location of (?) and the identity of the secret card. It's kind of like I Dream of Mindreading but with no secret marks.
Son of the 21 Card Trick looks nothing like its parent yet locates a card for you that is seemingly quite lost.
Fifty-Fifty is a brilliant use of key cards. Half the time, it's even better than that.
Stacked in Favour continues Lewis's work (begun in Seventh Heaven) on "calculating" the location of any card named in a Si Stebbins deck or the value of the card at any named number. I put "calculated"in quotes because Lewis has worked hard to remove math from the process.
Eighty-eight pages, soft cover, 25 pounds (the price, not the weight) delivered, directly from Lewis Jones. I received mine directly from Lewis, but you can also get it from H&R Magic Books ($38 plus postage).
COFFEE TABLE TRICKERY -- If you are wondering why this issue is late, it's because of this item, which just arrived. The caricatures on the cover of the Lewis Jones book are from a deck by Spanish artist Angel Idigoras. In attempting to locate the deck, I found that the artwork exists in a marvelous coffee table book Adventures of 51 magicians and a fakir. Originally printed in Spain in 2005, the 160-page book opens with a 28-page "A very brief history of magic" (containing many more caricatures of your favorite magicians), followed by the "Adventures of 51 magicians and a fakir" (one caricature and one to four pages of text devoted to each), and closes with eight more pages of magic history (and more caricatures). Mr. Idigoras' written histories (I've only begun to delve into them) are as charming as his drawings, and I look forward to many hours with this material. The book has been translated by Kathryn McFarland and edited for English by Martin Kaplan, and it comes with a foreword by Aldo Colombini.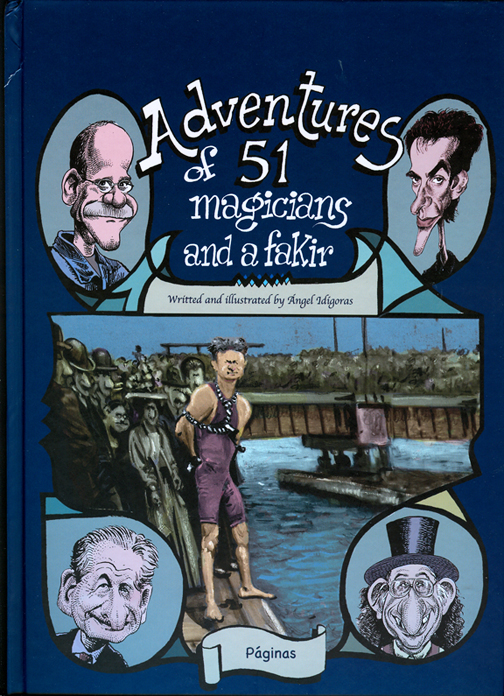 Cartoon jackpot.
Accompanying the book is an eight-page pamphlet of magic tricks (professional level) to be performed in conjunction with the book.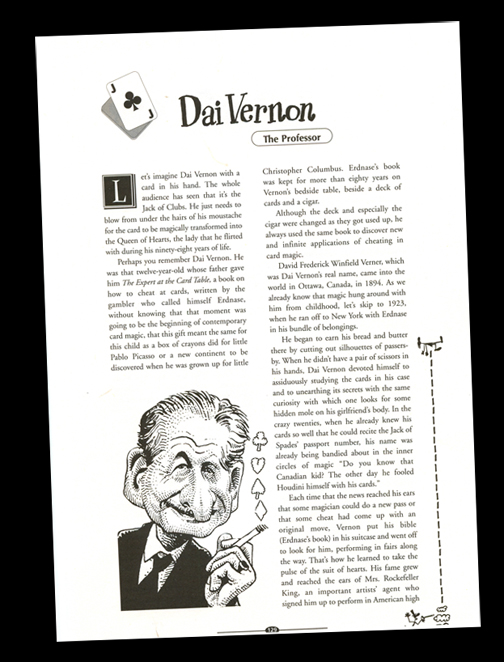 From the chapter on 51 magicians and a fakir.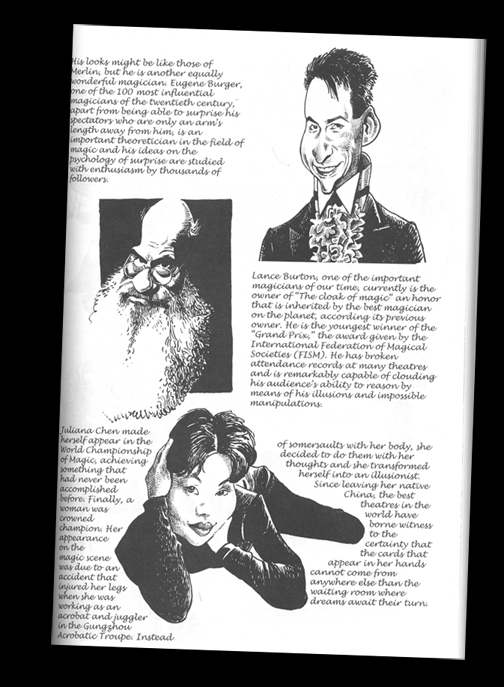 From the chapter on A very brief history of magic.
I've no idea how I missed this when it first became available. The great news is that I not only found the book in English, but that I found it on Amazon, for a mere $12.28 plus shipping. Highly recommended.
TRICK TALK -- In June I placed an order with Penguin Magic. Along with my promptly delivered package was a relatively new periodical, Penguin Magic Monthly. This full-color handsomely laid out journal, the June 2016 issue, features tricks and essays by Nathan Kranzo, Dan Fleshman, Kli Ban, Brent Braun, Lamont Ream, and John Carey. The tricks are cool, and I particularly enjoyed Dan Harlan's essay on 10 Ways to Be a More Creative Magician.
Magic shop swag.
This digest-sized zine sells for $6.95 (worth it) and is free with physical orders of over fifty dollars. It reminds me of the Trick Talk publication that used to come free with all Magic Inc. orders and I of course wish it were the same (free) with Penguin. It would also be nice if there were access if your purchases were downloads, as Penguin has some great downloads. But then, that's why I spent time in a day job instead of running a magic superstore. Whatever, this is a quality product.