TABLOID TRICKERY AND MORE -- As I mentioned in my review of last summer's history convention in Marshall, Michigan, Gene Anderson brought his A game. He always does, of course, with one of the great theme acts in magic. Gene is to newspapers what Marvyn Roy is to light bulbs.
Gene also brought to that convention, as he has to other conventions for nearly ten years, galleys of his book-in-progress that has finally become, in a gorgeous 256-page hardback, Gene Anderson The Book. It's been a delight to have watched this book develop, even as the world (especially newspaper sizes and formats) changed around the author. (Gene laughed at, but declined, my suggestion for a title: Bottom of the Bird Cage.)
For one thing, although there is plenty of painstakingly taught, groundbreaking material on newspapers, there is also much more to the book. Among this wealth of parlor material (a book of parlor magic is in itself a wonder), even the three card tricks are killer standup routines (the Nemo Jumbo Rising Cards, Harbin's Card in the Bottle, and a multi-phase Si Stebbins Card Routine). Gene has intentionally limited the items to his longtime professional repertoire, and this allows him unprecedented attention to detail. It isn't enough to mention that thread makes the Nemo Rising Cards work. Rather, he fills the chapter with thread choices and instruction on how to make the thread invisible. Only Gene, with his PhD in chemistry, could blithely discuss the chemical advantages of the best rubber cement for Clippo. Who else would know where to find free Tyvec to strengthen your paper hat?
You'll find, in addition to newspaper tricks and parlor card tricks, work on rope, string, thread, paper chains, a vanishing lit match, the Die Box, the Egg Bag, tables of all sorts, and, the darling of the reviews I have seen so far: Picto Transpo. In that effect, a drawing you make of a spectator transposes with one she makes of you. There is room in this for hilarious audience interaction.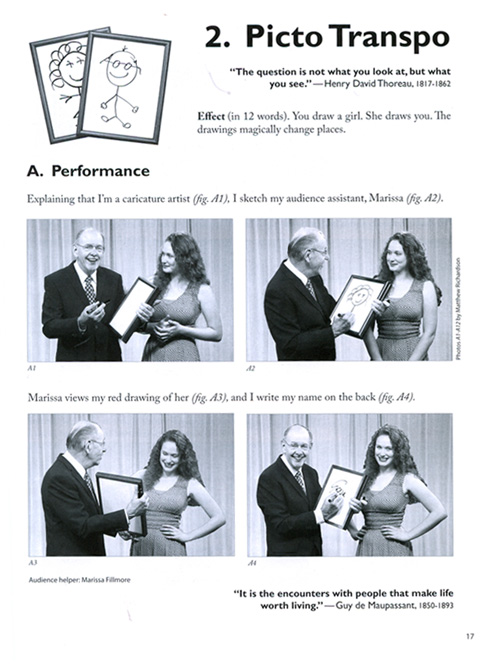 The book is beautifully laid out.
But let's get back to newspapers. Here are the elements of Gene's iconic magic show, including "Amputated Origami" (Origami with one cut), Squircle, newspaper Chapeaugraphy, the Corn Stalk, the HELLO trick, and of course the Torn and Restored Newspaper. It's all there -- the history , the construction notes, the performance instructions, the patter, and the extra knowledge that comes only from decades of experience.
The Paper Tree or Corn Stalk was in one of my first magic books, attributed to Jarrow's show, but I had no idea how to make one like Gene's, some fourteen feet tall. Size matters!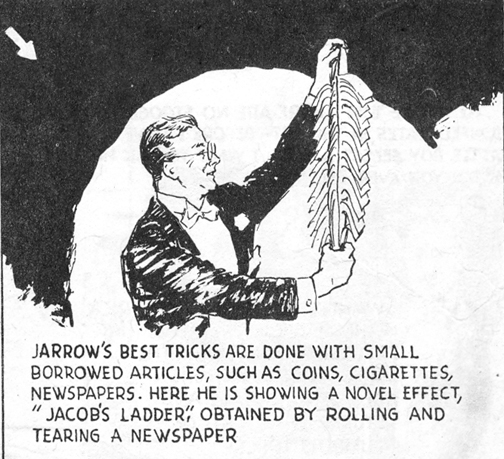 Jarrow would be hard-pressed to follow Gene's version.
The book concludes, as does Gene's act, with the Torn and Restored Newspaper. Although there are several good methods out there, Gene's has been the go-to method for most professionals for nearly fifty years. You can trust it! I fondly recall Doug Henning performing it not only on his live show but on a Macy's Parade day broadcast on NBC. His regard for this method has become part of twentieth-century magic lore.
A highlight of the book is the chapter on The Part-Time Pro. Every detail you need is there, down to the performance agreement and even how to develop new material. I commend Gene in this chapter for departing from the current dogma that you must have a strong character first and only then add tricks that the character allows. Gene's act development is trick selection first (with appropriate advice on how to do that), still, I suspect, how most magicians go about it. It's an approach one might expect from a magician whose reputation rests on a theme act. In real life, the tricks inform the character and the character eventually informs the tricks.
The design of the book is stellar. Twenty-three of the twenty-eight chapters detail a single trick, complete with patter keyed to the action, and each chapter is stand-alone: you can read the book in any order. I laugh to think that some avoided Erdnase because it was "like geometry." Much of this book, especially the newspaper work, is geometry. Gene had to master Adobe Illustrator to bring all the folding and construction details to life. He further mastered Adobe InDesign to lay it all out. In addition to the considerable instructions, patter, and philosophy from Gene, the book is liberally sprinkled with wise and relevant quotations and with great snippets about Gene called "The Gene Pool." One of Gene's own lines that is sure to become a quotation in books by others, regarding "improvements": If it were better, would it be better? All in all: 28 chapters, 256 pages, 487 illustrations, 403 photographs, 206 quotes, 26 Gene Pool items, 1 hilarious limerick, 1 Mac King Foreword, and 1 Gene Anderson Introduction.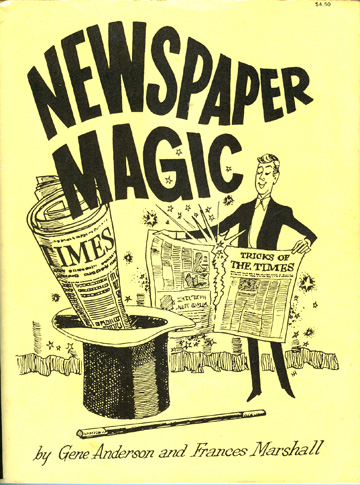 Gene's first book on newspaper magic.
Reading Gene's new book inspired me to walk downstairs to the vault and take another look at his first major tome, 1968's Newspaper Magic, by Gene and Frances Marshall. It's still great and constituted my first intro to Gene's sense of humor. Indeed, I get far more of the jokes now that I am older! That collaboration led to Gene's Chicago lecture for IBM Ring 43, to which he brought sixty pre-folded papers. There, with newspaper Admiral hats on their heads, sat Werner "Dorny" Dornfield, Jack Gwynne, George Johnstone, Jay Marshall, Jack Pyle, and John Shirley, among others. Only in magic! Both books highly recommended.
Gene Anderson The Book is available from geneanderson.com, $65 plus postage. Awesome!