TWIN PEEKS -- Ever since they burst onto the scene, and arguably even created a scene or two, Dan and Dave Buck have been at the cutting edge of cardistry, magic, magic conventions, and coffee brewing. To all this I would add web design. It is embarrassing to be telling you this with 20th-century html, but the new Dan and Dave web site, Art of Magic, is one of the coolest to yet grace the internet.
The site offers a wealth of large-format photography and video and is ideal for loitering, learning, and shopping. Navigation is a dream. You can click into such categories as Close-up, Parlour, Cardistry, Street, Sleight of Hand, or Mentalism. Alternatively you can select Magicians and access bios and downloads from the best of the best (70 at current count). Much is free. You can select Articles, currently featuring such content as video of Paul Harris and Bruce Cervon performing full segments on "The Magic Palace." You can select Podcasts and listen to interviews with the likes of Rob Zebrecky and Ricky Smith (the two I chose first).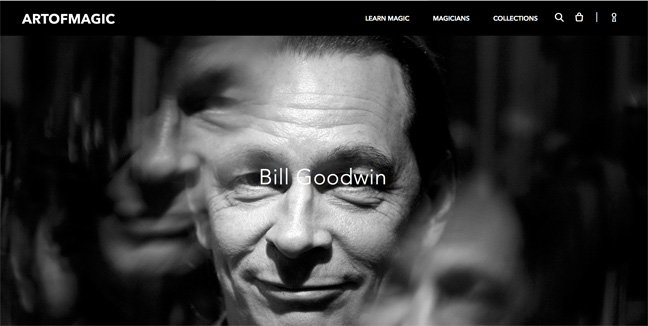 Buy by the item or the whole collection.
Shopping is downright fun, mostly instantaneous (downloads), reasonably priced, and of first-rate content. Video promos accompany every item in the store. Whether you fancy a Grant Carden blind shuffle ($2) or Steve Forte's Gambling Protection Series ($80), you're bound to find something in your price range. You can cherry pick individual items or purchase complete collections. It's like an iTunes store for magic tricks, with immediate delivery.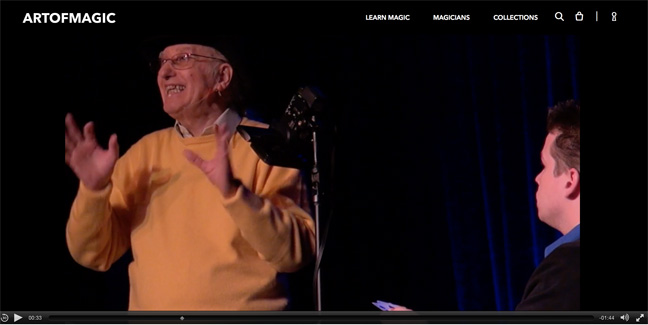 Juan will teach you his magic.
I've barely scratched the surface of my own desires, but am intrigued by much. Of my favorites, there is plenty to give me pause. A generous supply of Bill Goodwin material includes his dazzling Cannibal Cards ($8). David Ben teaches Ross Bertram's Coin Assembly ($6). I enjoyed Will Houstoun's Special K ($4), a standup Inversion routine. Asi Wind never fails to amaze me with Catch 23, his four-spectator coincidence effect, part Kurtz Chair Test and part Bank Night. I thought he would never release it, but it's here ($50). And I've promised myself a look at Juan Tamariz's A.A.ESC.SF Oil and Water routine ($8).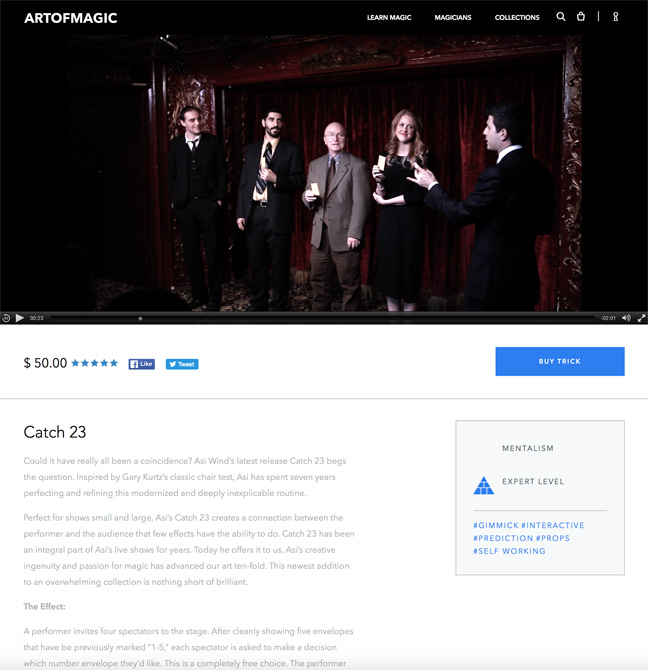 Asi reveals his deepest secret.
It's tempting to drop names, but I'm not hip enough to know all the new ones and am intimidated by those I do know (Engblom, DaOrtiz, Williamson, DelGaudio, Hollingworth, Guimaraes, Carpenter, Kopf, England, Prace, Kimlat, Pierce, Asher, Carney, Vernon ...). You get the idea.
Beyond the riveting content, the site is simply beautiful. If you had purchased previous content on DanAndDave.com, you will find it waiting for you at the new location. All is just lovely. Now, for a look at that Tamariz trick ...