THRILLER -- Almost unheralded in the magic community, David Blaine returned to prime time on November 19 with a superb hour and a half special on ABC. Under the show's title David Blaine:Real or Magic, David performed miracle level magic that made the spectators ask themselves just that, and the answer was often "real." (I am both fooled and grossed out myself at the bloodless penetration effects, an ice pick through his hand and a needle through his arm, having seen this before only on Amazing Johnathan's burnunit.tv broadcasts. Yikes.) The shock and astonishment of the spectators was genuine, an audience that included the likes of President G.W. Bush, Stephen Hawking, Kanye West, the entire Will Smith family, Olivia Wilde, Harrison Ford, Jamie Fox, Katy Perry, Emmy Rossum, Bryan Cranston, Aaron Paul, Woody Harrelson, Ricky Gervais, Woody Allen, and Robert DeNiro, among others. Almost lost among the noise of celebrity screams were some Dai Vernon narration and a very nice Card on Ceiling moment that seemed like something out of fairy land, ah, just before a trick like something out of hell. Thoroughly enjoyable, this was David's best special since his first, when he burst onto the scene as (to quote Salon) "a hot little bucket of spooky." David makes me proud that my middle name is Blaine.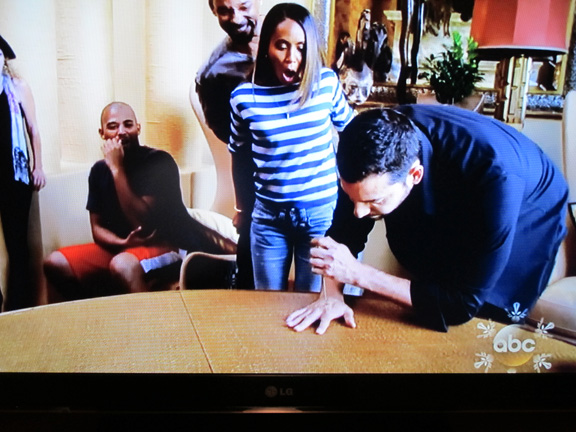 The ice pick through hand (and possibly the Smith dining table) trick.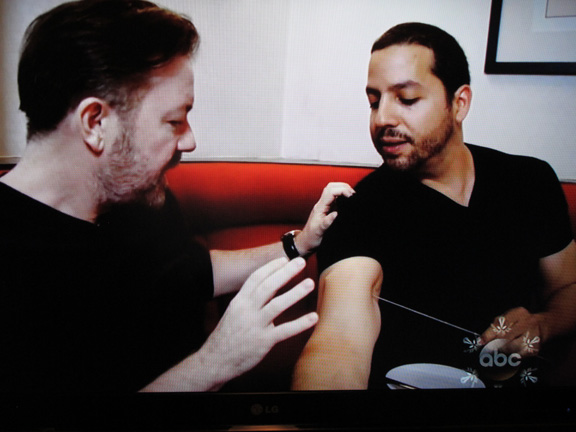 Not your father's Needle Through Arm trick.
BUT WAIT, THERE'S MORE -- Back in August, I reviewed Mike Caveney's two-volume masterpiece, Wonders and The Conference Illusions. Although the general praise applied to both volumes, the specific praise was constrained to Wonders, Mike's thoughts on the magic that has defined his performing material for his life in magic. (It was constrained because I read that volume first.) The second volume, The Conference Illusions, contains in-depth looks at the magic that Mike has resurrected, updated, and performed every other year at the Los Angeles Conference on Magic History. Since August, I've found the leisure time to read every word of Volume II, and it is now my favorite of the books.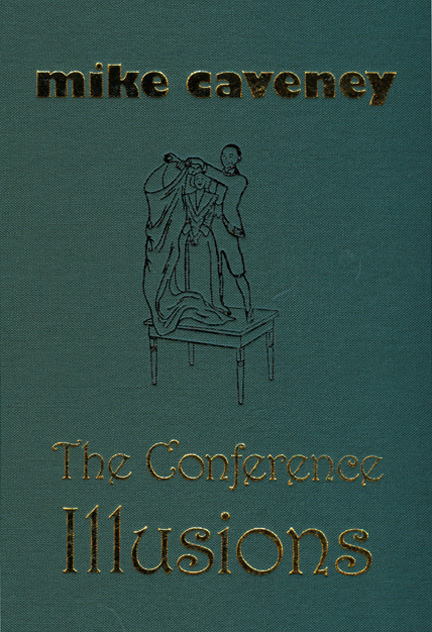 More from Mike Caveney.
For years I have been envious of those who attend the L.A. Conference, and Mike's recounting of the parlor and stage magic he contributed makes me even moreso. A few highlights ...
As I mentioned previously re The Astral Hand, Mike writes dead-on perfect patter. Magicians who let such drek as "The clean hand" escape their lips should study these scripts in depth. I smiled even wider as Mike began quoting Beatles lyrics during his Del Adelphia Egg Bag routine ("I am the egg man ..."). Attendees of Luis de Matos's EMC 2010 had the good fortune of watching Mike perform this hundred-year-old Egg Bag routine. It's a fooler. From a genuinely normal bag, Mike produces thirty eggs and a chicken using methods previously lost to history, including mirrors, secret loads, and crazily gimmicked eggs.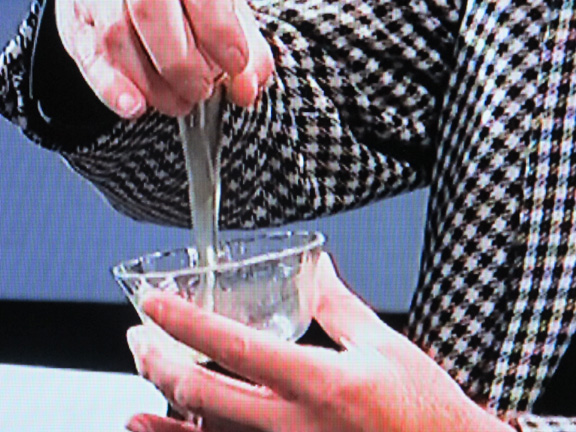 The egg looks real.
EMC fans also got to see Mike perform a Conference Illusion in 2012, Paul Valadon's Well I'm! illusion preceded by his Drum That Can't Be Beaten. Well I'm! begins with the magician standing on a table behind his female assistant (a chummy arrangement that reminds me of Michael Finney's Lady Rope Trick). He drapes a cloth over her, steps down, and snatches the cloth away. The lady is gone! In this version, Mike had produced a 50-ft silk streamer that spouse Tina had run to the back of the theater with. She then joined him on stage to be vanished beneath the cloth. To reproduce her, Mike reeled in the streamer to reveal that she was solid again and holding to the other end.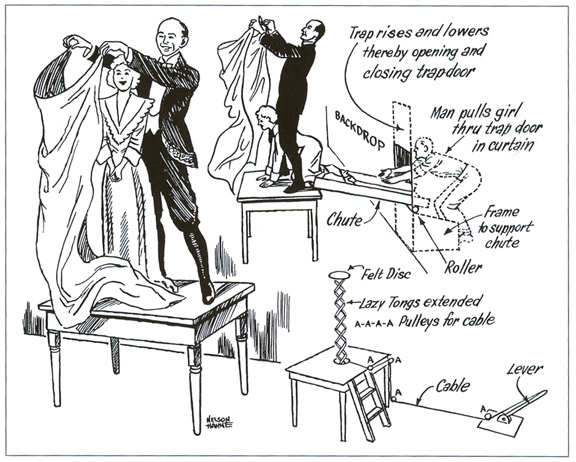 How the Valadon illusion looked on paper.
Although Tina made it through the Well I'm!, the challenging Through the Eye of a Needle, and the OH! Chair (with help from my friend Lisa Cousins' hand) illusions unscathed, she didn't fare so well in two of the illusions. Playing the feet in Dante's Sawing a Lady in Half illusion, the stage hands forgot to let her out until alerted by muffled expletives. During a later performance of the Million Dollar Mystery at the Magic Castle, she was produced from a narrow casket with one small hitch: the stage hands stood the cabinet that contained her upside down, to a most amused audience when the door was opened. Had this been my spouse, I would have been sorely tempted to laugh, but not, of course, within her vision or hearing.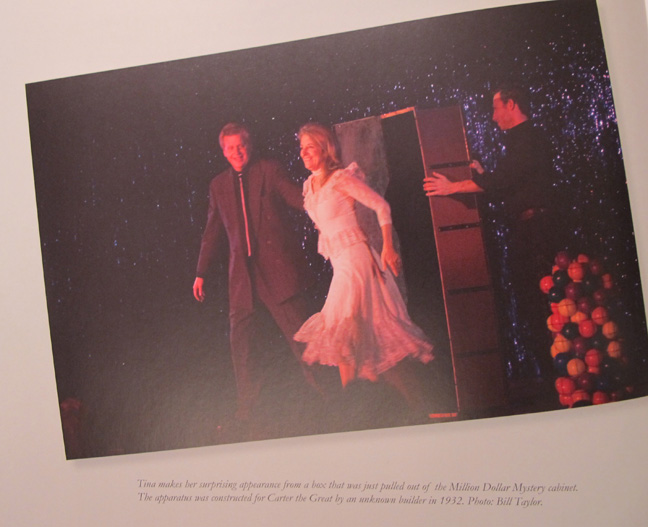 Tina escapes her confines, happily upright.
All this and more are wrapped around the memories of the people and the problem solving that were involved in two decades of bringing these ancient illusions to life. My only regret is that the book closed with photos of the Carter Spirit Cabinet, Mike's project for the 2013 Conference. I've heard reports on how it went, and, in lieu of my being there, I wish I could have read the entire routine instead of looking at teasers. I've heard it was great, very spooky.
The books are even more highly recommended than when I last addressed them. As mentioned then, available from Mike Caveney's Magic Words, $240 plus $15 domestic postage. An absolute bargain and a must read.
Addendum: Fans of Volume I no doubt enjoyed seeing Mike on The Tonight Show, bantering with the host and performing his Coffee Juggling to delight Betty White.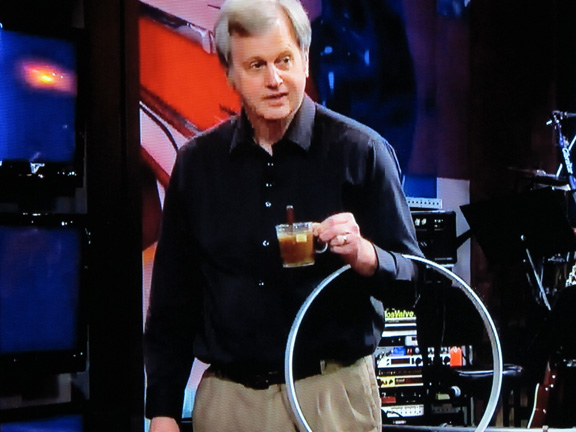 Performing on The Tonight Show.
I KNOW WHAT YOU'RE THINKING -- It's hard to believe that eight years have flown by since I reviewed The Artful Mentalism of Bob Cassidy, back in January 2005. In the book's new hardback sequel, Volume 2 of the same title, Mr. Cassidy has a section called "The Thirty-nine Steps to Mentalism," his list of the essential books on the field. He should have either made it 40 steps or replaced one of the list with his own works, as the prior book is certainly an essential step to successful modern mentalism.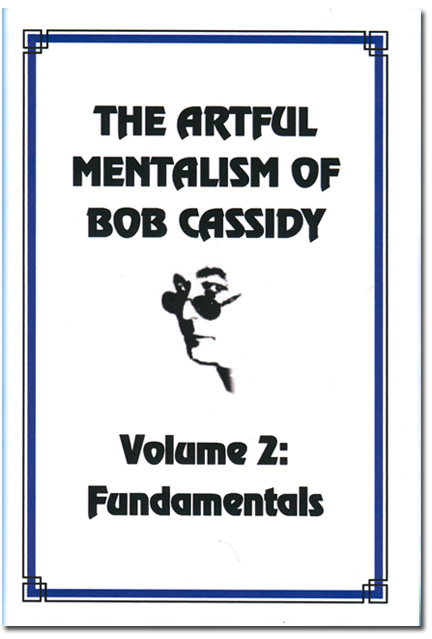 The latest in Gonzo mentalism.
Ditto this new sequel. As with the previous book, there is a generous supply of performance pieces. I enjoyed Cassidy's correct handling for the Princess card trick, a newspaper force, and a matchbook cover take on In a Mirror Darkly along with act-length effects such as his 21st Century Q&A act and his deep exploration of the three-billet test (three words are revealed, none are forced).
As nice as the actual "tricks" are (Cassidy would never use that word), the real value of this book is the performance advice, including killer patter that would work for any hip, modern audience. "An Essential Secret" is a lovely gedanken, a postulated situation in which a budding mentalist seems to do everything right with a new piece but who fails because of something he overlooked.
Structurally, the new book consists of the ten books Bob Cassidy has written since his last book, stacking up to 422 glossy pages of material. There are a couple of typos -- we dearly love the Larsen family, not the Larsons, and the Anna Eva Fay secret is on page 114 not 110 -- but these are small glitches in an otherwise handsomely put together work, this time with Tony Dunn illustrations rather than photos. Bob Cassidy is a fun guy -- he was recently the honored guest and roastee at the tenth Mindvention in Las Vegas; if you access Scott Wells' podcasts from the convention you can listen in on an interview with him and to the roast itself -- and he makes his books a fun read as well as passing along some deep thinking. Hardback, $65 and postage from H&R Magic Books.