VALEDICTION, MOURNING EXPECTED -- "What's wrong?" my wife asked as I lost nearly two days this month, completely sequestered in my office with videos of, books by, and memories of Eugene Burger. How do you begin to explain what a loss this is to magic, to humanity? How does such an asset to the planet die while others, such a detriment, seem to go on and on?
But to specifics, and magic. I wrote of Eugene far too little here, and elsewhere, given what an influence he was on me, but let's revisit those moments nonetheless.
I touched upon my first encounter with a "Eugene Burger" in a review of the softbound books that most influenced me in magic, in June 2009. Even before I heard Eugene's physical voice, he had a "voice" on paper that was compelling, and he wore a beard long before beards were cool. That mention:
SECRETS AND MYSTERIES FOR THE CLOSE-UP ENTERTAINER -- Eugene Burger burst onto the scene with the gravitas of a real professor. He preached at us. He underlined words. You could hear him. And somehow he wrote in a way that made you understand you were encountering genuine wisdom. This book makes my list of influential books because it was the first I encountered from Eugene, but in truth all of his books have been influential. Fortunately you can find most of his early monographs (it was about the time the Eugene appeared that softcover magic books started being called monographs) in Mastering the Art of Magic, a hardcover reprint from Kaufman and Company. It currently has a pre-publication price of only $50.
I acknowledged my favorite Eugene Burger book, Spirit Theater, in a bibliography to The Little Egypt Book of Ghosts. (My own book was my attempt at writing the second best book on spirit magic.) Recognizing that a big part of Eugene's performing impact is from his voice, Richard even included a phonograph record. Of Eugene's book itself, I wrote, "So beautifully and relevantly designed by Richard Kaufman that this book even looks scary. If you can afford only one book on spirit magic, or only one book by Eugene on any subject, this is the one to buy."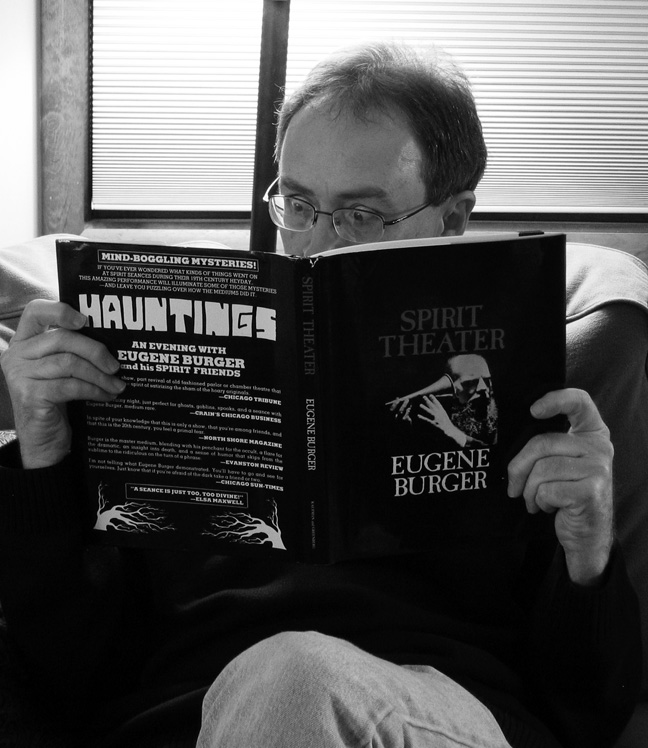 The bible of spirit theater.
My most recent mention of Eugene in these pages had been a May 2016 review of his second Penguin lecture, Eugene Burger LIVE 2. After The Little Egypt Book of Ghosts came out, Eugene thrilled me by performing a trick from it, The Lake Witch Project, at his next Halloween event. Needless to say, he made it more than twice as effective. Details are in the lecture:
DARK SECRETS -- In 1986 Eugene Burger's Spirit Theater immediately established itself as the best book ever on spooky magic (still is) and Eugene himself as the leading authority on dark side magic. I crave any opportunity to hear Eugene expound upon the subject and thus happily tuned into his new Eugene Burger LIVE 2 lecture from Penguin Magic (premiered May 15).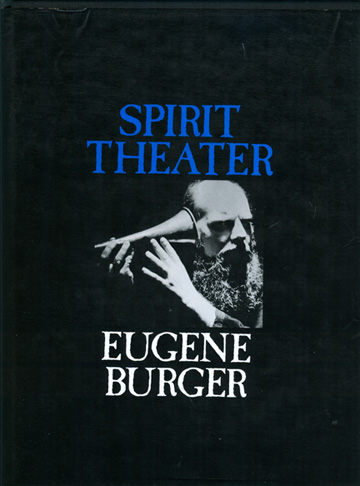 World's greatest spooky magic book.
The lecture, a download from Penguin, is a fast 153-minute chat with host Dan Harlan, Eugene Burger, and Lawrence Hass. The viewer has the sense of sitting in on a conversation that is punctuated by occasional performance pieces. Among the highlights:
Details of the Hauntings that inspired Spirit Theater, performed in a basement at Yale, at the University of Illinois in Champaign, in an attic in Evanston, and at the Lake Geneva Playboy Club.
How to haunt a house.
Discussion of a Ouija Board routine with a terrifying climax. Amazing Johnathon told me of a similar routine he had planned, to contact Grandma at a Halloween party.
The Bell, Max Maven's Genii routine (August 2010) as perforned by Larry Hass. Dan had a cool suggestion for using the prop.
Robert Neale's Soul Survivor, a creepy routine performed by Eugene, based on the PATEO force. There was a minor slipup in the execution that made the trick impossible, and yet it worked, fooling me badly!
How Eugene used Micael Carbonaro as a spectator in a bizarre hypnosis stunt with an ending so eerie the team felt they had to explain it to the spectators. I'd have let them worry! The participants should film this for Michael's TV show.
Demonstrations of the gadgets Eugene uses in the dark at his seances. Houdini might have featured this on stage.
How to make ectoplasm.
A discussion of The Lake Witch Project, my scream-inducing trick from The Little Egypt Book of Ghosts. Thanks, guys, for the nice words about the book and the trick.
Eugene performing Edna St. Vincent Millay's "Ballad of the Harp Weaver," with a magic trick climax suggested by Jeff McBride. This was just as creepy to watch as I had always envisioned it. No better lead-in to a dark seance.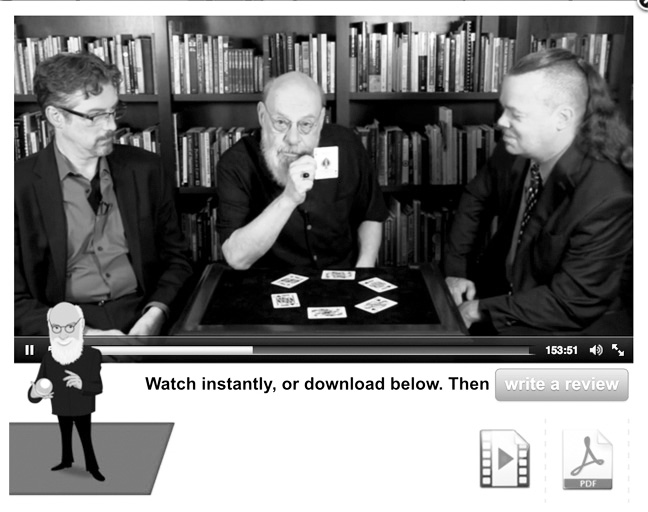 Eugene performs with Larry and Dan.
I've been very happy with Penguin downloads, and this is no exception. Dan, Eugene, and Larry seemed to be having a great time. $29.95 from Penguin, immediately available. Spooky!
As luck would have it, both my parents died, on separate occasions, while I was attending magic conventions in Las Vegas. My mom's death, in particular, was a surprise and shock, and I would have to wait until the next day to catch a flight home. I had no idea how to pass the time until I wandered into a salon where Eugene was holding court. He was performing The Trick That Cannot Be Explained over and over, and it became more impossible with each iteration. It was one of the most wonderful things I had ever seen in magic, and it took away from my grief for a bit. I was aware that Eugene occasionally offered a seminar on the routine and hoped that I would one day be blessed to attend. I listed it as one of my primary mysteries here in April 2014. See below. (Amazing news. Regarding the routine, Larry Hass told Scott Wells on his themagicwordpodcast.com to stay tuned! Apparently Eugene has two books written that will come out.)
The Trick That Cannot Be Explained. The ultimate card trick? Vernon wrote it up, many have tried it, and Eugene Burger has absolutely mastered it. I'd love to be privy to Eugene's thinking behind it. He has occasionally taught the routine in seminars, but not, alas, in my vicinity. Perhaps some day. I have enjoyed performing a couple of routines that require similar think-on-your-feet endings, one being Nick Trost's Significator Cards (Subtle Card Creations Volume 3), the other being Marlo's Unexpected Prediction (Malone Meets Marlo DVDs). Fun magic!

Eugene thinks on his feet.
One of the highlights of my life in magic was a visit to Eugene's home, a one-bedroom apartment on Dearborn. I was surprised at how small and therefore selective his book collection was. (Should I ever have to truncate my own library, Eugene's books will be among those spared.) His path was not my path, but I appreciated its simple elegance. In his earliest writing he stressed drawing the line. I especially enjoyed the aspect of city living that allowed him to take an elevator to the first floor to a very nice restaurant, where we had lunch. How practical on a cold winter's day in Chicago!
According to Eugene's Chicago Tribune obituary, he passed away at the Northwestern Memorial Hospital. Nearly ten years ago, my granddaughter was born in that hospital. When she appeared, a tiny bell, like a fairy bell, tinkled to announce her arrival. That's how we knew. What happens, if there is another side, to announce new arrivals to eternity?
As with all of magic, I miss Eugene Burger, and I wish you joy in his memory.