STRIP SHOW -- We live in surprising, unsettling times, and I am not speaking only of world politics. Just when you thought close-up magic had seen it all, along comes Bob Farmer with insane things you can do by card sorting via alternate number systems and secret marks, or The Jerx's JAMM proposes plots with fairies, saints, and shooting stars, miracles the likes of which we haven't seen before. The times they are a changing. We had long been done with our Mysto Magic sets or our Sneaky Petes, and especially that first weapon in our magic arsenal, the stripper deck. (I think I can still lay hands on my childhood Fox Lake deck.) But just when you thought it could offer nothing new, along comes A New Angle, a surprise from Magic, Inc. by Ryan Plunkett and Michael Feldman. This slim yet packed volume is not your father's, or your grandfather's, 101 Tricks with a Stripper Deck. Rather, it's a radical new look at an old tool, combining advanced thinking and advanced sleight of hand with the mechanics of tapered pasteboards. The results are wonderful and unexpected.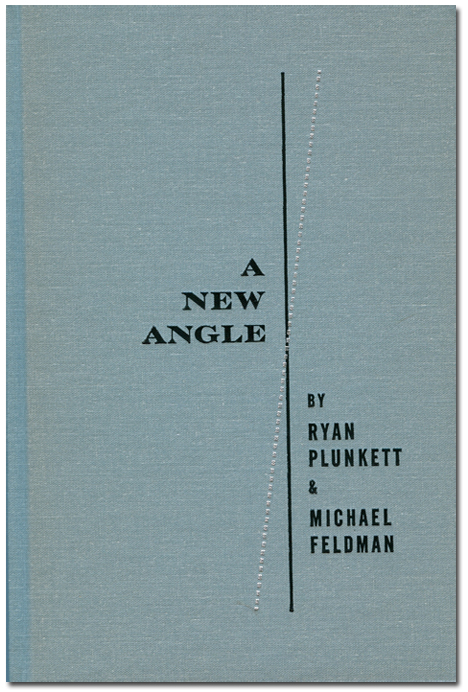 Breakthrough card magic.
Following a couple of short, interesting chapters on styles of stripper decks and how to cut your own cards, the trick section contains 23 titled items. A few require a faro, with such useful results as impromptu Svengali or peek decks, but there was plenty for those who can't (such as I). A few standouts:
Collect Yourself is a collectors routine that is a joy to watch. Just before the climax, the cards are dribbled and you see four separate aces, then bam, and suddenly the three selections appear sandwiched between them. This is one of the effects that requires a faro. I can't do one, but Chicago's Luis Carreon (who also performed on the Close-up show) does the trick beautifully and was most obliging, on multiple occasions.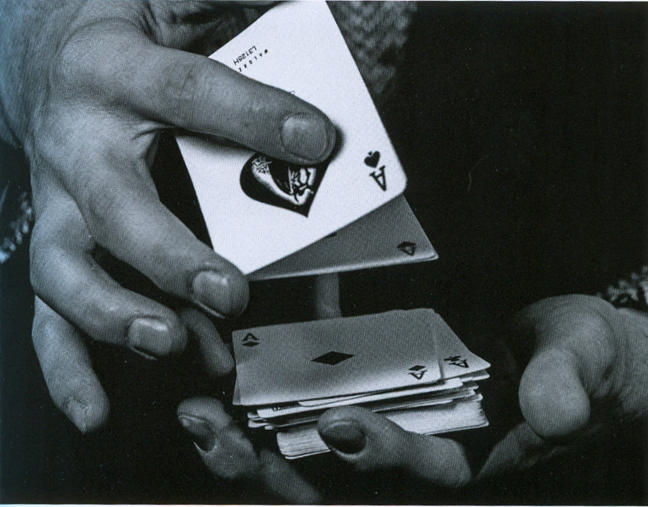 Lights! Camera! Action!
Dual Thought is a version of Tamariz's Neither Blind Nor Silly that allows you or the spek to shuffle the cards. Easy!
Shuffleupagus lets each of two speks shuffle half a deck, then you shuffle the halves together. You spread the cards and see almost a perfect separation of reds and blacks (reds on the left), with only a few cards out of place in the middle. Then you cut the deck, wait a moment, and spread again to find the entire deck in perfect new deck order. This looks like a miracle, and you will fool yourself with it. This was great fun to work through and witness.
A Satisfying Sequence is the easiest item in the book: a card is selected and later returned reversed with everything done in the spek's hands. Finish as you wish!
Flash Triumph is one of several routines in which order is created or lost via repeated shuffles. The cards are genuinely shuffled face up/face down, a card is selected, and order begins to return with more shuffles, ending in a Triumph display with the selection reversed.
Incomplete Strip-out by Harapan Ong begins with the selected card buried in the left half of the deck and two jokers buried together in the right. The cards are riffled together but not pushed flush. The deck is spread, and one card from the left half is now seen to be penetrating the two jokers. It is of course the selection.
New to me, because I don't get out much, author Ryan Plunkett is a Chicago close-up guy, a founding member of the Chicago Magic Lounge, and author of Some Assembly Required. Author Michael Feldman is a veteran of the Magic Castle, Monday Night Magic, and cruise ships and is the author of The Opposite of People. The authors are joined by contributors Edward Boswell, Nathan Colwell, Frank Fogg, Harapan ong, Brian O'Neill, and Lance Pierce.
Every aspect of this book production is first-rate. The text itself is clear yet fresh and breezy. (There is humor, but it is truly amusing, not annoying as in some books of late.) The many footnotes are as entertaining and illuminating as any I've seen since Lovick's Handsome Jack book. Crediting is extensive, and there is a full index. Illustrations are clear, crisp photos that capture exactly what is intended. Lance Pierce wrote the foreword, and the authors an introduction. Susan Marshall and Pedro Nieves get the credit for the excellent editing, and Heather Wood's book design is a joy. There is much to love about this book.
And loved it is. The day I bought my copy was the official release day, and Magic, Inc. had already sold 800 of its first 1000 printed. The team expects a second printing in the first year, a first. A New Angle, hardback, 166 pages, $45 ($55 with a stripper deck included).
FAMILY VALUE -- It was approximately 1985 that my family (moi, Maleficent,Urchin, and Vixen) vacationed in Chicago, the highlight of which was dinner at Schulien's on West Irving Park. Ever since the Phil Willmarth book of my high school days, Schulien's had been one of my most hallowed destinations.
The magician at our table that night was Al James, and he had my kids laughing and amazed throughout. The food was great too. Especially because of that memory, it was a nice surprise to stumble upon a new Al James book at the Magic, Inc. booth. According to the flyleaf, the former Schulien's is now O'Donovan's, and it still proudly has the magic, including Al James on Friday nights. Saturdays he is downtown at Timothy O'Tooles. My kind of town!
Al James joins you at your table.
Al's new book, Conjuror at the Table, is both a primer and a master course on restaurant magic. The text is conversational, as though Al is talking directly to you, and is filled with stories of the Chicago close-up magic scene. The first four chapters cover the basics. "Preparing Yourself" deals with what kind of magic you should do, how long you should perform (10 minutes!), what you should wear, and real-world financial considerations. "Booking a Restaurant" tells you how to select a restaurant and then get booked. "Publicity" discusses both in-house and media publicity. "Working the Tables" gets into how to approach or be requested at tables. And should you stand or sit?
The last three chapters are full of first-rate magic. One covers the magic of Heba Haba Al, as he actually performed it. Another the Nick Pappas card control. And the final chapter the magic of Al James, including his Almost Impromptu Card in Balloon, previously a Magic, Inc. DVD.
My favorite chapter was "Historical Perspective." Al claims the whole Chicago scene really got started when Harry Blackstone taught a young Matt Schulien a trick. The story takes us to Schulien's, the Screw Ball Club, the New York Lounge, the Pickle Barrel, Little Bit O' Magic, Houdini's Pub, the Pump Room, the Ivanhoe, the Old Barn, Allgauer's Restaurant, Manny's Deli and Cafeteria, and the Chicago Magic Lounge, plus out-of-town offshoots the Brook Farm Inn of Magic and the Tomfoolery. A Salvatore Salla drawing of the Chicago Roundtable hangs at the Magic castle, and Al's book provides a key that names all 108 performers pictured. Many of these are the names I grew up with, thanks to the Trick Talks, ireland Yearbooks, and other writings from Magic, Inc. This book is a great reminder of my past, mine and my family's.
Conjuror at the Table is edited by Susan Marshall with a foreword by Johnny Thompson, illustrated with photos and clippings. Hardback with dust cover, 102 pages, $35 ($45 with Card in Balloon DVD).