PHOTO FOOLERY -- The new book Playing Cards in Photographs, by antique dealer Laurence H. Lubliner, edited in part by Gabe Fajuri and published by Squash Publishing, came as a delightful surprise. From its title and ad copy I expected a nice collection of vintage photos depicting folks playing cards. I did not expect such fascinating accompanying text or such richness in detail in the photos themselves.
I learned a lot about about playing card history, playing card manufacturers, card games, card costumes, cards in twentieth-century wars, and photography itself. Games depicted include Faro, Texas Holdem, Seven-Card Stud, Draw Poker, Euchre, Cribbage, Skat, Uta-Garuta, Seven Up, Solitaire, Concentration, and Tripoli, among others. Playing these games were families, moonshiners, hobos, children, cheaters, blind strikers, sighted strikers, street gangs, a Dutch soccer team, lesbians, a fortune teller, the physically handicapped, a dog, Asian women, five naked guys, magicians, soldiers, sailors, POWs, woodsmen, and guys in gas masks. Many others dressed up in card costumes. Celebrities with pasteboards included Doyle Brunson, Rocky Marciano, Yogi Berra, Phil Rizzuto, Brian Berg (champion card stacker), Ronald Colman, Bob Hope, Barbara Stanwyk (lovers of cards should be huge fans of her movie The Lady Eve), and magicians Dante and Dai Vernon with Johnny Paul.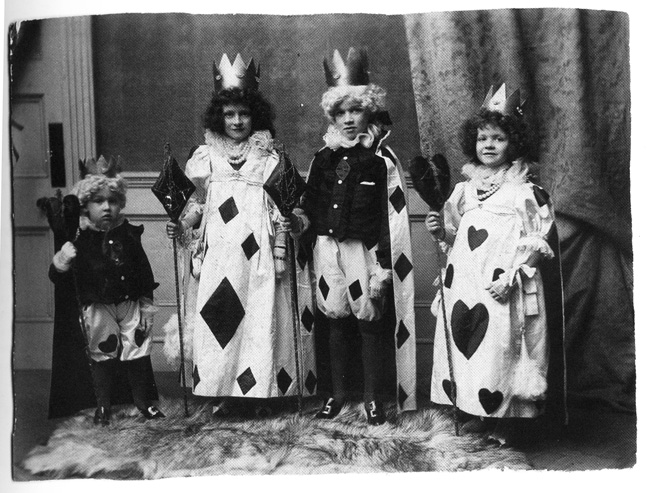 How magicians make their kids dress?
As the above suggests, there is plenty to delight both the eye and the mind of anyone interested in cards. I grew up around cards--my grandmothers and great aunts all played and hosted card parties while the men played at fraternal organizations--yet I have almost no photos of my relatives in action. It's nice to see that other card games were not so undocumented.
This is a big square hardback book--imagine a record album, if you remember them-- of 92 pages on glossy stock. Text in black provides background information on card history, while text in red provides entertaining commentary on the individual photos. All in all a grand project, and I hope Mr. Lubliner comes across enough new photos for a second volume. Magicana is currently offering a discounted signed copy through April 11. I got mine from H&R Magic Books. $35.