AND THE WINNER IS – It's been a year for firsts. For the first time in 52 years, the Academy of Magical Arts Awards Ceremony (celebrating 2019) was held online, and for the first time in 52 years it was open to the public. And, not for the first time, it was spectacular. (I assume most of you watched it, but I want to document it here for my own amusement down the way.)
For the record:
The show began with opening comments from David Copperfield who then turned the program over to emcee (and Board of Directors veep) Max Maven. Max kept the show going at a brisk clip, alternating fellowship and room magician of the year awards with interludes of magic. Those interludes, all surprising new faces to me, came from Winston Maldonado (Venezuela), Willy Chen (Hawaii), and Jaana Felicitas (Sweden). Acceptance speeches were pre-recorded. I was pleased to note that most of the fellowship and show awards leaned toward international recipients.
The details:
Erika Larsen presented a Special Fellowship to Lisa Menna.
Goldfinger and Dove presented the Lecturer of the Year award to Dani DaOrtiz.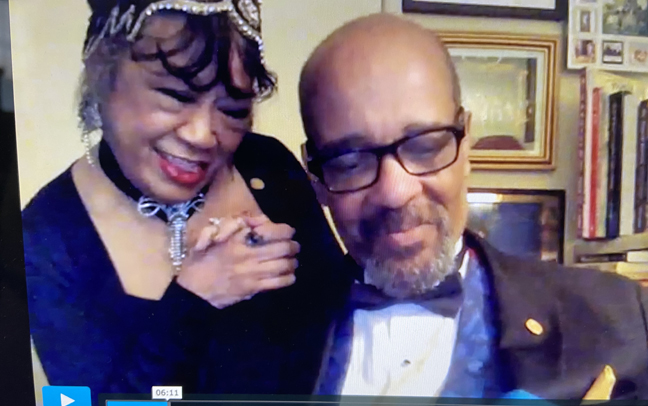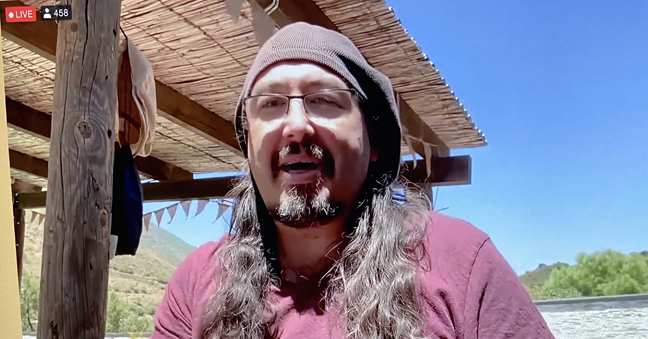 Jonathan Levit presented a Performing Fellowship to Raymond Crowe.
Paul Green presented the Parlour Magician of the Year award to Chris Capehart.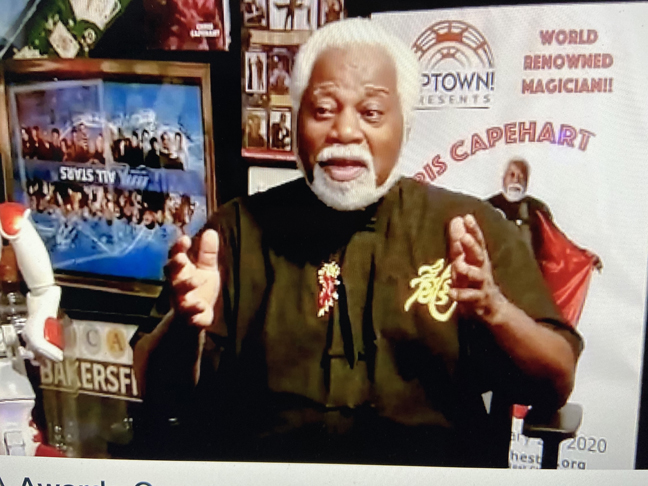 Randy Sinnott, Jr. introduced a clip about how John Gaughan makes the wand trophies. (Fellowship winners get a special lapel pin.)
John Carney presented the Close-Up Magician of the Year award to Asi Wind.
Shoot Ogawa presented a Creative Fellowship to Angelo Carbone. Angelo's acceptance video showed off some of his recent miracles.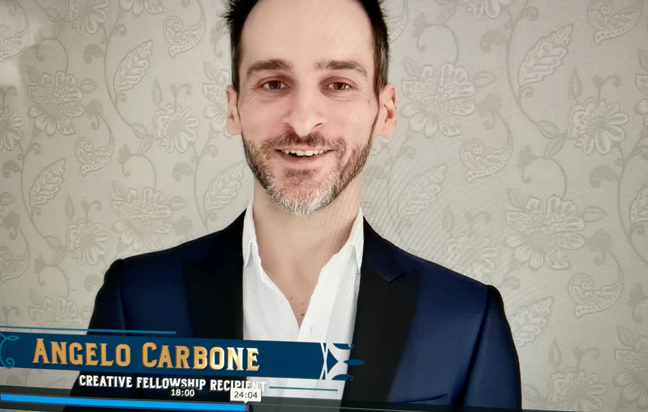 Mike Caveney presented a Literary Fellowship to Laura Aviles Ruda. (Above a tea shop in Madrid, Spain, she has published hundreds of magic book titles.)
On behalf of the entire Larsen family, Erika Larsen accepted the Magic Circle's Devant award. The award itself is a bust of David Devant.
Gay Blackstone presented a Special Fellowship to Alan Zagorsky.
Saratoga Ballantine introduced the memorial reel, assembled by Dustin Stinett. So sad. Bonnie Gordon sang "Smile," accompanied by Richard Allen on piano.
Steve Barnes and David Doyle presented the Junior Achievement award to Austin Janik.
Christopher Hart presented the Stage Magician of the Year award to Lucy Darling.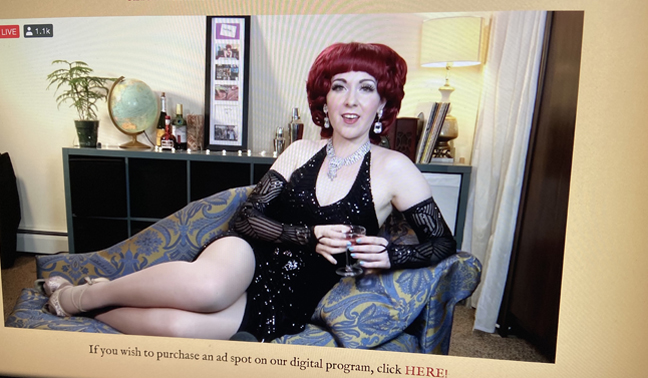 Michael Carbonaro presented the Magician of the Year award to Derren Brown.
In closing, Max advised us to appreciate the credits, announced a forthcoming digital program, and performed a most curious bit of geometric magic. I can help with that first one: The producers were Gay Blackstone, Erika Larsen, Jonathan Levit, Max Maven, and Shoot Ogawa. Nice job!

GRANDCHILD OF JAW DROPPERS! -- A few years back, when I was reviewing Harry Lorayne's Jaw Droppers! (2015), I wrote, "I can think of few pleasures in magic greater than spending an afternoon with a new Harry Lorayne book and a deck of cards." Several books later—including Jaw Droppers Two! (2017), And Finally (2018), and now the e-book More Jaw Droppers!—that sentiment still holds. And who would have thought that the same idiosyncratic conversational prose and baffling impromptu card magic that first wowed us in Close-Up Card Magic (1962) would still be entertaining and enlightening us 58 years later?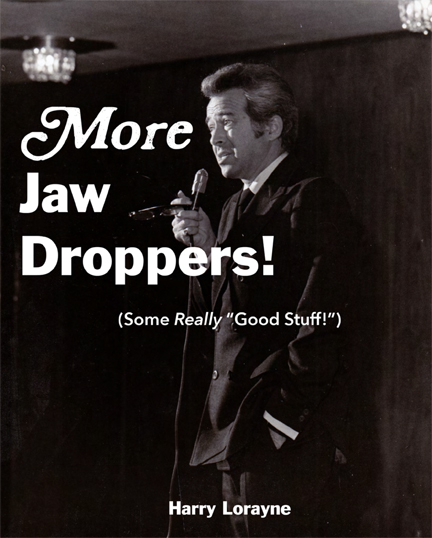 Said e-book contains 11 titled items, all doable impromptu magic with a borrowed deck, and Harry favors techniques he has highlighted in recent books, such as his Spread Control and Utility Mixer. A few favorite routines:
Not Out But In-Sight. Based on a Joshua Jay routine with a blank deck, Harry uses a normal borrowed, shuffled deck and not only locates the card merely thought of (spectator first imagines a value, then a suit) but at the same time sets up a four of a kind for a subsequent trick. (This latter bit is especially useful and practical.)
The Secret of Five. I'm fond of layout tricks, with multiple small piles that eventually yield a selected card. Ricky Jay had a manic version. Here five piles of five cards are narrowed to one, after which the number five mysteriously identifies the selected card.
Inside Pocket Load. A squeaky clean method to cause a card to fly from the deck to your inside breast pocket. The spectator confirms that the pocket was empty before the transposition.
I remain astonished that Harry is still churning out books of card magic at 94, but I shouldn't be. After all, he's Harry Lorayne! In pdf format, 47 pp. with a password provided a short time later. $14.95 from HarryLorayneMagic.com.

IN THE BOX ENTERTAINMENT – Here's a new entertainment concept for the Covid age. I have often mentioned our local entertainment resource, Bloomington Playwrights Project (BPP). For its new season, BPP is making four plays available called In the Box Entertainment. When you reserve your performance time, they send you a box of stuff in the mail. What's in it? I'll quote from the ad: "Imagine signing up for our Living Room Cruise Lines where we send you A Cruise In A Box. It'll arrive in the mail (the real, physical mail) prior to your scheduled departure. In it you'll find things like a pocket fan, a Hawaiian lei, a tiny umbrella to put in your drink, a passport, an ocean-scented candle and other important items to set the mood. Your ticket is your boarding pass to an exclusive live Zoom room where our ukulele-playing Cruise Director welcomes you and your shipmates and gets you ready for travel.
As you set sail for your first tropical destination, you might find yourself tasting a local delicacy from your upcoming port. Along the way, there's plenty of shipboard entertainment to experience (which we've curated) as our Cruise Director introduces you to singers, magicians, comedians, jugglers, and more. Or perhaps Shipboard Bingo is more your speed, where you can relax and stamp those bingo cards (which we've provided) as the artificial wind blows across your face. It's an experience you won't soon forget, especially since there'll be a towel animal (that we'll teach you to make) waiting on your bed later that night!"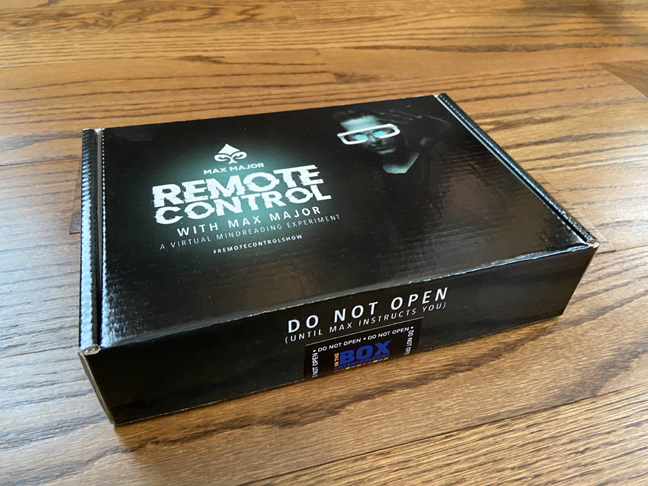 BPP's first offering this year is a Magic in a Box program called Remote Control with Max Major. (See the review of Max's performance here last year at September 2019.) Max is currently working his way up the AGT ladder, and this will be his first live show after that taping. Reservations are available Oct 1-3, 9-11, at 8:00 PM Eastern, on sale now for$35. Regular price is $45. Book at least a week in advance to receive your box. I have received mine, but it advises Do Not Open. Intriguing. Home page for the BPP is newplays.org.

When I was a child, magic on television was hard to come by. Weeks might pass before an act would turn up on "Ed Sullivan," and then we'd delight in Marvyn Roy, Jay Marshall, or Richiardi. Series such as "It's Magic" or "Don Alan's Magic Ranch" offered crash courses in the broader range of mid-twentieth century magical show business, but these were even more rare. Today of course is different. So much exists on the internet that you can overdose and become jaded. Still, there are surprises, and here are three.
THE FIRST MAGIC CASTLE – Magic's premiere internet sleuth Bill Mullins often posts discoveries on the Genii forum, a recent find being the passing of Mary Hartline at age 92. Ms. Hartline was one of TV's earliest personalities, with 1952's "Super Circus" and later (1957-58) "Princess Mary's Castle." The latter reminds me of "Mister Rogers' Neighborhood," with a star surrounded by puppets and interesting human visitors.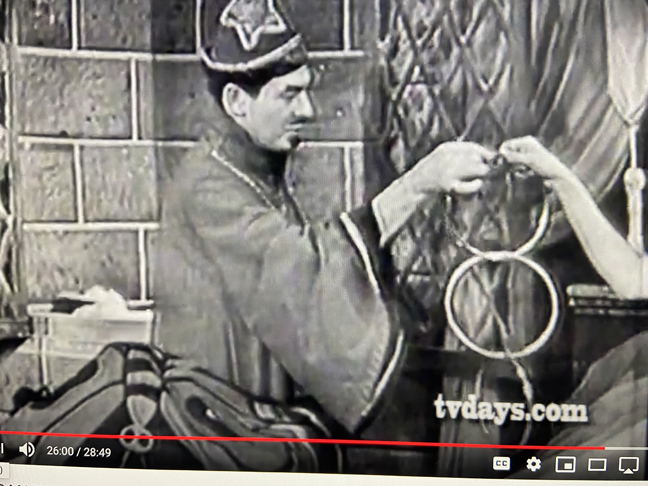 In particular one of her friends is Sir Donald, played by Don Alan. In this clip the knighted magician vanishes a pair of coat hangers and performs the Linking Rings. I especially enjoyed watching a puppet beating the hell out of a pair of Don's rings, leaving them bent out of shape.
HAIL, HAIL, ROCK AND ROLL -- This is going to amaze you. Last month's look at Collector's Corner praised a four-hour episode on Richiardi, narrated by Levent. Featured in the retrospective were three former Richiardi assistants: Mike Caveney, Joseph Gabriel, and Richiardi's son, Ricardo. Ricardo as we saw him was graying, quiet, soft-spoken, apologetic about his English, which he hadn't used in years. (Richiardi was from Peru; Ricardo currently lives in Brazil.) Humorous and engaging, yes, but quiet, even humble.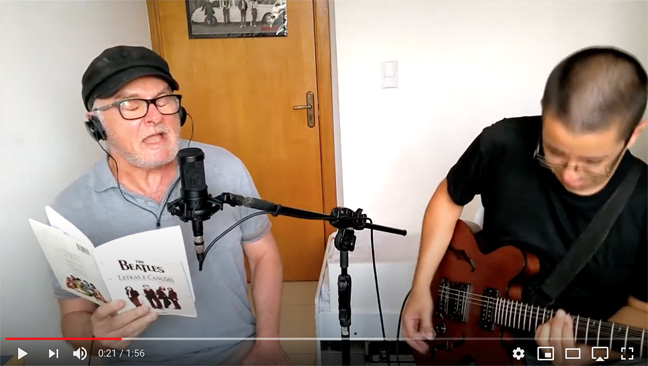 A week later, David Sandy presented a completely different night-to-day look at Ricardo, who is an entertainer in his own right, a rock and blues singer with an amazingly powerful voice. Enjoy clips of him as Richiardi and Black Limo!
HALLELUJAH -- I first experienced Siegfried and Roy live at the MGM, in the revue Hallelujah Hollywood. Siegfried did a dove production with a net followed by a dove cage vanish. Later in the show there would be a cheetah. But I liked his idea of starting the show where other magicians end. When I found this lengthy clip of the spectacle, I hoped Siegfried and Roy would be part of it. Alas, the clip captures the era, but the novelty act was a different animal act, hence I supply it only for completeness. Warning: The MGM apparently couldn't afford shirts for their female dancers.

This is a continuation of three long-time sources: Sunday evening's Magic Collectors Corner Online hosted by David Sandy with tech assistance by Lance Rich, of Thursday/Sunday evening's Behind the Bookcase perks from the Magic Castle's AMA, hosted most of the time by Jonathan Levit, and Harrison Greenbaum's "Who Books That?" sponsored by the IBM. The posts have continued to be brilliant.
RETURN TO THE MAGIC COLLECTORS CORNER -- Sunday, August 16's broadcast concentrated on the American Museum of Magic in Marshall, Michigan, also enjoyable for a Speed Share of home-built magic. Some of these collectors are amazing craftsmen.
The August 23 broadcast, held to a tight two hours so that everyone could switch over to the Magic Castle awards, featured Jack Gwynne. The guest authority on Gwynne was David Charvet, who wrote the book on Gwynne as a teenager. The case was made that Gwynne invented the thin sawing, and that argument led to the news flash that Mike Caveney is working on a book on sawings. Another flash? Gwynne has a credit for his appearance in Citizen Kane! (He was friends with Orson Welles.)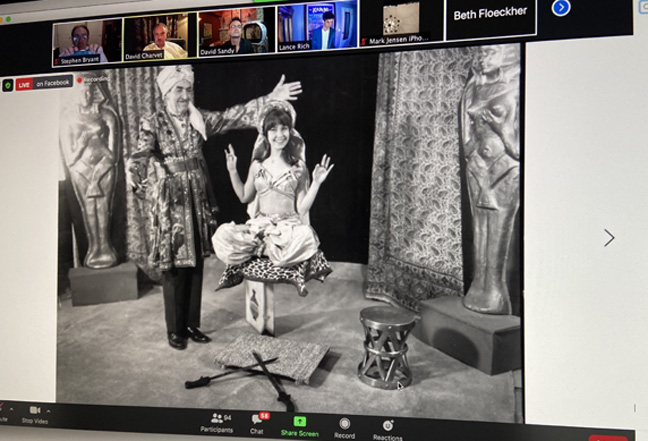 David Charvet returned August 30 to expand on Jack Gwynne, a highlight being a 1947 whirlwind video of Gwynne's show at the Murat in Indianapolis.
RETURN TO BEHIND THE BOOKCASE – We catch up with this perk on Sunday, August 8, featuring Connie Boyd and hosted by Gay Blackstone. I recall being shocked the first time I saw Connie's floating ball, when she suddenly floated up to meet it.
Thursday, August 13's episode, titled Whose Who's Hoo?, entailed Jonathan Levit interviewing Rob Zabrecky and Fitzgerald regarding their long-running interview perk. Rob created the format, conducting interviews with regulars from every nook and cranny of the Castle. Funky vintage commercials bisected each chat. Fitzgerald converted the perk to a talk show format, complete with monologue and live band. Each installment is a little time capsule.
My favorite of the past month was Zabrecky's Houdini Séance report on Sunday, August 16. With notes from Jim Steinmeyer, Rob recounted the history and the future of the Castle's Houdini Séance. I yearn to see the new production, promising new ghosts, manifestations, visual magic, music and sound, appearances of the likes of Bess Houdini and Arthur Conan Doyle, and a cast of voices featuring, among others, Neil Patrick Harris, Paul Reubens, Sara Ballantine, and Patrick Culliton. The séance's history is equally compelling, and for this Rob brought in medium Leo Kostka, who has over 5000 séances to his credit, lots of spooky stories. Long before the Magic Castle, the house was on Leo's paper route, and Bela Lugosi once enjoyed a tour!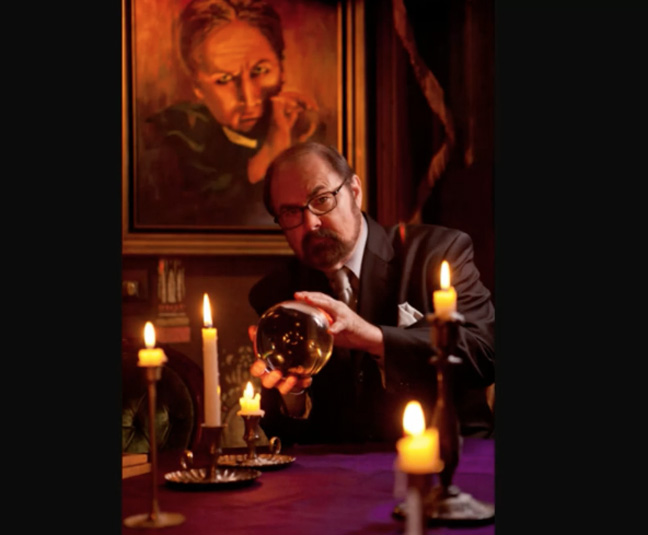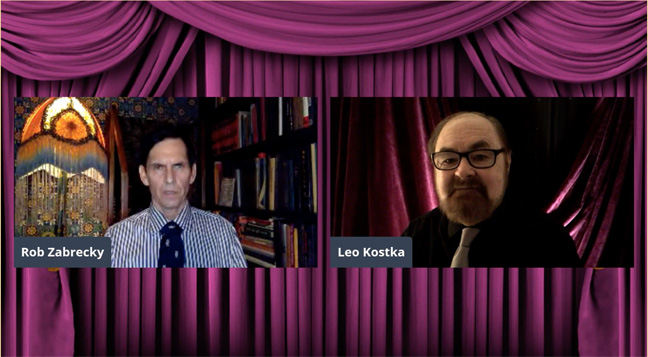 The Thursday August 20 episode, Houdini, Lost and Found, was fascinating. Houdini savant John Cox introduced us to Lance Watsky, from the Sherman Grinberg Film Library. Mr. Watsky discovered two high-resolution, previously unseen reels of Houdini. Thanks to this episode, they have been seen! And John Cox was able to draw several new conclusions about Houdini.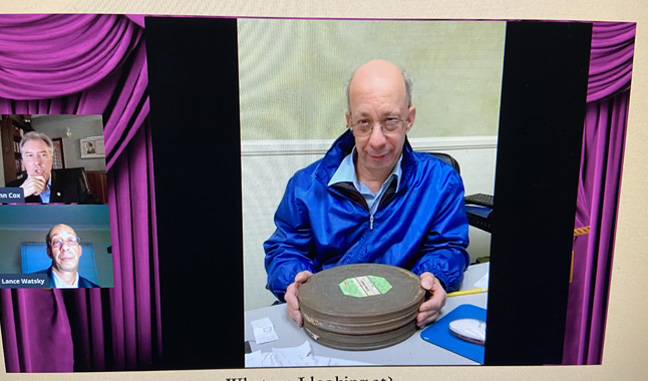 We jump ahead to Sunday, August 30, for John Carney and a collection of comedy performances. John gave us Senor Wences, Hugo and Ines (body puppets), a young Jerry Andrus doing physical comedy, Banana-man (he produced 300 bananas, 3 watermelons, and lots more from his coat), Alex and Mr. Barti (puppeteer and marionette), and Orson Welles with Lucille Ball. All funny, but it was Senor Wences who had me laughing the hardest.
New treasure! Jonathan Levit reports that the Castle has its hands on a wealth of interviews conducted by Peter Pit. For our first look at these (September 3), Peter had turned the interviewing over to Bill Larsen, Jr. and Billy McComb. Nice to see them! The subject was Jean Maston, who with her twin sister worked for Dante for five years, circa late 1930s. As usual, Mike Caveney's amplification is the best part of these historical get togethers.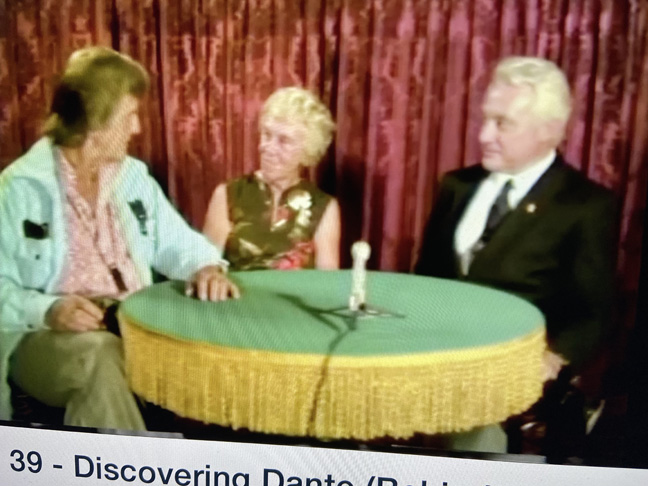 RETURN TO WHO BOOKS THAT? – Harrison Greenbaum returned August 26 for an interview with Steve Cohen. Surprise guests included Harry Lorayne, Steve Barnes, Mama Magic (Terri Cook), Gabe Abelson, and Mark Levy. Nice to know: Steve has a coffee table book coming out this fall, Confronting Magic, and is working on a Malini book for a year from now. And this surprise: the nationally known photographer who shot Steve Cohen's Forbes article, named McBride, is Jeff's brother! Small world.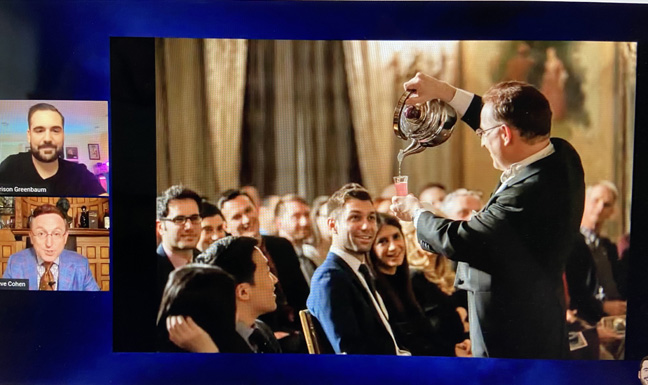 September 2, Harrison hooked up with Rudy Coby, who has been holed up during the pandemic, along with Nick Diffatte, at Randy Pitchford's home. Guests included Dan Garrett, Kevin James, and Randy. Biggest news to me was that Rudy put together his first TV special in only three weeks! Rudy also admitted to intense study of David Copperfield specials in learning how to craft his own.

ALOHA, HOWIE SCHWARZMAN – Farewell to a great. Howie Schwarzman brightened any convention I saw him at. A pilot and a pianist as well as a magician, he hailed from that New York City magical nursery, a glimpse of which I reported from Magi-fest in 2009. I'll close with that write-up: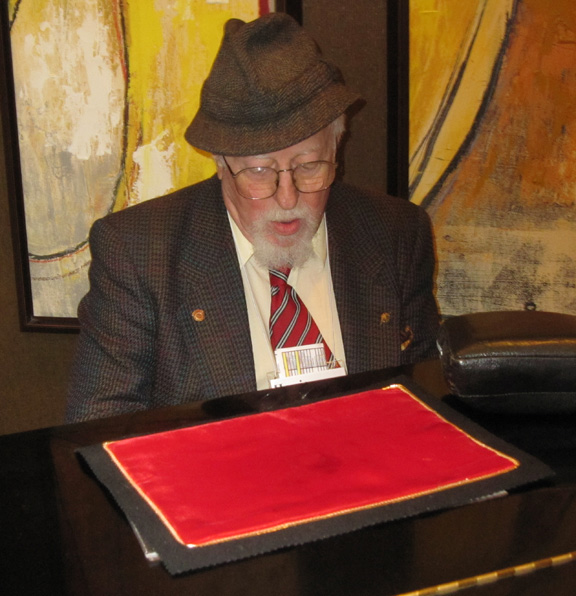 AN EVENING AT THE HEAD TABLE (from 2009) -- In the mammoth David Ben book Zarrow, Persi Diaconis discusses the pecking order of the tables at the cafeteria on 42nd Street and Sixth Avenue, in the golden age of New York City card magic, when the "big guys" table belonged to Howie Schwarzman, Ken Krenzel, Frank Garcia, Harry Lorayne, and others, often including Dai Vernon. What a thrill it must have been to sit at that table. At Magi-Fest, Mike Powers and I, along with others, experienced a glimpse into the history and into the greatness that defined that era. Our escort was Howie Schwarzman, and it began at the bar: Howie placed two half dollars into his small hand, one coin with two heads, the other with two tails. A squeeze, and the two coins became one, with a single head and tail. Another squeeze, and the coin evaporated. Howie then moved us to a table for a divination effect with a pencil stub in a matchbox, followed by a card visibly penetrating a slatted frame. All this a prelude, of course, to the sleight of hand by a guy who, at 81, can still do "everything he could at 80," whether it's flying a plane or skidding two cards as one across a table. Here was the real work on the Spread Pass, the Bluff Bluff Pass, the Elmsley Count, and how to pick up a deck from a glass-smooth surface. Here were demonstrations of the S.W.E. Shift, Howie's Impeccable Double and Impeccable Prediction (from Cliff Green's Professional Card Magic), his Night Risers, his Night Visitor, and a devious One Card Across routine. Some he performed, some he performed and taught, and always there was the clear, underlying, why-didn't-I-think-of-that? logic. It's not the big shows, but this little stuff that makes a convention stand out. This was one for the record books.