THE PUZZLE KING -- Indiana University's Lilly Library, which I toured a year ago (See In the stacks), is home to Jerry Slocum's prodigious mechanical puzzle collection, with over 30,000 puzzles and 4000 puzzle-related books. The library periodically hosts special exhibitions, and the newest is devoted to Sam Loyd: Puzzle King, running from October 12-December 20. Born in 1841 in Philadelphia, Loyd soon become the problem editor for Chess Monthly (he was only sixteen) and began publishing puzzles of his own creation in 1868, with Trick Donkeys. Loyd first distributed his puzzles on trading cards and later via mass-circulation newspapers and magazines, where he often enjoyed full-page displays. This huge body of work found its way into Loyd's posthumous Cyclopedia of 5000 Puzzles, Tricks and Conundrums, hailed by Martin Gardner as "the largest, most exciting collection of puzzles ever assembled between the covers of one volume." Many of his published items are on display in the Lilly exhibition.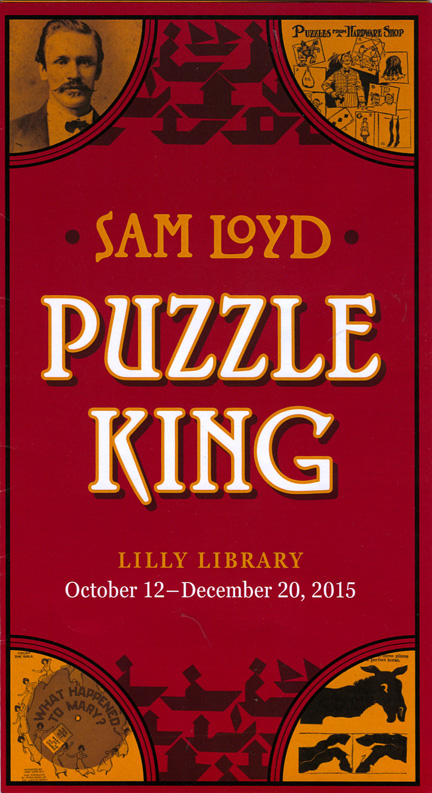 Puzzles that will stump you.
The exhibition officially kicked off on November 5 with a talk on Loyd by Will Schortz. Mr. Schortz, an IU grad with a degree in Enigmatology, owns the world's largest puzzle library, with over 25,000 books and magazines dating to 1533. You might know him better as the crossword puzzle editor of The New York Times.
Although some biography crept in, Mr. Schortz confined most of his talk to Loyd's most famous and clever puzzles (one still unsolved), and these clearly delighted him as they did the audience. It was (surprising to me) an older crowd, and I sat next to an ex-Lilly employee who told me about the time Ricky Jay did research at the Lilly on blow books, and that Ricky had delighted the staff with a demonstration of the books.
The biographical element revealed that Loyd, as brilliant as he was, was also something of a scoundrel who would take credit for puzzles he had not created. He boldly claimed to have invented the game Parcheesi (it was played in India from the 4th century) and the 14/15 puzzle (tiles with digits that you m ove around in a little tray to get them in order). Despite the evidence to the contrary, many believed him, and most of his obituaries got it wrong. (The Encyclopedia Brittanica online still has it wrong.) Jerry Slocum, who was present to help field questions, gave a fascinating talk on this aspect of Loyd's career at the seventh Gathering for Gardner in 2006; you can find it online at Sam Loyd's Most successful Hoax.
RECREATIONAL MAGIC -- According to the Don Albers interview with Martin Gardner, published in the College Mathematics Journal in 2005, Martin's father gave him a copy of Sam Loyd's 5000 Puzzles when Martin was a boy, and that sparked his interest in recreational math. (Later Martin would edit two of Loyd's books of mathematical puzzles for Dover.) If there had been no Sam Loyd, would we have had a Martin Gardner?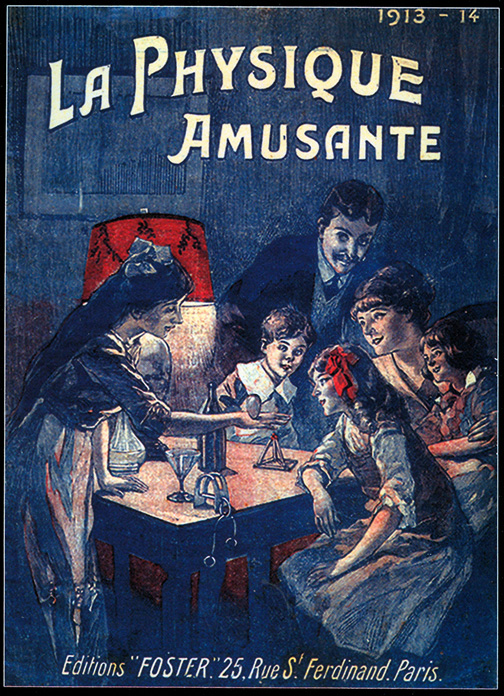 The mysterious back side of Impromptu.
Certainly, if we had no Martin Gardner, we would not have had Impromptu, the massive tome that arrived this weekend from Todd Karr's Miracle Factory. Todd's books are among the handsomest of my collection, and Impromptu is no exception. Physically, it's 8 by 10 inches encompassing 904 pages (864 of which are numbered) in the usual classy Miracle Factory layout (most recently enjoyed in the Gaeton Bloom books). New to the layout: the frontal pages including the table of contents are highlighted with gold headings. Nice.
Contents include a cover image by Steranko, a Foreword by Teller, a Preface by John Fisher, a 26-page history of Impromptu magic by Todd, the previously mentioned (22-page) interview with Don Albers, a section in color of Gardner trade cards (XL pages), the complete and reorganized Encyclopedia of Impromptu Magic (441 pages, with a new interview of Martin by Todd), 79 pages of Gardner's notes (3 by 5 notecards, handwritten, with an intro by Mark Setteducati), a chapter of 40 letters from Martin to various magicians, Martin's four monographs on magic with a one-page intro, 57 pages of planned revisions, photos of Martin at the Alice in Wonderland sculpture in Central Park, and a detailed index (that I have already used repeatedly; thanks!).
For me, everything about this book is a win-win. I know there has been some grousing. But I didn't pre-order the book, so have not been waiting impatiently for its arrival. I overlooked the ads that promised inputs from Mac King and John Carney and Michael Weber. I find that to be okay too, for what we are left with is pure Gardner. I would not have been all that pleased if new material were added that Martin never saw, just as I never liked the idea of tacking new volumes to the Tarbell series that Tarbell never saw. (That said, I grasp that Mac's Fork in the Eye might have been one of the most popular entries.)
What we do get is wonderful. The Albers entry was the nicest surprise. Just as with the Harry Lorayne bio, there was so much about the subject that was unknown to me, plenty of surprises. I'll mention three.
1. Martin's only stint as a professional magician was demonstrating A.C. Gilbert Mysto Magic sets at Marshall Fields during a Chicago Christmas season. (Love to have a video of that!)
2. Martin served aboard a Destroyer Escort that captured a German submarine during WWII.
3. Martin was Humpty Dumpty, Jr., in Humpty Dumpty's magazine! Writing as Humpty, Jr., son of the famous egg, Martin wrote 80 short stories along with poems of advice from father to son. I remember the magazine and would love to have copies of it. Eventually, Martin moved directly from Humpty Dumpty's to Scientific American. What a transition!
(Note: That journalistic transition got me wondering about the timing of his magic contributions. As far as publication dates, Martin's contributions to Hugard's ran from October 1948 through April 1958; his column began in Scientific American in January 1957. I don't know when the columns were actually written.)
Similar surprises await you in the interview.
As to the main content, some have groused that they are getting "only" the Encyclopedia that had been published 1978 by Magic, Inc. I didn't own that volume, so that complaint doesn't apply to me. (I do possess the bound Hugard's, so was familiar with the content, but that's a different situation.) I would still want this book; in addition to all the supplementary material, this is an amazingly handsome version with reorganized content, a delight to peruse. I know that some magicians are wrapping the entire volume up to be opened at Christmas. I plan to compromise and not dig too deeply into this heart of the book until the holidays. Speaking of the content, one entry is "Sam Loyd's Pencil in Buttonhole." Hmm, did he really invent this classic? (This was the first "impromptu" magic trick I ever saw, at a resort in the Ozarks, on the only vacation my family ever took.)
Yes, I know the note cards in Martin's handwriting are difficult to read. Nevertheless, they provide a picture perfect look at how Martin worked, and there is gold there if you look for it. I quickly stumbled upon a great enhancement to the Newspaper Strip Force, page 627.
The letters and the planned revisions are far more readable and similarly offer a perfect view of how Martin became Martin.
Available from The Miracle Factory, 904 pp hardbound, over 1700 tricks and stunts, over 2600 illustrations including 900 line drawings, $150. A must buy for anyone interested in Martin Gardner and his contributions to magic.
You have to step back and think, what a nice world we live in that it contained a Martin Gardner.