16 TONS AND WHAT DO YOU GET -- The new Steinmeyer/Caveney/Jay book, Magic 1400s-1950s, has weighed in at last. It's not sixteen tons, but it feels like it at over sixteen pounds, a massive accumulation of posters, photos, and history from six centuries of magic. As was its companion volume, The Circus: 1870-1950, this is a handsomely produced offering from Taschen in Germany.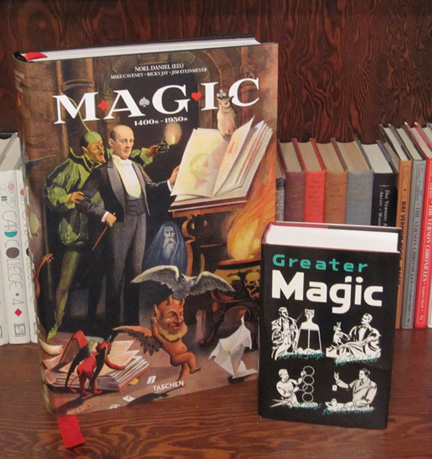 Size matters.
The book is mammoth at 17 3/4 inches tall, 12 inches wide, and 650 pages thick. Inside the stunning dust cover, the boards of the book are jet black, artfully embossed with a card pip design. The rest is a visual feast. Editor Noel Daniel (a fetching young female Princeton grad, not the French male I inaccurately assumed she was last year) is to be awed for her staggering achievement of first acquiring and then winnowing 20,000 pieces of magical art from sixty collections down to just over 1000 superb images.
"Most of the images on these pages come from private collections, and many hang on the walls of living rooms and studies, passed down from collector to collector. They are part of a dynamic tradition that reveres and protects centuries of knowledge. This book combines dazzling puzzle pieces of magic's visual culture with original texts by leading magic historians to create a portal through which we can glimpse this living history."
-- Noel Daniel, Los Angeles, 2009
To mention a few that leapt off the page for me, I loved the photo of a strikingly handsome and clean-shaven Harry Jansen prior to his goateed Dante years (p. 389), a Houdini high dive that certainly must have been higher than most bridge suicide plunges (p. 527), a goofy Newmann the Great stage hypnotism act (p. 607), an intriguing 1939 shot of Dai Vernon (p. 622), and a heartbreaking view of Jay Marshall and Lefty (p. 630-631). I had seen the rare Jay Marshall photo before, but never in its 17 by 24-inch full glory.
The supporting text, aimed at a lay audience, was supplied by Mike Caveney and Jim Steinmeyer, who rose to the challenge of reducing nearly 600 years of magic history into eight chapters. Rather than divide the material into purely temporal chunks, Mike and Jim found distinctions by epochs, genres, scale, plot, and venue. As editor Noel Daniel more eloquently put it, "they collaborated with me to create the skeleton of a historical trajectory on which to hang the flesh and bones of the images." To these thousand plus images, Mike and Jim also supplied one thousand plus captions, complete paragraphs in most cases that constitute fascinating nuggets of magical history.
To all this Ricky Jay supplied an entertaining and erudite Introduction along with various images from his own collection.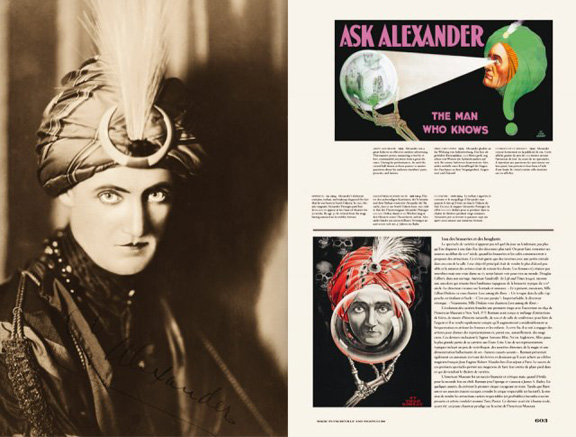 The man who knows.
As it was with the circus book, all primary text and captions are presented in three languages -- English, French, and German. These books are world class productions that should grace any home, and I salute Ms. Daniel and the folks at Taschen for their lavish production values. The best magic trick of all is that the book is a steal at its suggested retail price of $200 and a grand larceny deal at its Amazon price. If you are looking for the perfect gift to find wrapped under your tree this Christmas, this is it.
TIME MACHINE -- Volume 5 of Bruce Cervon's Castle Notebooks is on its way to 500 homes, completing a five-volume handwritten and hand illustrated encyclopedia of the nightly goings on at the Magic Castle, detailed with hundreds of entries from December 1964 through February 1972 (along with six entries from 1981 and three from 1987). It was the Castle's golden age, defined by Dai Vernon and his disciples, and the set offers an inside view at methods created by and varied by the likes of Dai Vernon, Bruce Cervon, Larry Jennings, Charlie Miller, Ron Wilson, Persi Diaconis, Tony Giorgio, Alex Elmsley, Ray Grismer, Paul Fox, Jay Ose, and many others. The final volume contains 14 pages of frontal matter (table of contents, etc.); 53 pages of forewords, introductions, and photos; 246 pages that comprise Notebooks 12 and 13; 26 pages of appendices; and 61 pages of an index compiled by Dominic Twose. The index is broken down into various handy categories: alphabetical (by trick title), card effects (ace assemblies, ambitious card, card box, etc.), card techniques (changes, controls, crimps, cuts, etc.), non-card effects (bills, coins, cups & balls, etc.), creators (Andrus, Anverdi, Beebe, Behnke, etc.), and miscellaneous. It would be nice to be young enough to work through every item in these books!