TREACHERY -- I miss my old Magic Monday summer get togethers, when I used to try out new material weekly for engineering colleagues and their children. It was a particularly appropriate situation for which to try out Jim Steinmeyer card tricks, devilishly clever routines where math rather than sleights did the heavy lifting. Jim's latest, his fifth in the Impuzzibility series, is Treacherous Impuzzibilities, another dozen seemingly impossible mysteries, several of which you can do over the phone. If there is a subtext to this set, it's that a generous portion of them involve new presentations for or extensions to classic Eddie Joseph routines.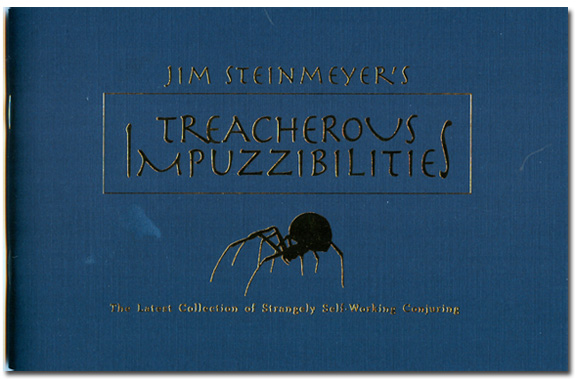 More self-working mysteries.
Of my favorites ... Invoking Margery is a revelation in which the medium Margery finds the card. (I can't help but note that her rival Houdini could have found it just as readily.) Chicagoism (my favorite of the bunch) is a revelation in which you and the spek take trips to imaginary towns to find a card located at a secret number, even though you never know the secret number or the spek's city.The Whammy is an ace assembly done completely in the spek's hands. The Cowboy Secret is an alternate presentation for Vernon's Affinities. Hacer Lo Impossible is a surprising coincidence trick requiring two spectators. And Elementary! is a standup Sherlock Holmes routine involving a versatile newspaper headline prediction. Lots to play with, lots to fool yourself with the first time you try these. $19, the usual classy format, direct from Jimsteinmeyer.com.
CAMARADERIE -- Remember when Chicago was a hotbed of magical creativity? It still is! It's been thirteen years since Simon Aronson favored us with a large card book, and he's been busy, thanks to weekly sessions with Chicago buddies John Bannon, David Solomon, and David Finkelstein (who contributes an Introduction), with some of his brainchildren occasionally appearing in the magazines. Art Decko, Simon's latest book, is also his largest, his most eclectic, and by any standard one of his best.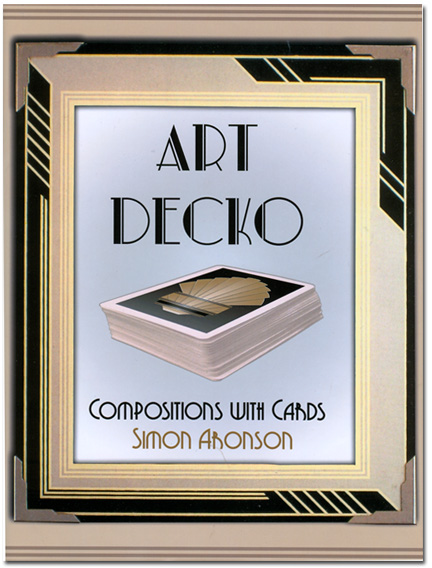 More Chicago card magic.
As with the Steinmeyer book, it's easy to highlight favorites. I first encountered Bluff Oracle in John Bannon's trick Chronic, and it's one of my favorites of Simon's ruses. How cool to make something look like a math trick, but it isn't. Simon greatly extends the utility of the bluff in his analysis, and this is a hallmark of the book. Virtually every trick or gambit is complemented by variations, additions, alternates, right or left-handed considerations, developmental histories, and so on, not merely for the sake of getting every possible contingency on paper, but because the additional explorations are those which just might become the reader's favorite application. Back to the treasures ... Aronson Stripout 2.0 is a full deck false shuffle that is Simon's go-to shuffle and just may become yours. It's not too hard and looks good. Double Vision, in the impromptu chapter, is a two-card from a shuffled deck written prediction with methods dating to Al Leech, Bill Simon, Marlo, and Joshua Jay. About Face, in the gaffed card chapter, is the most visually exciting trick in the book (a combination of the Hofzinser ace problem and Hamman's Signed Card); it gave me chills to watch it play out. (It requires a special two-faced card that you need to get from Simon, but, for many of us, Simon has already sent us the gaff. So I took the elevator down to the vault, walked along the stacks of MAGIC magazines until I came to 2007, and extracted the September issue. Oh, two of them, as this was an issue Stan also passed out at a MAGIC Live! And there was the gaff, tucked among the goodies of Josh's trick section.) The most groundbreaking and intriguing chapter is "Totals." Basically, the spek cuts off a bunch of cards, and you shuffle the rest into three piles, the spek directing the shuffling. Add up the values of the three top cards, and you get the count of how many the spek originally cut off. Variations include finding selected cards. Fun methods! The Birthday Datebook theme is explored, with a Speed Dating technique that calculates a card associated with any date, and the trick Fate Accompli allows the spek to select a card before she tells you her birthday. Square Deal is a comedy fortune telling routine in which the spek cuts off a pile of cards, you deal some of the remainder into a four by four square, tell her fortune, mention that her lucky number is, say, 23, and she counts to see that she has cut off 23 cards. And ... the matrix is a magic square in which every row, column, etc. adds to 23. This is worth it for the comedy fortune telling alone. Medium, Well Done explores one of my favorite themes, in which a medium in another room divines a card. It's a trick that would have helped Annemann's Jinx make its reputation.
The book contains all this and much more, including further explorations of Shuffle-bored and the Undo Principle. Handsomely produced in art deco format to match its title, hardback with special dust wrapper, 326 pages, available directly from Simon (simonaronson.com) postpaid for $50 including four gaffed cards. (If you buy the book elsewhere, the gaffs are $10, and a special deck that uses the Undo Principle is $25.)
GIMMICKRY-- It's very rare that I will order a magic trick just to see how the darn thing is accomplished, and it's even more rare when I am happily rewarded. Such was the case with Jonathan Levit's new Color Changing Card Case, or C4. Jonathan's promo video fooled me badly, and the method is even more intriguing. This card case is gimmicked to the hilt (eight special gadgets make the initial change dead easy), and the technology keeps on coming to enable you to end clean with a perfectly usable and examinable deck of cards and case. You'll need your own color changing deck routine (or you can learn Jonathan's from his new download, ahead of the game), but you probably already have one. Jonathan teaches C4 via DVD, and he is admirably concise and complete.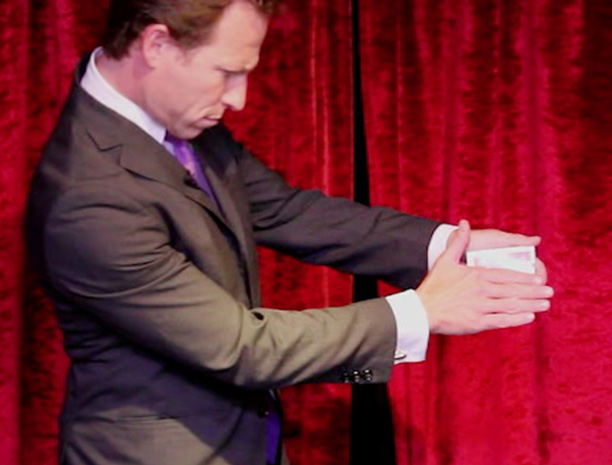 Concentrate!.
If you watch the performance (an extended segment from his Castle act) before examining the gimmick, you will be fooled. All the stuff comes lavishly packaged in a felt covered hard case, hence no worries about the gizmo getting smushed. $45. All in all, this is just plain keen. I ordered mine directly from the source, at jonathanlevit.com.