UNCLE BILLY -- Sandy Marshall has reinvigorated Magic, Inc. as a major publisher with such landmark hardbacks as Beating a Dead Horse, Revolutionary Card Technique, Cardially Yours, and The Complete Al Leech. Add to these one of the most wonderful magic books I've beheld in a while: McCombical/The Wit and Wisdom of Billy McComb. You'll laugh, you'll cry, you'll learn some fantastic magic. My awareness of Billy McComb began with Bill Larsen's having met him at conventions and watching such items as Billy's Hole Routine. (I bought it once for two dollars, and it's in the book.) My last direct contact with him was interviewing him for the Genii cover story on Amazing Johnathan. Billy had just opened for AJ in a casino silo in Tunica, Mississippi. A short while before that I had published the lengthy poem A Millennium Night's Dream which praises Billy over dozens of other magicians, and I asked him if he had read it. He had, and he said he had been worried whether he was going to be mentioned at all. He needn't have!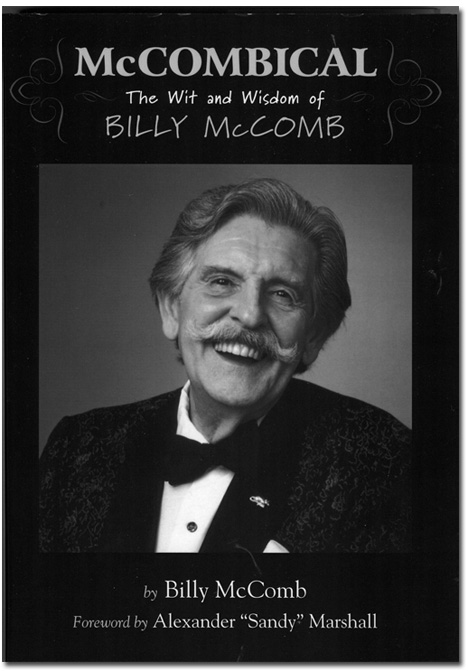 Irish icon.
You'll laugh and you will cry first of all because of the sidebars. Sandy obtained reminiscences from the likes of Teller, Johnny Thompson, Amazing Johnathan, Lance Burton, Simon Lovell, John Fisher, John Wade, Fielding West, Milt Larsen, Nick Lewin, Terry Seabrooke, Michael Chaut, Dave Cox, and Annabel Gray, and their stories are simply grand, most of which you haven't heard before. As you will learn, Billy was even funny after he passed away. You will also laugh and cry because the rest of the book, the magic and the essays, is in Billy's voice, and it's as if he were in the room with you guiding you along.
The magic is drawn from Billy's writings, including McComb's Magic and other sources, but it reads as though Billy had been working on this update. I don't know to what extent that is true or to what extent it is just magical editing, but it's lovely to encounter his voice, including an introduction and afterword from Billy. And the teaching! The McCombical Half-Dyed Hank is a masterpiece of instruction, with a generous history of its development through all the performance details to how to launder and pack the silks. He provides similar depth on The McCombical Stage Sponges and the McCombical Paper Balls Over the Head. It's all just excellent magic that I look forward to doing, much of it new to me. Specifically, the magic has been divvied into six chapters including Tricks with Cards, Tricks with Hankies or Silks, Tricks with Ropes, Mental Miracles (loved Uncle Will's Slates), Effects for the Stage, and Close-Up/Parlor Magic along with another chapter of Billy's Cogitations. There is enough material in this book from which anyone could develop a praiseworthy magic act.
Sandy (who provided a foreword and a sidebar of his own) and his team have done a great job with this book. It's a 210-page hardback, with plenty of black and white photos and four pages of color photos in the center. The trick illustrations appear to be from the original sources, and I find them charming because of that, and the endpapers are illustrated with John Moehring's iconic stop action photo of Billy's Slow Motion Vanishing Bird Cage. There is a separate list of all Billy's tricks and writings in the book (50 items) and an extensive index. $49.95, an essential purchase. I bought mine directly from Magic, Inc.
THE BAR SCENE -- I love Chicago. Growing up unaware of the NYC magic scene (I knew only of Tannen's) and before the Magic Castle had opened, Chicago was the center of my magical universe. Its bar magic was legendary, especially those bars featuring Frank Everhart, Johnny Paul, Johnny Platt, Heba Haba Al, Don Alan, Senator Crandall, Jim Ryan, and Matt Schulien, among others. They, along with the creative engine of Ed Marlo, created Chicago style magic: hard-hitting, fast, blue-collar mixes of magic and gags, as distinctive as Chicago style pizza.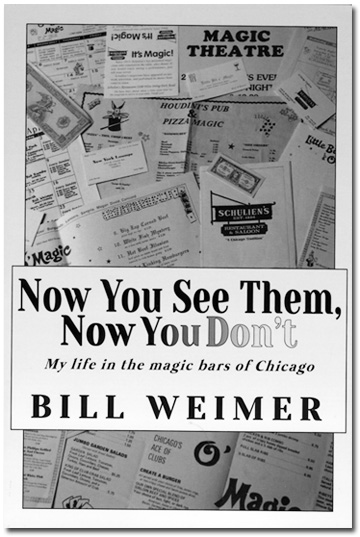 Blue collar magic.
Eventually those bars and those magicians would be replaced by other Chicago bars and other Chicago magicians, and they are the subject of Bill Weimer's Now You See Them, Now You Don't. The locales include Little Bit O' Magic (there were three of them), Houdini's Pub, The Old Barn, Mr. C's Magic Lounge, Magic Theatre, and the New York Lounge. Schulien's, in its second location, lasted into this later era as well. The author, Bill Weimer, worked seven of this era's bars, and his writing exudes authority.
Other names working these bars were familiar to me: Terry Veckey, Glenn Bishop, Al James, Eugene Burger, Jim Krenz, and of course Bill Malone. Many of the names were not familiar to me, I assume of Polish origin, with unpronounceable strings of consonants. The common denominator was that they all performed the same commercial entertaining magic.
Best known of the above magi is Bill Malone, and it is interesting to note that the vest and rolled shirt sleeve "uniform" of the New York Lounge carried over to Malone's Magic Bar in Boca Raton.
My own direct experience with Chicago bar magic involved a weekend family vacation to the city. My wife and I took our kids to Schulien's. I must have dressed up, with a jacket, because I remember Al James doing the sponge balls up the sleeve for me. It was a nice night. (The rest of the weekend included Geno's and Uno's pizza, Rick's Cafe Americain with the singer Joe Williams, and lots of shopping.)
Interspersed with the detailed history of an entertainment era (you get the rises and demises of the various bars, the repertoires of the various magi along with their shifting alliances) are ten Chicago style magic tricks that will work today. The book is a 276-page soft cover. I confess that I wasn't totally happy with the layout. The san serif font took a little getting used to, and the copious photos, over 200, were a tad faded and fuzzy. (Loved seeing Bill Malone as a skinny kid with a huge Afro.) But these are minor objections. If you are interested in Chicago bar magic, this is a grand history, full of all the names who populated it, and brought to life through dozens of great anecdotes. $40. I bought mine from H&R Magic Books.