EERIE, INDIANA -- A bit of context: Indiana University's Lilly Library is one of eighteen on-campus libraries at IU and is the one charged with housing the university's rare books and manuscripts, perhaps the prize being its Gutenberg bible. Under that charter, it houses over 400,000 books, 130,000 pieces of sheet music, and seven million manuscripts. This rich collection attracts professors and students studying education, mathematics, developmental psychology, history of science, and other disciplines, with strong holdings in radio, film and television history. Ricky Jay is among those who have availed themselves of these resources.
Extracts from the collection are seasonally put on exhibit, and those from recent years are just plain dandy. Batman producer Michael Uslan donated his 30,000 comic books to the library in 2001, and Batman and other comics went on display in the fall of 2005. In July of 2006, Jerry Slocum donated 30,000 mechanical puzzles and nearly 4000 puzzle-related books, selected items becoming part of an exhibition launched by New York Times puzzle editor Will Shortz. Many are of the baffling nature that would appeal to magicians, such as a wooden arrow piercing a Coke bottle. Fine samples from both the Batman and the mechanical puzzle collections are still on display at the library today.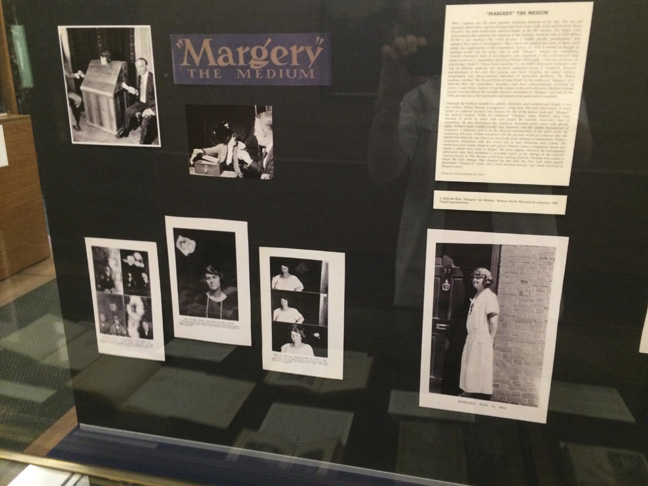 Margery visits the library, posthumously.
This summer things turned spooky at the Lilly, with a new exhibition titled "Spiritualists, Sorcerers & Stage Magicians." This eclectic conglomeration of creepy artifacts is the work of Lilly Reference Assistant Rebecca Baumann and IU Visiting Lecturer Anne Delgado, and it is most impressive. Housed in accessible glass display cases are prized examples in the areas of Divination & Prophecy, Witchcraft, Demonology & the Devil, Occultism, Spiritualism, Theosophy, Houdini, Margery, and Conan Doyle, Stage Magic & Conjuring, Ghosts & Ghost Hunters, Psychical Research, Mental Radio, The Wickedest Man in the World (Aleister Crowley), Aleister Crowley & Montgomery Evans, The New Age, Pulp Fiction, and Comics (horror comics). I wouldn't want to spend a night in there alone.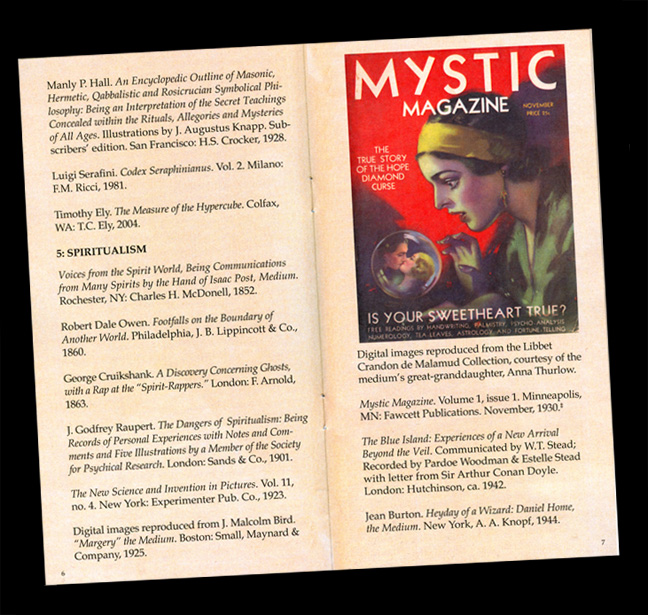 Pages from the exhibition catalog.
Of particular interest to me were Upton Sinclair's book on remote viewing along with actual drawings from the remote viewing experiments conducted with his wife, copies of The Sphinx and The Conjurors' Magazine (that I immediately went home and read courtesy of the CARC), and some great spooky comics that I was unable to find online.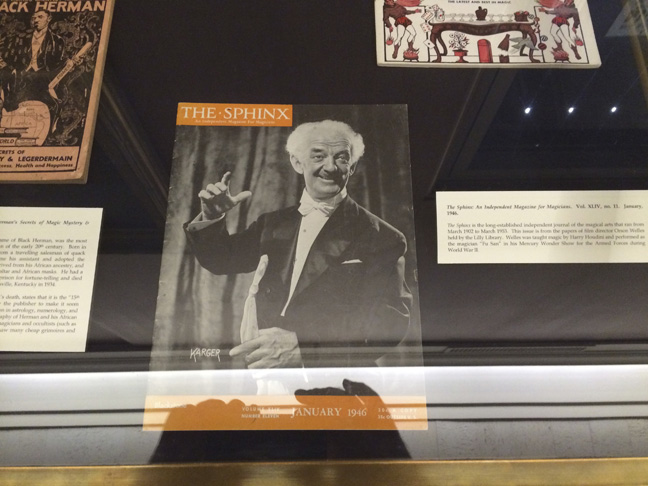 Note the great George Karger cover photo.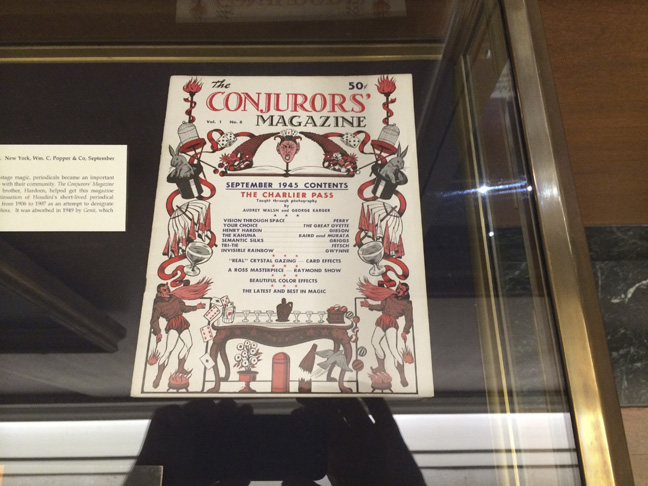 Back when the Charlier Pass was new.
The exhibition runs from June 2 through August 30 and kicked off with a June 21 reception that featured wine, snacks, talks, and a spooky magic show (provided by yours truly). The reception attracted some 300 avid fans and scholars, and I hope you can still access the promotional video here. The entire evening was a lot of fun, and I loved being able to walk away with a limited-edition letterpress poster. Thank you, library staff!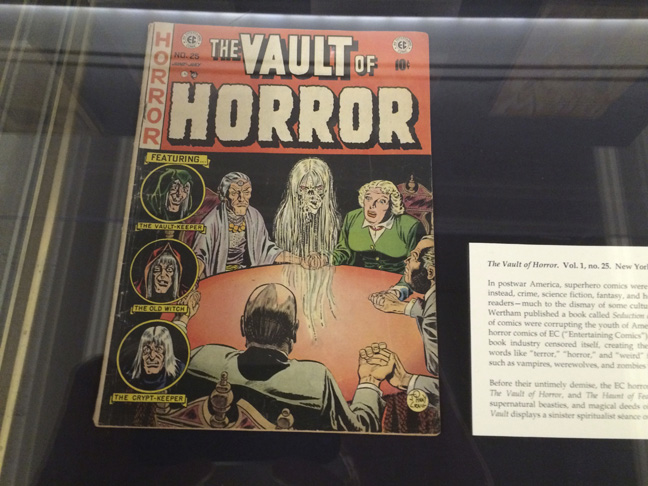 I'd love to read this comic.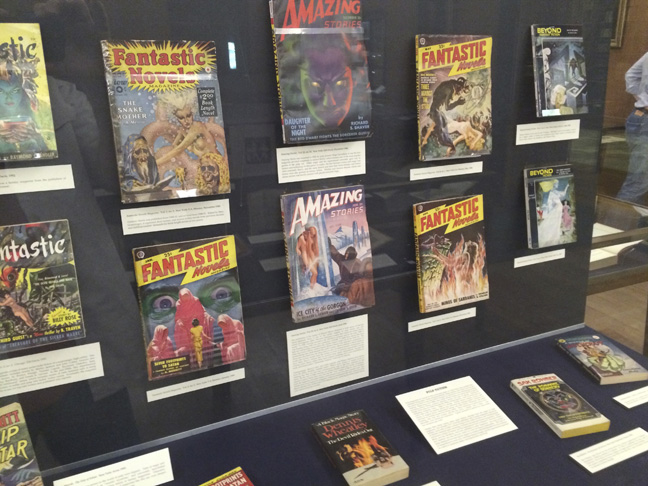 Pulp fiction for reading after dark.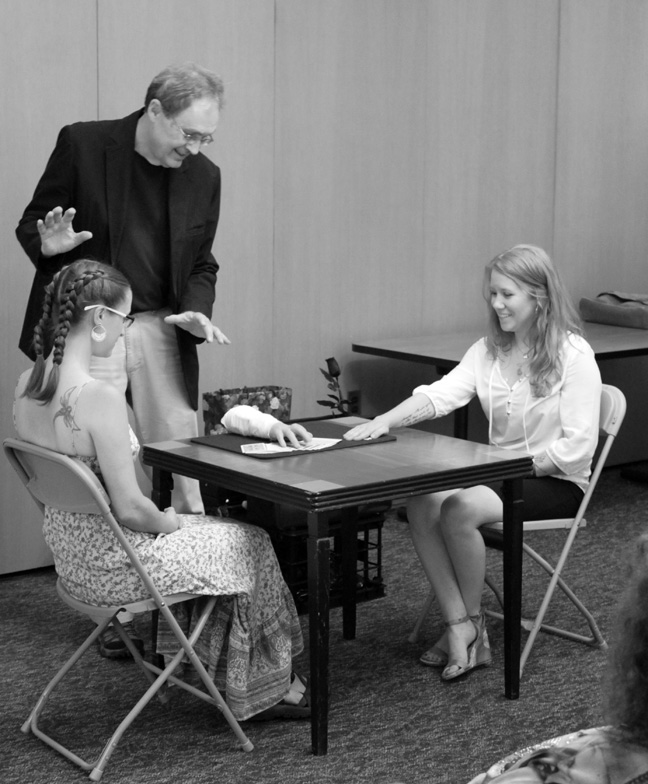 A disembodied hand finds a card.