20 QUESTIONS – For most of this first pandemic year, I have been doing way more reading and web surfing than practicing or performing, sort of my normal life pattern anyway. To encourage myself to get my skills back up to speed, I've decided to deploy here what might be called an advice essay. I appreciate the irony. In the past, I have looked askance at books such as How to Be a World Famous Magician (or any other world famous something), yet I have never heard of the author, so what can he know? Hence, I am not going to proffer any answers. I am only going to ask the questions. Ideally, the advice I seek, and perhaps you will seek, lies in applying answers relevant to my own or your own situation.
Here's the game. List three tricks in a brief set that defines you. These are the tricks with which you might want to impress family, friends, strangers, Magic Castle guests, or Jack Goldfinger. This is your "holy trinity." An example from my own experience is my Seance Trilogy ( October 2017), reprinted in Genii (October 2020). iNow, go down the list of questions and try to answer them in the context of your list, for each of the three tricks or the overall impact of the set. I was going to call this exercise "20 Questions," but had come up with 70 or so with little effort. So, that's my challenge to myself, to come up with answers that improve my trio of tricks. Feel free to play along with me with your own list. Here are a few questions to get us started.
How would your magical hero perform your three tricks? Mac King? Rob Zabrecky? Harry Anderson? Eugene Burger? Lucy Darling? Amazing Johnathan? (I know. All these performers have a strong character, or their show has a strong premise. You and I need one too. Perhaps by applying your idols' well-defined character to your list you might gain some insight as to applying your own character to the list.)
Can you raise the stakes? Whether the trick works should matter. When Del Ray performed, a 50-dollar bill was at stake. "You're going to get one more chance to win the $50. I'll deal one, two, three, four, five, six, seven hands of 21—blackjack. The best hand takes home the $50, compliments of me. Is that fair enough?" Chris Capehart drives kids crazy offering an X-Box if they catch him out. Card on Ceiling is cool, but Doc Eason can do it through a ceiling fan. Raising the stakes keeps the magic in the moment.
Does your set conceal some secret agenda? For example, you might consider it cool to know that all your tricks are taken from the pages of The Jinx. Or from Harry Lorayne books. Or Steranko. I am certain that Eugene Burger took pride in that much of his repertoire evolved from classic Chicago bar magic. The audience may never know this, but it can give you secret pleasure and some notoriety among magicians. Oh, he's the guy who …
Are all three tricks angle proof? Really? Vanishing, Inc. sells a nice three-way mirror (Reviewed December 2019). Check and be sure.
Can you show off an alternate talent? Something other than magic is often what impresses. Rob Zabrecky can dance funny, Jay Marshall could converse with his hand, Carisa Hendrix can eat fire, Ricky Jay could throw cards really far, Harry Lorayne can remember names, Mike Caveney can juggle a cup of coffee, Tina can play the harp, Dai vernon could cut silhouettes.
Can you make your character/premise visual? Mac King wears his grandpa's suit. Rob Zabrecky looks like someone from a Hitchcock movie. Piff, the Magic Dragon, looks like, well, a dragon. Harry Anderson looked like a con man. Walter Zaney Blaney comes out in cowboy hat, twirling a lasso. Lucy Darling appears in cocktail dress, hoisting a drink. Jeff McBride was masked before it was mandated. Ballantine looked like a magician, and his banner spelled it out. Many mentalists dress only in black. What "look" defines your three tricks?
Can you verbalize your character/premise? Some can do it with only one word. "Howdy." "Boo!" Others with a few more: "Prepare yourselves for the Handsome Jack experience." Or Rachel Wax: "I am the Jewess of magic."
How do you react to the climax of the trick? Surprised? Relieved? Frightened? Does your reaction contain an pplause cue? Bill Malone had his signature fist pump: "Bill Ma-LONE, Bill Ma-LONE, Bill Ma-LONE."
Are you truthful? I got caught in a stupid lie early in my youth, with "A few weeks ago I did this in a little theater on the west side of Chicago." Straight out of Senator Crandall's 6-Card Repeat, which I was performing. But there was no little theater and I hd not yet been to Chicago, hence couldn't converse on those subjects when asked. Perhaps the most frequent lie is to say that you aren't allowed in Las Vegas casinos because you know a few card tricks. If you are not Steve Forte, don't pretend that you are.
Can you capture each of your tricks as a sequence of visual moments that tell the story of the trick? (Think Viewmaster.) The idea is to represent each trick as a series of visuals that linger on the retinas of your audience.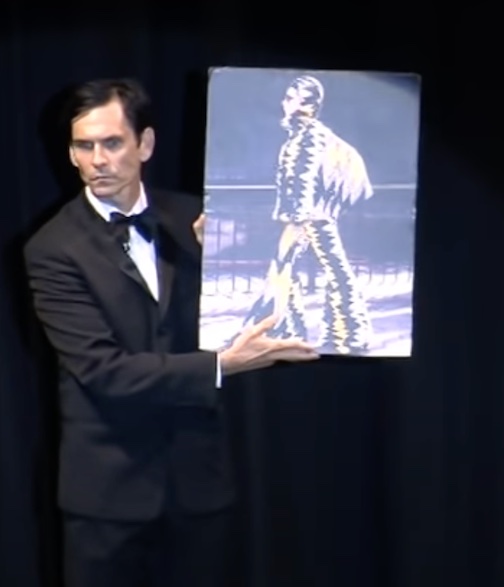 Can you add non-magical transitions or interludes to your set? Rob Zabrecky is the master of this, with his Grandfather's Birthday, his Barbra Streisand photo, his "Have we met before?" Chad Long bakes cookies in his act. Mac King cures his hiccups. Those are transitions for the stage and belong to others; here are a few more standard bits you might do in closeup:
Cards from mouth (Jeff McBride, Bill Malone)
Electric deck
Block letters (Spectator's name on souvenir envelope: Eugene Burger, Bert Allerton)
Vanishing saltine (with "magic dust")
The Opener (David Regal's letter from his girlfriend)
Vanishing match (Jay Marshall, Table Crap)
Baby gag
Scorpion moth (Mac King, Peter Studebaker)
Ah, but how about something original to convey your character?
Is everything always better with confetti? Jeff McBride says so. And Rob Zabrecky puts some to good use in his act. Give it a try.
Will they talk about your show the next day? I would suggest that you surprise or shock them. David Acer's Ghost in the Machine always kills. I did Card on the Ceiling once in my home town bar and they talked about it for 20 years. In material from The Little Egypt Book of Numbers, I suddenly plunge a chosen card into a spectator's drink, I squirt the audience with a Super Soaker, I spell to a card via an obscenity. And in one trick scares the hell out of them.
Is your script pitch perfect? I have many heroes in magic, but highly recommend you study the scripts of Rob Zabrecky, Mike Caveney, and David Regal. Can you be that proud of your own script?
Do you rehearse chops in general? I find that my skills, magic or otherwise, atrophy if I don't keep up with them. Beyond whatever you need for your holy trinity tricks, I suggest rehearsing your standard moves. Mine at best were only intermediate, hence a good set to embrace is the moves from Nick Trost's Subtle Card Creations Volume 1. The skills therein might come in handy if something goes awry with your three tricks.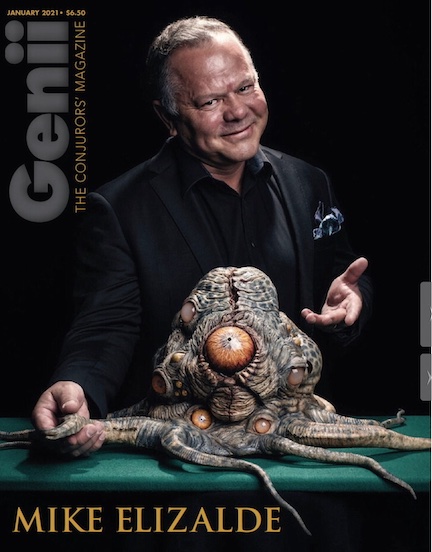 Does your set utilize some prop that sets it apart, makes it memorable? In my case I have made good use of a rubber snake in a bucket of water and of a haunted movie projector. Bert Allerton vanished a bird cage at the table. Ricky Jay used a watermelon as a target. A couple of German guys launched a career with a cheetah in the box. Mike Eizalde had magi flocking to the Closeup Gallery to see his monster on the table.
Can you choreograph the trick from the audience point of view? For example, we read left to right. If you are doing a four ace layout, it is better that you move from pile to pile from your right to left (spectator's left to right) as you progress through the trick.
Do all three tricks use the same principle? For example, do all three employ a double lift? Not a good idea.
Have you sufficiently researched every method for the tricks you are presenting? I don't say this merely for the obvious reason that you should use the method that appeals most to you and your audiences, but also so that you have the confidence born of a broad knowledge of your subject. For example, I do a slate writing routine in my haunted projector seance. I enjoy knowing where it ranks among he many methods in Teller's and Karr's House of Mystery as well as the many other slate routines in my library.
Can you find joy in the tricks you are doing because they have played well in the past, conjuring up fond memories? Remember the first time one of your tricks fooled your dad? Or the first time a trick made your kid or grandkid smile? I enjoy one trick that I had the privilege of performing for John Moehring, Jack White, Allan Ackerman, Persi Diaconis, and others, under varying circumstances. Doing it today evokes nice memories.

Although the real world of magic is opening up, the generous folks who have been supplying online magic are keeping at it, and the material is better than ever. Thanks, guys, for all the following.
BACK TO VIRTUAL MAGIC SHOWS — I have been enjoying, but not reporting on, the Magic Castle's Saturday night virtual magic shows. I must, however, acknowledge the May 8 show, as i was randomly picked to assist host Jonathan Levit with his performance of The Stranger. If God could do The Wizard telephone trick, it would look like this. Rounding out the show were Jade (who fooled me with her creative close-up) and Tony Clark. A great show!
BACK TO DON'T EVERYBODY LEAVE: We left off last month with a Penn Jillette visit and resume this month with the second half of Penn's visit. It was amazing that, upon confessing to have never studied Algebra, Penn received an impromptu course in the subject from Richard Feynman. (For the record, I learned Algebra 1 from Cookie Schaefer's mom, Algebra 2 from Coach Romaine.) A large party at Penn's home featured a friendly and funny encounter with a cop.
Legal chat continued a week later with guest barrister Guy Hollingworth. Best bits: Guy related the story of being fired at the Magic Castle (what was somebody thinking?) and reprised his performance (previously televised) of The Reformation. Best news: A sequel to Drawing Room Deceptions is in the works.
Following Guy was the amazing comedy juggling of Lindsay Benner, the first female in Mac's get togethers.Google her to watch her on Leno, juggling three items from the audience with a flaming teacup on her head!
Next — are you counting? — episode 15, I think, with Piff, the Magic Dragon. Piff shared a horrific story in which a kid on stage tossed Mr. Piffles 8 feet into the air. Fortunately a lady in the audience caught the flying chihuahua. There is nothing like inviting a sociopathic kid up from the audience.
Episode 16 brought the whole gang back together to welcome the pandemic's favorite guest, Mike Caveney. Featured bits included Jason England's Saga of Rod the Hop's $20,000 and Mike Caveney's tales of sneaking chickens, real or robotic, past airline inspectors.
BACK TO BEHIND THE BOOKCASE — Again, by the episode: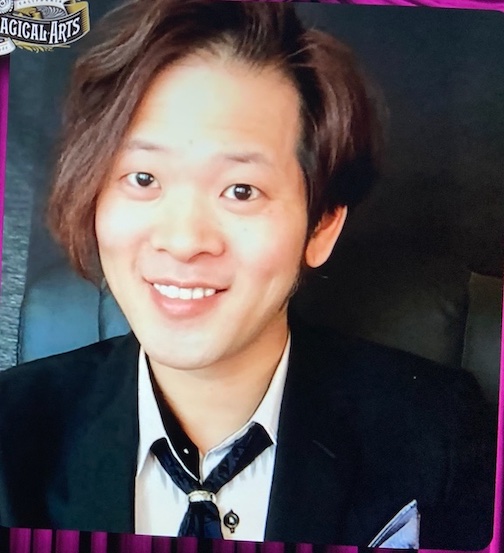 Episode 99: Closing in on its 100th episode, Behind the Bookcase featured Shoot Ogawa interviewing the wonderful Japanese manipulator Den Den. Although I have had the privilege of seeing Den Den live a couple of times, I was at least halfway back in a large theater, hence observed that it Den Den's was a classic manip act, but the details of his magic, his facial features, and so on were lost to my myopia. Therefore what a thrill to see him close up and personal: young, handsome, and charming.. The act of course is thrilling, with white paper Origami birds, playing cards that appear and flutter away like rose petals, all the beauty of a dove act without the hassle of livestock. (No wonder that Den Den's hero is Lance Burton.) I'd love to see Den Den's close-up magic and comedic bar act, briefly discussed. ! Shoot was the perfect guy for this installment.
Episode 100: What better way to celebrate the 100th episode than to put the Board of Trustees in the hot seat and force them answer questions. Jonathan Levit hosted and posed the random (?) questions of Gay Blackstone, Paul Green, Shoot Ogawa, John Carney, Mike Caveney, and Christopher Hart. Hats off to these folks, Max Maven, an others at the Castle who have made the past 12 months so enjoyable. Surprise info touched on Levit living on a boat, Shoot in hot water with Japanese magicians, and Caveney nearly drowning a guy named Toothpick the Clown. Must viewing.
Episode 101: John Carney hosted a lengthy, packed interview of Brad Ball, uber Cardini fan and historian. Those who didn't know Brad already were gobsmacked by his wealth of information. It was fascinating look at the prototype manipulation act, creation of a magician who can claim to have sold 100 sets of Linking Rings at Gamages (with the routine that inspired Vernon) and could claim "never a bad review." Additional guests included Randy Pitchford with Cardini cigarette production gimmicks and Cardini's daughter, Carole.
Episode 102: This was a reprise of Episode 29 (7/23/21), when Jonathan Levit and Mike Caveney visited Mike Elizalde's Spectral Motion, aka his monster factory. Between the two airings, Mike Elizalde appeared on the cover of the January Genii, posed with the climax of his oh so creepy magic show. (Genii readers can find a link to the show itself.)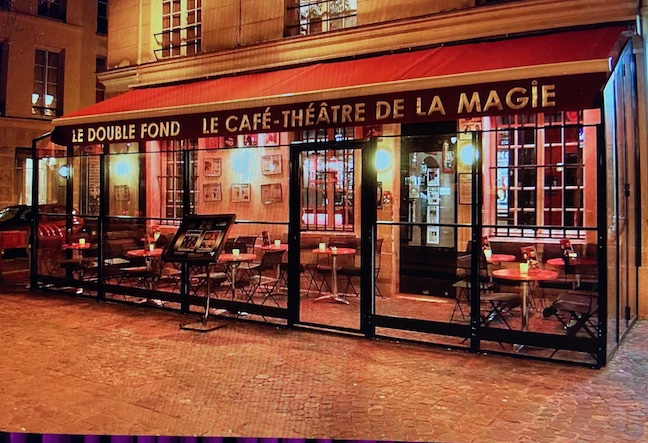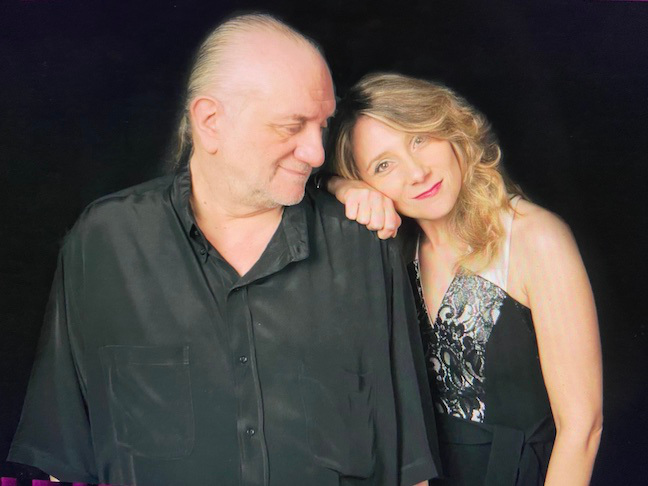 Episode 103: Jonathan Levit clearly had a ball interviewing Alexandra and Dominique Duvivier, from their club Le Double Fond in Paris. They said it couldn't be done, Dominique insists, whether it is opening a magic venue in Paris or creating his own magic to market. And yet Le Double Fond flourishes and 100000 units of Printing have sold, financing his home. The Duviviers also run a magic school ($16500 tuition, a government recognized diploma on graduation) and a streaming magic show at www.doublefond.tv. Hundreds of clips are available.
Episode 104: Shoot reruns the Who's Hoo with Armando Lucero. Amazing to see this super serious closeup guy do brash shipboard standup comedy.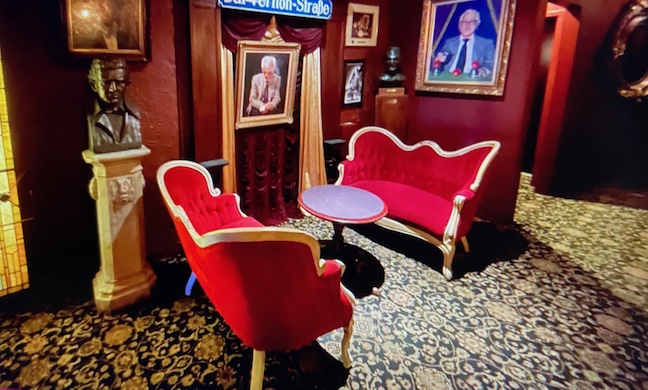 Episode 105: Possibly the most exciting Behind the Bookcase yet. During the year that the pandemic has closed the Castle's doors, the Trustees and their elves have been busy. A team led by Mike Caveney, Christopher Hart, Ice McDonald, and John Carney have been re-framing and rearranging the photos, posters, and paintings that adorn the Castle walls, to make the story they tell relevant. Two stories, actually: the story of the Magic Castle, and the story of magic. Jonathan Levit and Mike Caveney hosted the episode, giving members a sneak peek, via video and photos. of how all is coming along. Over 150 images have been newly situated, and more work remains. Mike will soon add a more complete photo tour on the Castle web site.
Episode 106: Another Who's Hoo, this time Fitzgerald interviewing Les Arnold. Les was hirsute, as I have never seen him before, prompting some toupee gags as funny as they used to be on Jack Benny.
Episode 107:Another groundbreaking installment as Jonathan Levit and Mike Caveney interviewed author Samuel Porteous re his book and subject, Ching Ling Foo. Foo is not to be confused with the "American copycat" Chung Ling Soo (William Robinson) who saw Foo's act at the Omaha Fair in 1898 and soon after became a "Chinese" magician himself. Amazing detail from this talented author, the 500-page book available from Amazon.