YOU'RE INVITED TO A BIRTHDAY PARTY – The AMA threw a virtual April 9 birthday party for Milt Larsen, on the occasion of his 90th, and a mighty fine party it was. Wink Martindale hosted, looking dapper in a pink sport coat, and assisted by Sandy Martindale. The program opened with clips from a documentary about the Castle, in the works by John Cannizzaro. It's coming soon.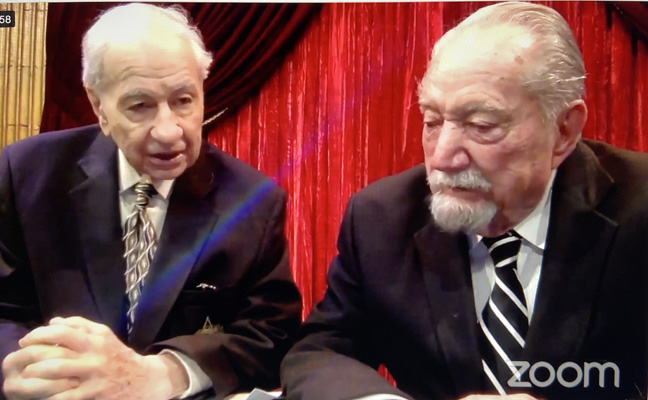 Wink then introduced a long list of Hollywood and magical personalities, each with his own heartfelt testimonial, many who owed Milt his or her career if not merely magical memories. To wit, there were stories and good wishes from Robert Hays, Anson Williams, Paul Reubens, Kate Linder, Loni Anderson and Bob Flick, Erin Murphy, Teresa Ganzel, Bruce Vilanch, Stefani Powers, Puddles the Clown, Dee Wallace, Adam Wylie, Neil Patrick Harris, Romi Dames, Leonard and Alice Maltin, Michael Feinstein, Lance Burton, David Copperfield, Randy Sinnott, Gay Blackstone, Max Maven, and Richard Sherman. Most Zoomed in, but Dick Sherman surprised Milt in person. Boys in their 90s! He and Milt met in a record shop decades ago, when Milt happened to be playing a record by Al Sherman, Dick's father. Remember record shops?
The AMA surprised Milt with a plaque renaming the Castle's inner circle as The Milt Larsen Inner Circle. A nice touch, and Milt seemed visibly appreciative. The new name is already on the map!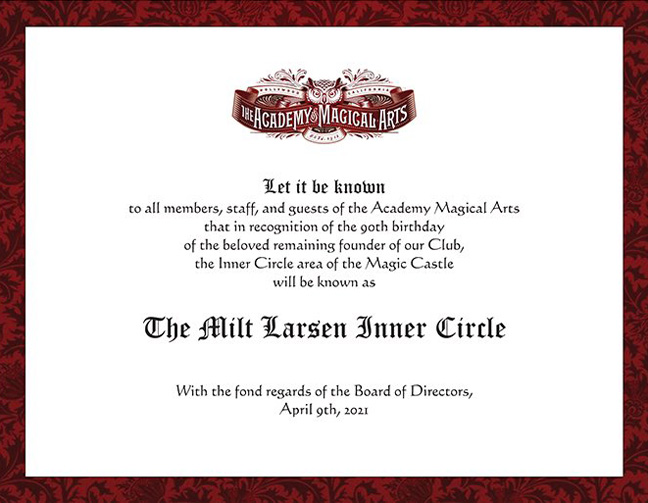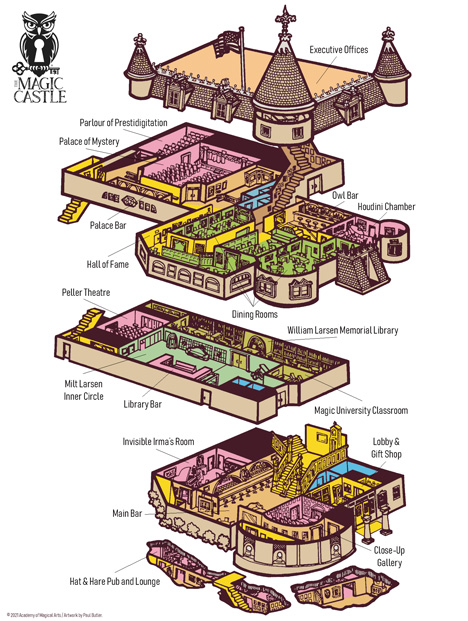 Among the stories shared, my favorite had little to do with Milt. The speaker was comedy writer Bruce Vilanch, and he told of introducing Bette Midler to Siegfried and Roy. Bette was on tour and had never seen their show. After the performance they gathered in S&R's extensive dressing room/apartment, where Siegfried apologized for not having yet attended Bette's show. He knew that she would be performing in San Diego in two days, and he and Roy had rented a plane to fly down and see her. She was nonplussed. "Well, you know, Siegfried," she said. "My show is nothing like this. It's very, very low tech. Nothing like this." Siegfried leaned to her and said, "Oh, honey, when you've really got talent, you don't need all this shit."
Happy birthday, Milt. We love you. (As of this writing, the party is still online for Magic Castle members. Cheers.)

IT WAS 20 YEARS AGO TODAY – It has been a good 23 years, thanks to the interruption for editing and publishing a few decades of Genii, plus a few concluding months for a high seas adventure, for Richard Kaufman to birth his latest card book, Mr. Jennings Takes It Easy. And oh, baby, what a book it is.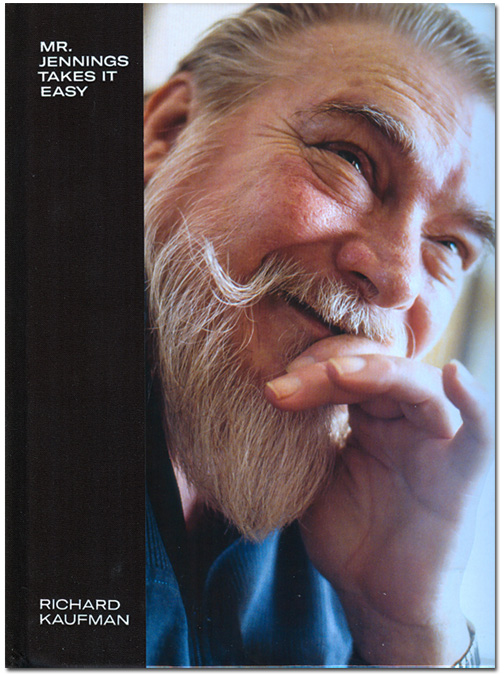 I was never close with Larry Jennings, but our lives did overlap, and I had the great joy of seeing him perform, for me alone, some of his classic tricks. The first time I witnessed Open Travelers, the cards were in his hands, and I couldn't imagine that any method was possible, not to mention the many that would evolve over the years. You can read all about it in Jennings 67. And I still have the Heineken bottle to which he teleported my signed card. Such a lovely, light touch with the cards. And of course his creations influenced my own magic. I closed my shows through college with the Jennings Chop Cup, have toiled for decades with The Visitor, thrilled to perform Slow Motion Larry, and have rarely seen a card trick as visually compelling as A Close-up Illusion. And now, thanks to this latest publication there is so much more to learn, (And to re-learn about card magic in general.)
In planning the book with Richard Kaufman, Larry favored a Royal Road approach, teaching basic strategies first, followed by tricks and routines employing then. This scheme led to the layout that follows. Along the way I'll mention points and tricks that particularly appealed to me, and that often translates as what is easy to do with my declining skills. (Sort of Mr. Bryant Takes It Easy.) Unless specifically labeled as "self-working," this is a book of sleight-of-hand card magic, so none of it is "easy." It's just easier than what is being postponed to Mr. Jennings Takes It Tough. Instruction is extraordinarily detailed, and methods are copious. There are many tricks, and often many versions within tricks. You could work through this material for a long, long time. A few highlights …
Chapter One: The Breaks. The opening chapter put me in my place, making me realize that I didn't know the proper way to hold a little pinky break or how to upjog or downjog a card. Throughout the book, Larry favors a Verdnase break over a thumb break, leading to new handlings for many standards.
Chapter Two: Double and Triple Undercut Work. Numerous strategies allow you to transpose cards via apparently simple cuts.
Devious Open Prediction is just that, a method that allows the spectator to count herself to the predicted card. A very clever way to set up the count.
Unpredictable Prediction lets you do the Open Prediction with no sleights.
Chapter Three: Multiple Lifts and More. Learn the difference between Double Lifts and Double Turnovers, and some useful instances of each.
New Dual Discovery. Two spectators make selections. You show two cards to one of them, and he does not see his card. You show the two cards to second spectator, and he does not see his either. Toss the cards to the table, and now both see theircards. (What weird magical power is this?)
Deep Transposition II. Of all the tricks new to me, this was my favorite. Sort of a squeaky clean version of the Hofzinser Ace trick, where a selection displaces an ace.
Triumphantly Turning Back Time. A nice mix of the Walton time travel trick with Triumph.
Chapter Four: The Reluctant Packeteer. Larry's touches on all the major false counts.
The Eye Popper. Four kings become four aces, easy peasy. It's hard to ignore this pitch from the book: You would be hard pressed to find a more surprising trick than this little gem. Don't judge it by a quick glance at the "Effect" and turn the page. This will make magicians' eyeballs pop because there are no extra movements, readjustments, or fiddling.
Chapter Five: An Assortment of Techniques and Sleights.
The Alpha Control. A very easy control, reminiscent of the Convincing Control, almost a bluff. This is one of my favorite moves in the book.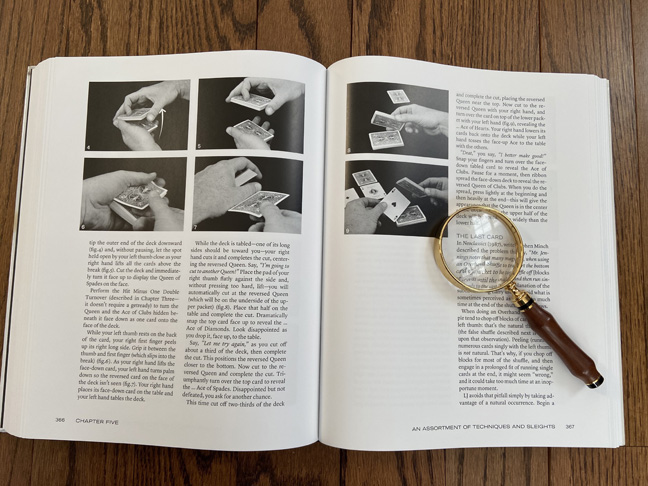 Chapter Six: Almost Solely Self-Working.
Triple Discovery. Three spectators cut the deck into three piles, and each chooses a card from his pile. You discover the cards through very sneaky means (a Sunken Key). One of the cleverest tricks in the book.
Triumph for the Terrified. One of the easiest Triumph effects around.
Getting to Nine. A clever way to getting into Jim Steinmeyer's 9-Card Trick. That you use nine cards seems to be a random choice.
Impossible. Through a selection process that is repeatedly stated to be impossible, the spectator finally discovers his own card by spelling IMPOSSIBLE.
The Close-Up Illusion. My longtime favorite Larry Jennings trick to perform, a visual masterpiece, and I am pleased that it is in the book. I think it is the greatest walk-around card trick.
Chapter Seven: Biddling and Other Ways to Avoid Palming. Here are Larry Jennings touches on card guy favorites: Ace Assemblies, Hotel Mysteries, Open Predictions, O. Henry Aces, Monarch's Quartette, Collectors, and so on. There are lots of favorite themes here, and I am setting the chapter aside for further study.
California Red Prediction. A nice version of the self-working Red Card Prediction (Corinda). This works great with the spooky coins discussed here last month.
The organization includes a foreword and character sketch by Tony Giorgio, a lengthy introduction by Richard, essays by Larry himself that precede most of the chapters, a history (must reading!) that opens each chapter, the moves or finesses that each chapter relates, and then tricks or routines for that chapter. There is of course a table of contents at the front of the book as well as a handy "local" table of contents for each chapter.
This book is a mammoth production in every sense. First it is physically massive, in the same weight class as Tenyoism and DeLand. I wouldn't be surprised if it was the shipping container full of Larry Jennings magic that caused that ship to tip over in the South China Sea. Second, its text is extraordinarily detailed. More so than I recall in his other books, Richard pays amazing attention to finger positions, in what he calls microscopic detail. All in all, over 250000 words! This is highly informed instruction, based on many hours with Larry, including over 18 hours of video and years of audio. Regarding tricks that had been published before, Richard says, "If Larry did not teach them to me personally, then whenever possible I did not rely on the published descriptions, but returned to the original audio or videotapes in order to get the details directly from Jennings himself." It is staggering that Jason England posed for, and Julie Eng shot, the 1400 photos that accompany the text during "a week in Las Vegas." A week??? To interpret from all that detailed reading, and to create and assign the photos, in a week, is beyond my comprehension. (An opinion: The photos are in black and white, and that is great. I have lately concluded that I really don't like color photos in magical instruction, in books or in magazines. It's distracting. Just an opinion.) And finally, the look of the book is simply classy. Fonts and layout, as for virtually all of Richard's books, are crisp and professional. Credit for cover and design goes to Brad Aldridge.
Now shipping, 582 pages, 9 by 11 in, over 120 tricks, over 120 sleights and techniques, 1400 photographs, $100 pp, Kaufman and Company.

Part 12? A year? We've been in quarantine for one year already, and the magic community just keeps on giving. Should we feel guilty for having so much fun? Mac King's six-pack of interviewers continues to take on a new subject each Tuesday afternoon, and the Magic Castle's AMA couldn't be more generous, with online tutorials (videos, documents, and lectures), a backlog of general videos from pre-pandemic days, occasional live lectures, Saturday night magic shows (open to anyone with $20 to spare), Saturday afternoon kid shows, and my favorite: Behind the Bookcase, on Thursday and Sunday evenings. Let's take a quick tally of whom Mac and his gang have been chatting up, and then at a peek Behind the Bookcase, episode by episode.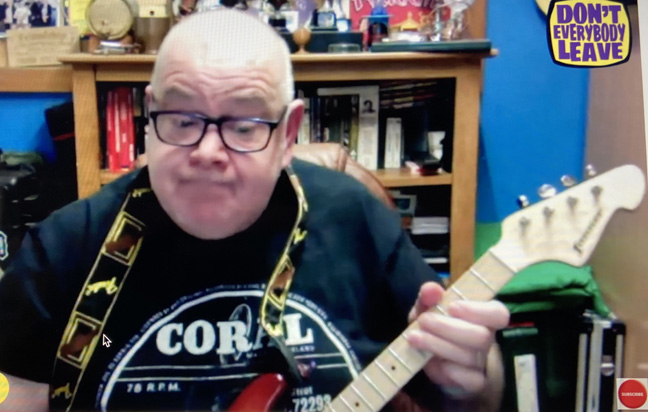 BACK TO DON'T EVERYBODY LEAVE -- Episode 9 returned to magic with guest David Williamson, aka Big Nose Devil in China, where his height drew attention. Episode 10 followed with John Archer as guest, charming me with a parody of my favorite singer, Buddy Holly. A fifties rock discussion led to the cool fact that Mac has opened for both Jerry Lee Lewis and Bill Monroe. I am impressed. Episode 11 brought on Penn Jillette. My grandkid phoned on Facetime just after this began, and I thought I could do both things. Nah. This was the most profane broadcast so far. It's nice that you can watch these later.
BACK TO BEHIND THE BOOKCASE -- New episodes ...
Episode 92: John Carney hosted the Who's Hoo W.C. Fields Birthday Special. Fitzgerald's guests were Fields' grandson, Allen Fields, and Fields' biographer, James Curtis. Fields worked silently as a comic juggler until age 35, when his iconic voice became part of his stage and film careers. The clips shown were hilarious and had me laughing aloud. One of the best Who's Hoos recorded.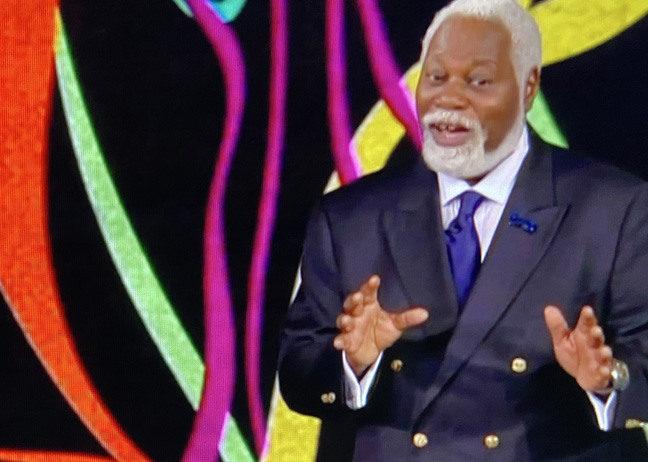 Episode 93: Jonathan Levit hosted an evening with one of my favorite magicians, Chris Capehart. Chris got into magic when he first saw Earl Presto Johnson at the Apollo. He introduced himself, they went to dinner, and when he opened his hand to discover two sponge balls, he was hooked. Learning park magic led to fights and later detente with Jeff Sheridan, though doing eventual street magic in NYC was not for the faint of heart. A fascinating interview! (Those familiar with my Lake Witch Project know that it owes its climax to Congo, the Jungle Creep. What I did not know was that Congo personally taught Doug Henning Sands of the Desert!)
Episode 94: Erika Larsen hosted an April Fool's Day episode with some of magic's most dedicated pranksters. Bill Herz and his team of magi took special delight in skewering each other, beginning when Williamson found an S.S. Adams counter at a Piggly Wiggly across from where he, Herz, Caveney, and Weber were staying. A package of Blue Gum was just the ticket. (I had a similar triumph in the seventh grade, passing a stick of Hot Gum off to an eighth-grade bully.) Herz's stunt is legendary, when welcome brochures for a dozen magi held glowing bios of eleven, but only a punishingly mediocre bio of the twelfth if it happened to be you. ("Lance Burton is from Kentucky and has been on television.") And then there is Amazing Johnathan, a walking practical joke factory. Imagine coming to your car and finding the window missing, a brick and shattered glass in the driver seat.
Episode 95: Shoot Ogawa hosted An Evening with Dani DaOrtiz. I've long been a fan of Dani but knew little of his personal life. He is 41 (Shoot is 46) and met Juan Tamariz at age 4, Rene Lavand at 11. To him they have always been family. Dani closed the interview with a killer ACAAN involving a torn card.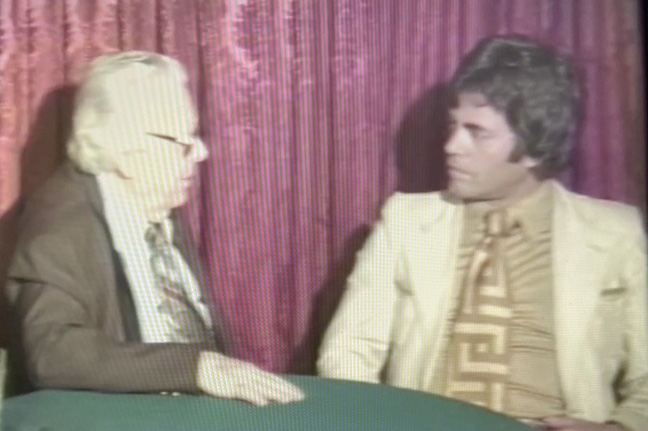 Episode 96: Mike Caveney introduced another Peter Pit interview, this time with magical writer and Shadow creator Walter Gibson. The video was a bit sketchy, but Walter's stories were fun to hear. The Shadow evolved from a radio creation first, and its named creator, Maxwell Grant, evolved from dealers Max Holden and U.F. Grant. Gibson knew all the greats of his era and was on cordial terms with Houdini.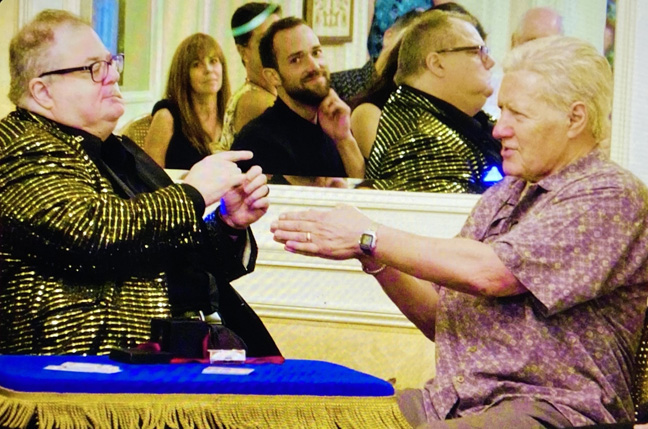 Episode 97: Jonathan Levit and Christopher Hart interviewed AMA member John Kippen. John hosts a Friday Lunch performance featuring famous magi, and I look forward to seeing it. He suffered facial nerve damage some years ago following brain surgery, and he has a documentary explaining how he has overcome that, but frankly I didn't consider it necessary. You could see from the video that he is an excellent, entertaining magician who needs make no excuses. Bravo.
Episode 98: A reprise of the Fitzgerald Who's Hoo with Mark Haslam, who performed a very clean Diary Trick. A reprise, but Mark and the AMA regulars were on hand live in the chat.