FALLEN STAR -- It's been a hard year for heroes. The latest to fall, most unexpectedly, is Brian Gillis. His persona exuded such a strength that I considered him immune to common mortal issues. He used to box with Amazing Johnathan, he used to race motorcycles, and he used to perform flirtatiously, even though he was darn near my age, and the ladies bought it. More about that in a minute. Quite simply he was one of my favorite performers, and I miss him.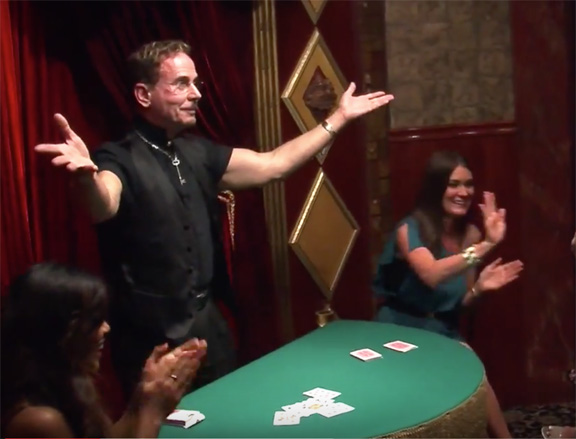 Brian rocks the Close-up Gallery.
Brian accounts for one of my favorite evenings at the Magic Castle. I was hanging out with Jon Racherbaumer--Joe Stevens had hired us to lecture at a Stevens event--and Jon and I walked down to the Haunted Wine Cellar to discover Brian performing a full unscheduled show. As always, he totally ruled with his fast-paced close-up material, then expanded it to a parlor-level experience by bringing in his partner Sisuepahn and exhibiting two-person mind reading (with a little help from Eddie Fields). I didn't know Brian, but Jon did, so we got to hang with him after the show. A lovely night.
Brian's close-up work was so fast. You can learn it if you wish, as he teaches most of it on a Penguin Live lecture, with superb help from Dan Harlan. Brian's methods were old-time classics: the classic coin palm, Han Ping Chien, the pass, the side steal, the watch steal, and so on. He could jazz. The lecture includes his sponge ball routine (with great tips), a fine one-person mental routine that combines two tricks, and an extended interview, going back to his teaching years (he hated teaching junior high boys; he was a psych major with a math minor), to his education from Eddie Fechter, and to his appearances with Johnny Carson.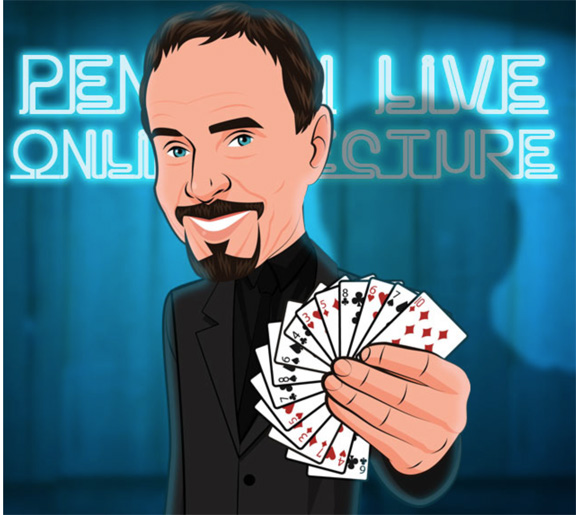 Magic the old-fashioned way.
Proudly known as The Magician to the Stars, Brian was on with Carson three times, and you can find those clips on YouTube. I especially loved watching him do the Slydini paper balls routine for Buddy Hackett, and Johnny hailed Brian as his favorite magician. In L.A. he entertained the A list, his web site bright with photos posed with Paul McCartney, Charlize Theron, Eddie Murphy, Muhammed Ali, Lucy Liu, Arnold Schwarzenegger (stole his watch!), Johnny Depp, Dustin Hoffman, Jeff Bridges, Nicholas Cage, Terry Hatcher, Harrison Ford, Kevin Costner, Stevie Wonder, William Shatner, Hal Holbrook, and many others.
Brian was a Magic Castle favorite, and because of this I am conflicted. There is no doubting his appeal. Milt Larsen, in an obituary note on Brian's web site, mentions that he had asked Brian to perform at a pre-opening party for his Magic Castle Cabaret. He adds, "I knew he would be the perfect magician to impress our most influential members." Jack Goldfinger states that Brian "is guaranteed to produce howls of laughter and screams of amazement in every show that he does." But ... the July AMA Newsletter announced that even "a little bit of sexual innuendo" will no longer be allowed at the Magic Castle. If you watch Brian's act in the Close-up Gallery, you will see that the laughter and screams are because of that innuendo, that the crowd is firmly on his side. I see merits and flaws on both sides of the issue, and it will be interesting to see how the policy evolves.
Meanwhile, aloha to Brian Gillis, one of the best close-up magicians ever.