GOLDEN ANNIVERSARY -- There was indeed a golden age of the Magic Castle, and I was thrilled to be a part of it. The Best Night Ever of that splendid era, for me at least, would have to be June 12, 1968, fifty years ago this month. To the surprise of those who knew me then, I showed up at the Castle that night with a date, a small, thin, drop dead cutie with a to-die-for wealth of blond hair. Earlier that day, more to the point, I had married her in Pasadena. It was her first visit to the Castle, and the regulars couldn't have made her more welcome.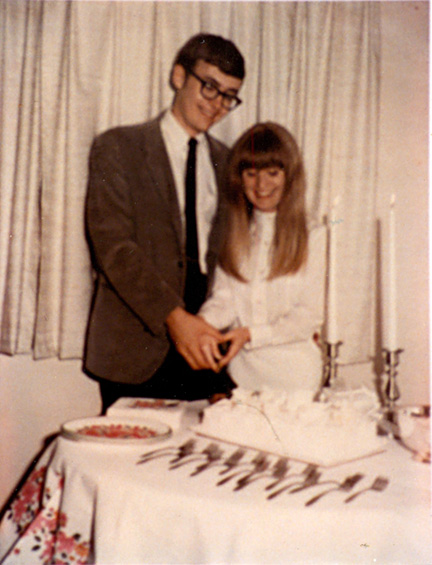 Slicing a wedding cake in Pasadena.
Please indulge me as I turn back the clock and relive that evening, an uncrowded Wednesday populated mostly by members.
Quick on the draw, Jules Lenier kissed the bride. Decades later I reminded him of this. After that, whenever we would part company, he would smile and say, "Say hello to your wife."
Irma played Here Comes the Bride.
Someone, and I don't recall if it was host Guy Thompson or prez Bill Larsen, broke out the champagne, and drinks were served all around.
Dai Vernon was there and supplied the cake. He had been taking piano lessons from Ray Grismer, and someone had baked him a birthday cake--his birthday was June 11--in the shape of a baby grand piano. The Professor felt it was the perfect occasion to actually eat the cake, and so he let my bride do the honors and slice it. (Context: Vernon had just turned 74, the Larsens would welcome baby Erika in two days, and Jules was putting together the first AMA awards banquet.)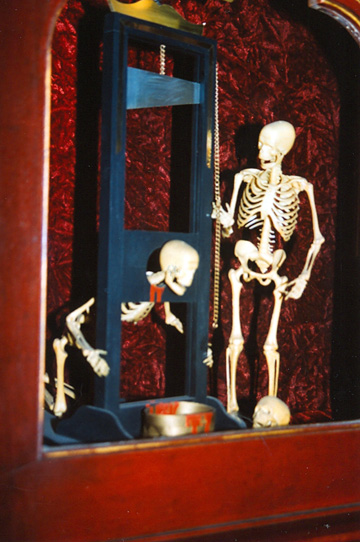 One of our favorite Magic Castle gags.
What else happened in the old mansion that night?
Did we dine? Probably not, given that we opened the festivities with cake, in the Grand Salon. But we could have. The prime rib dinner, complete with Victorian Festalboard and dessert, was five dollars in those days. Maitre'd Klaus Riisbro would unfailingly recognize us and compliment us for ordering "the same Johannesburg Riesling that Mr. Grant and Mr. Kerkorian are having." A typical evening for us was to dine and see magic shows at the Castle, then to drive to the Playboy Club in Los Angeles for drinks and breakfast (a dollar-fifty for either). Yes, fifty years was a long time ago.
Did we see any magic? I'm sure we did, but it would take some research to remember who. I first checked with librarian Bill Goodwin, who located a May and July Castle newsletter for 1968. Alas, neither contained a performance schedule. Bill suggested I try Genii, and that paid dividends. In those days editor Bill Larsen wrote a column called "News Direct from the Magic Castle (Hollywood)." In the June 1968 installment, he wrote that Close-up Gallery regular Al Goshman would be flying to engagements in the East and conventions in Europe. Replacing him would be Ron Wilson and Dave Tansey, with Mike Skinner as a nightly added attraction at 1:00 AM. Performing in the Wine Cellar on our night would be Don Lawton. We saw all these guys in the months to follow, but I don't recall the wedding night shows.
Did we miss any behind the scenes magic? Probably. Bruce Cervon had no entry in his Notebooks for June 12, but there was a nice trick on June 11 if you could do a four-card turnover.
All in all, a perfect wedding night. (OK, it wasn't over yet!) As Milt would say, usually on a night when the Castle was full of the likes of Cary Grant or Tony Curtis, "Just another night at the Magic Castle."