MAGICAL MISSIVES -- I must admit to some decades of confusion as to just what constituted the Egyptian Hall Museum. I first became aware of this sometimes museum-sometimes performance hall(s) via an April 1962 article in Genii, "Egyptian Hall Museum Revisited" by David Price. Genii subscribers (and that includes all you Magic Castle members) are encouraged to trace the history of the entities yclept "Egyptian Hall" from an 1812 London museum through its morphing to two London theatrical halls (1845 saw the first mystery performance) to Maskelyne's involvement in 1873 to W.W. Durbin's unrelated Kenton, Ohio, backyard theater called American Egyptian Hall in 1895 to David Price's purchase of the contents in 1953, by which time the theater had become more of a museum again, and Price then expanded the holdings significantly. As faithful MAGIC magazine readers know, Mike Caveney and George Daily purchased Price's Egyptian Hall Museum collection in 2000, giving Mike access to five tons of handbills, posters, photographs, letters, brochures, newspaper clippings, scrapbooks, and related memorabilia, along with the fabled name. (Perhaps I should some day muddy the waters by calling my own meager collection Little Egyptian Hall.)
Of importance to us readers are the letters. Beginning in 2006, Mike began publishing selected epistles in his MAGIC magazine column, "Classic Correspondence from Egyptian Hall Museum." Mike placed each letter in its historical context and supplemented it with graphical material (the letter itself, photos, posters, etc.). The popular series continues today in Genii, but magazine space is limiting. By 2010, Mike began publishing collections of the letters as beautiful hardback books, 24 letters per volume, and he was no longer limited as to how many footnotes and graphics he was allowed. If it couldn't fit in the magazine, it could still fit in the book. One of my favorite pieces, in Volume III, is 44 pages. As Mike adds, "And no longer do I sim[ply explain who the various people are. My goal now is to set the stage, then introduce the main characters as well as the minor players, and then wrap up the story with, if not a moral, at least an ending that poses a question, delivers a nice surprise or perhaps leaves the reader contemplating a bigger issue." Wow.
I entered the Classic Correspondence picture this December when my wife asked if I wanted anything "magic" for Christmas. I quickly explained what the books were, she thought they were a great idea, and so they became the first trilogy she bought me since the Vernon Inner Secrets series back in 1968, at Lin Searles' suggestion.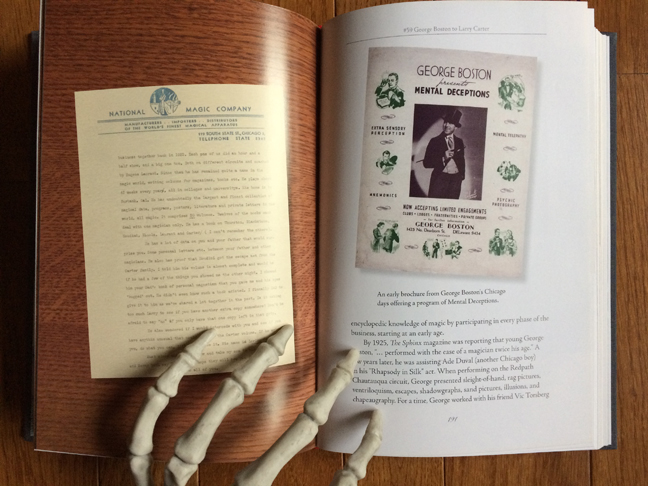 Letters used to be written on stationery.
The physical books are sumptuous, on heavy matt art paper with a leather spine, with endpapers that display a scattering of the letters in each book, and with added photos, lithographs, and so on that constitute a visual feast. (Volume III alone contains 333 photos and posters, most newly published.) The expanded histories of the letters are a marvel. Each contains a bibliography, the most common entry being Bill Kalush's AskAlexander. Has there ever been a more perfect marriage of scholarly interest and scholarly resources? The books are also the perfect blend of substance and style: Mike is a keen researcher who extracts meaning from his digging, and he tells the tales with graceful, well-crafted sentences. He's a master story teller, and the footnotes alone would make an exciting book. Don't even think about skipping over them.
Most of you have had access to the original write-ups in the magazine, and, while there are no uninteresting entries, I'll mention a few that stood out for me:
* No. 8. Howard Thurston to Al Capone. Capone's son was in a Thurston audience and called to the stage to assist. There is a photo of the boy sitting next to the infamous Frank Nitti.
* No. 23. Harry Willard to his dad. Harry's spelling and grammar are so atrocious, his optimism and dedication so sincere, that I found this letter quite endearing.
* No. 18. Michael Dockweiler to W. D. Leroy. Mostly, this letter is from a disgruntled customer complaining to a magic dealer. There are several such letters in the books. (You may have written one yourself over the years.) Buried in this piece are two footnotes that reveal the workings of two versions of a Harry Kellar mind-reading act. These are screwball methods such as you might find in the Dunninger encyclopedia, but they apparently worked!
* No. 11. P.C. Sorcar to Dante. The famous Indian magician asks Dante to proclaim him as his successor. (Dante didn't.)
* No. 55. The famous Lloyd Jones letter to a young Dave Fiscus dissuading him from becoming a professional magician, using the financial situations of well-known magicians as his arguments. Mike Caveney provides new photos of and profiles the likes of (deep breath here) Eugene Gloye, Chop Chop, Cas Boxley and Marie, Carlyle, Jimmy Muir, Clarence Slyter, Neil Foster, Albert Ching (arguably the most heartwarming story in the books), Channing Pollock, Benny Chavez, Paul Le Paul, Bert Allerton, Jack Kodell, Russell Swann, Carl Ballantine, Del Ray, Dai Vernon, Cardini, Jose Frakson, Bert Wheeler, Senor Maldo, Marvyn Roy, Richiardi, Clarke Crandall, and Johnny Platt. These are the magicians I "grew up on," and this is my favorite chapter in all three books.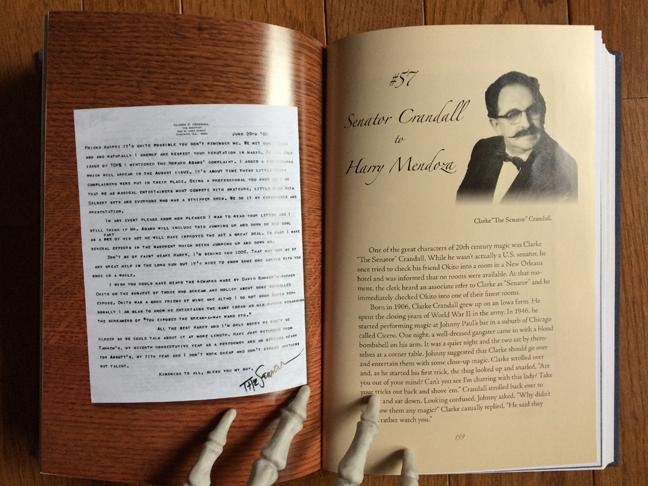 Crandall consoles Mendoza.
* No. 57. Senator Crandall to Harry Mendoza. I was around when this played out in Genii. Crandall comforts Mendoza after the latter had been taken to task by Howard Adams for exposing the Water Bowl Vanish on an episode of "The Beverly Hillbillies." Only in America.
As mentioned above, these are beautiful books in matching bindings, and they are fully indexed. Volume I is 288 pp ($65), Volume II is 378 pp ($75), and Volume III is 411 pp ($75). My wife is a sweetie! All books available from Mike Caveney's Magic Words.