PRACTICAL MAGIC -- Virtually every day, I get an online ad from Penguin Magic. Each is accompanied by glowing testimonials, often from magicians I know and/or respect. About 10 percent of the ime, I go ahead and watch the video. Far more rarely, I actually purchase the item. I am a book guy, not a trick guy, hence my reticence to buy says more about me than about Penguin. Recently, an ad popped up with Max Maven supplying the testimonial, touting the trick as the only item he purchased at Blackpool. "It's that good!" Given that the item was a download for only $14.95, and given Max's endorsement, I knew I would buy it even before watching the vid. But wow, the video made the thing even more intriguing. Just not possible, especially given "no threads or magnets."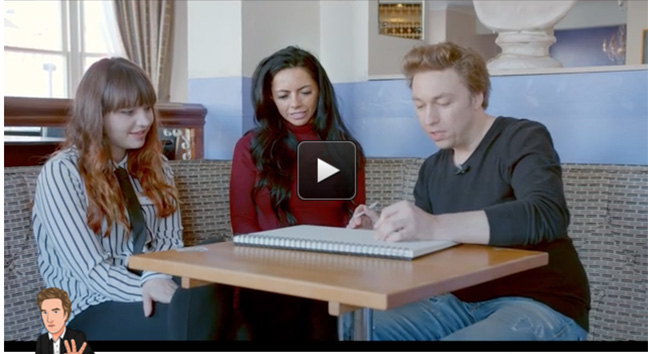 A voodoo moment.
The item is Voodoo Needle, from Peter Eggink and Aeon Sun. Said product is one of those rare combinations of practical method and sensational effect that come along once a decade or so, such as Mac King's Fork in the Eye or Anders Moden's Healed and Sealed Soda. (And unlike those two favorites, it won't get you wet.)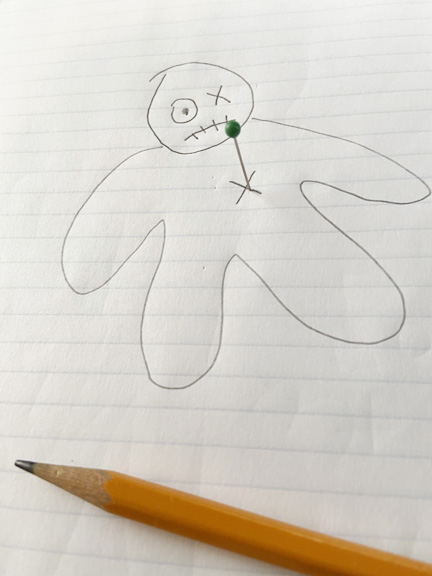 Ouch!
So what is the effect? In its simplest incarnation, you draw a voodoo doll on a pad of paper, such as a college ruled notebook. The spectator draws an X on the doll, and you stick a straight pin into the X. Elsewhere On the pad, you draw a letter or a geometric figure, whatever your premise dictates. As you do so, the pin moves in lock step with your pencil strokes. This is truly uncanny. You can move the pin to another spot and repeat this animation. You may isolate the pin under a glass, and it still moves. The spectator can remove the pin, and you can tear off the sheet and give it to him as a souvenir. You are now clean.
I suggest that you buy this right away and freak out your friends, before some rat bastard exposes the method on YouTube. What you receive is about a 10-minute download with all you need to know, plus some additional presentational ideas, such as an ESP test and a book test. I really like the ESP test, which exploits another facet of the method that I am not mentioning. What fun. I agree with Max: It's that good. Available immediately from penguinmagic.com.