HAIL, COLUMBUS -- I have used that title before, but this time Columbus itself was the dominant take away from the recent Magi-fest, the 89th in an incredible series. Given that Josh and Andi moved the event back downtown to the Renaissance, and given that Maleficent and I arrived a day early, we were able to walk to and enjoy the nearby Columbus Museum of Art. Beginning last August and running through March 15 is a fabulous exhibition, "A Mile and a Half of Lines: The Art of James Thurber." I am a huge fan of the New Yorker humorist and cartoonist, and it was thrilling to stand among some of his most famous artwork. "All right, have it your way. You heard a seal bark." By the way, a companion book of the same name exists, 254 large pages, compiled by Michael J. Rosen. My son sent me a copy last Father's Day. Thanks, Urchin!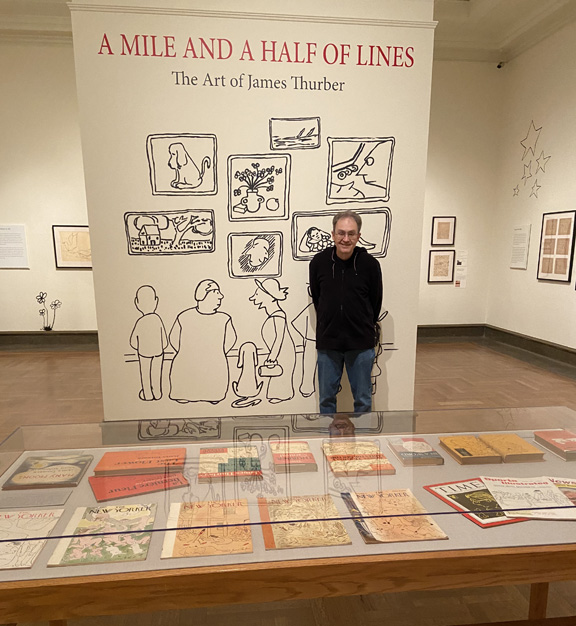 Just another cartoon character.
Book by the same name.
Elsewhere among the extensive collections was a room of Lego art, featuring a lengthy recreation of the city of Columbus in Lego bricks. Too bad I didn't have the grandkids with me.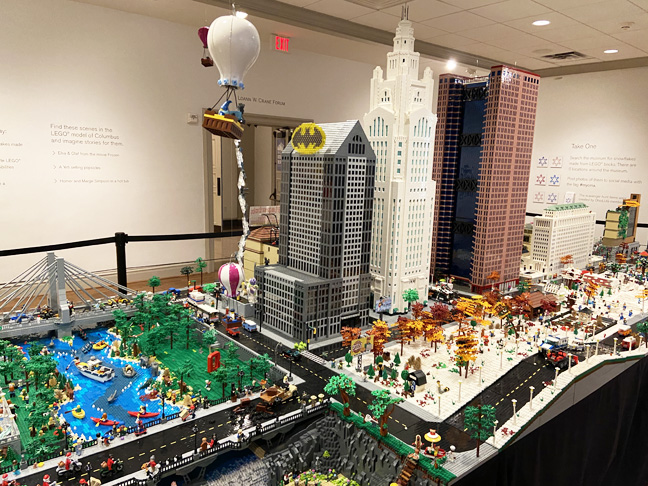 Partial view of Columbus in plastic.
Oh, yeah, there was also a magic convention in town!
Someone asked me what was the best thing about this year's Magi-fest, and the answer was easy: Chris Capehart. It's a Magi-fest morning tradition for a guest kid show performer to entertain two busloads or more of local children, and no one has done it better than Chris. He had them screaming hysterically as they tried to catch him out, the prizes for doing so ranging from $100 to a Nintendo Switch. The kids never had a chance.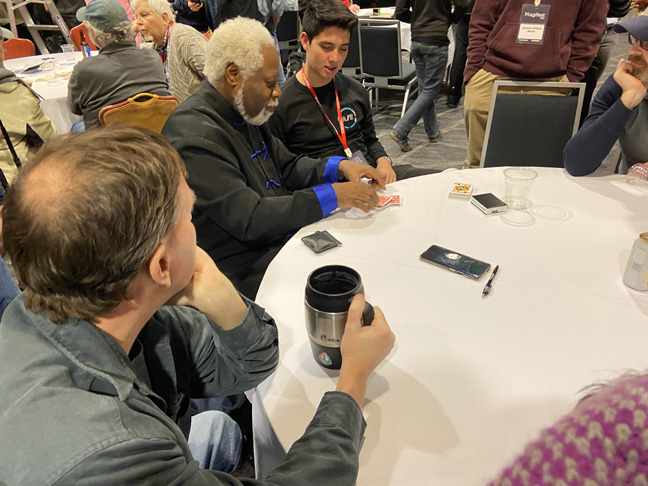 Chris Capehart at the table.
But Chris didn't stop there. Throughout the rest of the convention he worked closeup at the tables (on one occasion dealing deftly with a pain-in-the-ass teenager), and I last saw him working on late Saturday night.
A personal note. I make lists: favorite forces, favorite controls, favorite bluffs, favorite poker tricks, etc., and I turn to them every few months or sometimes years to refresh my knowledge. Alas, one my favorite forces was simply listed as Chris Capehart Force, and I couldn't remember what it was. Even though embarrassed, I asked Chris a bout it, and he kindly filled me in. Now that I remember, I see why it made the list. It's easy, and, as Chris says, "It fools magicians."
What else?
I crabbed a bit about last year's seating. This year it was much better and designed for a thousand plus. I would still prefer another set of video screens at about halfway back, but that is for personal issues.
In general, the Renaissance was a more comfortable fit with plenty of space for sessioning, either at the tables on the convention floor or among the spread of tables in the bar area. Yes, $28 for valet parking was pricey, but it was most convenient, and the valet guys were super nice.
Indoor shopping! The dealer room drew hoards. First, it was a warm room, not a cold tent. Second, scheduling left plenty of time for browsing. Third, the merchandise was tempting. I've rarely seen so many new products.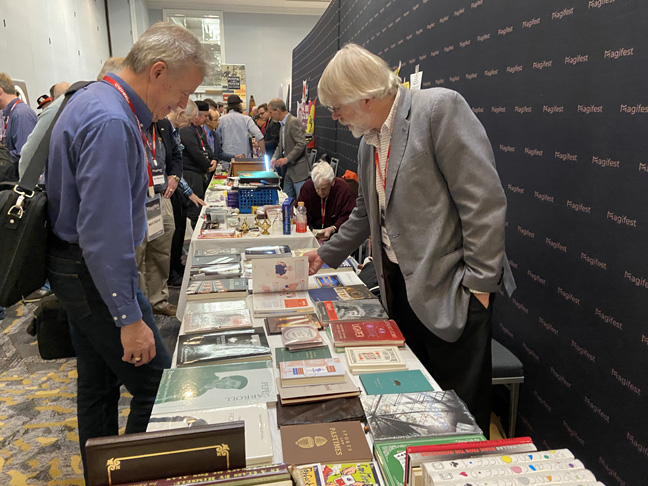 Richard Hatch attends an enviable stock of books.
Most of the new books were at Vanishing, Inc. or at H&R Magic Books. (Or whatever Richard and Charlie call themselves. They certainly show up with a booth at a lot of conventions for a "retired" duo.) There were not-yet-officially-marketed books from Ben Hart and Morgan and West. I coveted Ramon Rioboo's Second Thoughts, Tom Gagnon's Gagnon Unfiltered, Pepe Carroll's 52 Lovers Through the Looking Glass, Carlos Vaquera's Illusioneer, and Miguel Gomez's The Joy of Magic. Nick Diffate had a new paperback called Funny at the Genii booth, and Charlie Randall told me that Trost Volume 8 is well under way. (Plus we all returned home to learn that the Steve Forte books are soon available, for $300!)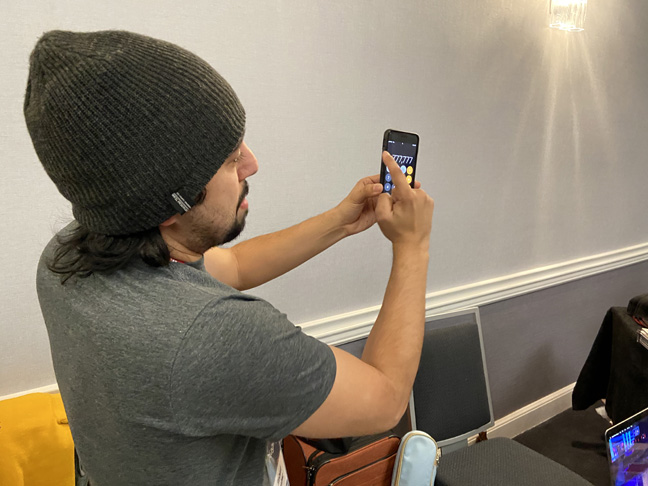 Robert can fool you with your own phone.
Among the hardware dealers, I spent the most time at Robert Ramirez's booth. Robert's Expert Phone Technique is a download of four stunning tricks you can do with iPhones. He had a gaffed ace assembly that killed, and a closeup version of Jim Steinmeyer's Card to Liquor Bottle. I am still thrilled that Robert came to Bloomington in September with his game show.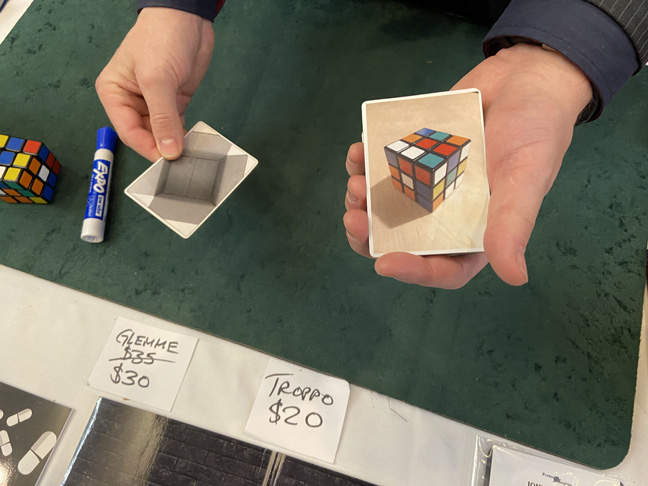 Can George flip that cube into that box?.
At the Patrick G. Redford booth, George Tait introduced a charming new system based on a deck of 52 photographs. Each photo relates to a distinct playing card value, a relationship you may or may not wish to share with your audience. You can perform sensational tricks with the deck alone, such as George's trick Haystack, or you can perform magic or mental effects with the addition of expansion packs. George was doing it all.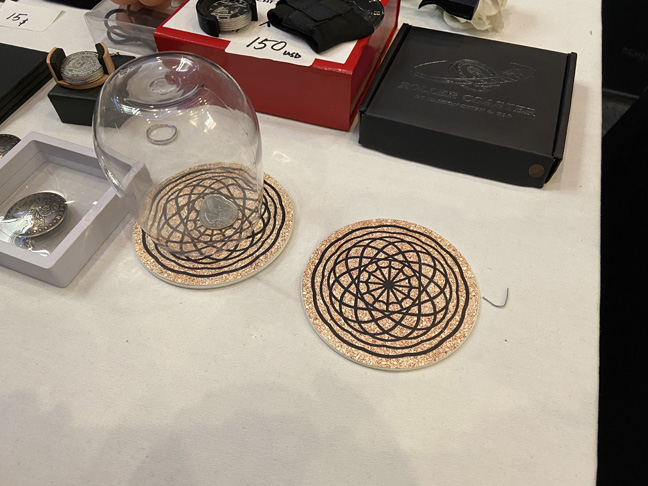 Wickedly gaffed beer coasters.
One of the Asian dealers had beer coasters that facilitated Coin Through Glass, a la Copenetro, and ring or cup on string. Clever mechanics!
Magic shows. There was, of course, plenty of magic. A few performances that made it into my note pad:
Best opening emcee line: "We ask you to please NOT turn off your cell phones. This is just live theater. We wouldn't want you to miss an important call."
Avner the Eccentric sort of looks and moves like Charlie Frye might if he got older and grew a beard. A full show of silent clown bits, magic, and juggling. My two favorite bits: Avner rolled his eyes around so that all you could see was the whites, and he devoured a lot of napkins, a la Tom Mullica.
Ryan Plunkett, from Chicago's Magic Lounge, performed eye-popping card magic, my favorites being an instantaneous Collectors routine and another where five shuffled cards (A-5) rearranged themselves whenever the ace was placed on top. A clue to how he did it is that he is half the team, along with Michael Feldman, who wrote A New Angle, Magic Inc.'s bestselling book on magic with a stripper deck.
Wolfgang Moser performed his Signature Any Drink Called For.
Dani DaOrtiz is up there with guys like Bill Malone, who fool and entertain better than anyone. I think I recognized Triple Intuition among his chaotic offerings.
Although I had recently seen this at Genii, it was fun to again see Hector Mancha perform Any Card to Mouth While Playing Harmonica.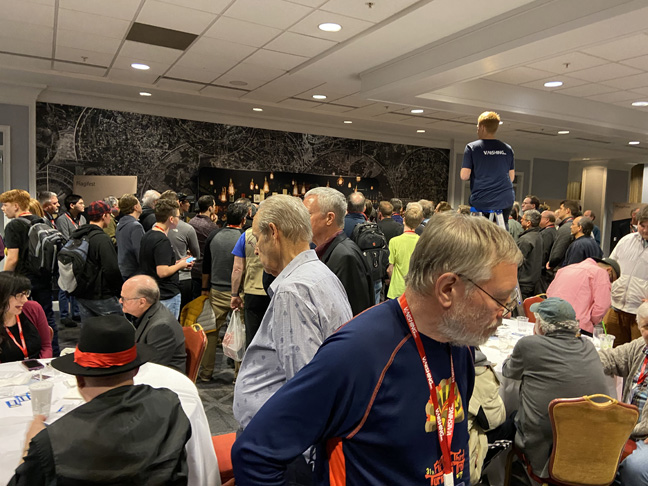 Karl Hein, up against that back wall, draws a crowd.
Karl Hein drew consistently large crowds with his late-night bar magic stint, at a bar specially erected for him on the main convention floor.
Guest of Honor David Williamson got great laughs (and shocked a few) by directing, Joanie Spina-like, a thirteen-year-old doing a card trick. New meaning to the School of Hard Knocks. Later, on the gala, David's sponge ball routine resulted in a kid hitting his dad in the face with a cream pie.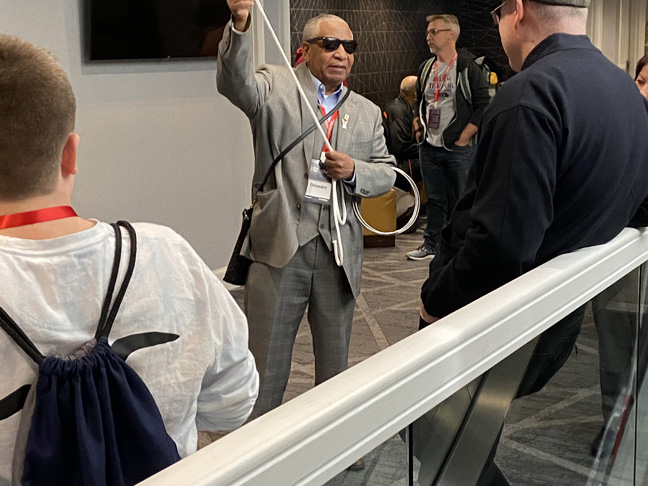 Olmedini works the room.
Olmedini's lecture and performance was, as expected from his Genii cover story, inspirational. This blind NYC subway magician produced a lot of feather flowers and a dove on loan from Eli Martin. Olmedini also worked the floor, with impromptu Linking Rings and rope magic.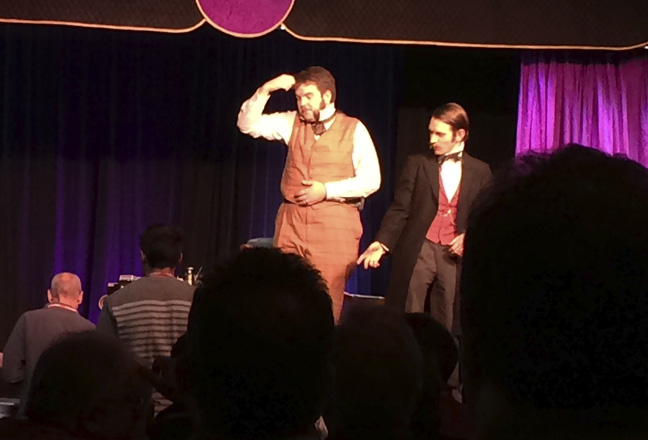 Morgan & West photographed in 2014. Or later? These guys are time travelers!.
And so it went, with other fine performances by Arden James, Morgan & West, Ben Hart, Marco Zoppi & Rolanda, plus interviews and lectures by still more.
As for any convention, the best part is seeing friends, and the venue layout, scheduling, and multitude of fine magicians made that possible. Magi-fest is one of my favorite conventions, even though I would like it better in the spring! Best of luck to Josh and Andi s they usher in the 90th.