GHOSTS OF CHRISTMAS PAST – For many of us, the Mysto Magic set at the top of the page was our entre into the magic world. I'd love to get my hands on one again. But what came next? The easiest next step was magic books in our local library, but somehow we had to stumble onto physical magic, real live "professional" tricks that you could order from catalogs (beginning a lifelong love affair with the post office). My first catalogs were from Douglas Magicland, discovered in the back pages of Popular Mechanics, and Nelson Enterprises, discovered in an article about séances in the Chicago Tribune. Seances! Heady stuff.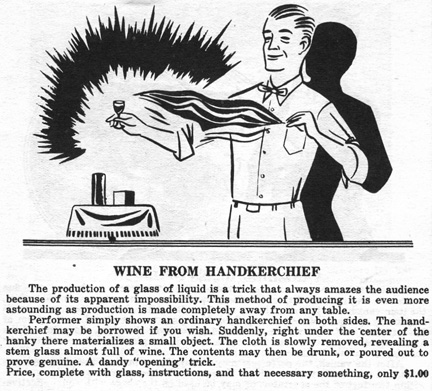 As a kid I lived in a five-dollar or less world, but you could assemble a pretty nifty program of magic with tricks in that price range. Who couldn't entertain with a Wine from Handkerchief ($1.00), a Windsor Dye Box ($1.00), a P&L Vanishing Wand ($2.50), Soft Soap ($5.00), Grant Diminishing Cards ($3.00), Out of My Hat ($5.00), Atomic Candle ($2.50), a Magic Milk Pitcher ($3.50), or, still my go-to prop for producing stuff, a Grant Temple Screen ($5.00)? From Nelson, I fried my parents with a Thunderbolt Deck (rough and smooth Svengali) and frightened friends with stuff I learned from The Ghost Book of Dark Secrets.
I drooled over the $10 and up stuff I couldn't afford, such as Karson's Zombie ($10.00), the P&L Brahman Rice Bowls ($12.50), the Vanishing Bird Cage ($15.00), and Greater Magic ($10.00). Ten dollars for a book? Explain that to Mom and Dad.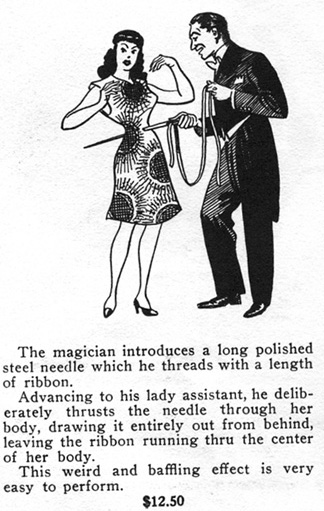 At some point I broke through my childhood limit and accumulated $12.50, sending it off to Owen Brothers for Odds Bodkins, a needle through body illusion. Alas, they were out of stock and suggested I select something else. I chose a Chop Cup and began a life of imitating Don Alan.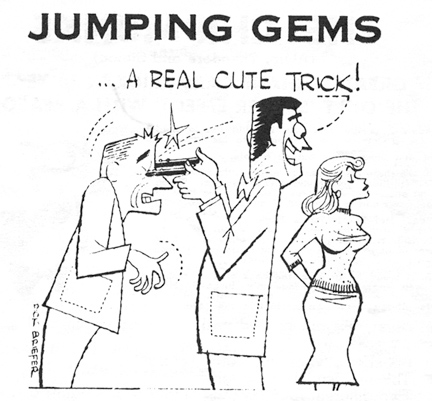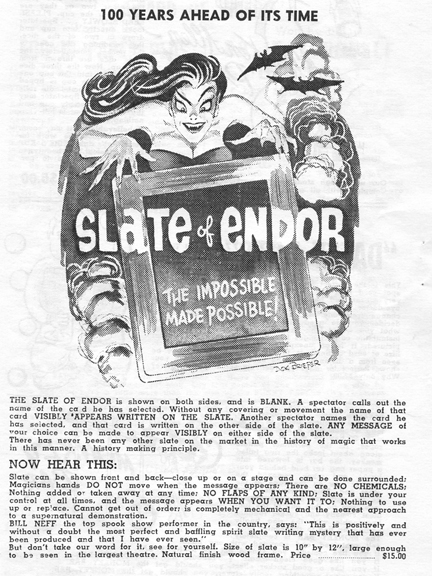 I would gravitate toward Irelands/Magic, Inc. as the general catalog to grow up through high school with—loved getting Trick Talk in the mail (others would choose Abbotts or Tannens), but also enjoyed specialty catalogs, such as Ken Allen's. Favorite purchases included Jumping Gems ($1.50), Quick As a Wink ($1.50), The Pin-up Paddle ($1.50), and Tricky Tray ($6.50). Lovely stuff in plastic, long before I heard of Tenyo. My fiscal limit still applied, hence I never acquired a Slate of Endor ($15.00). The writing appears visibly? Hmm. Perhaps I should write Santa about that.
Whatever, I hope all your holiday dreams come true, and that you can still enjoy that same feeling you experienced long ago, from that first magic set under the tree.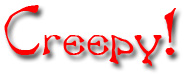 PULP FACTION 3 -- Back in August, we ran a piece on Hocus Pocus, Richard Wiseman's interactive comic series about the history and science of the paranormal. I am happy to note that Issue 3 is at hand, and the new subject is Ghosts. In its usual three-part format, Wiseman looks into the work of Henry Price, Vic Tandy, and Dr. John Henry Pepper.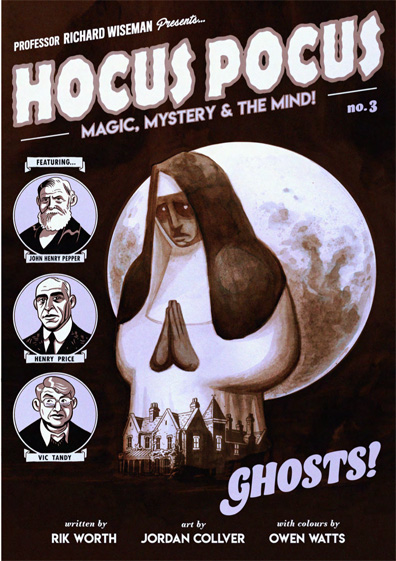 Price, a psychic investigator and member of the Magic Circle, is charged to investigate Borley Rectory, a structure troubled in the past by the hanging of a monk and the entombment alive of a nun, with his "research" finally declaring the convent as the Most Haunted House in England. A spooky visual retention stunt built into the comic allows you to see a ghost for yourself!
In the section "Strange Noises," Vic Tandy explains infrasonic sound, super low frequencies too low to hear, but which make you both feel and see creepy manifestations. In Tandy's case the energy emanated from a new electric fan, but they often arise from the mechanics of old house structures, such as the Magic Castle. If you have ever experienced the presence of a ghost, this may be why.
And the final section, "Pepper's Ghost,"makes the case that this Disney Haunted Mansion hballroom illusion should be called Dircksian Phantasmagoria, as it was invented by Henry Dircks, despite Pepper getting the credit in the press.
You can download all copies here today for a donation (your choice), and physical copies are available. If you like all things spooky, or are familiar with the amazing Mr. Wiseman, you will want this.

MMOMA AND MORE -- The AMA at the Magic Castle has been churning out extraordinary content since the pandemic closed its doors, and I have been reporting only the Behind the Bookcase events. There are others: Long–time offerings include the complete Zabrecky and Fitzgerald Who's Hoo interviews, Heritage Committee interviews, and Library visits with Bill Goodwin and guests. Pick and choose what you like. New content includes magical instruction dubbed MMOMA, for Magician Member Online Magic Arcade, curated by Max Maven and full of wonderful videos, documents, and the occasional lecture. Recent favorites that I have viewed include a full kid show performed by Danny Orleans, followed by Danny being interviewed by Eugene Burger, numerous trick performances and explanations by Dan Harlan, a great Covid-themed mental stunt by Andy Nyman, and a full lecture by Dai Vernon, shot by Bill Larsen. This is all gold.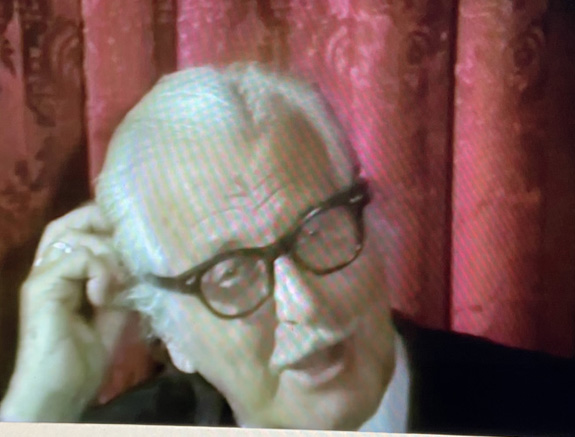 On top of this, available to everyone for $20, or free with dinner, or free to AMA members, is Dine and Delight, Saturday-night magic shows featuring three top performers. I have hesitated to report on these, being hard to please in my dotage, but occasionally some one or routine blows me away, hence I may start mentioning these classy outliers. I had previously mentioned being thrilled by Rachel Wax and by the entire Todd Robbins Halloween show. Subsequently I adored Joe Turner's work on the Matchless Matchboxes. Nice.
The AMA output has been complemented by two other sources I frequent, David Sandy's Magic Collectors Corner online and Harrison Greenbaum's Who Books That? The latest on these below …
RETURN TO THE MAGIC COLLECTORS CORNER -- November 15's Collectors Corner featured two outstanding topics, fanning cards and Orson Welles. Levent and Magic Christian weighed in on fanning cards, with a history and a collector point of view I was quite unaware of. And plenty of magicians had worked with Orson Welles, most of whom showed up to tell their tales, including David Charvet, Kathy Daniel, Chuck Jones, Don Bice, Mike Caveney, Bill Smith, Bill Schmeelk, and Dan Witkowski. Orson Welles was quite a force and a serious devotee of magic.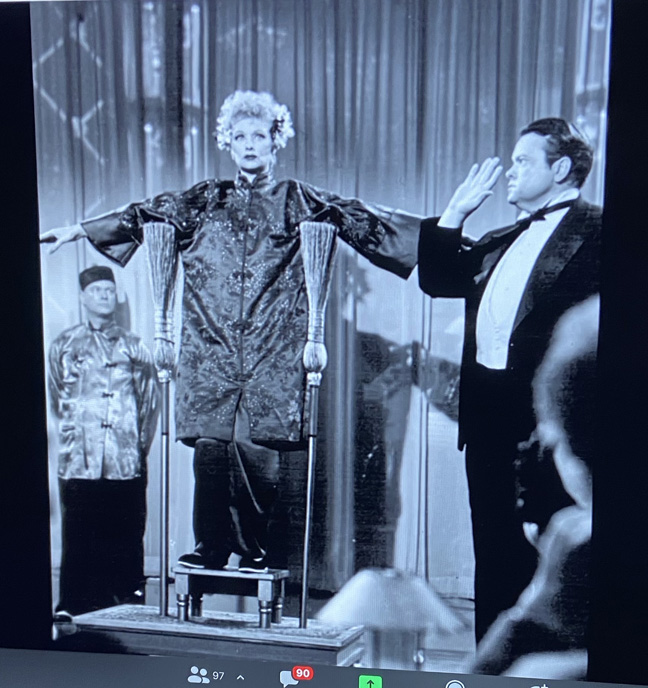 The penultimate Collectors Corner, of November 22, featured a fine talk by young Ben Winn on Philadelphia magic shops (so many!) and a long, detailed talk by David Kaye on the history of performing magic for children. We are going to miss this Sunday night get together.
And the final Sunday installment (11/29), for this year, celebrated Tannens magic shop, the launch pad of many a career or life in magic. Adam Blumenthal showed us Tannens as it is today. David Copperfield hosted a tour of his re-created Tannens shop in his museum. Meir Yedid provided a detailed history of this iconic magic shop. Still others recalled their days as demonstrators and/or customers. For years the go-to first trick demonstrated was Glorpy. A young David Kotkin was brought to tears because of the perceived poor workmanship (cloth tape and staples) of a Grant Temple Screen. Lifelong customers recalled the visits that changed their lives. Even if you were not a Tannens alum, the same story played out in brick and mortar shops throughout the world. As with all the Collectors programs these past 33 weeks, this was a heartwarming event.
RETURN TO BEHIND THE BOOKCASE – For Thursday November 12, Shoot Ogawa introduced a Fitzgerald Who's Hoo with Danny Cole. I am a big fan of Danny, and I regret the interview was recorded, I think, back in 2012, long before Danny's appearance on "Fool Us." Turn back to August 2018 for notes on that, as well as on the evidence that Danny performed Ascension before David Blaine. (Comment: Both performances of the stunt were thrilling.)
Sunday November 15 brought back Storytime with Max Maven, one of my favorite Bookcase perks. Max's anecdotes touched on Blackstone, Walter Blaney, Karl Fulves, David Hoy, Ed Marlo, and Fred Kaps. Much to smile about. (I am reminded of an accolade some magazine gave Johnny Carson after the first year of his "Tonight Show" run: He proved that talking could be talent.)
The most unique act in magic? Thursday November 19 Christopher Hart hosted an evening of Sylvester the Jester, a human cartoon explosion of sight gags and sound effects. Content included a lengthy performance by Dan in Spain—the act is more popular outside the U.S.—and a Fitzgerald Who's Hoo episode with him. Eye candy!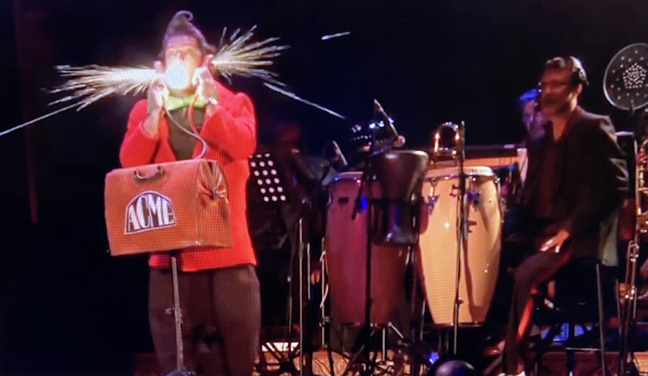 Jonathan Levit's eyes widened multiple times during his Sunday November 22 interview with Todd Robbins, who is far more than a guy who eats lightbulbs. This "New York based" entertainer hails from a diverse background: he was arguably the first Magic Castle junior, was a member of the Long Beach Mystics, spent some of his youth in a seedy California magic shop, studied theater in San Francisco, co-created and/or starred in Monday Night Magic, Carnival Knowledge, Dark Deceptions, Play Dead, and, lately, Speakeasy Magick. That last item is an atmospheric, pricey magic lounge in New York at the Mckittrick Hotel, a sort of NYC version of the Chicago Magic Lounge. Check it out here. Magic is alive and well in the cities. (Or will be when Covid goes away.)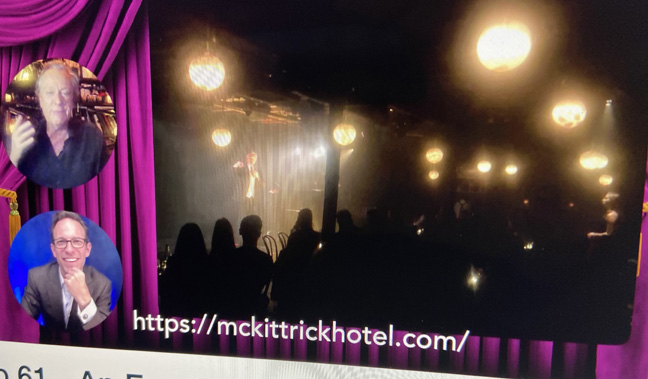 Episode 62 of this series featured Jonathan Levit interviewing Aiden Sinclair. I had previously heard of Aiden's dark past (a stint in prison) on a Scott Wells podcast, but what intrigues me most about Aiden is that he performs spooky magic on the Queen Mary and at the Stanley Hotel in Colorado. I'd love to see the show sometime.
It's been a great year for Richiardi fans, with a November installment of Collectors Corner and now a Behind the Bookcase Peter Pit interview, hosted by Mike Caveney. New to me was that Richiardi was a third –generation Peruvian magician. The Pit interview was interspersed with performance clips of Richiardi's Broom Suspension, Levitation, Dekolta Chair and Tipover Trunk, and Rice Bowls. Richiardi was simply a master. Mike Caveney had assisted Richiardi at the 1981 It's Magic and a follow-up show in New York. Not touched upon was the performance capabilities of Richiardi's son, Ricardo, shown here. So cool!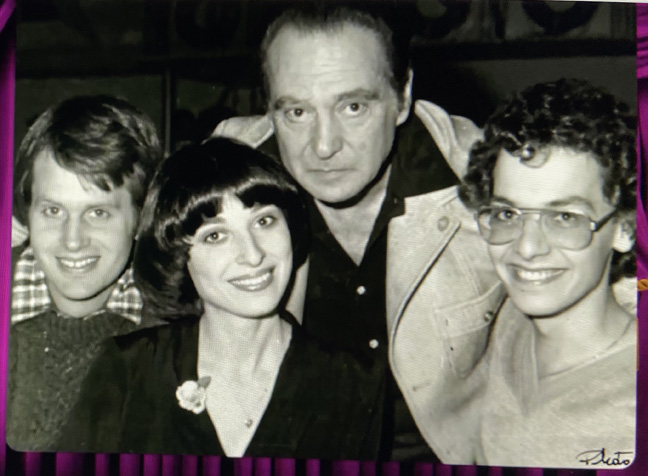 The Thursday December 10 edition was a loving tribute to Irene Larsen. Jonathan Levit and Christopher Hart displayed and discussed numerous photos of Irene before playing her Fitzgerald Who's Hoo episode. Erika was live on the chat and provided expanded detail. Irene's joy shone in every image, and her story about meeting Albert Goshman was hilarious. This was a fun evening.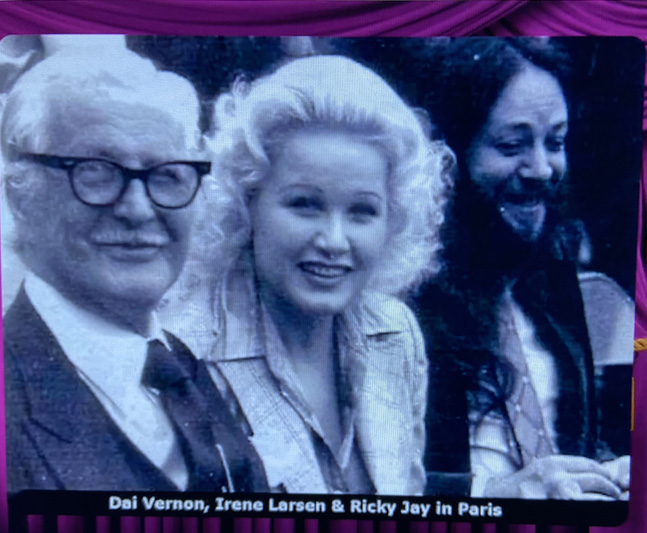 RETURN TO WHO BOOKS THAT? – Harrison's guest November 11 was Paul Kieve, magic consultant extraordinaire. Paul's contributions to live theater include The Invisible Man, Matilda, Ghost—The Musical, Lord of the Rings, and Pippin, plus help on the David Blaine touring show. As usual for UK guests, Paul stayed up late to field Harrison's questions.
December 2 was a Harvard-fest as Harrison interviewed fellow alum David Kwong, new to me but huge in both magic and crossword puzzles. (Additional guests included Harvard classmate Charles Davis, Dreamworks' Damon Ross, and magic's Francis Menotti.) AKA The Enigmatist, David is a magical performer, a magical consultant (Now You See Me and Deception), a crossword creator, and even a singer. Some folks enjoy brilliant careers.

CLASS ACTS – 2020 is likely to register as one of the great forgettable years, for so many reasons, not the least of which is saying goodbye to so many friends and idols. This month I bid adieu to three giants: Walter Zaney Blaney, Matt Field, and Bev Bergeron. Walter's act always struck me as a perfect theme act. What else says "comedy Texas act" better than walking out in cowboy boots, a cowboy hat, and twirling a gag lasso? I had the pleasure of sort of fooling Walter once. I was performing The Lake Witch Project in a Roger Klause invitational in Las Vegas. At the climax, Walter turned to his seating companion, who later reported the question to me: "Do you think that snake is real?"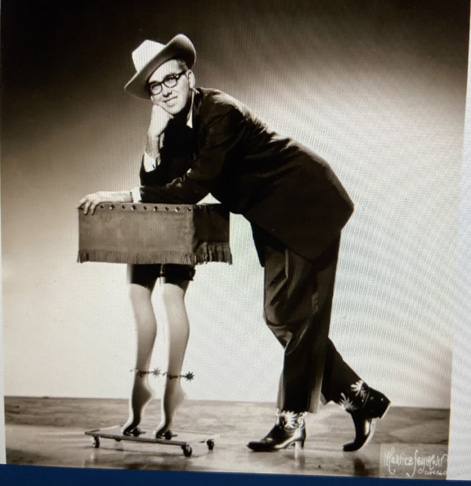 Matt Field and I were pen pals, if that is the proper word in the email age. We were of nearly the same age and essentially the same outlook toward magic. We finally met in person in February 2012, when he gave me a personal tour of the Magic Circle. This was the time when Matt was turning editorship of The Magic Circular to Will Houstoun. The evening was a lifetime magic highlight.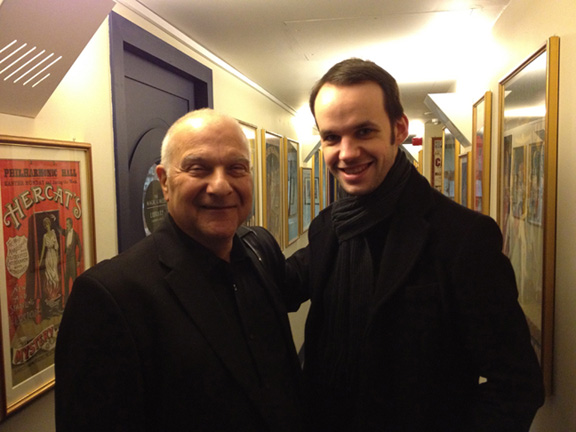 And who didn't love Bev Bergeron? As Rebo on "The Magic Land of Allakazam," he was part of my introduction to magic. Later I would highly regard his book Willard the Wizard, one of the few in my collection that taught illusion secrets. Someone kindly posted a link to a Bergeron performance on the Genii forum, which I take the liberty of adding here. He was amazingly entertaining.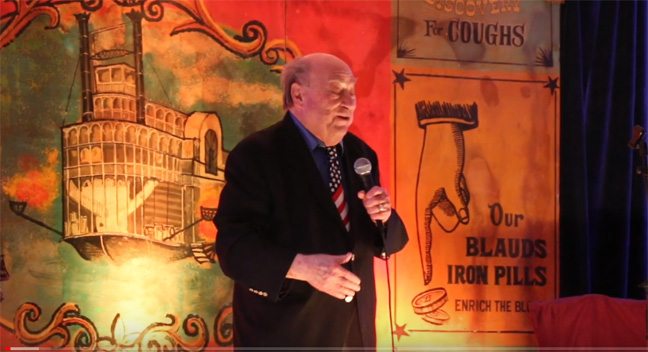 Aloha, Walter, Matt, and Bev. You shall all be greatly missed.