NOEL BRITTEN'S BATH -- OK, the city of Bath, in England, is about as cute as a destination resort city gets. The natural phenomenon of 116-degree F waters appealed to the Romans as a source for nude public bathing, around 60 AD. Those toga parties! The stunning Bath Abbey was founded in the 8th century and rebuilt in the 16th and 17th. Georgian architecture in the 17th gave Bath much of its look today, and Jane Austen and her family began visiting and living there as early as 1797. Bath scenes constitute settings in her Northanger Abbey and Persuasion.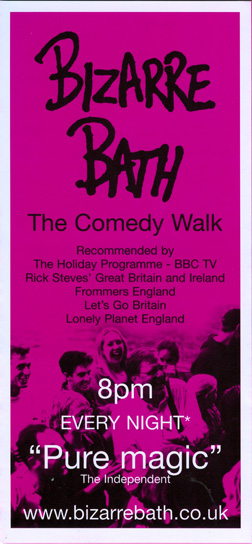 Ubiquitous brochure..
For well over a quarter century, Bath has also been home to Noel Britten's walking comedy magic tour, Bizarre Bath, nightly at 8:00 PM during the season. Noel is of course an international magic star, a popular visitor to American magic conventions, and cover boy for the March 2009 issue of MAGIC (eight pages by David Britland). He is dead funny with or without props, and I was previously familiar with some of his more famous bits, such as his challenge underwater chain escape (he "escapes" while dunking his head in a bucket of water). This hardly prepared me for the intelligence with which the entire mobile experience in Bath is constructed.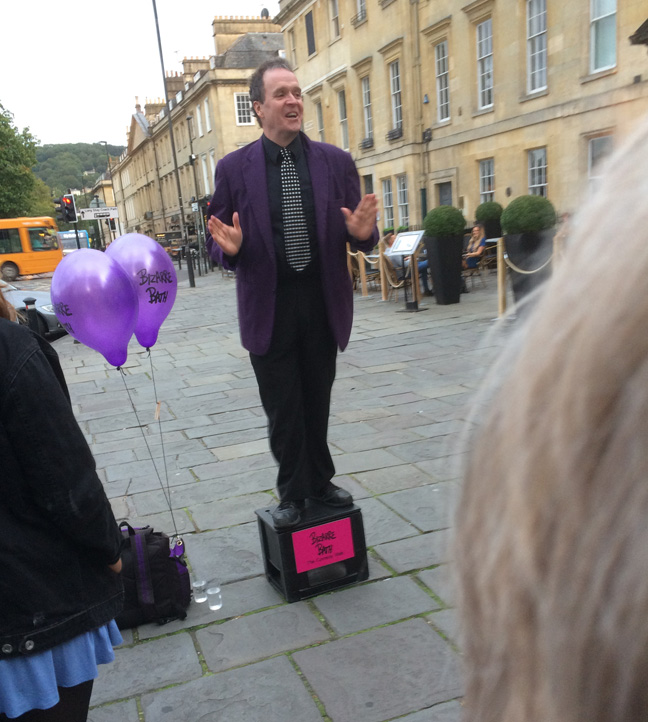 The tour begins here.
Maleficent and I joined the tour on a recent Thursday evening. The walk begins in daylight, but the light quickly fades as the one and a half hour tour ensues, and the walk takes on the aspect of an adventure. Noel is a business grad from Bath University, and business doesn't get more immediate than collecting ten pounds from each patron, passing out wrist bands, and hilariously dissuading strangers from attaching themselves to the roving audience.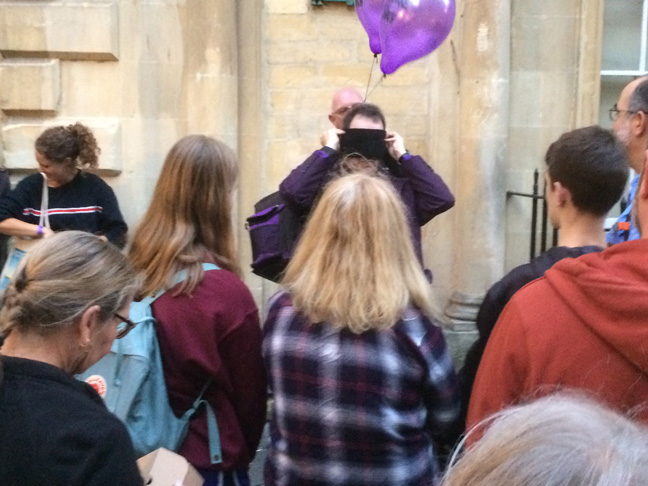 I can do this tour with my eyes closed.
The tour exploits the local history, the varying landscape, the breathtaking traffic hazards, the shifting lighting, and the diversity of the multi-national crowd. In his purple jacket, standing on a box decorated with two purple balloons (what are they for?), Noel asks where everyone is from. He has a gag for every country, and this starts the genius-level foreshadowings and callbacks and personalizations that mark the event. As the David Britland article pointed out, Noel also has many bits that make each tour seem unique -- did someone really just ride by on a bicycle, blindfolded?
I also noticed that Noel makes all the magic about the audience. For example, in a Bank Night lock and key effect he divides the audience into three groups according to their star signs, and the groups compete. There is a constant sense of participation, of involvement. What fun! And is it ever getting dark!
On this night it isn't Noel that attempts an underwater chain escape, but his toy rabbit. The creature is chained, locked inside a mail pouch, and tossed into the black waters of a nearby river. Does it escape? Ah, you have to be there.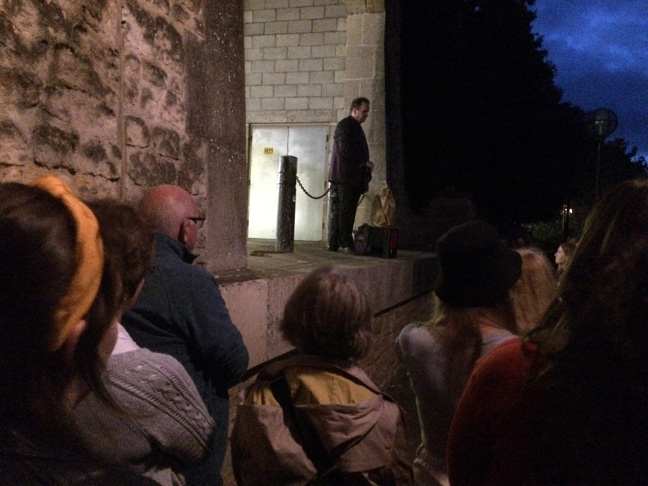 About to toss a bunny into the drink.
*Surprise question: What do / did Noel Britten, Paul Daniels, Aldo Colombini, Tommy Cooper, and President Gerald R. Ford have in common? Answer below.
The longevity and popularity of the Bizarre Bath Walk make Noel a popular fixture in Bath. His bicycle ads are prominently placed, abd his brochures are in virtually every shop we entered. You will feel cheated on your trip to Bath if you fail to attend. (My only previous visit to England was in February, off season, when Noel and his wife were in Borneo, returning orphaned orangutans to the wild.) Noel has longterm plans for additional entertainment experiences in Bath, and his short-term plans include an upcoming cruise ahd his first gig at the Magic Castle. Oh, yes, and he is a candidate for president of the Magic Circle, a situation that may be decided before this goes live. Good luck, my friend!
Want to know more about Noel and the walk? Check out "Bizarre Bath/The Comedy Walk" by David Britland, MAGIC August 1999, "Noel Britten" by David Britland, MAGIC March 2009, and "Noel Britten Magician and Humanitarian," Scott Wells' The Magic Word Podcast #189.