FROM PARIS, WITH LOVE -- When I heard that Kevin James was producing a two-volume set of books by Gaetan Bloom, I knew I would want a set. When I heard that Todd Karr was to be the publisher, I knew I had to have a set. Todd Karr puts out only the best books in the business, and this set is among the best he has put out. You knew in advance what they would look like: elegant black edged dust covers to match previous Miracle Factory volumes, smart and classy fonts and layout, and heavy in every sense, from the high quality physical production to the dense riches of content. None of Todd's books is a light read. These particular books, Full Bloom Volumes One and Two, are charmingly illustrated by James Hodges (James's lively cartoon drawings often depict beautiful ladies, as owners of his The Great Stage Illusions of James Hodges and Sexy Magic know) and with a wealth of photographs. I hadn't realized how photogenic Gaetan is, but these first-rate images convinced me. It was fun to see Gaetan posed with famous friends in magic and in show business at large over the years.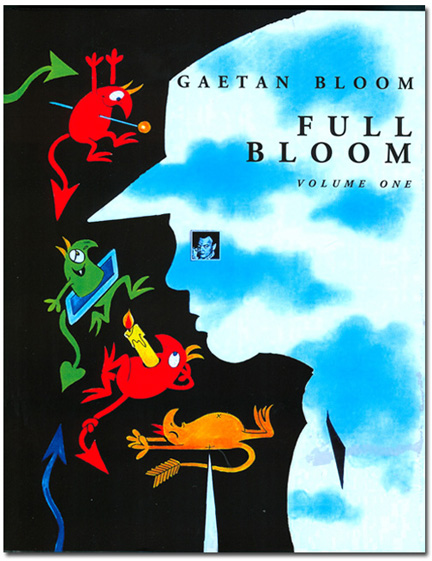 The complete Gaetan Bloom (so far).
Anyone new to the world of Gaetan Bloom can get to know him through his 43-page biographical interview with Todd Karr. I was not surprised to learn that Gaetan had worked 15 years at the Crazy Horse, but was surprised that he performed in Spanish because the owner didn't want to hire locals. I was unaware that Gaetan had done early and considerable acting and consulting for television and the movies, as far back as 1970 with Louis Malle. I was unaware that he did 26 television episodes in Spain with Juan Tamariz. We are so insulated! I would love to see these appearances and will be on the lookout for some of the movies. The overall interview makes fascinating reading.
I came to appreciate Gaetan's ingenuity early on when I purchased his Visible Monte from Jeff Busby and later what he calls herein the Paris Lecture notes. (From the latter I learned his magnificent Standing Card, which I performed at Illusions in Indianapolis.) I caught back up with Gaetan through his first appearance at EMC 2010, when he impressed everyone with a hodgepodge of crazy, workable ideas. Gaetan's brain is a trick factory, and you have to laugh at his off-the-wall thinking behind very practical tricks.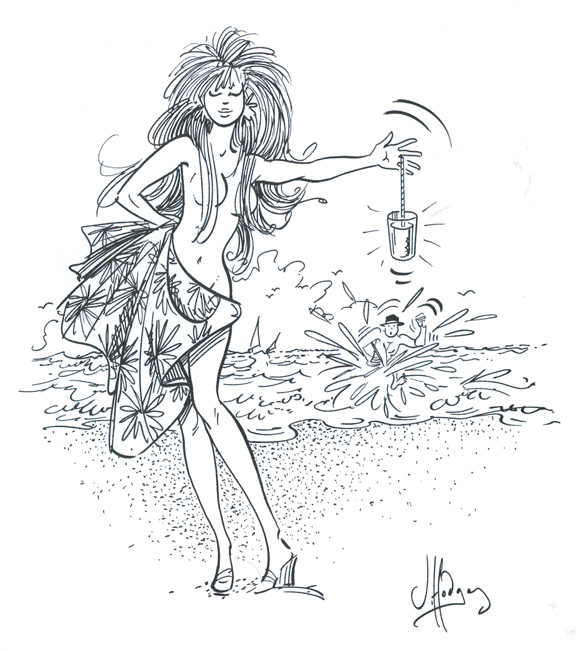 James Hodges knows how to illustrate a glass suspension.
The books are far too dense to try to summarize their contents, hence let's make only a couple of quick swags. Thread (invisible thread, normal sewing thread, thin wire) secretly lurks behind many of the items. With the thread work of most magicians (a bill floats, a white handkerchief dances), you kinda think, maybe there is some invisible thread at play. With Gaetan's magic, you have no clue that threads are involved. Secretly it makes possible balancing an egg on another, making a playing card stand on edge, divining which card was moved from a row, animating sponge balls, forcing a page in a book, creating a Chop cup with no magnets, preventing a number on a die from turning up, causing an alarm clock to ring when the selected card is turned up, lapping for the standing performer, predicting in chalk on a slate any four-digit number, and plucking cards from the air and dropping them into a top hat. I so wish I had the time to experiment with all these ideas.
There is close-up, stand-up, comedy, mentalism, bizarre, illusions, you name it. Other items I'd love to try: My Egg Bag (I've come to loathe all the famous egg bag routines, but might like to try this one with a wine glass*), On the Rocks (recently seen in MAGIC, ice floating in a drink is magically separated from its liquid), The Pirate (you perform the card sword trick a la Captain Hook), The Gift Box (a spec easily lifts a large cardboard box; you immediately produce a human from it), A Standing Ovation (a Disney Haunted Mansion feature earns you a standing O), The Demonic Cigarette (two fine ideas with a scary hand puppet), and A Pure Racket (51 playing cards penetrate a tennis racket, leaving only the selected card).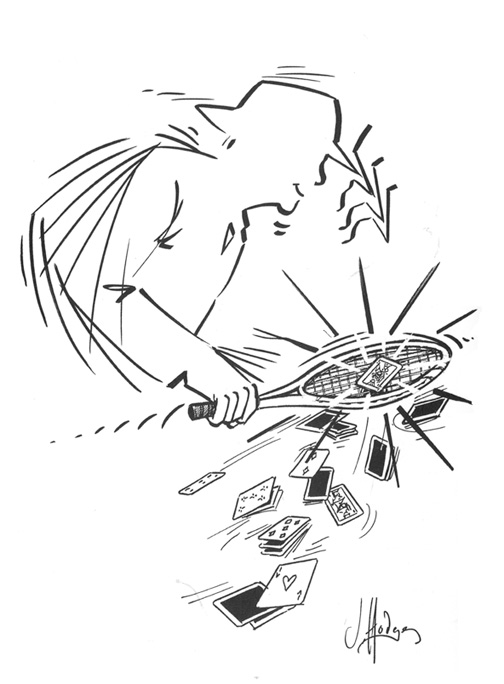 A sporty card trick.
Rounding out the surfeit of magic are intros from Todd, Kevin, and Gaetan; a few essays by Gaetan; chapters on Gaetan's marketed items (the Intercessor, the Escorial Monte, the Escalator); and a two-chapter appreciation of Winston Freer.
Two hardback volumes, 736 pages in all, satin-finish acid-free paper, Smyth-sewn and hardbound with beautiful full-color dust jackets, $150 plus postage. I bought mine directly from Kevin James at kjmagic.com. Lovely!
*If you are going to try this egg bag routine, and given that it involves a wine glass, it might be cool to end it with a bottle production a la Tom Mullica.