TURNING EIGHTY-THREE -- Perhaps it was the draw of the wonderful Juan Tamariz heading a stellar lineup, perhaps it was simply that the boys at Vanishing, Inc. have established themselves as one of the most trusted brands in magic. Whatever, Magi-fest 2014 quickly sold out its 900 slots to an esteemed roster the likes of which only show up at such venues as the L.A. History Conference, MAGIC Live, or the Genii bash. What fun to see in one place such personal favorites as Stephen Minch, Curtis Kam, Chad Long, Ricky Smith, Tony Chang, Caleb Wiles, Richard Hatch, Charlie Randall, John Bannon, Simon and Ginny Aronson, David Solomon, Gordon Meyer, David Linsell, John Lovick, Mike Close, Barrie Richardson, Kent Gunn, Bill Herz, and many others, and this is just the audience. (And I'm not even counting such Magi-fest regulars as Tom Craven, Tom Gagnon, Andrew Martin, Gene Anderson, many Chicago and Indiana friends, and the excellent dealers.)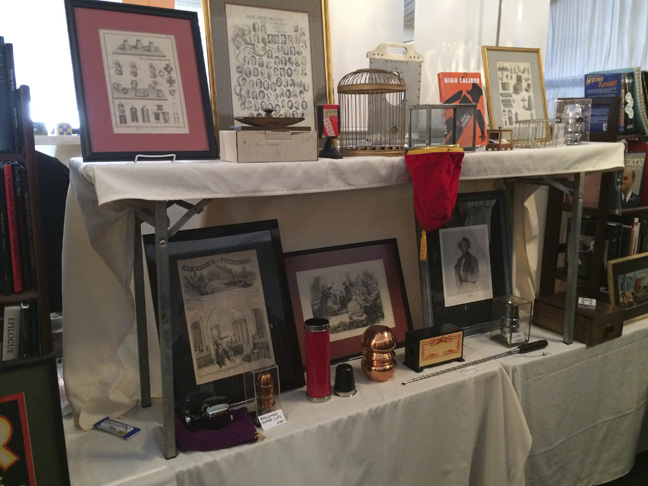 Gabe Fajuri's booth had the coolest stuff.
Rather than attempt a moment by moment account of the three days and long nights, I'll just highlight a very few.
Tony Miller gave me a personal tour of his new Speed Loader Plus wallet. This is something new in wallet designs and is indeed fast. Plus ... Tony and Rosie brighten any convention.
Eric Mead lectured on his friend Tim Conover, showcasing several of Tim's featured effects. Later in his own lecture, Tamariz referred back to something he learned from Eric's lecture. Ah, symbiosis. One funny moment: Eric mentioned something that Conover had not liked in Minch's Tommy Wonder books. A voice spoke up from the back of the room to address the issue: that of Stephen Minch.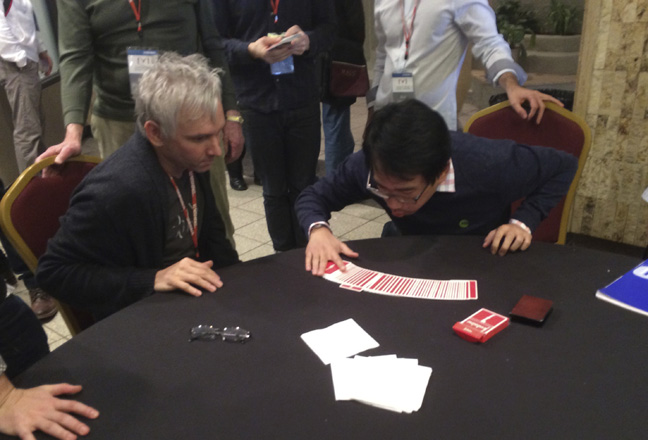 Tony demonstrates sleight of mouth.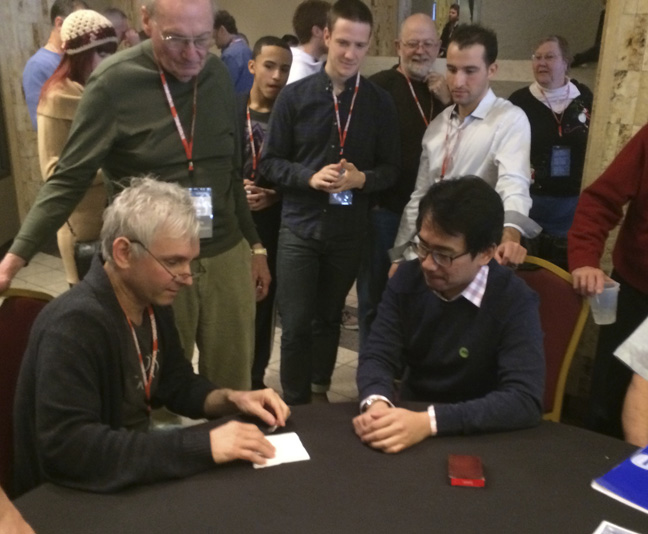 Chad and Tony collaborate on a coin trick.
Michael Weber's lecture was brilliant, and I especially liked his vanishing rubber band, ring on wand with no duplicate ring, and a stacked deck routine with an original (and dead easy) stack and an amazing use for it. Wish I had attended the extra pay event!
David Carsaro thrilled me with a way easy method to personalize a Fred deck. Of everything I saw in Columbus, I am most likely to use this.
Danny Orleans filled the front of the hall with kids and entertained them with his kid show. The loud audience interaction made us all want to do kid shows just like Danny. A funny exchange -- Danny: How old are you? Little Girl: Five and one-half. Danny: Do you know what happens to little girls after they turn five and one-half? Little Girl: Yes. Danny: What? Little Girl: Six!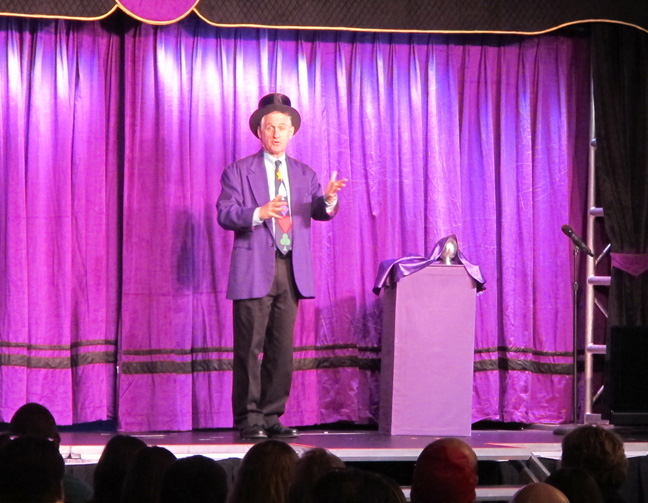 Danny rocks the kids.
Full evening stage shows were featured this year and none finer than Rob Zabrecky's. Rob is a very spooky dude, and I have been a fan since way back when he posted his first magic web site. Rob also presented his famous Alphabet lecture, all 26 letters! The guy is spooky and organized.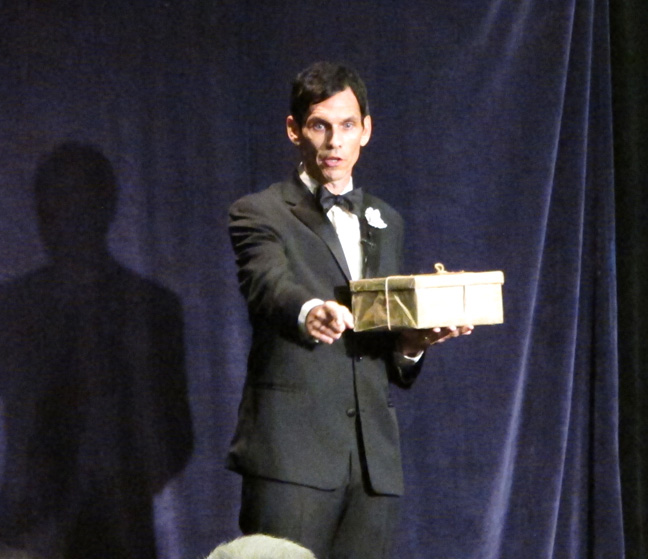 Rob Zabrecky, filmed at the Genii bash.
Morgan & West from the United Kingdom bill themselves as magicians and time travelers, and they appear to be, dressed and performing as steampunk-era explorers. Although they are very funny, they are also amazing. I particularly enjoyed a white line card transposition that is what Penn and Teller seem to be shooting for (pun accidental) with their Bullet Catching trick, but I like Morgan and West's better. Their rapid-fire chatter, almost stepping on each other's lines, was a masterpiece of timing and writing.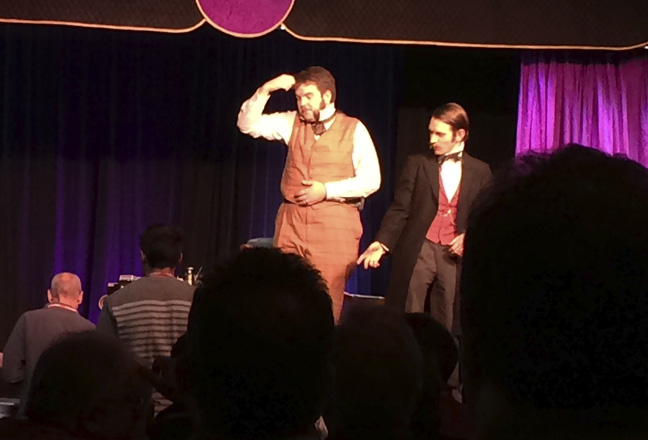 Morgan and West await the audience to be seated.
I sat at one of the lobby tables one afternoon and found myself watching Chris Hannibal who just calls himself Hannibal and who has a sort of Jack Black thing going. From the very first phase of what I later learned was his Pringles act, I knew I was watching something special. Very funny stuff and fooled me repeatedly. (You can learn to do the act yourself from Hannibal's DVD set, Hannibal/The Truth from a Liar.)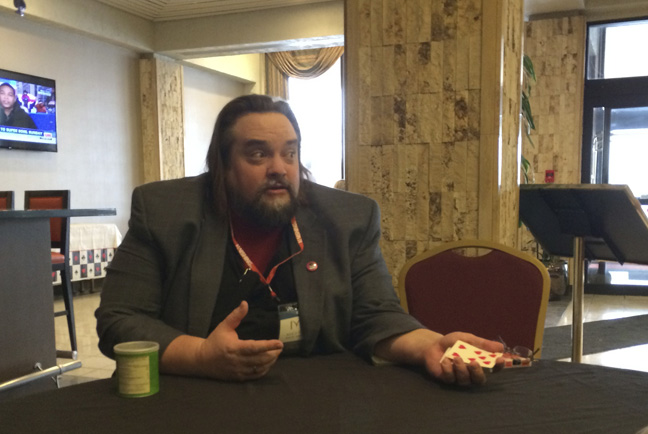 Hannibal conquers.
I always thought that if Matthew McConaughey were to take up magic, he might come across as sort of like Chris Korn. Chris both lectured and performed in close-up, my favorite item being his Voodoo which has roots in Paul Harris and Steranko.
Chris Pilsworth was a new name to me, and I enjoyed both his lecture and his close-up (?) set which ended with a large cactus penetrating a balloon, all with each inside a cardboard box.
Rune Klan became a favorite soon after he teamed up with Vanishing, Inc. (his book is a must!), and it was great to see both some of his classics (like his Vanishing Pizza) and new stuff such as his comedic takeoff on the Hoy Tossed Out Deck, but mainly I just enjoyed watching his rant about thimble magic. Rune should leave Denmark for a spell and just become insanely rich over here doing standup comedy.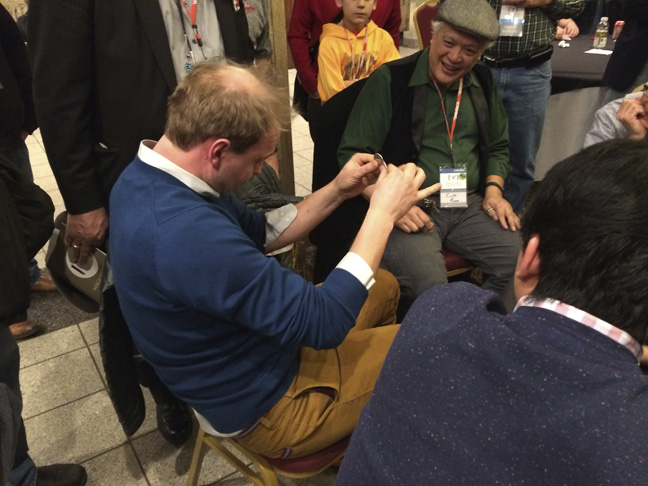 Rune entertains Curtis.
Curtis Kam not only came all the way from Hawaii, but he came and conquered, happily performing, teaching, and collaborating throughout the weekend. The coin material was expectedly top notch, as was his card material, but he surprised us with the invention of a Haunted Eye Bolt, a bolt that spookily turns inside a wing nut. Shall I intrigue you by tipping that it works via secret electronics?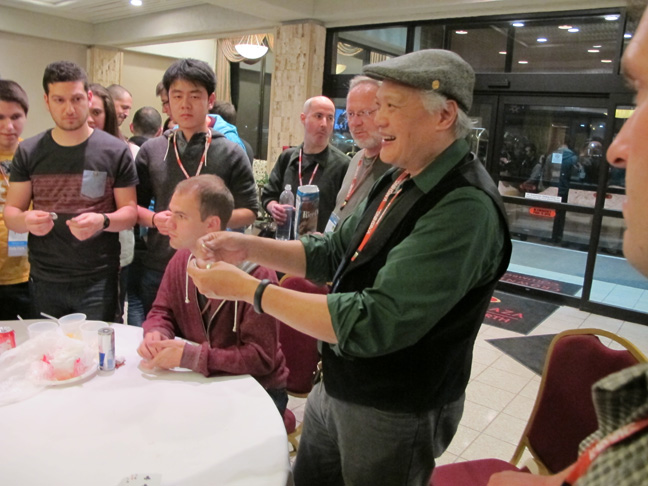 Curtis entertains the crowd.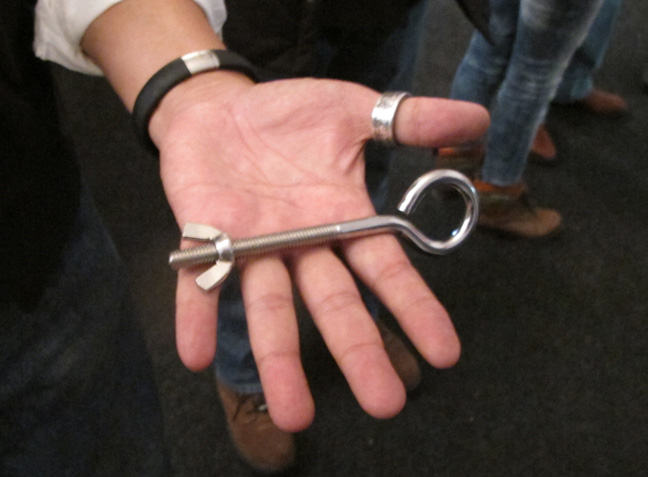 The Haunted Eye Bolt.
David Williamson arrived a day late but made up for it by performing for anyone deserving (occasionally a single child), by a hilarious lecture bit on how to approach a table, and by a manic Gala Show performance of Rocky with four kids from the audience.
And then, Tamariz! I was fortunate at midnight on Thursday to be on hand when the master, following a Kent Gunn performance of Sam the Bellhop, sat and, within seconds, had everyone gathered and screaming, with even famous magi in the crowd holding their iPhones aloft trying to get photos. Just an extraordinary performance. (I missed him the next night, when he showed up at closer to 2:00 A.M., and I don't know if he did anything impromptu on the final night, though I was in his company at nearly 1:00 A.M. that night when he was wrapping up his lecture.) His Gala Show performance, the third time I have been privileged to watch that show, is an incredible study in how you can entertain 900 people with a deck of cards. Tamariz performed even stronger material in his following lecture, especially an impossible three cards across. I don't know if I will be doing card tricks for even nine people at age 71, but I hope I feel as joyful about life at that time as Tamariz seems to be. (It's not that far off!)
All this and it was still Magi-fest. It was great to be back at a familiar hotel (this is the one at which the dealers set up in a tent!). The food in the restaurant was swell and reasonable, the staff was friendly as always, and both the restaurant and the corridors had hot food available until midnight. After that snacks were available for the remainder of the evening. (Okay, not all was perfect: the elevators were wonky the first night, but I was on the third floor, an easy hike.) Some of my favorite moments in magic have been at the sessioning in this hotel's lobby (proximity to a bar is key!), and this year's Magi-fest has added magnificently to that body of experience. All of the little things (registration, etc.) ran smoothly, and Josh and Andi even had time to man their Vanishing, Inc. booth and demo tricks.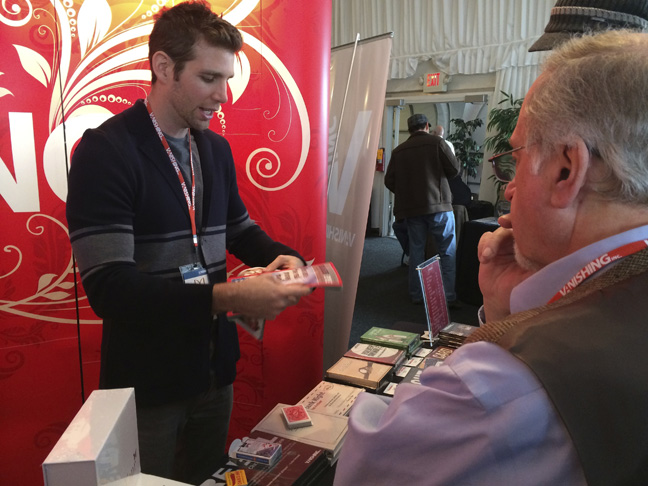 Just glance through this magazine.
As a nice thank-you, someone painted a gorgeous portrait of Tamariz that was presented to him Saturday night, and attendees received a print of the same. All in all it was a great weekend. It's the first Magi-fest in a while at which I didn't see any of the Reed girls, but, other than that, I have no complaints. It felt like home.