SIMON CORONEL IN HOOSIER COUNTRY -- Context: A gem in the Bloomington, Indiana, theater scene is the Bloomington Playwrights Project, its 85-seat theater a showcase for original and contemporary plays only. Under director Chad Rabinovitz, who also directs the Adirondack Theatre and Film Festivals in Glens Falls, New York, Chad has quintupled BPP's subscribership, erased all debt, purchased its own building, and sold out every performance for four years. Most significantly, he is magic-friendly and known for working with magicians on developing and directing their acts, including the likes of Marc Summers, Max Major, and Caleb Wiles. The most recent beneficiary of Chad's advice is Simon Coronel, whose one-man play Glitches in Reality just opened BPP's 2018-2019 season.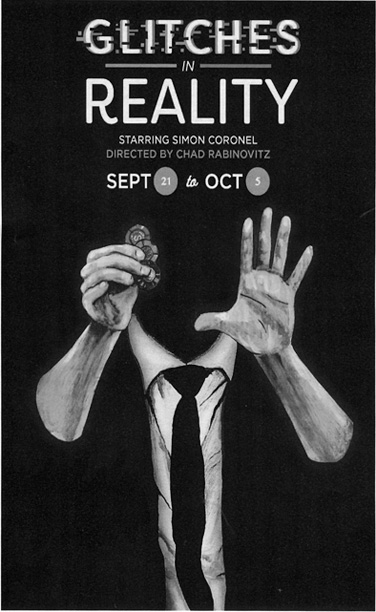 Simon Coronel on stage.
"This show gets a ten," exclaimed the glowing two-column review in Bloomington's Herald-Times. Not only did the show sell out its scheduled seven-night run over two weekends, but added two nights and a corporate engagement. Simon Coronel brings much to the mix in Glitches, a fast-paced 90-minute mix of biography, a fascination with Impossible Objects, and internationally award-winning sleight of hand. An Australian living in Los Angeles ("Across the street from the Magic Castle," he happily told me), Simon had primarily been known to me through his inspirational three-year run as a columnist for MAGIC magazine and through his poker chip Three-Fly appearances on "Penn&Teller: Fool Us." It was a pleasure to learn much more about him over the course of his revealing script.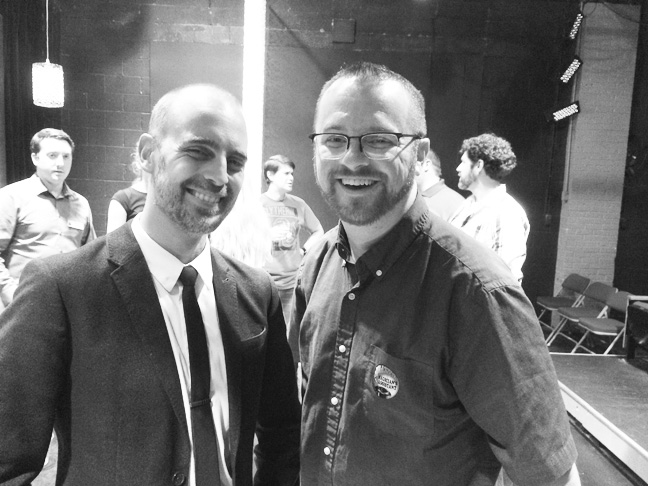 Fellow "Fool Us" alumni.
I attended the show twice, once with my ten-year-old granddaughter and once with Simon's fellow "Fool Us" alum Caleb Wiles, and the show was a hit from both perspectives. Magic wise, I tallied over 20 routines, many beginning with the borrowing of disparate objects from the audience: a bag containing four coins, three poker chips, a can of Pringles, a glass jar, etc. It was a funny and subtle way to demonstrate that the objects had been examined. To list only a few routines: an interactive finger exercise a la Doug Henning, four-ace productions, Sympathetic Coins, Three-Fly, tying a knot in a jelly snake and unscrambling a Rubik's cube with his mouth, a Wikipedia-based book test (my granddaughter's favorite), various color changes, a Slydini-esque rope cut routine, an Ashes on Palm variant, rubber band handcuffs, a coincidence effect in which every audience member had his own deck of cards, and the productions of bottles of Coke. What sound like totally unrelated effects actually fit seamlessly into the themes at play in the script.
Simon's path in magic began with a childhood interest in a ship in a bottle and led to an interest in Harry Eng-like Impossible Objects. He closed the show with a jar containing, impossibly, a coin, a padlock, and a pair of scissors, all of which had been used in prior routines. This jar, as well as other Impossible Objects, became part of a museum on display in the lobby, where the audience got to inspect them at close range and to chat with the show's most personable performer.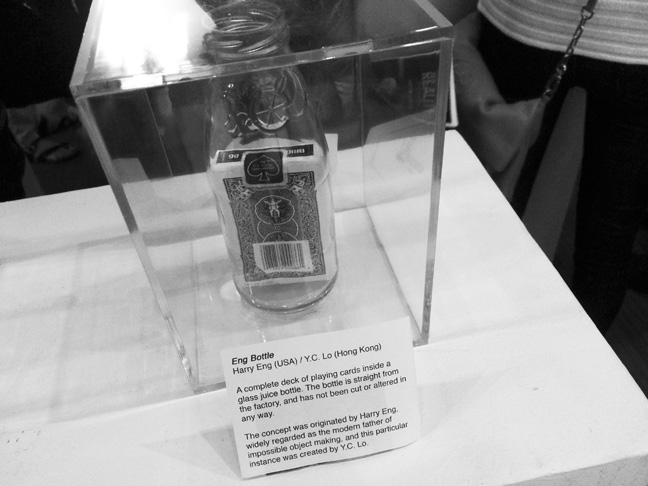 Simon's museum of Impossible Objects.
To return to the newspaper review: "Coronel's self-deprecating humor weaved in and out through his myriad tricks and illusions, leaving a rapt audience (another BPP full house) speechless. Well, actually, we were gawking, ah-ing, ooh-ing, and yelling, 'What!?'"
What indeed.
(Details of local interest: Director -- Chad Rabinovitz, Lighting Design -- Jeffrey Small, Scenic Design -- Shane Cinal, Props Master -- Barbara Steininger, Costume Designer --- Shannon O'Donnel, Stage Manager -- Kayla Cieslinski) .