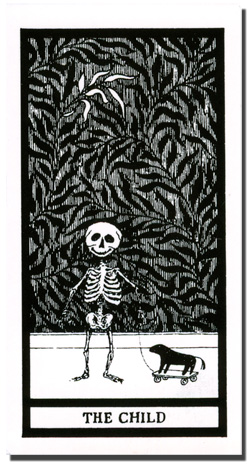 Gorey does tarot.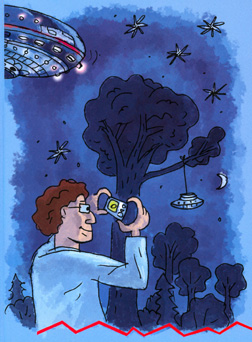 The truth is out there.
MAGIC SLAIGHT TRICKS -- Hard on the heels of July's Michael Albright-designed Revelation comes another Albright confection, Spins and Needles, The Magic of Allan Slaight. I first became a fan of Allan Slaight's card tricks through Pallbearers Review. When Karl Fulves ceased publishing Pallbearers, he revealed that many of his contributors, such as Alan Brown, were actually pseudonyms for himself. For a time, I thought Allan Slaight was one of those fictional contributors, a figment of the Karl Fulves imagination. I couldn't have been more wrong. Mr. Slaight is a real character who has made his mark in many areas, of which I revere three: 1. He is the inventor of many solid, clever, performable card tricks. 2. He compiled and wrote the mammoth Stewart James books. 3. He made a whole lot of money out of two of my favorite interests, rock and roll (he amassed a string of radio stations and other media enterprises) and basketball (he launched the Toronto Raptors). Spins and Needles, assembled by David Ben, was a surprise gift to Allan Slaight and available to the other attendees at this year's 31 Faces North conference (only 500 copies are available in all). The book features intros by Patrick Smith, Max Maven, and David Ben (David contributes a lengthy bio), "Spins" that include 62 Allan Slaight magic tricks, and "Needles" that include Michael Close's hilarious satire "Unmasking Stewart James" ( I laughed out loud at the words "Gordon Bean") and Slaight's address to the graduating class of Ryerson University. Of the tricks, with such elegant titles as "Mutant Nomen" and "Sweet Lorayne," my favorite is "Heavy Breather," in which the spec cleanly buries the four aces, the magi deals ten hands of poker and receives the aces, then deals a requested number of hands and receives a royal flush. It's ingenious, it's funny, and it's practically self working. But to Michael Albright, who designed this book as a ten by ten-inch record album, each magic trick intro looking like an individual record. His incredible layout lifts this book of excellent and rare magic to a very special level that is going to make your friends who don't own a copy very jealous. Extremely reasonably priced at $75, available in the U.S. through H&R Magic Books.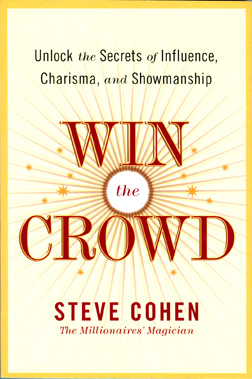 How to succeed in magic.
THE TAO OF STEVE -- A terrific magician who has been around for a while became something of an overnight sensation last month when Genii put Steve Cohen on its September cover. Known as the Millionaires' Magician, Steve performs elegant chamber magic on weekends at New York's Waldorf-Astoria, featuring among other mysteries a version of Think-A-Drink that makes normally sensible people believe in magic. Those seeking to learn more about this "newcomer" quickly found two more great sources, Steve's interview on Dodd Vickers' Magic Newsire (in it, Steve outlines his entire show) and Steve's book, Win the Crowd (Unlock the Secrets of Influence, Charisma, and Showmanship), available at Amazon. The latter, an advanced text on public speaking using magic performances as analogies, is a must-have text on how to perform magic shows. In addition to containing amazingly detailed advice on how to play a room, the book is a most enjoyable read. It may not make you the next Steve Cohen, but it will make you a better magician. A mere $10.17 at Amazon.
September 2008
My apologies for the brevity of last month's edition, but I spent the entire month's allotment of spare time, um, digging. Something scary is about to be unearthed. Meanwhile, back on schedule, this month we take a look at the new Allan Slaight book, Steve Cohen's book and interview, Dodd Vickers' The Magic Newswire, Harry Anderson's Wise Guy script, Bob Dylan's radio show, David Acer's book for weird kids, Edward Gorey's spooky tarot deck, and Outlaw Effects' very spooky book test.
BAD NEWS -- Not all futures are rosy, especially if you look to them via Edward Gorey's The Fantod Pack. The Fantod Pack first appeared in 1995 in a limited edition of 750 and has long been unavailable. This "dark, droll, mysterious, and funereal" (to quote the ads) deck of cards is once again available for a scant ten dollars. The 20 cards in the deck constitute a "bleak yet hilarious take on the classic tarot deck," with such prognostications as vapors, a secret enemy, chagrin, false arrest, a forged check, an accident on a ladder, and so on. You learn to interpret these calamities via the little book penned by Madame Groeda Weyrd (an anagram?). The deck and loads of other spooky novelties, Gorey and otherwise, are available at Gorey Details.
LOCAL CROP CIRCLES BAFFLE AUTHORITIES -- A companion volume to his television series "Mystery Hunters," David Acer's Gotcha is a great book for the kid in your house or the kid in you. Here are 18 ways to make folks think very strange things are going on in your community. My favorites are How to Make a Fake UFO Photo, Make Your Own UFO Video, and Make Fake Ghost Photos (all methods new to me). A few of the items are magic tricks. 48 pages, charmingly illustrated, available at Amazon for $8.95.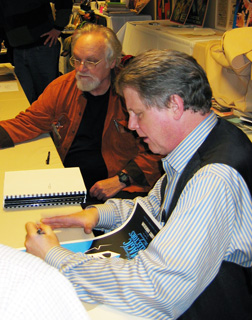 Harry Anderson sold out of Wise Guy, the Script.
WISENHEIMER -- One of the gems available for purchase at this year's Magic Collectors' Weekend was Harry Anderson's Wise Guy, not the book published years earlier by Mike Caveney, but the annotated script to Harry's "Evening's Interlude Intended for Mature Audiences Performed Without Intermission" that Harry created for his night club in New Orleans and that some of us were lucky to see in Las Vegas at a Rich Bloch World Magic Seminar (I should add performed in cahoots with Mike Close, but this is already one really long sentence!). The erudite annotations are by Jon Racherbaumer, who tries to apologize for "The Elephant Comic" (Harry performs a ventriloquist routine as the Elephant Man), but there are no excuses for a comic who learned years ago to take no prisoners. I'm not sure where you can acquire a copy of this script, but you should seek it out. Read it and you will laugh your you-know-what off.
TALK RADIO -- Way back when I started The Little Egypt Gazette, there were a couple of great sites online a year or two ahead of mine, Richard Robinson's Magic Show and Dodd Vickers' Linking Page. Somewhere along the way, Dodd's site morphed into The Magic Newswire, featuring in-depth interviews with such personalities as Steve Cohen, Harry Anderson, Harry Lorayne, Max Maven, Eugene Burger, Simon Lovell, Richard Kaufman, David Blaine, Stan Allen, and many more, all available as podcasts from iTunes. It has been a great joy in recent days to rediscover Dodd's site, especially through the conversations easily loaded into my iPod Touch. Technology is magical!
HEAVY MENTAL -- Rick Roth at Outlaw Effects has stumbled onto the antithesis of the fountain of youth: he can age books and manuscripts to look like the real deal from long ago. A friend recently shared three Outlaw products with me, the Carney Deck (an aged tarot deck cleverly marked on the back) and two special book tests, The Witches' Almanac and Luna. I immediately seized upon Luna as not only an incredibly clever and effective book test, but as something that smacks of authenticity. The book in question is London's Colney Hatch Mental Hospital patient registry from 1936, with warped cover and brittle, yellowed pages. The effect: a spectator turns to one of hundreds of rooms that were housed in this creaky old asylum (six miles of corridors) and reads the patient's history. The mentalist then immediately recites specifics of the patient's name, his or her condition, treatment, age, date of interment, registration number, and so on, without knowing anything that would provide a clue. The book and the readings are creepy, the method ingenious and easy to implement. This is as close to a perfect book test as any I have encountered and is a pleasure to both own and perform. Enter Outlaw Effects and enjoy the creepy special effects of its web site.
THE POWER OF X -- Thanks to podcasts, internet radio stations, and such sources as XM Radio, listening is back. Of the surfeit of sources, my favorite is Wednesday's Bob Dylan's Theme Time Radio Hour on XM , in which Bob is the dj for an hour of themed music from all over the map. Whatever you thought of Bob Dylan before this, good, bad, or indifferent, forget it and get to know him anew as the funny, wise, and avuncular host of a show of music that will lift your spirits. I mention it here not only because Dylan often has magicians on of the likes of Ricky Jay and Penn, but also to just pass along a source of terrific entertainment. Secret: the lady's voice at the top of the show is Ellen Barkin's. Check out the briefest of samples here.