SHOCK THEATRICKS -- Aaron Smith's The Magic Depot sells an interesting utility item called Deck of Slates, and I finally got my hands on some. Each "slate" is a thin card-sized piece, blank on both sides with a "chalky" writing surface. (What appears to be chalk dust is fanning powder.) A pack of 50 comes in a cloth pouch, and you can purchase them regular or Svengali. The idea, of course, is that you can perform spirit slate routines with ordinary card sleights. Just what those routines are is largely up to you. A couple of pages of ideas are provided, and there are some good ones here, including Haunted Deck, Tossed Out Slates, Ambitious Spirit, Ghost Matrix, and Slate Assembly.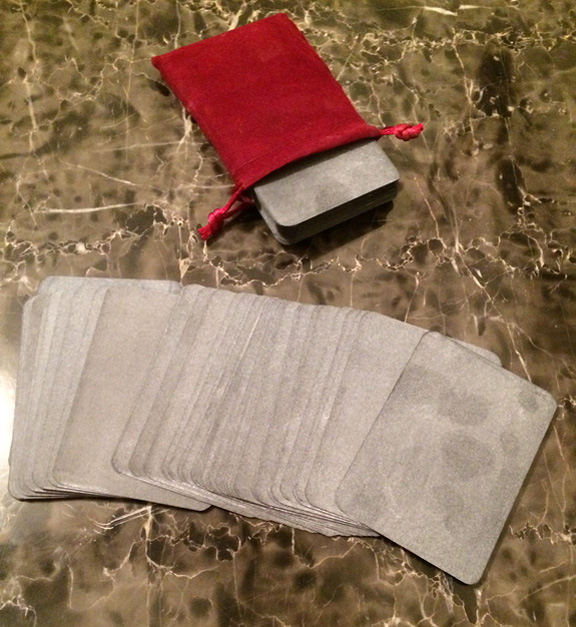 Spirit slates you can shuffle.
Here are a few ideas of my own, from the first 24 hours:
Classic Spirit Slates: The secret card or word is written on the top card, writing side down. Explain how mediums used to get spirit messages on slates. Use a DL to show "both sides" of the top card(s), turn it face down, and deal to table. Pin it there with a small candle a la Eugene Burger's Haunted Deck. Show both sides of the next card and then slide it under the first. To establish "test conditions," force the relevant card or word and proceed to revelation.
Spirit Poker: Remove four cards of a royal flush in spades from a normal deck, all but the ace. Explain that a gambler died just before completing his hand. Offering to get in touch, use a DL again to show "both sides" of the top Deck of Slates card and deal to table. Run through the normal deck to find the missing ace of spades, but really set yourself up to do a DL and tent vanish to make the ace disappear. Press your empty hand onto the tabled slate card. Turn the top card of the normal deck face up to reveal that the ace has "left this world" and then turn the slate card up to reveal that it has "joined the next world." (Slate card of course shows a hand-drawn ace of spades.)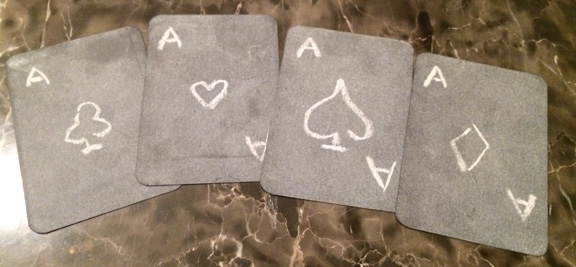 Ghostly aces.
Ghostly Aces: Hand draw the four aces on the slate cards. Stack your Slate deck ace-ace-ace-blank card-ace of spades from top down. Thumb off the top four card to show them blank on that side, then use the Vallarino rumba count to show them blank on both sides. (This looks great.) The last card you place down is the blank both sides card. Take it, show it cleanly on both sides, and insert it into the middle of the deck to make it rise to the top, a la Ambitious Card. Use a DL to show that "it" has risen to top, but still apparently blank. Stating that it is "obviously" the ace of spades, slowly turn the real top card over to display the ace. It "couldn't be one of the other aces." Turn the three tabled cards over to show that all the aces have mysteriously printed, in chalk.
Duffie and the Departed: One of my favorite commercial tricks is Peter Duffie's Dead Reckoning. I bought it from Hank Lee in more innocent times, but you can still find dealers who carry it for a most reasonable price. Google the title. You need the original (and I predict you will use it), but it transfers nicely to a hand-drawn version with the slate cards. It's an amazing four-card effect in which you conduct a test to contact the dead, revealing two cards in the process. This was one of the first things I tried with the new deck, and it looks great.
Voodoo Slates: Is there a spookier mentalism effect than Arthur Monroe's Voodoo? Sending a spectator to wander alone into a darkened house? You know it from The Jinx or Practical Mental Effects. In the Slate version, begin with a selected blank slate card in the card box. Later, in eerie lighting, the box has returned to you. Have a real card selected from a normal deck. Remove the slate card from the box, draw the selected card on it, and return it to the box. When the spek retrieves the original box from a remote hiding place, she will discover your artwork on the boxed slate.
This is a nifty utility device, and my only objection is the fanning powder. It make everything work smoothly (fanning, lettering, etc.) and adds to the verisimilitude; I'm just not used to it. If you do spooky card magic, you should love this. $14.95 per deck from The Magic Depot. You can buy it in normal or Svengali, and you can buy it in jumbo as well (5.25. by 8.25 inches), either style.