ADDICTIONS -- For many, addictions run to recreational pharmaceuticals, alcoholic beverages, or suicide by tobacco. For magicians, the overwhelming addiction is card tricks. It's our drug of choice. This month, instead of spending my idle time reading or writing the Great American Novel, catching up on the latest movies, or helping to overturn a haywire election, I fooled around with card tricks. That is, I witnessed some, experimented with some, and performed some. A waste of time, some might say, but hey, they were great card tricks. They follow.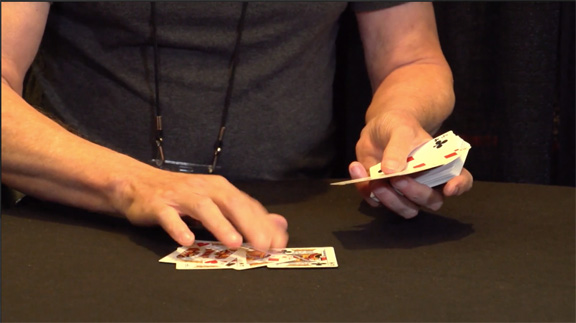 Mike Powers teaches.
Varying Variants' Variants--I wish Mike Powers had been one of my physics teachers. He teaches things really well. In this small five-card packet trick there are some nice Ambitious Card moments followed by four kings and an ace transforming to one king and four aces. It's quite surprising. (Source: performed and taught on Tuesday Night Tricks, Session 4, a freebie on Kozmo's reelmagicmagazine.com. Subscribe!)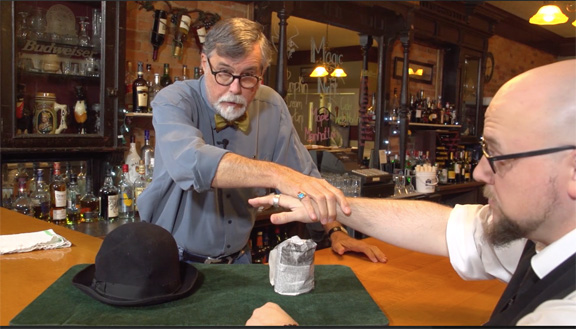 Doc had me with the original climax.
Mardi Gras Bar Bet times three--Doc Eason shocked me with his new ending(s) to his Mardi Gras Bar Bet. The original is his killer version of Glass Through Table. He and Garrett Thomas then have an interesting discussion about the effective deployments of multi-phase climaxes. Although the Bar Bet itself isn't a card trick, I have often wondered the same issue about Doc's Card Under Drink routine. As Doc performs it, the climaxes of several killer card tricks are subordinated to yet another placement of the card under the drink. Which makes for better magic or entertainment? Whatever, I loved the new climaxes, even though, the first time I saw the Bar Bet, that climax killed too. (Source: performed and discussed on Issue 48 of Kozmo's reelmagicmagazine.com. Subscribe!)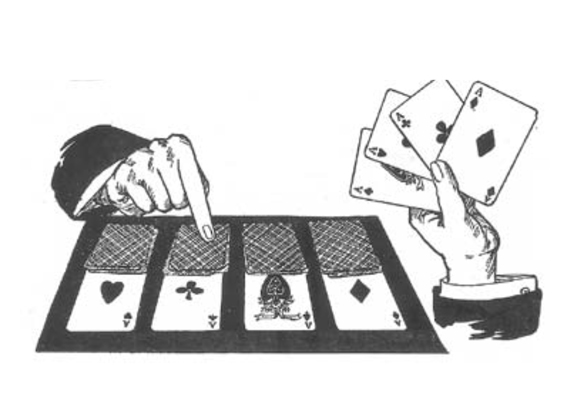 Vintage line art from Trost Volume 6.
March Madness--The two tricks from last month that I am having the most fun with areTexas Hold 'em Poker Deal from Nick Trost's Subtle Card Creations Volume 6 and Mini-Mental from John Guastaferro's en route. These are as enjoyable to perform as to watch.
Diamond Deception--I think enough time has passed to declare the November/December 2012 75th anniversary issue of Genii to be the single best issue of a magic magazine ever produced. At nearly 200 pages, it contains Max Maven's monumental history of not only Genii but of magic and life itself for 75 years along with 69 magic tricks including generous helpings of Steranko, Charlie Miller's "Magicana," and other gems from Genii both early and recent.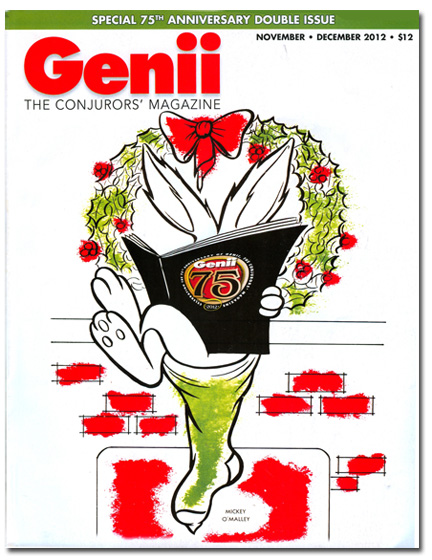 Best single magic magazine issue ever!
One of the tricks I overlooked during my first reading was The Eight in the Side Pocket, by Dai Vernon. A spek removes the two face-up red deuces and places any other card face down between. The magi selects another card, say the eight of clubs, and places it in his pocket. Even though the eight is visible in the pocket up to the last second, the eight and the selection change places. No duplicate cards.
Go Ask Alice--You might think you were on drugs if you watched a performance of Little Door, the sensational visual card trick from Penguin Magic by Roddie McGhie. I love this sort of trick where events stray drastically from what is expected of a card trick.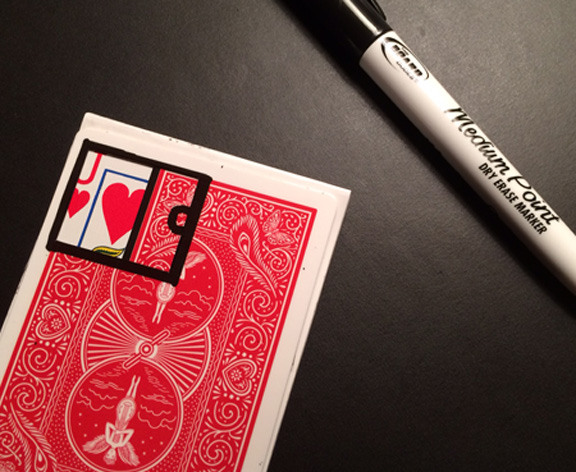 This is nothing like the 21 Card Trick.
Essentially, you draw a little door on a card box with a Dry Erase marker, slide the door open (!) to peek the face card of the deck, then slide the door back closed, remove the deck, and erase the little door with a brush of your finger. The deck may be casually shuffled, and the box may be examined. Although I kind of worked out how it must have been accomplished, I could not foresee all the extra work (and gizmos) that went into this to make it easy as well as stunning. Highest marks. $39.95.