MARLO OUT WEST -- As I wrote in the April 2003 issue, re publication of the hardback Revolutionary Card Technique, Ed Marlo somewhat eluded me in my youth, both his work and his personal appearances: "I must confess to have always found Marlo heavy going. When I dip into his world, and especially his Revolutionary Card Technique series, it is as though I have stepped into a fourth dimension where wonderful card sleights abound but which are different from anything I've encounted elsewhere and perhaps even out of range. (My range, that is. I had the great pleasure of seeing Ed Marlo do this stuff at a Desert Magic Seminar.) I spent my card magic adolescence with Harry Lorayne and Steranko and Vernon, always aware of Marlo but never quite in tune with him. I rather like it that way, knowing that there is this incredible world of card magic available to me if I only choose to look around the corner and accept it. Those of you new to Marlo should check out the article 'Revolutionary Card Technique Redux' in the May 2003 issue of Genii, by Chris Marshall (Jay's grandson). Now, where was I? Oh, yes. Getting into palm position, ninth method: 'Similar to the 8th Method except here the thumb and 2nd finger, which grasp the sides of the originally palmed cards ...' You can't make this stuff up."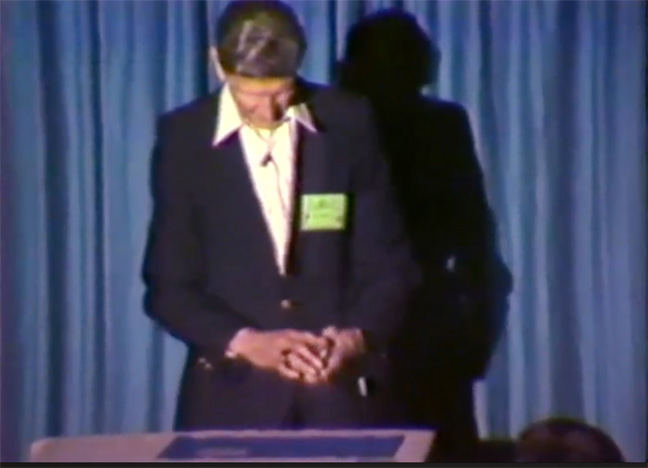 Marlo lectures.
I eventually came to appreciate and perform much of Marlo, mostly thanks to excellent teaching DVDs, especially L&L's Malone Meets Marlo series. And yet, aside from a Desert Magic Seminar in 1989, I've seen little in person or footage of Marlo himself. It was therefore a nice surprise to see that Vanishing, Inc. had discovered and resurrected some excellent footage of a 1983 West Coast Marlo lecture. Available as a download for a scant ten dollars, Ed Marlo Secret Lecture contains 31 minutes of Marlo at the top of his game. Here are demonstrations and teaching of the Hellis Change, a startling one-hand color change, the Miracle Color Change, the Rub Away vanish, Fooling Around with the top change, the Shank Shuffle vs. the Zarrow Shuffle, A Subtle Tip, Bluff Ace Assembly, a Braue Handling, Knoxville Aces, thoughts on the second deal, the Immediate Bottom Deal, and so on. He was self-aware humorous (he stood "in case he had to run" discussing the Shank Shuffle, he got a laugh offering to "tell a story on Dai"). He evidenced a respect for secrecy, offering to teach the details of a half pass only in private for a questioner in the audience. Above all, he was confident, able to field questions with aplomb. The footage is nicely annotated, and the dated VHS filming is cleanly updated. At only ten dollars, this is a bargain trip down card magic's memory lane.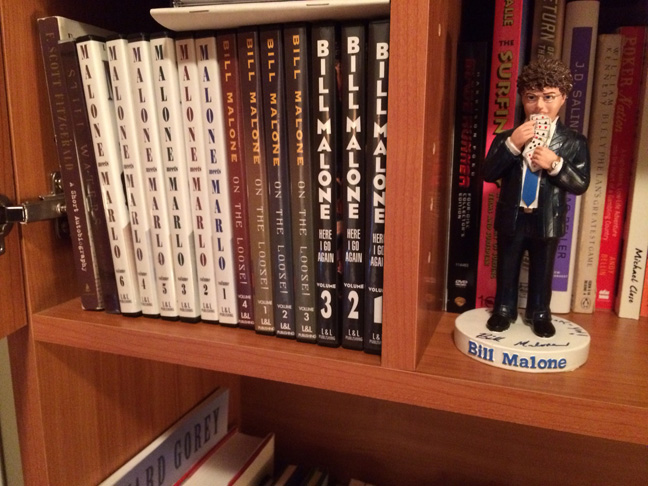 Malone teaches Marlo to the masses.
Added note: for an amazing bibliography, check out Marlo's Magicpedia entry.
THE OLD SWITCHEROO -- I tend to keep a deck of cards handy at my computer desk, my keyboard resting atop a close-up mat. (That latter bit was a suggestion from Andi Gladwin.) Lately, I keep not one but two decks handy, one red and one blue. Why? So that I can, at an instant, rehearse one of the many deck switches from Ben Earl's Real Deck Switches, a new download from Vanishing Inc. This is a content-rich one hour and 13-minute download in which Ben Earl teaches a bazillion switches, a new one coming at you every few seconds. This shouldn't dissuade: it's easy to follow each new switch because they are all, as Mr. Earl says, linked. Most involve the magician seated at a table, elbows resting on the surface (though they don't have to be), one deck in hand in a dealer grip, the other in a sort of Biddle grip in the other hand. Which is which, that is, which is the cooler, depends on the switch. For virtually every switch, there is its opposite.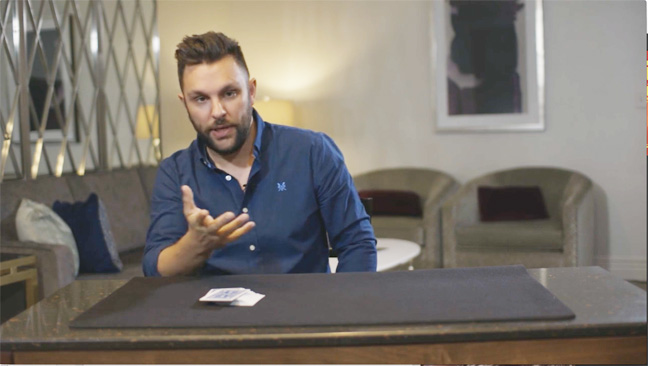 Ben Earl explains.
I haven't taken my own attempts out for a spin yet, but all the switches look awesome on the video and would have fooled me. These are quite practical and beg to be performed. If there is a fault, it is that the switches are so deceptive that they could be an effect in themselves. But this is not to be; they are intended to be invisible, moves that never happened. With many variations, there are triple, double, and single cut switches, pick-up switches (the deck begins on the table), in-and-out switches, ribbon spread switches, more cut switches, screen switches (the hands are out of sight), and standing switches. All the switches rely on timing and flow, not difficult sleight of hand, and none require lapping.
OK, the ad says 25 switches, not a bazillion, but it seemed like more because there is zero dead time. Beautifully shot in Las Vegas, available from vanishing Inc. as a DVD or as a download for $35.
Added note. Deck switches, invisible unless botched, are something the average magician or gambler rarely sees. My prior exposure to them was a Youtube video of some old fellow named Doc, still online here. Fun to watch.