SYSTEMATIC CARD MAGIC -- Although I admire his moves and his individual card tricks, my favorite contributions from Lewis Jones are his systems, approaches that allow you to extract or convey considerable information from a sequence of cards. This admiration goes way back, to Lewis's telephone telepathy book in which four cards transmit a drawing of anything in the universe. (I might look up some more details about this, but that book is in a random cardboard box in my soon-to-be magic library room.)
The latest such offerings (moves, tricks, and systems!) are to be found in As If By Magic, a fresh new collection from the ever youthful Mr. Jones.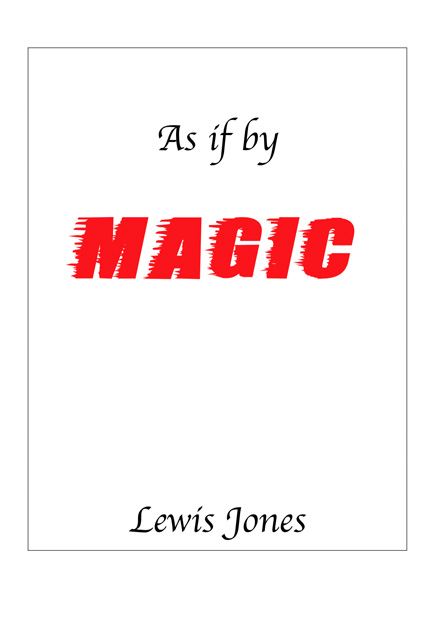 New magic from an old hand.
One doesn't have to dig very deep to find something special.
Ding Dong is a method for easily remembering a series of random playing cards, using a new-to-me system of aural mnemonics. You don't need to pre-memorize a stack of cards if you can create the mnemonic on the spot. Most useful.
Mountebank uses a simple method for forcing a random set of cards, each remembered instantly via the Ding Dong approach. You come off as quite the mind reader.
Following Suit struck me as the cleverest item in the book. Three speks select a card from a set of four, all different suits. Each then notes his card and changes the value to something else, in his mind. Magi identifies all three cards and has predicted that all would reject the fourth card, the seven of spades. Uses the Tossed Out Deck principle in a cool way I've never seen.
Memory Deck is one of my favorite Lewis Jones creations, first encountered in Seventh Heaven. It is reprised here, an ideal system for allowing you to know which card lies at a named position, no memory required and very easy to do. (Note that it doesn't do the opposite; if someone names a card, you don't know where it lies. But if they name, say, position 38, you know that it is the jack of diamonds.) Although the system is fine for any position, it is perfect for even-numbered positions, and therefore ideal for a bizarre memory stunt that Michael Weber taught at the recent Genii convention.
Thank Your Lucky Stars is a new "compatible couples" effect using the Memory Deck. If you haven't actually used Memory Deck before, this may inspire you to do so.
Birthday Squared is incredible. How does Lewis, or anyone, keep coming us with such stuff? This is a 4 by 4 magic square based on a spek's birthdate. If his birthday is, say, March 9, 1969, then the four element values will be 3, 9, 19, and 69. These can be entered at first, and the remaining numbers filled in, or at the end (if you secretly knew the birthday), and they can go into the center four blocks, any column, or any diagonal, and even scrambled, and so on. There is virtually no calculation and no memorization involved. Lewis provides the easy instructions, and you merrily fill out the values to the usual magic square result. Easy to do.
As If By Magic contains 20 items in 125 pages, photo illustrated, in the same softcover format as recent Lewis Jones publications, available soon from H&R Magic Books, $35. Recommended highly, the best of Lewis's recent pubs.