DEVIL OR ANGEL, I CAN'T MAKE UP MY MIND -- Sorry, I've got Neil Sedakis in my head. Steve Mayhew, who first came to my attention via his Angels May Shuffle But the Devil Still Deals manuscript, has just released a rich lode of card magic under the title Mayhew/What Women Want, by John Lovick.
The bad (?) news first: some of this material is difficult. One of the routines, for example, makes it appear the you are dealing 26 cards from seemingly unknown locations in the center of the deck, the secret being that you are dealing 26 perfect strike seconds. This sort of faux dealing has always been a quandary for me. I think that if I could deal perfect seconds, I would rather demonstrate my real skill at dealing seconds than a fake center deal. ( I say think because I can't deal undetectable seconds; perhaps if I could, I would think differently.) That said, this is a really entertaining routine for those who can master it.
The more I think about this, the more I think it a privilege to occasionally read material that is beyond my abilities, and certainly a privilege to see it in action. Whether I can and will perform it is not a valid figure of merit. The author, John Lovick, is currently working on a book that will contain all his Handsome Jack material. Although I look forward to reading about how he invents that character and performs his magic, I have no desire to reinvent myself as Handsome Steve. (That would be a bigger stretch than learning to deal seconds.)
The better news, for those looking for new material, is that plenty of the routines here call for only moderate skill, and some are totally self-working. These comments especially apply to the Gambling chapter, my favorite. No one is going to complain about a lack of stunning new magic and gambling demonstrations.
To highlight a few favorites:
Cuts Like a Mayhew is an extended routine in which you consistently cut a higher card than the spectator. And it all begins with a shuffled deck!
Take It or Sleeve It is one of several routines that take advantage of the Angels May Shuffle stratagem, which allows the spectator to shuffle the deck before dealing two nice pat hands. In this one, cards up the spek's sleeve and the magician's sleeve improve these hands for an impressive climax.
Labyrinth Blackjack is the second best blackjack routine I know of and the most surefire. Using a card counting premise, you examine part of the deck, determine whether the deck is in your favor, and then offer to either deal or let the spek deal. Either way, with five blackjack hands you win, no matter what the spek does. There is a lot of play value to this item.
Old Lazy Fat Guy Cull is a dead-easy way to cull four of a kind (or a royal flush, etc.) from a shuffled deck, no skill required. The premise, that is, what you are purporting to be doing, would also work fine with the Hamman Cull.
Mayhew's World is a genuinely new presentation for OOTW; there is no "red here-black here" getting into it.
Delores in a Meadow will allow you to fake a second deal even if you can't do one, and its climax is delightfully weird, reminding me of some of Dominique Duvivier's routines.
Wet or Black directs the spek to cut a deck into eight piles. Following a series of intimate questions, the spek announces red or black. Accordingly, all eight piles are shown to have the named color on top. There is no equivoque, no multiple endings.
Das Kapital is a way cool bill switch routine. This is the best routine of its kind I have read in which the switches (one to twenty, twenty to one, etc.) make sense and create some real amusement. Lucky performers may have already discovered it in Labyrinth or Switch.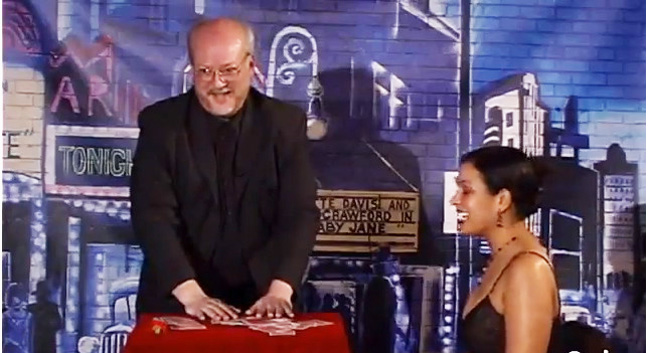 Mayhew can walk the walk.
Although I know it isn't necessarily true, and can name names to contradict this, I tend to think of card men with extraordinary chops as less entertaining than other top closeup performers. Two reasons I do not think this about Steve Mayhew: first, the scripting in all these routines is excellent and original; there are no hack lines, and most of it is really funny. Second, Mayhew has a promo tape that is easily accessible on Youtube, and you can see that he is warm, funny, and lovable, just great with spectators. (I mention this only because I've not had the good fortune to have seen him perform in person. The brief clips have only enhanced my appreciation of this material.)
There is a lot of playfulness in the book, as you might expect from its title. The playfulness not only evidences itself in the humor in the text (Lorayne-like Afterthoughts are cast here as Blah Blah Blah, for example) but to the design: letters in titles fall down, flip over, tumble off the baseline, fade to invisibility, vibrate, and so on. Footnotes become a main source of pleasure, and despite their impudence, I could not find one for which I could cite an older or more accurate reference. And I tried. These tricks are very well documented. (I've no idea where to assign credit between Mayhew and Lovick; my assumption is that both contributed to the joie de vivre and to the erudition of this work.)
Blah, blah, blah: Hardback, 294 pages, entertainingly and technically well-written, physically of the usual Hermetic Press high quality, illustrated with crisp photos, a mere forty bucks. This is one more proof that books are the best bargain in magic. I got mine direct from Hermetic Press.