THE HAUNTED KEY DELUXE – In chapter 19 of Eugene Burger's Spirit Theater, "Spirit Theater for the Close-up Entertainer," Eugene opens with a routine for The Haunted Key, attributing most of the routine to Bruce Bernstein. It is, he asserts, a strong routine, that the key alone is all you need to create a truly spooky experience. For it to turn in your hand by seemingly unseen forces, the key of course must be of the proper size, the proper weight, and it must look old. "If it looks like the key to an old castle … or a haunted house … you've found the right one."
But that isn't easy. Eugene continues, "Finding the right key will require a search. You will need to keep your eyes open, frequent antique shops, specialty shops that deal in items for the bar or fireplace, and, sooner or later, you will find that a key will cross your path. Don't hesitate! Buy it immediately! It may be your only opportunity!"
Fortunately, you need search no longer; your opportunity is here. Murphy's has rjust eleased The Haunted Key Deluxe. The ad promises, "This is more than just a bridge to the spirit realm. It comes with a ton of bonus routines that take the standard effect to new heights."

It does indeed look old, it is perfectly weighted for the core spirit animation effect, and its teeth are conveniently spaced if you wish to add invisible thread motivation. You can of course keep it simple, using nothing more than the key and an appropriate story. In Eugene's book he describes Tony Andruzzi's routine as well as the more extensive Bernstein routine. Neither requires anything but the key. For the story-only approach, you can find a nice Houdini séance version in Séance magazine (either the hardback compilation or Spring 1991). Or you may complicate the routine, animating the key as part of a card revelation or a Living or Dead test. You can add standard thread animation – a few ideas are in the download – or you can, my preference, use loops. It's your choice. It's a séance in your pocket.
And the amazing part: it is only $14.95, for the perfect key and a generous download of instruction and ideas. Take Eugene's advice: don't waste your opportunity! From your favorite dealer. I bought mine from Vanishing, Inc.

It's hard for me to complain about isolation so long as magic continues to flourish on the internet. For me the riches continued with a Canadian sponsored variety special from Carisa Hendrix, a "Penn and Teller Try This at Home" special on the CW, and a twice-weekly party hosted by the Magic Castle's AMA.
SPECIALS – Lucy Darling was up first with a May 15 special out of Canada, featuring magic friends Bizzaro, Rudy Coby (sequestered at Randy Pitchford's in Texas), and Max Maven with a Do It At Home effect. Lucy of course and her variety arts friends rounded out the show.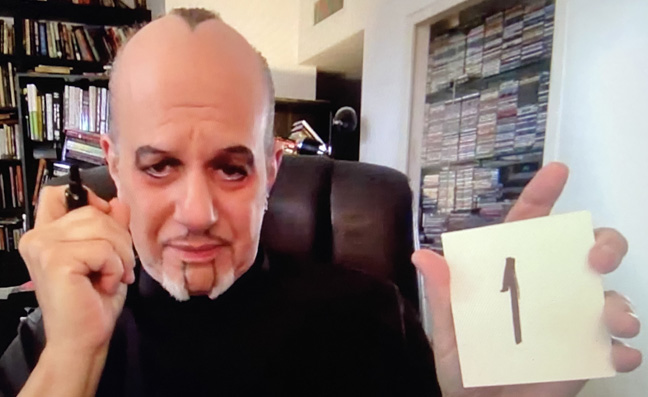 On May 19, Penn and Teller gathered (or rather, reached out to) even more friends for a mixture of performances and teach-a-tricks, including Kid Ace, Simon Pierro, Morgan and West, Michael Carbonaro, Luis Pedrahita, Shin Lim, Mac king, and Elle and Dakota Fanning, among many others. Two standouts: Morgan and West teach a trick you will be tempted to perform on Zoom, and Shin Lim fooled me more than did any other trick discussed this month. But why talk about it? It's still on line on YouTube, and you can enjoy it here.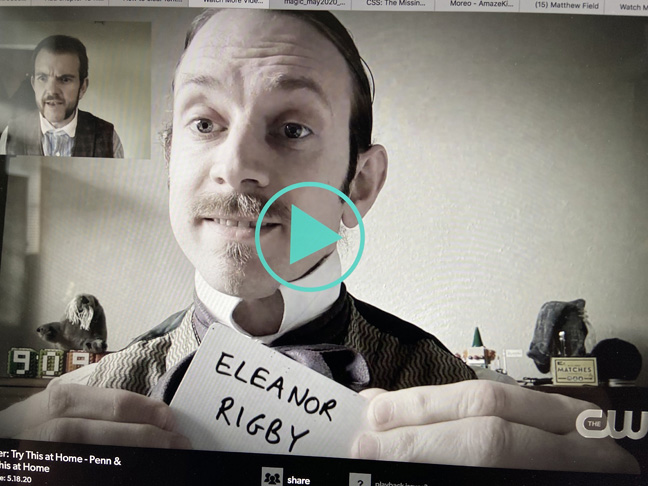 YOUR HOME IS YOUR CASTLE -- The broadcasts from the Magic Castle's AMA have settled into twice-weekly events (Thursday and Sunday evenings), not only with fabulous content hosted (usually) by Jonathan Levit, but with running chats from the movers and shakers at the Castle, turning each event into a live party. And for those who can't enjoy the parties live, they will be online at least until the Castle re-opens. Simply outstanding!
Since we last spoke …
My favorite of the broadcasts so far was the May 14 reprise of Max Maven interviewing Carl Ballantine. The original Castle perk took place 13 years ago to a packed house. Max had done a superb job of research, Carl's timing at 89 was still dead on, and affection filled the rom. Every phrase or sentence from Carl's mouth sounded like a punch line. He was brilliantly funny, and I miss him. For the reprise, they broke the original Castle perk into five segments, so that Max could discuss the interview between segments. It was a heartwarming evening.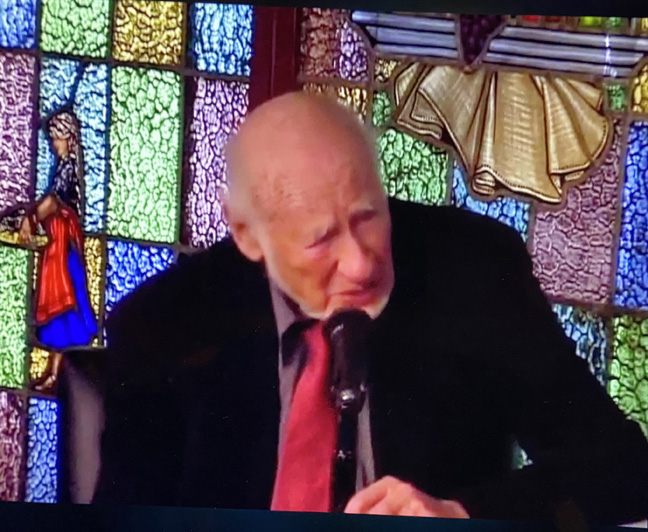 Milt Larsen, sporting a new-to-me beard and with off-camera help from Dale Hindman, fielded questions May 21. I never tire of hearing Milt's Castle startup stories, or the night the fire marshal caused the show to move into the parking lot, or how he learned the tablecloth snatch from Dell O'Dell's husband. This night's best story touched on Milt's trip in Cary Grant's Gulfstream 2.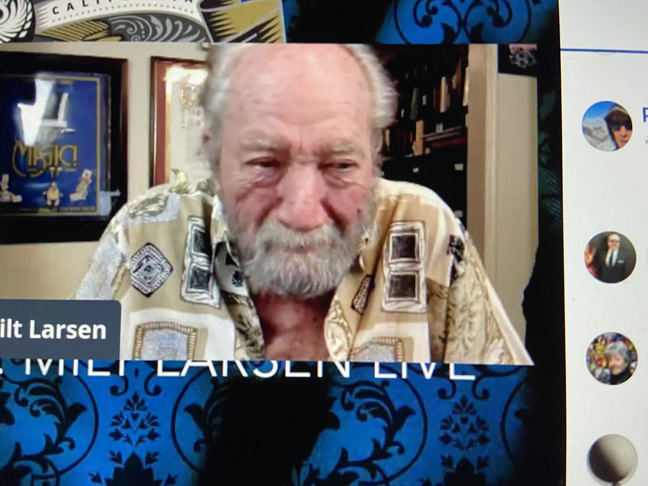 John Carney returned May 24 with another all-star lineup of video performances. John shared moments with Roy Benson, Ross Bertram (eye-popping card magic), Ricky Jay, Dell O'Dell, the Siberian magician Buka (also eye-popping card magic), Jay Ose, and Jay Marshall and Lefty. A correction: last month I reported that Al Flosso performed at Ricky's sixteenth birthday party. John corrected that misunderstanding: Flosso performed at Ricky's Bar Mitzvah. Still, cool!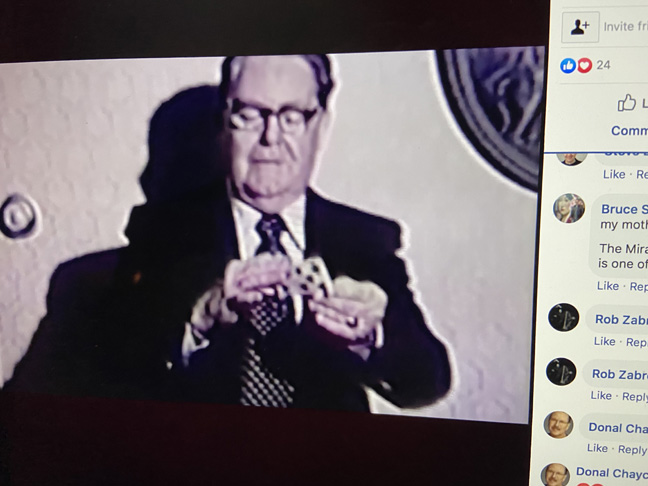 John Cox (Houdini-phile) and Mike Caveney (Houdini critic) discussed history's most famous magician May 28, and the hour flew by. John showed some amazing photos, from the first ever of Houdini as a performer (a teenage Houdini and Bess) to the last ever taken of him. A series of photos showed Houdini always in the same suit. John hypothesized that it was a mourning suit that Houdini began wearing after his mother died. Check wildabouthoudini.com for daily updates!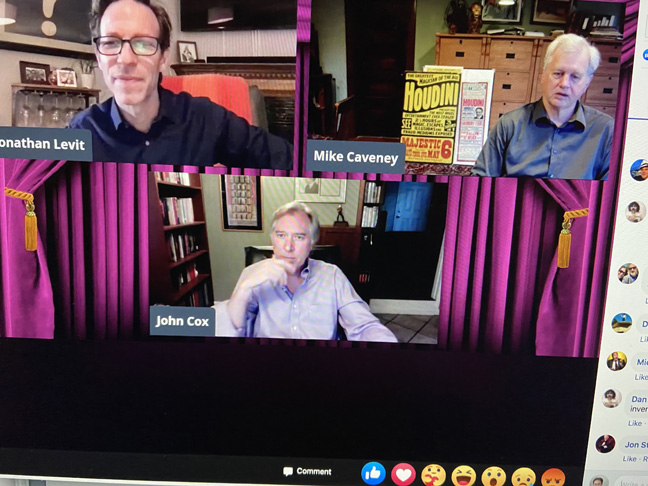 Max Maven has a collection of anecdotes regarding a wide range of magicians, and he hosts a Story Time perk in which Castle members can attempt to stump him by suggesting names. Max accepted the challenge again May 31 and entertained with stories of Stan Allen, Marvyn Roy, Maurice Fogel, Kuda Bux, Del Ray (Jonathan Levit posted a photo of his young self selecting a card from Del Ray), Milo and Roger, Abb Dixon, and Frank Thompson. These sessions are great fun, and Max seems to have as much fun tapping into his memories as the audience does hearing them.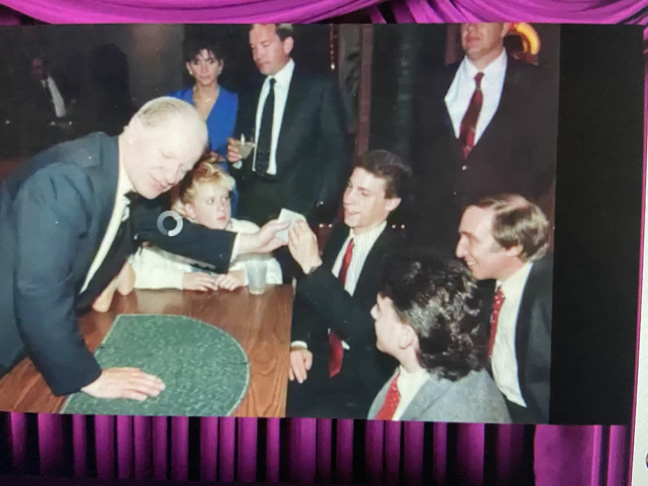 Halloween at the Magic Castle (or so I am told) is like no other place in magic, thanks to foreman Jason Thompson and his Boo Crew performing a Disney-scale makeover of the old mansion. Last year's theme was The Cursed Temple, and the entire crew was on hand June 4 to explain how they "Indiana Jones-ed" the place. This takes months!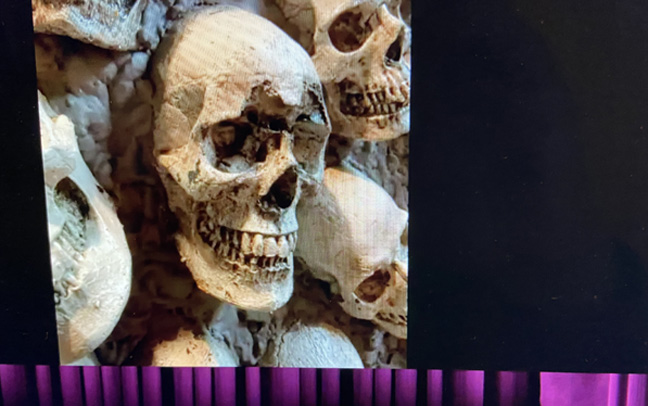 At a 1997 Rich Bloch convention, David Williamson was tasked to create a Midnight Madness session. His solution was a talk show mockup with David as host, and his first guest was the never-before-seen Mr. Mysto. As most of us learned June7, Mysto was hilarious out of the chute, in the words of John Carney "a self-deluded genius." (Alternatively John had considered such characters as Punch, the Clown, and Lynch, the Magician.) On that night Mysto performed some most adept card manipulations, still made quite funny. David's second guest was Beowulf, aka Eric Mead, a progeny of Jeff McBride's Mystery School. Bits with the live performers were interspersed with cheesy horror movie footage to great effect. The cast then broke for dinner, where Harry Anderson was the waiter, Tom Mullica and Rene Lavand were the kitchen staff, and Michael Finney and Chuck Fayne the busboys.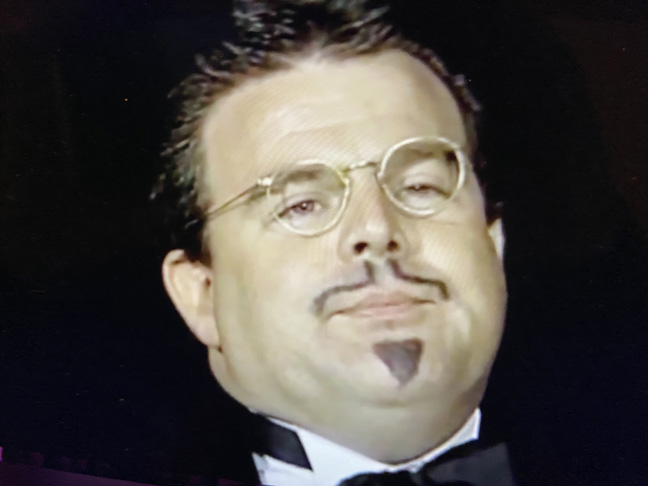 The popularity of the first Houdini debate prompted a second, June 11, with a third now in the offing. Part 2 discussed whether Houdini was the first to pilot a plane in Australia, the gullibility of Arthur Coonan Doyle, Houdini's writing ability, booking agent Jeanie Jones, whether Blackstone or Houdini was first with the underwater packing box escape, and the book No Applause Please Just Throw Money. The big news was the discovery of more wax cylinders with Houdini's voice. These "debates" are completely good natured, just two cool guys on the trail of history. BTW, the write-in chats noted that the day was Dai Vernon's 126th birthday.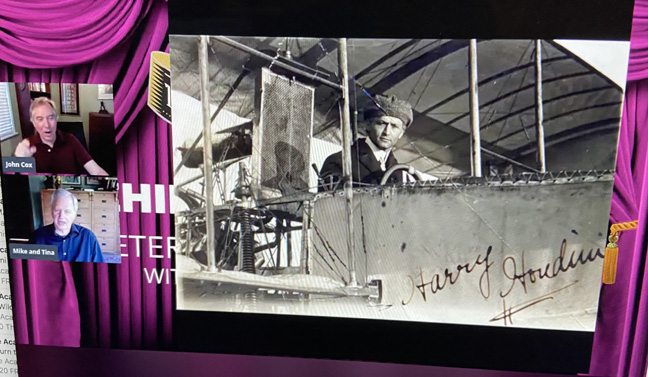 TWENTY INCREDIBLE DEALS -- For anyone interested in cheating at poker, the Forte books discussed here in March are the last word. The problem of course is that executing the moves with the skill and the background gaming knowledge of Steve Forte is out of reach of most mere mortals. For us, thankfully, alternatives exist, entertaining poker deals that rise or sink, depending on your point of view, to that most deceptive of characterizations: no skill required. Personally I love these routines, and what follows are 20 or so of my favorites.
For those of us of a certain age, the "classic" poker deal is the Lorayne Poker Deal, Harry's presentation for what also gets called the Marlo-Gardner poker deal. (That deal also establishes the general pattern of beginning with four aces and ending with a royal flush.) Oddly, I never took to it, because there is a spot where you "demonstrate" a bottom deal, and I could never make that bit close to realistic. Accordingly, the routines that I do enjoy are even easier. You will find my choices weighted toward those of Nick Trost, the king of subtle card tricks, and particularly of gambling routines. His first seven books of the Trost Subtle Card Creations series include such chapters as Gambling Tricks, Poker Tricks, More Gambling Tricks, Poker Deals, Further Gambling Tricks, More Poker Deals, Gilbreath Plays Poker Part 1, Special-Deck Gambling Effects, Poker Tricks and Deals, Gilbreath Plays Poker Part 2, Still Further Gambling Tricks, Poker Puzzlers, Gambling Tricks, Gilbreath Plays Poker Part 3, More Poker Puzzlers, Gambling Tricks, and Gilbreath Plays Poker Part 4. That's 221 items, not counting the poker tricks interspersed in other chapters, and two more books are in the queue!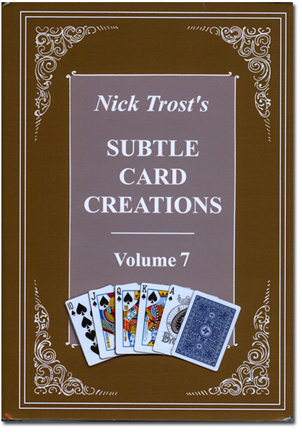 Enjoy, in no particular order …
Heavy Breather – Allan Slaight, Spins & Needles. The spec cleanly buries the four aces, the magi deals ten hands of poker and receives the aces, then deals a requested number of hands and receives a royal flush. It's ingenious and funny, with a great gag that could be used elsewhere. Fans of this routine will also adore Ten-Hand Poker Deal and Repeat, from the Gilbreath chapter in Trost 7.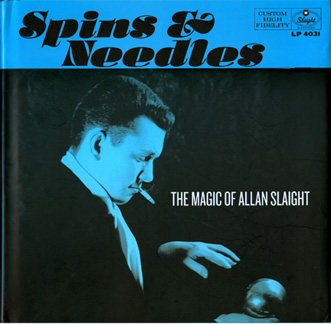 Shuffle Tracking – Nick Trost, Trost 3. This is one of my favorites from the Trost series. Via a poker deal involving 25 cards, the magi deals two, three, four, six, seven, or eight hands, at spectator request. (This is repeated as desired, the sequence owing to Roy Walton*.) The dealer receives a royal flush, his opponents receive four pat hands named through amusing insider poker lingo. Volume 7 explores further variations. Shuffle Tracking a Royal Flush begins by extracting a royal, then controlling it despite the two through eight hands, the other players receiving 9 to 5 straights. Shuffle Tracking Another Version is similar to the Volume 3 effect, the dealer eventually getting a straight flush and the others four strong pat hands.
*Roy Walton and Ramon Rioboo explore the mixing system of dealing various requested numbers of hands in Hokem Poker, MAGIC April 1998. But did this evolve from a much deeper mathematical implementation by Charles Sanders Peirce? Check the Persi Diaconis paper elsewhere in this issue.
Riverboat Poker – John Bannon, High Caliber. You demo a real overhand shuffling run-up system to deal yourself four aces for any number of hands. You repeat, but it's a riverboat situation in which players keep dropping out after each round for entertaining reasons. You get the royal flush to beat the surviving spec's full house.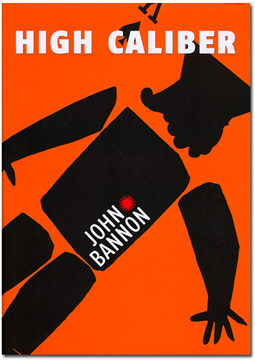 Soapy Smith's Klondike Poker Deal – Nick Trost, Trost 7. In a 20-card game between Reverend Bowers, Slim Jim Foster, the sucker Harvey Henderson from Indiana, and Soapy Smith, Soapy's straight flush beats Harvey's full house. Even though the spectator is allowed a legit riffle shuffle, what endeared me to the routine is the milk build shuffle justified by the patter "in Alaska the dealer's fingers were so cold, about the only way he could shuffle was to strip off the top and bottom cards and drop them on the table."
The Lollapalooza Hand – Nick Trost, Trost 7. Spectator seems to win with a straight flush, but the dealer tops him with an unbeatable Lollapalooza hand (2,4,6,8, and 10). Following a spectator riffle shuffle and cut, spectator seems to win with his own Lollapalooza hand, but dealer takes all with his straight flush. Why? Because a Lollapalooza hand is only good once a night!
Wild Bill's Poker Hand I – Nick Trost, Trost 1. Two hands are dealt. Wild Bill gets the expected two pair, aces and eights, and his partner Charlie Rich gets an unknown hand. A shot rings out! But not over a lowly two pair. Charlie has four eights, Wild Bill has a royal flush. Wild Bill's Poker Hand II is the same effect but with a different and just as easy method. Nice revision of the story.
Revised Mexican Poker – David Solomon, The Wisdom of Solomon. My favorite of the 10-Card Poker Deals. The Blomberg variation makes this perfect. I have performed this one more often than any others on this page.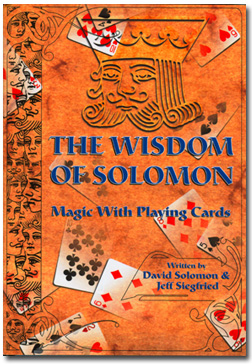 The Cincinnati Kid Poker Deal – Nick Trost, Trost 6. The famous final hand of the movie is re-created, thanks to ten cards drawn from a truly (Gilbreath) shuffled deck. I love the idea of the re-creation (and the fantasy that Tuesday Weld is my girlfriend), but unfortunately Trost relied on a 1977 book about the movie for details. Anyone who saw the movie remembers that Lancy Howard's straight flush was in diamonds, not hearts, and the details of the wagers are also incorrect. A great trick, but check the movie yourself for the patter particulars. Great final tag line: "I'll take your marker, Kid."
Gilbreath Meets Subconscious Poker – Nick Trost, Trost 6. Joseph K. Schmidt's Subconscious Poker II from Pallbearer's has long been one of my favorite poker deals. Five hands are dealt. The central card of the third hand is noted. The cards are gathered and re-dealt, with the central third-hand card controlled to the same spot but the hand improved to a straight flush. In In Trost's version, it happens from a truly shuffled deck. In the Again version, the central cards of two hands are noted, and the cards swap positions after the final shuffle, with both hands improving significantly.
Texas Hold'em Poker Deal – Nick Trost, Trost 6. Most poker deals I know (and favor) harken to the games of my youth, that is Five –Card Draw. Today's favorite is Texas Hold-em, and this is a really sweet instance of the genre. This is not a Gilbreath routine, yet all the cards are seemingly shuffled prior to 16 cards being selected to form four hands and the five flop/turn/river cards. The magi wins with four aces. No skill required, minimal setup.
Missing Player – Dani DaOrtiz, Utopia. All the cards are shuffled by the spectators (not Gilbreath), yet the magi gets the royal flush on the draw. This is a wonderful routine, but all the more so if you can mimic Dani's nonchalance.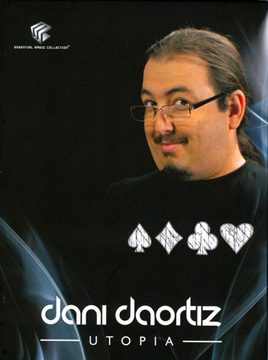 Nu-Wave Intuition Poker – Nick Trost, Trost 5. in which the spec selects five cards from a deck he shuffled. He discards one (a low heart, say), then selects another which proves to be the perfect card to complete a straight flush. Did I mention that the deck was shuffled? And as usual, Nick's patter covers the necessary selection processes.
Revolving Poker – Nick Trost, Trost 5. This one exploits a Karl Fulves method that allows the spec and magi to alternately select cards from twenty cards, ten each faced to each other. Spec receives either a full house or four of a kind; you receive a straight flush in hearts. This one fools me whenever I do it. There is also a Revolving Blackjack trick in the book, but I like the poker version better.
Enigmatic Poker – Jim Steinmeyer, Subsequent Impuzzibilities. Just dandy. Fifteen cards are mixed (seemingly shuffled) per spectator instructions. Three hands are dealt. One gets a straight, another a full house, and the magi a royal flush.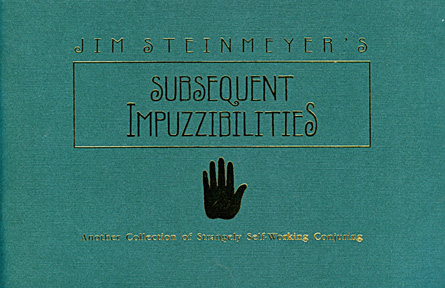 Zens Poker Deal, Redealt – Nick Trost, Trost 3. A spectator names any kind of poker hand from a pair to a royal flush. Assume he wants a full house. The performer shuffles the deck and deals five hands. He now asks the spectator which hand should receive the full house, hand No. 1, 2, 3, 4, or 5. Say the spectator selects hand No. 3; the performer marks this position with a poker chip. The five hands are gathered, the deck is cut and five more hands are dealt. The performer shows that hand No. 3 is a full house (the called-for hand), which ended up at the position named. (This is so easy. If you can cut the cards, you can do this routine.)
High-card Poker Deal, Revised – Nick Trost, Trost 3. The deck is shuffled, and then the high cards are removed for a poker deal. These cards are cut in half, the halves ribbon spread on the table, and then the spreads are pushed together, interlacing the cards. (The shuffle is very convincing.) A spectator deals five poker hands, but they are just average. The cards are gathered and cut, and the performer deals five more hands, the fifth to himself. Each of the first four hands is a 10, J, Q, K, and A -- a straight. The performer's hand is the winning one -- four nines. (Note that initial shuffle, and also that the end result would get a lot of money onto the table. This is a really fine self-working routine. It's followed by a Steve Forte version.)
Mystic Poker – David Regal, Close-up & Personal. This isn't exactly a deal, but it concerns poker. From an envelope labeled Mystic Poker, magi removes five blank-faced cards. Spec selects one and draws on it, any card that might be found in a royal flush. Magi waves the envelope over the card and removes the other four cards. They now bear the drawings of the remaining cards of the royal.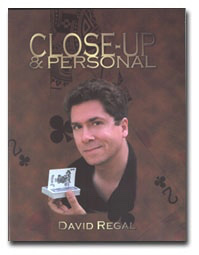 The Sleeve Holdout – Nick Trost, Trost 6. A description straight from the book: A spectator selects a card from a shuffled deck and places it up his sleeve for use later. He then shuffles the deck and deals five cards face down onto the table in a row. The five cards are turned up, and the spectator has dealt a straight flush (or royal flush) in spades except for one card, a red three. He exchanges the red three for the card in his sleeve and now has a complete straight flush!
Four Pat Hands – Nick Trost, Trost 6. This may be as close as you can come to the Vernon Poker demo from a spectator shuffled deck. Despite lots of shuffling by both you and the spectators, four excellent pat hands are dealt, magi winning with a straight flush.

MAGIC AND MATH -- In April, Edward Pungot on the Genii forum posted a most interesting link, to "The Magic of Charles Sanders Peirce" (2017), by Persi Diaconis and Ron Graham. In that piece, the authors address the creativity and the mathematics behind a card trick they call "an unperformable nightmare: tedious dealing that goes on and on coupled with a weak, ungraspable effect that is sure to leave the audience confused." As an object for entertainment, they are equally dismissive of it throughout. Of Peirce's 77-page "Some Amazing Mazes" (1908), they note "Its centerpiece is a deadly 15-minute effect with cards repeatedly dealt into piles and picked up in odd ways. The conclusion is hard to appreciate." Elsewhere: "a poor, unperformable trick." But of interest; Martin Gardner call s it "... surely the most complicated and fantastic card trick ever invented."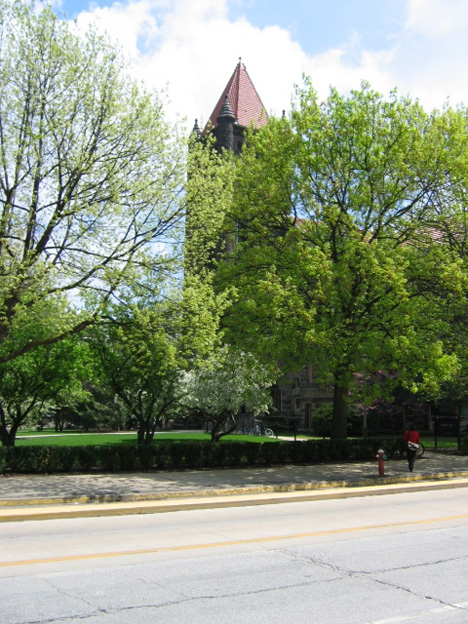 Peirce (1839-1914), one of the founders of Cambridge's Metaphysical Club, wrote on logic, semiotics, mathematics, astronomy, metrology, physics, psychology, and philosophy, mostly before his 1908 paper on card tricks. The closest most magicians are to its core trick is via Roy Walton's Draw Poker Plus, from Pallbearer's February 1967, updated by Walton and Ramon Rioboo as Hokem Poker in MAGIC April 1998. Diaconis references the original Walton routine in his paper, and he concocts his own Draw Poker Minus, an entertaining routine that emerges from the Peirce studies. Although it seems to mix the cards if you deal into any number of spectator-directed piles, it doesn't mix them if you use the proper pickup procedure.
In the authors' analysis of the Peirce card trick, they explain that Peirce invented four original pieces: the cyclic principle, the dealing principle, the dyslixic principle, and the primitive principle. It is part of Peirce's genius (or madness?) that he combines the principles. Diaconis argues that, despite the complicated result of the combined effort, an entertaining solid magic trick can be formed from each of the principles. One of these that he incluldes, Together Again, is delightful. If you follow it with cards in hand, you will be pleasantly surprised. It's a perfect meld of method and patter.
Persi Diaconis and Ron Graham, of course, are also the authors of Magical Mathematics, reviewed here in November 2011. Much of what I wrote about that book applies to this paper. Notably, it is a work heavy on math. Although I had a lot of math as a physics undergrad, I have no background for modern algebra, group theory, number theory, and the like. I can't even grasp quite what the variables are in constructs such as:

Ah, perhaps with a little more time.
This paper is of particular interest this month because one of my favorite poker tricks is Shuffle Tracking, from Trost 3. Instead of limiting the mixing procedure to six hands or less, Trost offers to deal the cards into two, three, four, six, seven, or eight piles. For most choices Trost uses the familiar Peirce pickup, but for seven hands he uses a rather wacky-looking sequence. I assumed he figured that out empirically, but maybe not. Did it evolve directly from Peirce's math? Or does it evolve from Peirce's math whether Trost knew it or not? I leave that question to the student.