I'm still quite bummed over Harry Anderson's demise and have accordingly been doing what I can to catch up on him. My starting point was his four-hour Penguin lecture, which I hadn't seen. I revisited his amazing Jinx insert to Genii and read each article in detail, for the first time. (I had skimmed it in 2009 and forgot to go back and spend more time with it.) There are plenty of YouTube clips and other sources on the internet, and I've been perusing them. Finally, I went back to Harry's high school yearbook to discover what a promising student he was. Wow. Full details below.
THE PENGUIN LECTURE -- Harry Anderson performed his Harry Anderson LIVE lecture for Penguin November 4, 2012, with Nathan Kranzo as host. (Nathan's persona and material have often evoked Harry's to me, hence a great choice as host.) As with all the Penguin lectures, it's still available, a delightful 231-minute visit that flies by.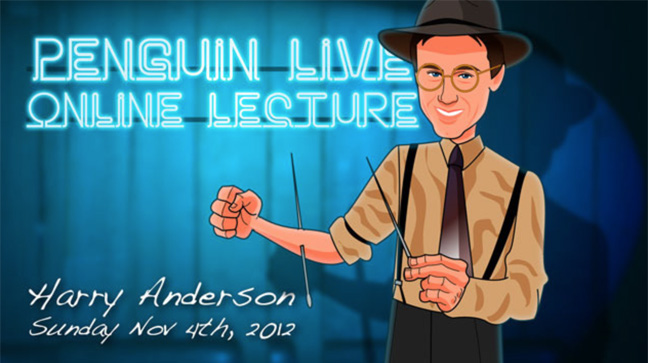 Four hours of magic.
The magic opens with Wise Guy Monte, with the jumbo cards, the trick that earned Harry an opening spot for Kenny Rogers and all the fame that followed. Via the tricks he reveals, Harry explains the difference between conceit and instantiation. The worst conceit: "I know something you don't know." Better conceits: "Human thoughts can be shared" or "Gravity isn't a law ... it's an agreement." The instantiation is the trick itself that puts the conceit or premise across.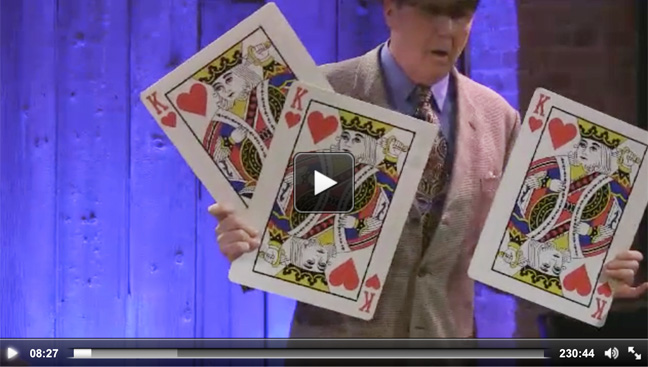 What are the odds?
Other secrets: The Last Monte, The Gang of Four, Where's Tom? (an optical puzzle with a two-dollar bill), Big Money, the 21-Card Trick, Cuff Links (why the Irv Weiner thumb tie routine sucks), a card counting routine (uses the Aronson stack), Grant's Million Dollar Bill Mystery, and the folding Magic Square routine.
Talking points and revelations during the magic portion: How to make it OK to fall into a wife's breasts while performing a straitjacket escape. Belonged (with Paul Harris, Paul Green) to the Dante magic club at 14, run by Dante's son with lectures by Charlie Miller, Kuda Bux, and Dai Vernon. Attended Nobel junior High which had a complete file of Genii: you could check out the girls in the Himber ads in study hall.
At the 143-minute mark, the magic portion of the lecture concludes and Harry sits down with Nate Kranzo to field questions from Nate, from live online viewers, and from the studio audience. This, for me, is where the lecture catches fire.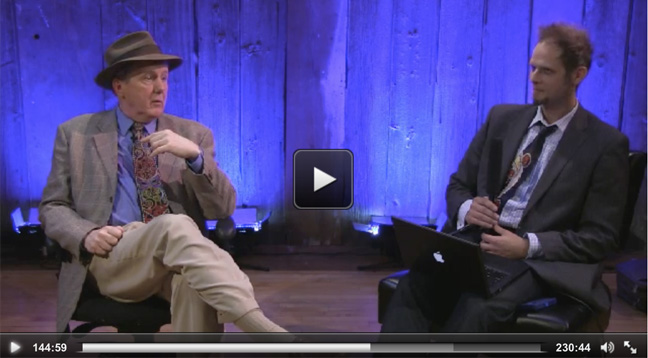 Harry and Nathan chat ... for the ages.
Of the many things discussed: Life in Chicago emptying ashtrays for old card players in Bert Allerton's Pump Room. The night he played the card game Klabiash for six hours with George Burns. Admitting to never being much of a con man, despite working the Garcia shell routine on the streets at 16. Developing long routines to hold a crowd during street magic. The time Pete Fountain called the cops on him in New Orleans ... and meeting Pete later on the Carson show. On a trip to check out Berkeley for college went to Buma's House of Magic, bought some stuff, started working the streets, never looked back. Met Martin Lewis as an instant stooge at Earthquake McGoon's. As a child saw Blackstone perform. Becoming famous: two weeks that changed everything. Is Markie Post's bust real? Ballantine as an influence. Appeared on Carson 11 times. How he cheated Vernon at gin at the Magic Castle. Performing his old two-person mental act with his daughter, on his 60th birthday at the Castle. Receiving the guinea pig cage from Danny Dew, who said, "Don't do it." Doing it. Performing "Scare the Dickens" at Rich Bloch's Dickens theater. Johnny Carson being sweetly nervous performing coin magic for him. Close friendships with Jon Racherbaumer and Meir Yedid. His glasses had no lenses. Book recommendation: Harry Lorayne's Close-Up Card Magic. Dining with Harry Lorayne while someone needed the Heimlich. Worst moment on stage. Untying Slydini knots with his tongue. Was covered with tattoos but left one forearm "clean" in case he reprised Needle Through Arm. Had a foster brother. His fedora collection was ruined by Katrina. Lost a fortune through divorce and Katrina, but fortunately made two. And when Nate asked if he performs close-up, Harry stood and performed a hilariously vulgar coin routine.
Just wonderful memories and philosophies. All for $29.95 as a download from penguinmagic.com. Your opportunity to spend a little more time with Harry Anderson.
HIGH JINX -- October 2009 was a signature issue for Genii, thanks to its 32-page Jinx insert from Harry Anderson and Jon Racherbaumer. It has been a while since I had looked at it, and Harry's passing gave me reason to revisit. It's just a marvelous, brilliant tribute. I particularly enjoyed Harry Anderson's and Jon Racherbaumer's "Anything Went" (a look at Ted Annemann and 1934), David Ben's "And the Oscar Goes To ..." (a billet switch routine), Stephen Minch's "Who Do You Thrust?" ( a model of magical scholarship), Max Maven's "The Rabbit Hole of No Return" (a look at Annemann's performing chops), Jonathan Levit's "Simply the Best" (Annemann's perfect second deal anyone can do), Michael Weber's "Durer Had a Word for It" (looks like a magic square routine but isn't), Eugene Burger's "When the Cats Hissed" (biting reviews by Annemann of his contemporaries), Eddie Fields' "Crissorc" (a surprise-ending ESP effect), and Mike Caveney's "Unfettered Letters" (a "Classic Correspondence" satire centered on an Annemann letter). I may as well list them all; each had special merit. I especially liked the Ropes of Mystery gag on the Fun Page.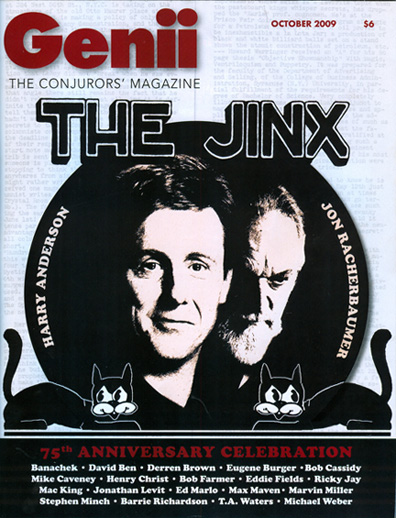 Harry makes the cover of Genii.
Genii subscribers can turn to the issue at will. For the context, here is the news blurb I published back in the day, under the heading "Catnip":
Every so often, extraordinary people do extraordinary things. Such was the case this year when Harry Anderson and Jon Racherbaumer decided to produce a 75th anniversary issue of The Jinx, enlisting along the way contributions from magic's creme de la creme. As I mentioned in The Little Egypt Book of Ghosts, I could have had a happy life in magic performing material exclusively from Annemann's Practical Mental Effects, which is to say from The Jinx. It was therefore a great personal treat to receive a new issue in the mail, an issue apparently banged out on an old Underwood and pasted together with real paste. Harry Anderson's time on the learning curve of Adobe InDesign was well spent. Richard Kaufman made room for this 32-page retro issue within the October issue of Genii, hence it arrived free to subscribers. (The insert alone will also be made free to new subscribers.) Annemann would have been proud of what Harry calls this "remarkable 32-page duty-free birthday card," an artsy melange of tributes, retrospectives, history, humor, haiku, and, especially, clever and practical new mentalism. This is an issue for the ages. Our collective thanks to Harry, Jon, and all involved.
SURF'S UP -- And of course, you can surf the internet for clips of Harry Anderson performing. A few of my favorites:
An early appearance on TV with Elvira
Appearances on "Late Night with David Letterman 82-87"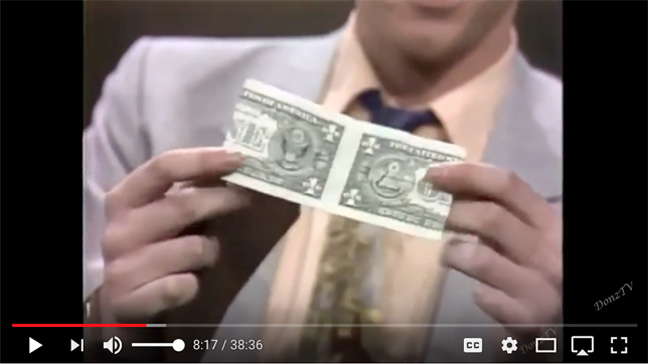 Almost restored.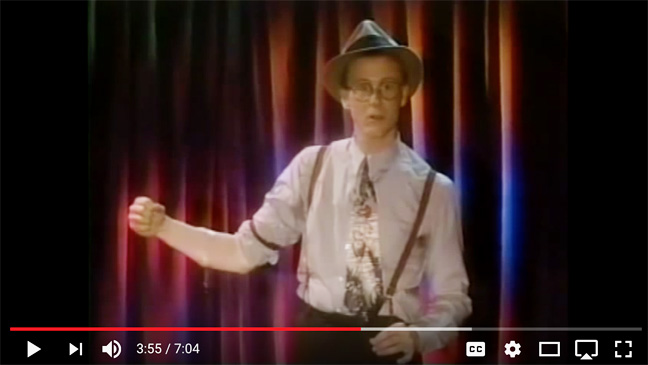 Let's talk geek.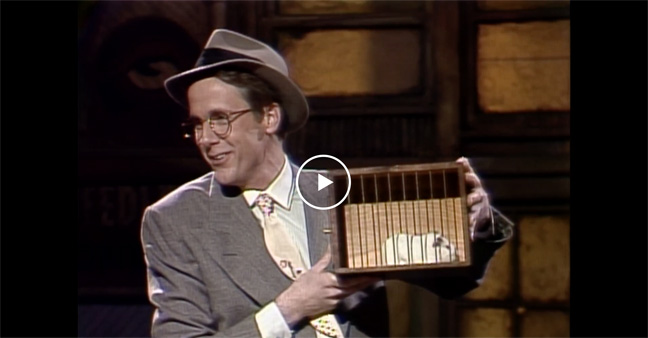 Harry and Skippy.