ASSORTED ACTS -- Isn't it amazing how much fun we can have with a deck of cards? Lately, Bob Farmer has been having fun and sharing the wealth via his new book (plus follow-up addenda), The Bammo Tarodiction Toolbox. He has discovered a new principle for secretly coding a group of playing cards such that they can be spectator-shuffled and then quickly unshuffled back into a useful sequence, such as an Aronson or Tamariz stack. The first time you attempt this--and the book opens with a five-card example--should thrill you. It feels like magic. How does the deck know the precise steps to follow to unshuffle itself from 52 factorial possible arrangements (a very large number)?
Various practical magic tricks emerge. Consider Triharder: Spek shuffles two packets of 15 cards, gives you either one. You then deal your packet three times into three piles as the spek duplicates your actions. You get a straight flush and two royals in order; spek gets only three so-so hands. Tell him to try harder!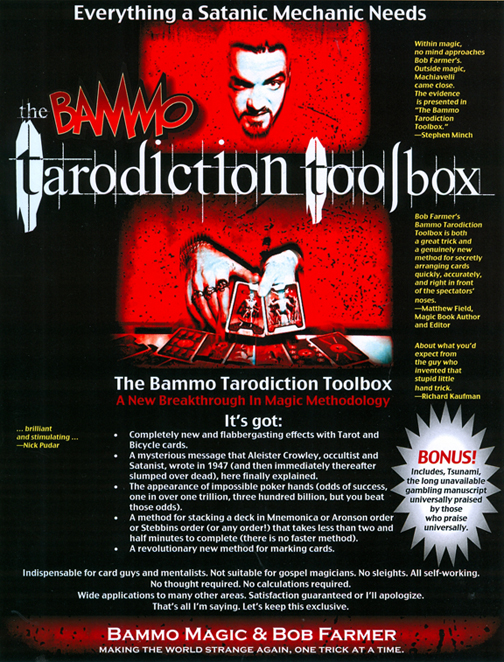 Bob Farmer dives into math.
You can perform magic, or you can use the system at home to stack decks into your favorite arrangements, fast. A nodding acquaintance with binary and other based number systems is helpful but not necessary. (Longtime readers may recall Richard's Stack, from the September 1996 Little Egypt Gazette. That required you to convert a stack position from decimal to octal, to reverse the digits, and then back to decimal to determine a card's value; now that was tricky, on the fly.) Part One explains the system, and Part Two explains the math. More precisely, Part Two explains how to do the math. But I was frustrated that I couldn't put into words why the math worked. How could a deck unshuffle itself from a random shuffle? It feels quite magical when you see it work.
For an answer, I turned to my San Diego friend Jim Held, a non-magician Caltech grad, who explained it in a way I could finally grasp. Parenthetically, Jim was a classmate of the guy who gave us Richard's Stack and has helped us here before with the algebra that explains Dai Vernon's Affinities (December 2006). Here is his response, and it should only make sense to you after you study Bob's system:
"I don't think this is as complex as it seems. You can sort a group of cards by any set of characteristics. In this case the sort is by means of significant digits. In the case of using trinary and up to 27 (3 cubed) cards using 000 thru 222, you can first put the stack in order of 'most significant digit' then 'next most' and then 'least.' This will produce a unique result, depending on how you choose to stack the sorted piles. To see how simply you can do a sort like this, imagine this: Take the A, K, Q, J of each suit (16 cards)... 4 sets of 4 cards. Since there are only 2 characteristics (suit and denomination) you need only two cycles of 4 stacks. First sort by suit into 4 piles. Then sort by denomination into 4 piles. The cards will be sorted into a unique order depending on how you pick up the stacks. If you do it in the most logical order you will get AKQJ of each suit in SHDC order. To me, all of these methods are just variations of the simple example I have given. The marking of the cards just allows you to make the trick look more complicated and harder to see what's going on."
The key to my understanding the above is to change my verb "unshuffle" to "sort." Sorting has been Bob Farmer's gift for some years, as Part Three of the book testifies: a reprint of Tsunami. The original Tsunami ranks among my all-time favorite ad copy, part Casablanca, part Indiana Jones, part Terry and the Pirates.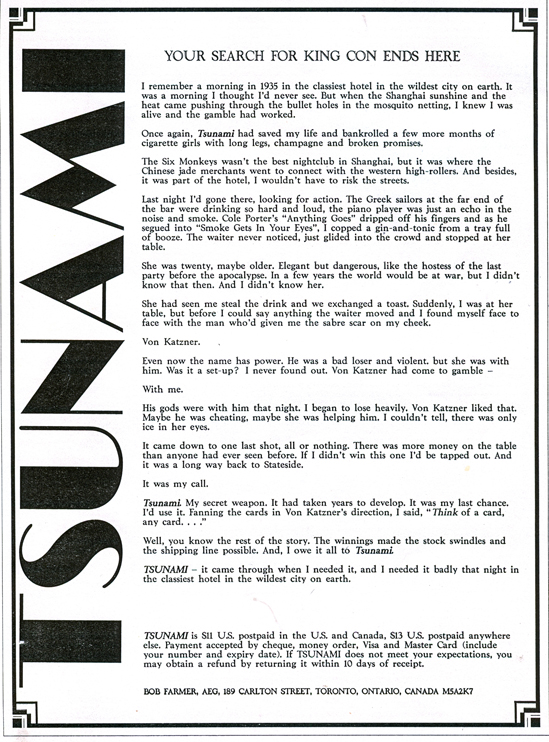 My original copy of Tsunami, printed on red paper.
The core effect allows a spek to think of any card he sees in a mixed deck, after which the magi bets some money and begins making statements. If he is correct, he adds to the pot. If he ever misses, all the money goes to the spek, but wait: the magi gets one last chance to identify the card. He does. There are numerous variations on the theme, including impromptu versions that exploit Bob's Pentacle Force and most involving the principle of concealed distribution. Sorting again. A personal note: when Tsunami first came out, I was smitten by a Tim Conover trick in it and performed it every chance I could. It was my first exposure to that method, and it (along with Paul Harris's Deep Astonishment) fooled my audiences as badly as anything else I have attempted.
This book is as much fun as, say, a new Harry Lorayne book. It is full of things you will want to try. Some arts and crafts are involved if you want to perform the Tarodiction effects. (For an example check Bob's "Marxism & Magic" in his Flim-Flam column in MAGIC, October 1996.) The Tsunami effects require no gaffing.
The book is spiral bound, which in my case made the math a tad tricky. (Five sheets had been inserted out of order. Not a problem; this is, after all, a book on sorting.) An extra sheet came with the book, and several addenda have arrived so far by email. I expect more, as this is a whole new ball game in card magic, still evolving. $35, 100 pages. Email order to Bammomagic@cogeco.ca.