1001 TRICKSTERS -- If you count 930 registrants (about 200 more than could fit into the gala show), add in staff and dealers, and throw in a few lobby cheats, you tally over 1000, the largest Magi-fest on record and a tribute to the draw that Josh Jay and Andi Gladwin have established. Sessioning performance space was at a premium as hordes of look-alike young magicians with beards congregated at the lobby tables, fidgeting with Sybil-like cardistry moves as they awaited to mystify or be mystified. Cards spun in the air, and miracles were in the offing.
I must repeat my caveat of Magi-fest 2017: I attend this convention to socialize, not to record, hence my notes below will not mention everyone who contributed, including the big name performers, lecturers, and dealers. If you* were there, you know you were a star, and I hope to see you down the road.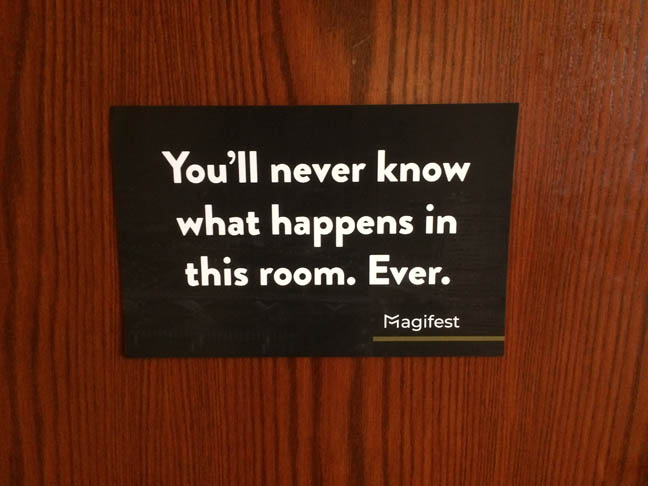 Mystery.
That said, let's "award" a few special mentions from my limited perspective.
MICROPHONE. Scott Wells joined me in the registration line and interviewed me, for a change. You can listen on Magi-fest Day 1 of themagicwordpodcast.com.
BEFORE TV MAGIC CARDS. Way before there was TV, Theodore DeLand was creating magic cards that made magic easy -- and amazing. In addition to the Mystery and Madness Deck that came with the DeLand book reviewed last month, Richard Kaufman shared DeLand's Wonder Deck and DeLand's Automatic Trick Cards, both fascinating marked decks.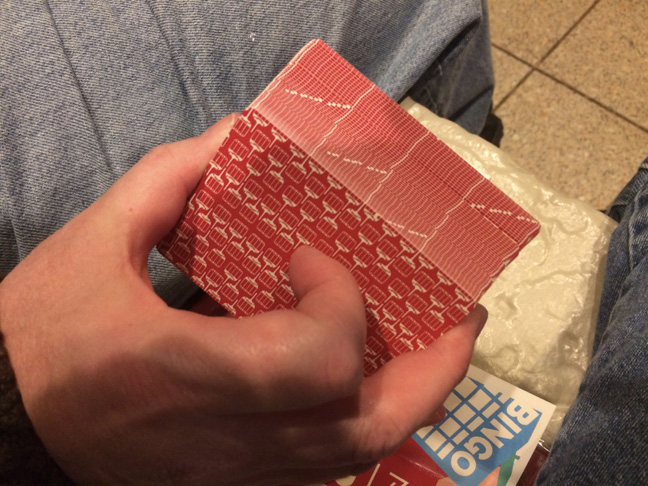 Richard Kaufman displays DeLand's Wonder Dec.
OPENING GAMBIT. Two years ago Magi-fest opened with the fresh face of Kyle Littleton. This year it kicked off with the mature face of Howard Hamburg. Both excellent choices. Re Howard, I have observed him often but had not seen him lecture. The talk was a nice mix of technique (Why Vernon did the Elmsley at the fingertips in Twisting the Aces, Rising Card, Triumph techniques, Vernon sponge balls patter) and stories (Pranking Larry Jennings, Vernon takes a spill, Card to Castle Toilet Seat). Stuff for the ages.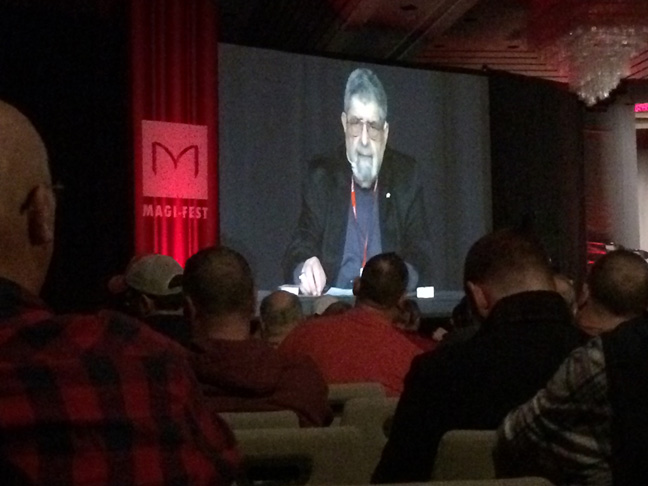 Howard Hamburg recollects.
FRESHEST MAGIC SHOW. Was this originally titled Six and a Half magic Tricks in a Basement? Regardless (I didn't keep count), children's author Adam Rubin is quite the parlor magician, with such material as Silk and Beer productons, Hypnotizing a Rubber Ball, Afghan Bands with red strips of cloth with zippers, and Ring to Box. He drew a nice crowd. David Blaine sat in the row just behind me, and Jamy Ian Swiss just off to my right.
BOOK NEWS. At H&R I acquired a copy of Creating Business Magic by David Morey, Eugene Burger, and John McLaughlin; a friend gave me a copy of Richard Himber The Man and His Magic (and a Lucky Ghost Card -- see below); and Richard Kaufman tipped that he will publish an unexpected book this year, one I have been advocating for decades. I'll leave it to Richard to share the title. And Charlie Randall confirmed that the next Nick Trost book is still on schedule, probably for April.(I had already purchased Principia, reviewed below.) There was also talk of new books this year from Mike Powers and Matt Baker.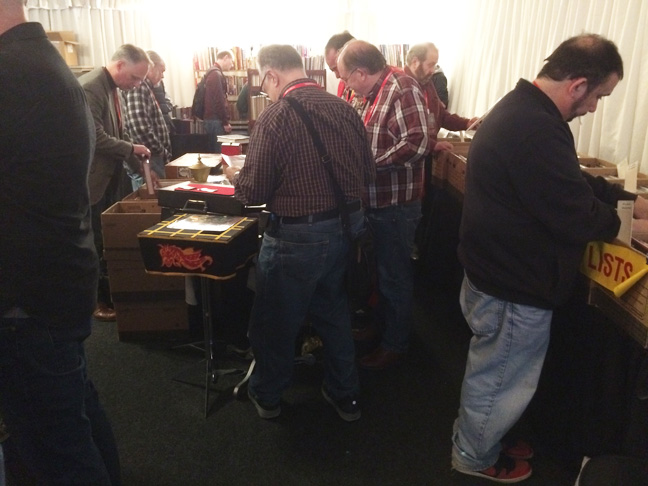 Andy Greget always attracts a crowd.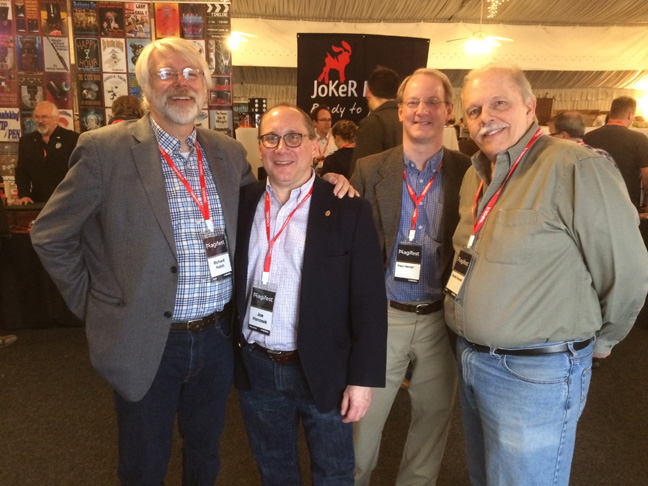 Rogues gallery at H&R Magic Books.
I was saving this for the Session report, but Andi Gladwin has also produced a really nice edition of The Card magic of E.G. Brown, along with additional annotations. I first saw this at Magic Live, and it's beautiful. The original is in my library and is one of my favorite books.
THE GREEN MONSTER. I am jealous. Although I enjoyed some of the past recent years as a children's author, I was never a New York times bestselling children's author. Adam Rubin is, thanks to his Dragons Love Tacos series. I enjoyed his writing lecture for the second time, especially the part about creating Robo-Sauce, a children's picture book that morphs, Mark Setteducati-like, into a robot book.
NATIVE TONGUE. Why does English sound so much better from the mouth of a Guy Holingworth? In his lecture, Guy taught a couple of card tricks from Drawing Room Deceptions (after first fooling us with them), then a fabulous concealment for the Cups and Balls. He returned in the Saturday morning Session with Twisting the Aces (or Waving the Aces, if you will) and with The Reformation, his unparalleled torn and restored card.
TOO HIP FOR THE ROOM. My favorite magical standup comic is Harrison Greenbaum, and Harrison brought something new to the late-night party this year with a specially written slide show roast of the icons of magic. Woe to David Copperfield, Juan Tamariz, Jeff McBride, and any others who felt the sting of his blade. It was a masterpiece of writing and delivery.
Alas, Harrison was also featured on the Saturday night gala to mixed results. The house of magic has many rooms, but some don't want their kids in the room when the language liberally includes what S.J. Perelman called "one of the breezier copulative verbs," hence Harrison rubbed a few the wrong way with his otherwise hysterically funny A material. Josh and Andi have subsequently issued an apology. But as for me, I was laughing so hard, along with the kids and everyone around me, that (as Karrell Fox or Jay Marshall would say) tears ran down my legs.
For the record, my second-favorite magical standup comic is Nate Bargatze. Even funnier than his dad!
MAESTRO. Juan Tamariz both performed and lectured to huge gatherings. Juan's performance featured a Three-Card Monte with wagers of $100 each and a Cards Across routine with 14 spectators on stage in a sort of Seven Brides for Seven Brothers skit. I wondered if anyone other than Tom Craven and myself were old enough to "get" the music. Juan's lecture concentrated on his Card on Handkerchief routine from The Five Points of Magic.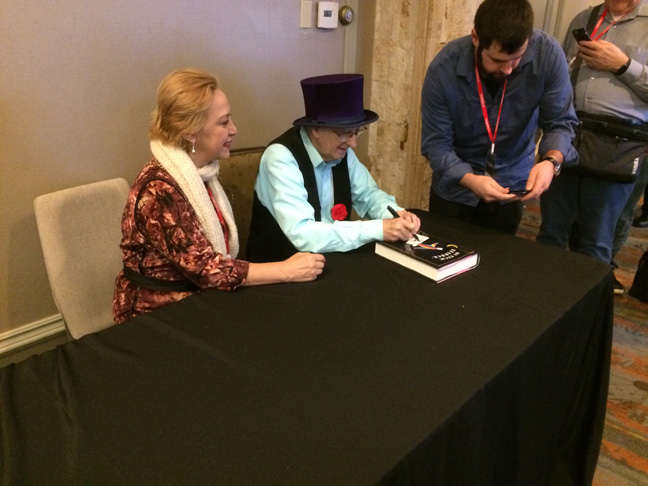 Juan obliges.
SLICKEST DEALER ROOM ITEM. There was much to intrigue this year, my own purchases including Ice Cubes Across (a chink-a-chink with ice cubes) from Anthony Gerard and a Now You See Me-based magic set from Asia. Stuff for the grandkids! But the slickest thing I saw, literally, was Tony Miller's Express Delivery, a sort of flat metal chute for inserting a playing card into an envelope or wallet, purely by gravity. $70 and worth it. Tony's RFA Productions also sold out of Badger X, a James Bond size wallet that takes two cards (again by gravity feed) and lets you discover the cards in two separate compartments. Meanwhile, a winter storm was on its way, and Tony and I joked that the convention might mutate into the Donner party. "The mentalists will die first," he said. "They can't defend themselves."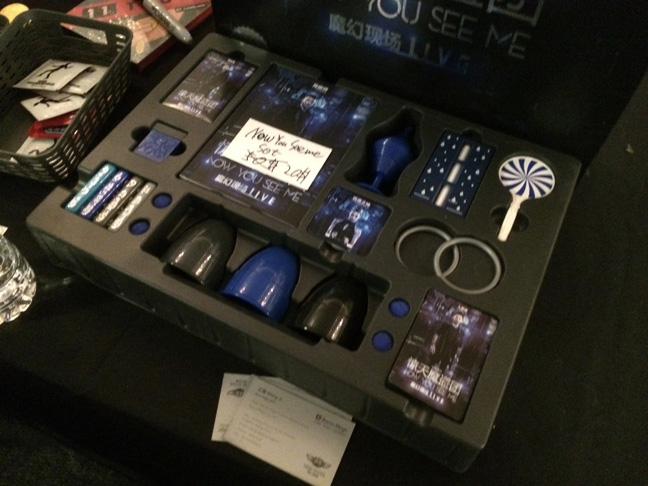 It was for the kid, but I may keep it.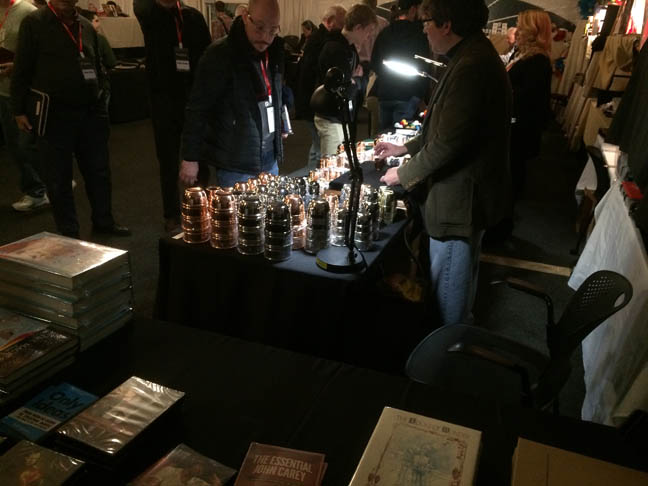 Rings & Things always has the most dazzling display.
SATURDAY MORNING. Saturday's morning session was so full of heart and tears that Josh and Andi should "be ashamed" for bringing so much humanity to a magic convention. The session opened with some local developmentally challenged students performing a magic show for us, with some of their number filling in at the last moment because of weather. The kids cleverly worked Josh's name into the routine. The session closed with Josh interviewing 91-year-old Holocaust survivor Werner Reich who learned his first magic trick in the camps. Incredibly inspiring.
In between, Vanishing Inc. showcased their latest, Josh's funky Balance routine (your magical power is that you are really good at Jenga) and Andi's E.G. Brown book.
And as already mentioned, guest of honor Guy Hollingworth performed Waving the Aces and the Reformation. Guy was awarded a commemorative poster, and we each received a copy.
SATURDAY EVENING. And the gala show. First, a couple of negatives. My enjoyment of the convention was diminished by a couple of considerations. One, a winter storm was under way, which could have been avoided by a spring event rather than a winter event. I remember when I considered Joe Stevens Desert Magic Seminar as my "first" big event of any year. It was a great time to hold it. Second, I couldn't see much of this convention. Partly it's my own eyesight, but mostly it was 700-plus seats that were crammed together and not tiered, and video screens that had to be low and therefore blocked by the heads around you. There is talk of a new hotel next year, and I hope that solves this second problem.
On to the show. Following a technical glitch, the show kicked off with an upbeat electric violin guy followed by a sort of Michael Moschen guy (Miguel Munoz) with water. Harrison Greenbaum rocked but also shocked, as mentioned, and I felt bad for emcee Eric Mead, who contended with a Card Stab that seemed jinxed plus an outburst of indignation from a spectator. Wisely, Eric kept things moving along without comment, serving up the fabulous Yann Frisch with his FISM act (he had already explained it in lecture) and Guy Hollingworth with a brilliant new parlor act. In all a wonderful evening of novelty, comedy, and magic.
SESSIONING. I spent less time than usual sessioning with friends, partly because of the excellent alternative late events and partly because of the critical mass of so many magicians. The best I personally witnessed was Patrick G. Redford trading magical punches with Tom Gagnon. I also enjoyed watching Caleb Wiles do a color change of the backs of a red deck. (You could only detect the change if you observed that the deck was marked.) The biggest applause that I heard, though I couldn't get close enough to see its cause, was for a ten-year-old boy performing Guy Hollingworth's Reformation.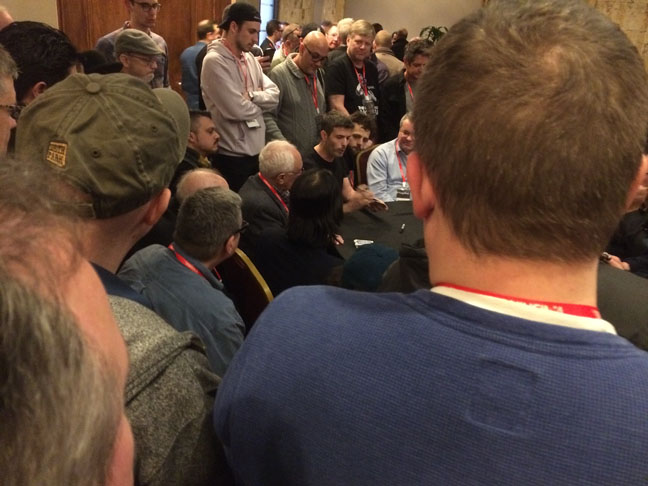 Asi Wind attracts a crowd.
Everyone thinks I use a stack.
I at least chatted with old friends, met a few new ones, and enjoyed seeing so many celebrities milling about, including David Blaine (reportedly spent considerable time teaching kids), Asi Wind, Simon and Ginny Aronson, Jamy Ian Swiss, and so on. Both Stan Allen and Richard Kaufman were on hand, perhaps assessing what it takes to attract so many young magicians to a convention. (Oh, yeah, Richard also had a few big red books to sell.) Thanks to any who said hi to me, and hi back at ya.