ALOHA, RICKY JAY -- It's been a tough year for my magical heroes, with the losses of Harry Anderson, Brian Gillis, and, now as of November 24, Ricky Jay. All the major showbiz outlets ran generous obits, and the Genii forum erupted with tributes and video clips. Fom the clips it was fun to see a younger, wildly hirsute Ricky in action again, that goofy mix of skill and comedy, defined by New Yorker writer Mark Singer as "an out-of-left-field brand of gonzo-hip comedy magic, a combination of chops and antic irreverence."
An esteemed scholar of magic and the Allied Arts, Ricky must have been keenly aware of his own mark in the field, as a card expert, a performing magician, a comic, an author, an actor (note that his career vastly outshined Houdini's), an athlete (he held the World Record for card tossing), and always a student. He was a student of Vernon and Slydini, pals with Persi Diaconis and Michael Weber, a collaborator with Steve Martin and David Mamet, an acquaintance of Linda Ronstadt and Bob Dylan.
Ricky Jay in the magazine whose founder played poker with Harpo Marx.
I encountered Ricky Jay live only once, in the seventies, in concert at San Diego State University. During his card-throwing stint, he claimed he could hit a wall over a hundred feet away. As the hurled card neared the wall, like a bullet, it passed right through the wall thanks to an open doorway. Not missing a beat, Ricky instantly quipped, "I meant of course the wall in the next room."It amused me years later to see much of this same seminal act on display in Ricky Jay and His 52 Assistants.
The next closest I came to Ricky was when he spent some time here in Bloomington, researching blow books at Indiana University's Lilly Library. Alas, he didn't call. I later enjoyed a look at the collection and pondered Ricky's sitting there.
Of the Genii forum links, I enjoyed the Interview with David Roth, new to me. (David was Ricky's backstage 53rd assistant on 52 Assistants.) And for the umpteenth time I re-read his 1993 New Yorker Profile, the best written of any magician anywhere. Two Ricky Jay characterizations surprised me on re-reading:
One: He loved to play basketball.
and
Two: He and several friends formed an a cappella doo-wop group called Chico and the Deaf Tones. The Deaf Tones were five guys named Tony plus a girl named Laura. Their big number was "Tell Laura I Love Her."
(Aside: New Yorker subscribers can also access Profiles of Dunninger, Penn and Teller, and Jamy Ian Swiss.)
I am pleased for Ricky that he not only achieved the extremes of accomplishment in magic but also found love along the way. Of public knowledge, there was an early relationship with Tracy Newman, and eventually his recent wife Chrisann Verges, and, oh, did we youngsters ever adore the photos in Cards as Weapons.
Among available video is the biographical documentary Deceptive Practice: The Mysteries and Mentors of Ricky Jay, and I will close with the same review that I ran on the occasion of its release, in October 2013. It's great. Ah, happier days. Aloha, Ricky Jay.
The repeat article begins ...
MIDNIGHT MOVIE -- One of the ways to make your mark in history as a sleight-of-hand artist is to perform once-in-a-lifetime tricks that others rave about, especially important "others." "Secrets of the Magus," the 1993 New Yorker Profile* on Ricky Jay, by Mark Singer, opens with two such card tricks.
Of course, the real secret is to be the subject of such notice in the first place, to rate being the subject of a New Yorker Profile. As Steve Martin has written, you have to be so good they can't ignore you, and Ricky Jay has earned his notice both as a performer and as a historian and writer of magic.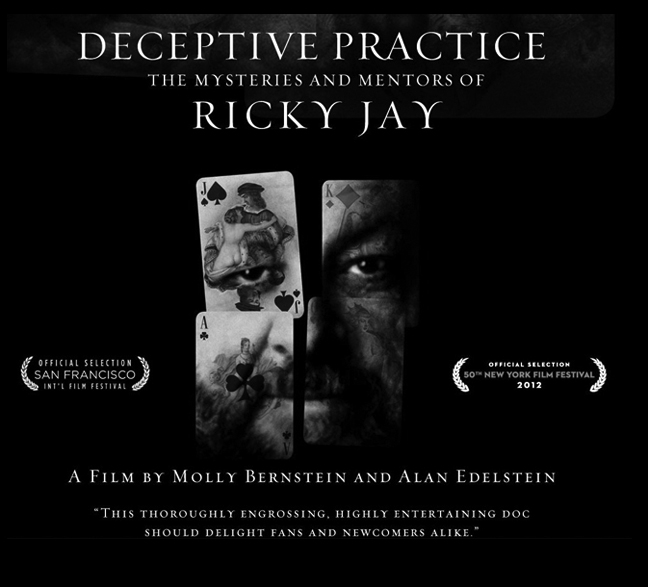 The Ricky Jay movie.
The latest evidence of Ricky Jay's place in magic is the recently released film documentary, Deceptive Practice: The Mysteries and Mentors of Ricky Jay. The movie is listed as inspired by the New Yorker piece, and Mark Singer is listed as one of the co-executive producers. The film itself is a wonderful pastiche of Ken Burns-effect images from Ricky's historical files and more contemporary photos, video footage of such magi as Dai Vernon, Charlie Miller, Slydini, and Al Flosso, on-camera commentary from Persi Diaconis and Michael Weber, and of course footage of Ricky Jay himself performing and just practicing before mirrors, all deftly intertwined with the story of how Ricky Jay became Ricky Jay. Favorites of mine among the footage are Ricky as a boy magician, Ricky performing Three-Card Monte with Steve Martin bending the corner of a card, and Michael Weber performing his Matrix with nails in a board for Japanese television. (That last trick fools me so badly!)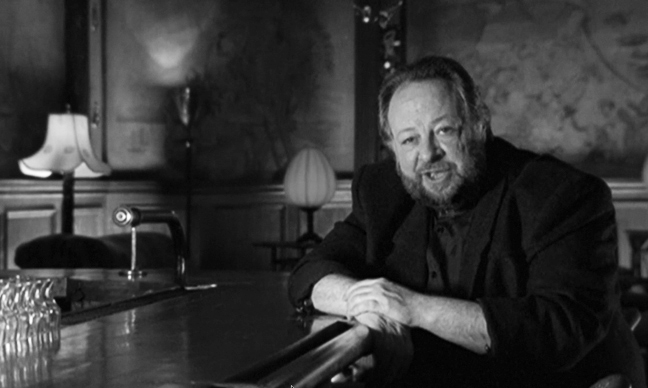 Ricky Jay weaves his tale.
Unlike his mentors such as Dai Vernon, Charlie Miller, and Slydini, who never became wealthy through magic, Ricky Jay seems to have transcended the limited earnings of most close-up magicians and established himself as a member of upper echelon show business. Celebs involved with this film as either friends of Ricky or contributors to the project include Johnny Carson, Dinah Shore, David Mamet, Al Hirschfield, Dick Cavett, Steve Martin, Shel Silverstein (the film closes with a specially-written poem), Terry Gross, and Bob Dylan. A celeb not mentioned was Linda Ronstadt. At one point in my life I became fascinated by her and read everything I could about her. One piece had her riding around London in a limo with Ricky, the two betting on which of them might first appear on the cover of Time magazine. I remember thinking, "Screw Time magazine. If you are riding around London in a limo with Linda Ronstadt in her youth, life is already as good as it gets." (For the record, Linda hit the cover on February 28, 1977; Ricky rated a great three-page spread on February 14, 1994.)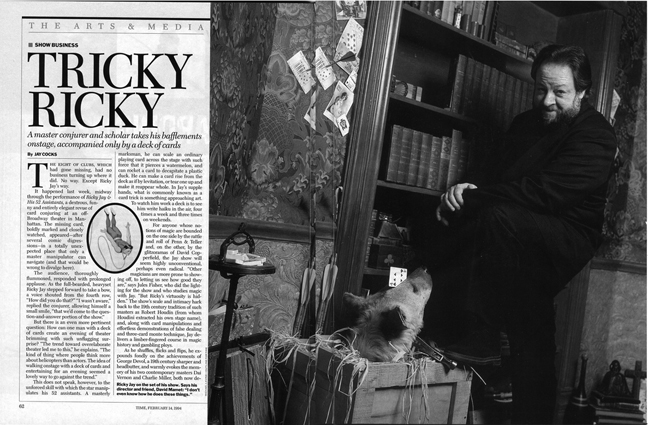 Ricky Jay in Time, 1994.
I similarly note that admission to the upper echelons of magic tends to involve a couple of criteria, one being to have learned directly from the masters, which is the central point of this film, and the other being a disassociation with hoi polloi of magic, limiting one's friends to an exclusive few (this movie cites Persi Diaconis, Steve Freeman, David Roth, and Michael Weber). Celebrity associations and magic world reclusiveness also attend such stars as David Copperfield, Penn and Teller, and David Blaine.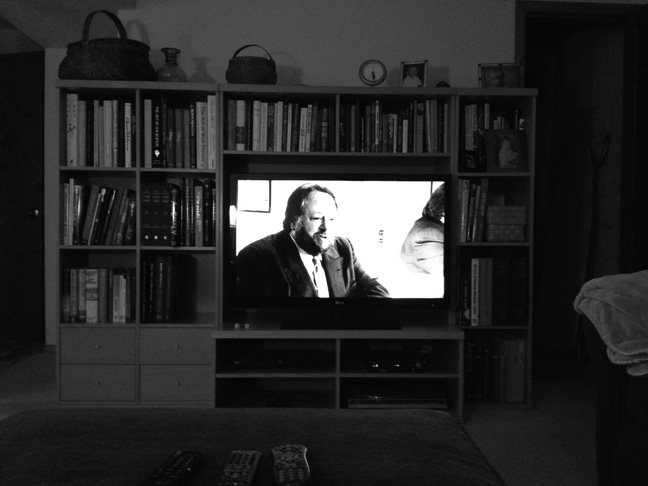 Watching Ricky's movie via Apple TV.
There is of course much more to Ricky Jay than is covered in this movie (he has an enviable career as an actor in television and film, for example, along with being an important author and historian), but the movie does a beautiful job at what it sets out to do. This is a delightful film that will make you feel good about magic and good about Ricky Jay. Available on iTunes for only $12.99 HD, and highly recommended.
*"Secrets of the Magus" by Mark Singer is available in full on The World Wide Website of Ricky Jay.